Recipes
6 Healthy WFH Snacks To Get You Through The Mid-Afternoon Slump
Struggling to stay productive whilst studying or working from home? These 6 healthy WFH snacks will keep you going through the entire day.
"Kushisabishii" is a wonderfully apt Japanese term that has no english translation. Loosely, it means your mouth is lonely.
Whether you're now forced to work or study from home, or that is just the new normal for you now, who can't relate to wanting a little snack to get you through the day?
Food can be a great motivation or study technique, especially when combined with the Pomodoro Method. But after more than a few days of constant snacking, the calories can add up or even lead to unhealthy habits, long-term.
But don't worry, because not all snacks are created equal. To help you stay motivated and productive (and to bring a little joy in your life, you deserve it!), we've put together a list of our favourite work-from-home snacks that are both rewarding and packed with goodness.
#1 Steamed Edamame & Seaweed Sheets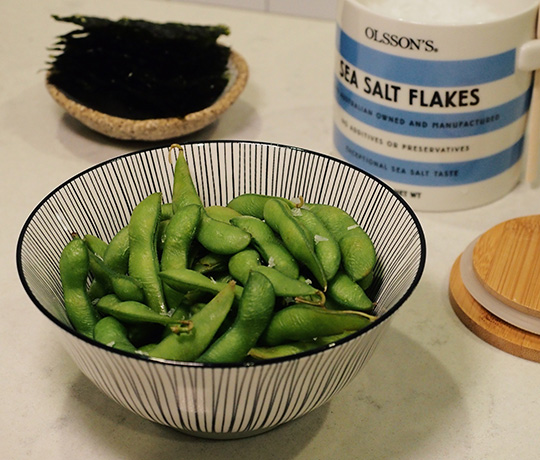 These are super simple to prepare. Available at all good asian grocery stores, and even some larger supermarket chains like Woolies and Coles, Edamame is often frozen whole or pre-shelled, but the whole beans are generally preferred for snacking.
Simply chuck them in boiling water for 3-5 minutes from frozen, or microwave in a heatproof container for 6 minutes with a splash of water. Serve them with a sprinkle of sea salt or chilli powder if you like a little kick.
Edamame beans are a good source of protein so it keeps you fuller for longer. They're also rich in vitamins and minerals like vitamin K and folate, and doesn't spike your blood sugar levels so you don't get a post-snack slump.
For extra credit, serve it with a few sheets of seaweed for an extra iodine and antioxidant boost. It's a snack that can sit in your fridge and pantry for whenever a little Kushisabishii hits.
#2 Roasted Chickpeas with Smoked Paprika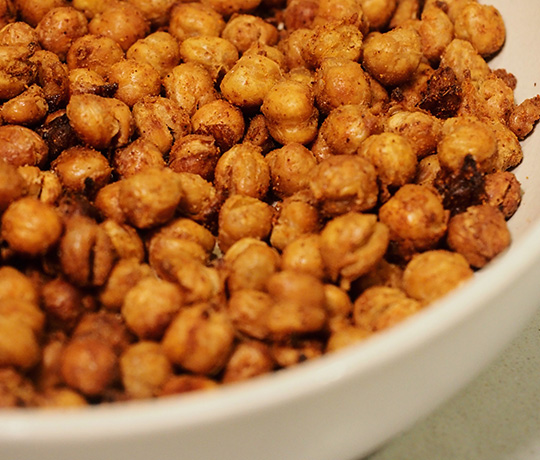 If you haven't tried roasted chickpeas before, you are in for a treat.
Chickpeas are high in fibre, are a rich source of vitamins and minerals – especially magnesium and potassium for a heart-health boost. They're also low GI, which means they don't spike blood sugar, and may help prevent and manage diabetes.
All of this is great news, but one handful of these roasted fresh from the oven, we promise you will fall in love with the beautiful nutty taste and crispy texture.
Chickpeas are also readily available, for just $1-$2 per can (great for those on a budget), and can be easily stored in the pantry, ready to go. Trust us, you'll want to cook a big batch of these – they're utterly moreish!
Ingredients:
1 can Chickpeas
1 tbsp Olive Oil
1 tsp Smoked Paprika
Method:
Heat the oven to 200℃ and line baking tray with baking paper.
Drain the can of chickpeas and carefully pat dry with clean kitchen towels. Be gentle, but the drier you can make them to start, the crunchier they will be.
Pop the chickpeas in a medium bowl, and toss through with 1 tbsp olive oil. Then sprinkle 1 tsp smoked paprika and toss again to coat evenly.
Spread the chickpeas evenly on the baking tray and put it in the oven for 30 minutes.
When it's done, sprinkle with some more paprika to taste.
Handy tip: You can use any spice you want to coat your chickpeas – from cumin through a little cinnamon for those with a sweet tooth. Feel free to experiment!
#3 Three-Ingredients Guacamole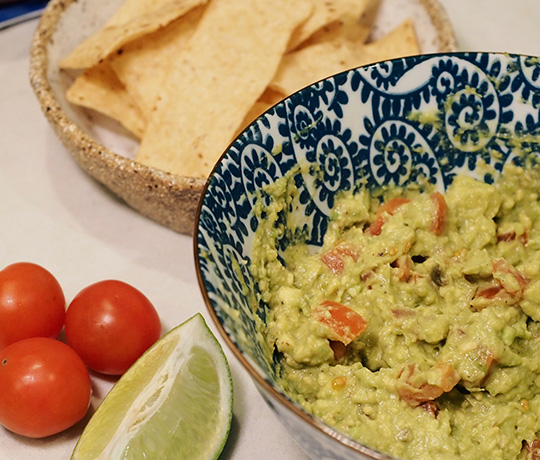 Packed with heart-healthy monounsaturated fatty acids and more potassium than bananas, we don't need to sell you on the health credentials of avocados.
Even less than we need to tell you about the joys of guacamole. But, if you haven't made it at home before, here is a super simple recipe that will have you enjoying an afternoon fiesta in minutes.
Ingredients:
1 ripe Avocado
1/2 Lime
4-5 cherry tomatos
Method:
Cut an avocado into halves, removing the seed. Scoop out the flesh with a spoon into a small bowl and mash with a fork.
Squeeze in the juice of half a lime, or more to taste. Season with salt & pepper.
Chop cherry tomatoes into small pieces and stir through the guacamole.
Serve with corn chips and enjoy!
#4 Homemade Popcorn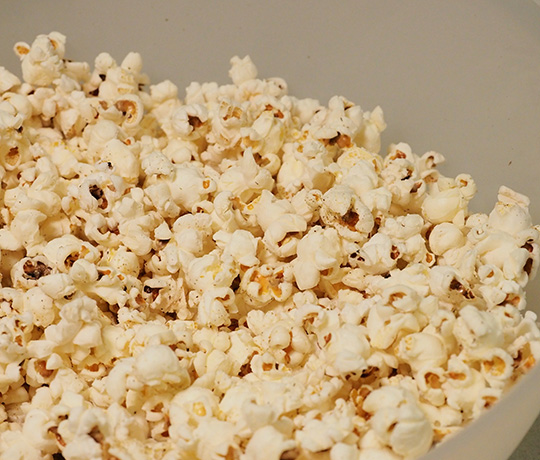 There's nothing like the smell of freshly-popped popcorn to cure the blues. Microwave popcorn is fine in a pinch, but a standard bag of microwaveable buttered popcorn can have almost 400 calories and more sugar and salt than we'd care to think about.
Homemade popcorn, on the other hand, averages only 90 calories per cup. Yes, that's right, this means you can have almost six times as much homemade popcorn for the calorie count at a fraction of the cost, too! Ok, so we don't recommend it, but the math still checks out.
The best thing about homemade popcorn is that you experiment with herb and spice blends to suit your taste. It's also much easier to make than you imagined. Give it a go, we promise you won't be reaching for the microwave kind again – even in an emergency.
Ingredients:
1/2 cup of popping corn
5 tbsps olive oil
Chicken Salt
Mixed Herbs
Method:
In a large saucepan with a fitted lid, heat the olive oil in high heat and throw in 3 kernels of popping corn. The oil is ready when they all pop.
Once the oil is ready turn to medium heat and carefully pour in the rest of the popping corn. Gently tilt the saucepan side-to-side to coat with kernels evenly. Close the lid.
Allow the corn to pop, until the rate of popping starts to slow. Turn off the heat and wait till the popping finishes.
Empty the popcorn in a large bowl, and while it's still hot, sprinkle generously with chicken salt and mix herbs to taste.
#5 Blue Cheese Apricots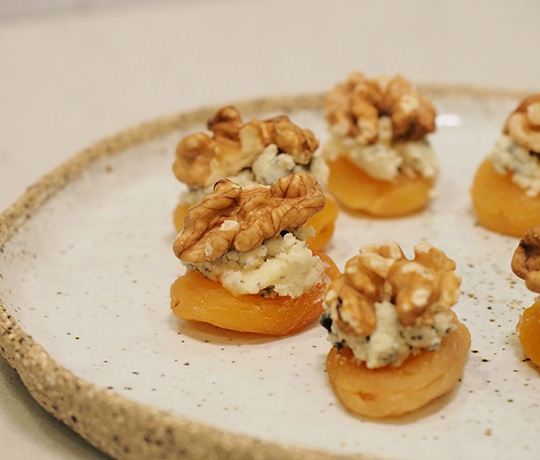 Don't want to bother with a hot stove or oven? We've got you covered.
This recipe is a little fancy, but it's also no-fuss and packed with nutrients. One cup of dried apricots provides 94% of your body's daily need for Vitamin A and 19% of it's iron. The blue cheese is also high in calcium and packs an enormous umami punch in just a little serve, while walnuts are a super source of Omega-3s and helps keep your gut healthy.
Besides, it is super simple to make. Simply mash a block of blue brie, spoon a small amount on a dried apricot and top with a whole walnut. It's so much cooking as assembling, but the results are just beautiful.
Try it. Even just for the gram. You won't regret it.
#6 Edible Cookie Dough & Fresh Apple Slices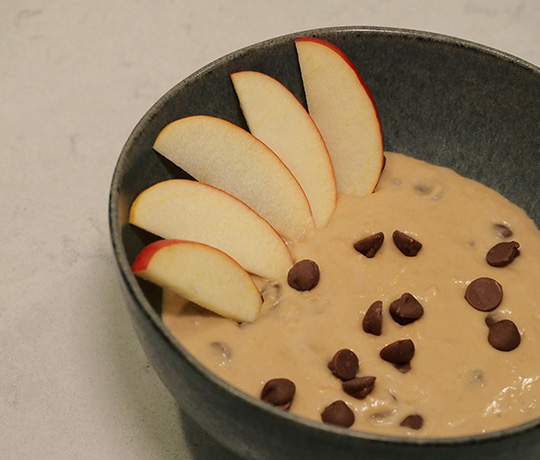 If you have a sweet tooth – and even if you don't – have we saved the best for last. If you only try one recipe from this list, make it this one. You seriously won't regret it.
It's sweet and satisfies your sweet tooth, but with Butter Beans as its base (you read that right!) it cuts the calories right down without compromising on flavour and gives you the protein, vitamins and minerals boost to help you feel fuller for longer.
We're not going to sell it to you any more – just give it go!
Ingredients:
1 can Butter Beans
1/4 tsp Salt
2 tbsp Milk (or non-dairy alternative)
3 tbsps brown sugar
1 tsp Vanilla Extract
1 Tbsp Maple Syrup
1/4 cup melted Butter
1/4 cup chocolate chips
Method:
Blend all except the chocolate chips in a blender until smooth, then fold in the chocolate chips.
Spoon the mixture into a bowl and leave it in the freezer for 15 minutes.
Serve with slices of fresh apple and if you top it with a small handful more of chocolate chips, we won't tell.