From free mobile gaming to multiplayer apps and award-winning mobile entertainment, take a look at our top 6 on iOS and Android.
Whether it's to pass the time in-between classes at university or to beat your mate's highest score, we all love a cheeky session on a casual mobile game or two. Some games you can challenge and play with friends live whilst others can improve your strategic thinking and memory. Before you know it, you've spent hours on working through puzzle game Tetris or trying to outplay your opponent on Words with Friends. Now more than ever, people are returning to mobile games as a source of entertainment and cure for boredom, whether on your commute to university or as a break from studying.
Stuck on which games you should be playing? Wondering what are the best iOS games? Or what strategy games exist on Android? We've got you covered. Here's our top 6 mobile gaming apps to download right now.
Mobile Game #1: MarioKart Tour (iOS & Android)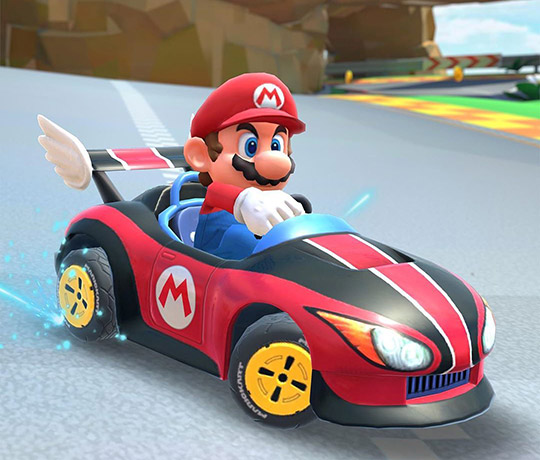 You would have to be living under rock if you haven't heard of MarioKart. However, for those that don't know, it's basically a racing game where you can choose different characters, karts and added features from the MarioKart franchise. You can then compete on different courses like Rainbow Road and Koopa Troopa Beach.
You may be thinking; how can this traditional console game translate to mobile with just swiping and tapping inputs? Well, you'll be pleasantly surprised at how good the game is designed, making the gameplay seamless and the graphics smooth. The acceleration is controlled for you, so all you have to do is steer and take out your opponents by throwing out bananas, shells and bob-ombs. There are so many courses, you're playing with other people around the world and it's a fun process where after each time you level up, it unlocks new characters and features. We can promise you that you'll fall down a rabbit hole with one.
Mobile Game #2: Kick Flight (iOS & Android)
This one's for all you anime lovers. What's the premise? To fly your customisable character around a 360 degrees' arena to collect crystals in a 3-minute real-time battle. There are two teams of four in each game and the team that collects the most wins. Each Kicker has their own style, special abilities, strengths and weaknesses, so you can be assured no two games are ever the same. It requires a mix of taps, flicks and swipes as you have head-to-head battles in mid-air and there are a heap of character designs to choose from.
However, there is a downside unfortunately. Since it requires at least 8 real players for each match it can take a while for a match to be found for you. You may need to play when the rest of the world is up, but it's important to remember that this is a fresh new game that only came out in early February so when it gains in popularity there'll be more players. You can also schedule matches with friends and family!
Mobile Game #3: Crossy Roads (iOS and Android)
If you're looking for a game that'll really get the heart racing, you should try out this arcade game. Ever heard the joke, 'why did the chicken cross the road?' …to get to the other side! It's your classic dad joke but it's what inspired this simple yet addictively fun game.
The goal is to get your block chicken (you can also choose other animals like a pig or cat) to cross a never-ending highway or series of roads as far as you can without dying, whilst avoiding obstacles like cars, rivers and trains. You better be quick though in your decision-making, because if you take too long a bald eagle will swoop down and take your character. You can also collect coins and the more you get, the more characters you can unlock – there's at least 204. It's the perfect game for those of you that love a bit of an adrenaline rush.
Mobile Game #4: Animal Restaurant (iOS and Android)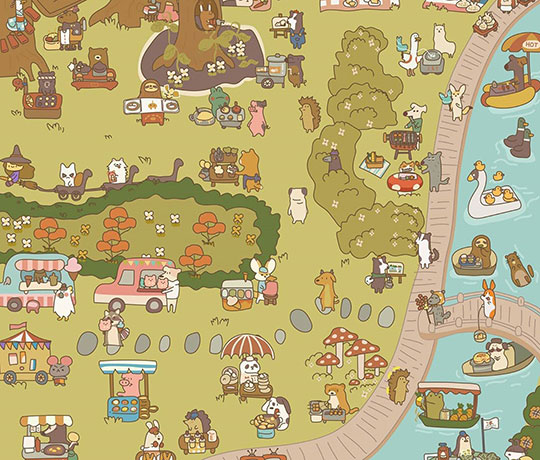 Super cute animals working in a restaurant? Need we say more? For a soothing alternative to your fast-paced, anxiety-driven and competitive mobiles games, try Animal Restaurant. The business and management simulation starts off with a stray cat and as the owner of this little restaurant, you take this abandoned cat under your wing and let him/her work for you. From there, watch your business expand as you learn new recipes like strawberry pancakes, decorate the interiors to suit your style, keep your staff in line and interact with customers. It can get pretty busy trying to serve the long line of customers; taking orders, cleaning up, keeping customers happy and making sure you hand out enough flyers to attract business. However, it's not stressful because you're just tapping the screen. Did we mention that the animals are super cute?
Mobile Game #5: Florence (iOS & Android)
If you're one of those people that likes interactive narratives and just really loves love, then we recommend the part graphic novel, part game, Florence. For just $4.49 you can become invested in the story of 25-year-old Florence Yeoh, a woman stuck in a monotonous daily routine who meets and falls in love with Krish, a cellist. There are 20 chapters and 6 acts which represent Florence's periods of growth and change, to unlock what's next you're required to complete puzzles.
It was named Best Mobile Game at the BAFTA Game Awards 2019 and Mobile Game of the Year at The Game Awards 2018, and for good reason too. The graphics are nothing short of beautiful. You'll find yourself smiling, flirting, fighting and crying as you follow Florence's insightful and inspiring journey. You may need a box of tissues and a big glass of wine with this one, it's going to pull your heart strings.
Mobile Game #6: Candy Crush Saga (iOS & Android)
When it comes to mobile games legends, you'll find Candy Crush sitting right up there with the very best. Never heard of it? Well, let us enlighten you.
The instructions couldn't be any easier – all you've got to do is match 3 of the same candies in a row in any direction. You need to achieve the expected amount before your turns are up. As you level up it gets a bit more complicated. There's timed bombs, chocolates swallowing up candies and jellies you need to get rid of. You get a maximum of 5 lives, for each level you fail you lose a life which is then restored after waiting 30 minutes. Whilst it can be frustrating when you lose all 5 on one hard level and you have to wait for them to restore, this is a bit of a good thing! It helps restrict how often you're playing – just don't fall for the in-app purchases of more lives! There's literally thousands of levels, so we can guarantee there's endless hours of entertainment available with this.
Like these mobile games, why not try out our favourite Nintendo Switch games too?