Life
11 New Skills You Can Learn in a Month
What skills can be learnt in a month? Well, heaps. But we've put together some easy (and virtually free) talents you can add to your skillset, not to mention fill up your spare time.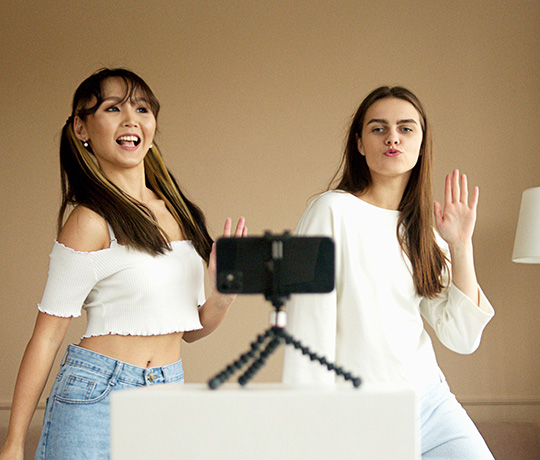 Find yourself with a little time on your hands? Thanks to the pandemic, many of us have had to cancel plans or stay at home to protect those we love. Welcome to a new normal.
One of the most important things to remember during these times is that self-care is key. It's okay not to be productive right now (although if you're working from home right now, here are our top tips to stay focused). But for some of us, staying busy is our own form of coping too.
So if that's you, this might be the perfect time to pick up a new skill, brush up on some old ones, or finally entertain an old-forgotten dream that you've let life tell you you're too busy for.
Best of all, it doesn't always take much money to do these budget-friendly things. Thanks to a lot of generous people and communities, many of these skills can be picked up for free or next to nothing.
Here's 11 skills you can learn in a month:
#1 Learn to Code
The digital revolution is well and truly here, and even primary aged students these days are taught basic coding. But if, like us, the closest you've come to knowing how to code is typing in the URL in an address bar, then this is the perfect time to at least get to know the fundamentals.
From Khan Academy to BitDegree, there are so many places to learn how to code, but our favourite is Codecademy. You can start off with their basics course all the way up to more complex languages like Python and SQL.
The courses here are self-paced and the online interface helps you immediately test your code and analyses where you went wrong if you're stuck.
Oh, and did we mention it's free? Cool, right.
#2 Learn to Converse in a New Language
Yes, we're being deliberately specific here. One month may not be enough time to learn a whole new language, but you can learn enough phrases to get by. You know, for when we're finally allowed to be in a different country again.
Pimsleur.com is an online platform that's based around the Pimsleur method. The story goes that Dr. Paul Pimsleur, a linguistics professor and researcher at Ohio State University and UCLA, discovered that the way to rapidly acquire a new language is by hearing the language used in everyday situations and interacting with it so it easily sticks in your mind.
The platform promises that in 30 days, for just 30 minutes a day, hearing these phrases grouped in themes will help you absorb enough to get conversational in under a month.
For us, we love the app with the flashcards functionality and the focus on accent and pronunciation. Even though we may not be fully fluent, we're at least feeling the fantasy a lot more than using other apps like Duolingo or Rosetta Stone.
#3 Learn to Draw
Some people just seem to be born with the ability to see something and draw it, but for those of us who weren't, it is heartening to know that it is a skill, just like any other. That means that it can be broken down, taught and learnt.
There are so many courses you can take on platforms like Udemy, but before you do, check out Drawabox. This free series and community created by LA artist Uncomfortable. It started as a reddit thread of artists wanting to give back and teach others how to draw. Over the years, Uncomfortable distilled his method into seven lessons that can be found on their YouTube Channel.
Don't let that fool you though – seven lessons may not sound like a lot, but there's a lot of practice involved. That said, it's all fun work if you're really interested in becoming a better drawer, and the seven lessons lead you from the fundamentals to new ways of seeing that will help improve your drawing for years to come.
#4 Learn Speed Reading
Imagine how much more you would get done and get through if you can speed up your reading by 300%? Well, this program by Tim Ferriss – of the 4-hour work week and podcast fame –  is designed to help you do just that.
According to Tim, reducing regression (moving back to what you've already read) and improving peripheral vision is the key to increasing speed. Through a series of drills, Tim shows you how to train your field of vision to absorb more works while you read without impacting comprehension.
The principals of it seem simple and it's all contained within the blog and the accompanying video, but mastering the skill will take a bit of practice. The payoff though is worth it.
One great note Tim offers though is that if you're using the skill to improve your study, beware. The recommendation isn't that you read 3 assignments in the time it would take for you to read one, but rather to read the same assignment three times to increase exposure and recall improvement, which is an excellent point.
#5 Learn a K-Pop Routine
Or a contemporary, or hip-hop, or ballet routine. 4 weeks might not be long enough to turn you into the next Black Swan, but it can certainly give you more confidence for the next time you're on the dance floor while having a lot of fun along the way.
The best thing about learning it at home is that you can do it at your own pace. We love Steezy because not only do they have an extensive on-demand catalogue, they built their app (mobile and web) from the ground up to help you better learn choreography. Lessons range from 15 minutes through to 10-class long courses (their introduction to dance course is excellent). But it's their in-class features that will really help turn anyone into a dancer. You can rewind, skip sections, and even choose the camera angle front, back or mirrored to help you see the choreography from all angles.
There's even a BTS series that is just guaranteed to put a smile on your face.
#6 Learn First Aid
You might not be able to become a doctor in 4 weeks, first aid is one skill you can learn in a month. Just enough time for you to learn how to react in an emergency and save a life.
Most accredited first aid courses will require a practical component, but there are still plenty of online versions that can teach you important life-saving skills.
The Red Cross and St John are both reliable sources with online courses that are constantly updated. For example, did you know it's no longer recommended to perform the  heimlich maneuver when someone is choking? Or that it's best to perform CPR to the beat of the song "Stayin Alive" by the BeeGees?
St John even has modules on managing mental health when working from home and building resilience through COVID that are well worth a look.
#7 Learn to Play a Song on the Guitar
Though it might takes years to become the next Santana, it can take just weeks to learn the core chords to a Santana song. Sites like Ultimate Guitar is a great place to find community-submitted tabs and chords that will have you playing your favourite hits in no-time.
Ultimate Guitar also finger charts for the chords so if you've literally just picked up a guitar for the first time, it's a great free resource to start learning the basic chords that make up a song. As Axis of Awesome has proven, it takes just 4 chords to play many hits, so you'll be up and running in no time.
For a more structured program, Fender Play is an excellent app with a free trial to take you from the fundamentals to advanced licks. It even has song-specific lessons including backing tracks that'll have you performing John Legend, Billie Eilish in hours.
#8 Learn how to Create a Great Photo
We're spending more time than ever scrolling on phones, but don't forget what you have in your hands is also an incredible tool for creating and capturing photos. After all, the best camera is the one that you've got.
Thanks to the pandemic, a lot of the big camera houses have created content to help you stay inspired and to stretch you creatively. Our favourite is Fujifilm's X Stories blog, where each week, they issue a new creative challenge and topic to keep you motivated and try new things.
If you're looking to polish your fundamentals, Allison also has a range of online courses that will take you through everything from gear to aperture for a more formal education.
Need help choosing the right camera? Why not check out our article on why we think going mirrorless might just be your best bet.
#9 Learn to Create your own Ceramics
Not everything has to be screen-based. Get your hands dirty and learn how to create your own ceramics at home in just one month.
Kits like Crockd are great – they deliver a DIY pottery kit for 1-2 people along with step-by-step instructions to make cool stuff like mugs from scratch. It's a great way to get started without a lot of equipment.
If you're looking for more, check out Soul Ceramics. They have so much great content that takes you through the fundamentals of pottery – all the way through to making your own clay at home and what to look for when you're buying your first wheel.
#10 Learn to Run 5km
It is possible to get from the couch to 5k in a month. Well, according to Run-For-Good it is, and they've got a plan to prove it.
But it's doesn't always have to be quite so full on, or running based. Four weeks might just be enough time for you to try out some Boxing Classes, try a sun salute, or see what the fuss is with the indoor biking cult that is Peloton.
Check out our guide to best at-home workouts to get inspired and get moving!
#11 Become a Leader
Did you know you can study at Harvard for free? That's right. Eat your heart out, Elle Woods. Harvard University has released a whole range of online courses – many of them free – on their online portal.
From Statistics and R to a three-week long specialisation on Handel's Messiah, there's truly something for everyone at Harvard. We're currently going through a four-week course on the Fundamentals of Leadership that is a fascinating mix of lectures and practical modules that's well worth a look. Plus, we have already bookmarked the 8-week Persuasive Writing and Public Speaking course to come.