From being trained by an inspiring ring maker to running his own café to running ring making workshops, welcome to the busy and creative life of Thom Lane.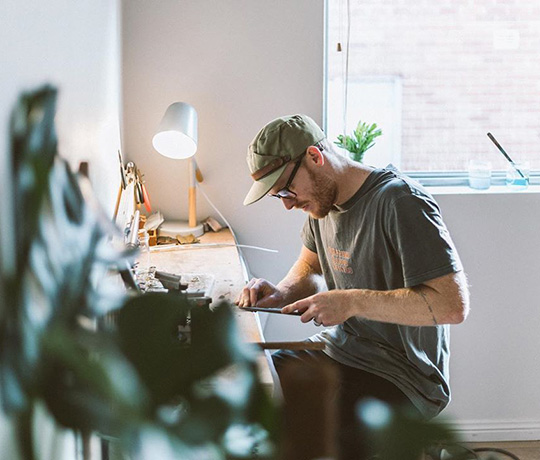 From the shores of Manly Beach lies The Fifth Lane, a handcrafted jewellery line that specialises in making rings. Whether it be delicate sterling silver bands to chunky 9 carat gold signet rings, these structurally unique designs have received an almost endless flow of passion and creativity from Thom Lane. They're perfect for styling and stacking for both men and women.
What sets the Fifth Lane apart from most jewellers is the transparency in his craft. He also offers classes and toolkits that allow for people just like you and me to make these beautiful rings ourselves! Join us as we dive into Thom's world on how this all came about.
How and why did you become involved with ring making?
My interest in ring making all came about through the influence of my beautiful Mother. She was always so creative and made some unique pieces with her good friend, Noel Froome. He is and always will be one of my biggest inspirations, in fact, he's basically the reason I became so involved with making jewellery. Being able to hang with him and watch a master in his craft got me excited and it made me want to try out this type of craft myself, by adding my own twists to my designs of course.
What are your main inspirations behind your ring designs?
I love raw and natural imperfections. So, visually it's based on a whole bunch of nature and things I've seen whilst out in the open. I'm lucky enough to live on Sydney's Northern Beaches where there's an abundance of nature from the waves and the beaches to the incredible bush walks and national parks. All my rings are named after people who I really love and care about, for example the Otis is named after my son.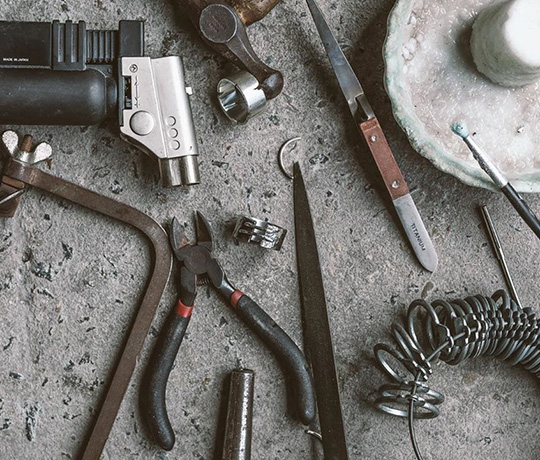 Enlighten us on the process behind making a ring such as how do you source your materials and how long it can take to make on average?
All the materials I use are high quality recycled metals sourced from various companies in Australia. Where possible, I like to source my materials locally and sustainably. Depending on the piece, it can take anywhere from 4 minutes to 6 hours. It really depends on if it's a bespoke piece, one of my more detailed pieces such as the Benny or a simple stacking ring, like my Wonky Stacks. Due to every piece being hand-made, it's important to me that I pour as much love as possible into creating these rings, and that in itself takes time.
What is your favourite part of the process?
The heating of the metal. Watching the colours shift is amazing, and how a solid in a bendable piece of metal can become soft and malleable. When I was a young little chap, I always loved fire and that was also what started my obsession with ring making. I enjoyed seeing how materials would change and particularly how fire would mix with shiny metals and lots of tools. It's a big boys playground, really.
What are the highlights and challenges of being a ring maker?
It's very therapeutic and rough at the same time. It takes me out of reality and allows me to become hyper focused on the present moment. At times, it can require lots of patience and concentration but it has become an outlet for my creative juices to flow. It's just an extension of my messy life and I love it.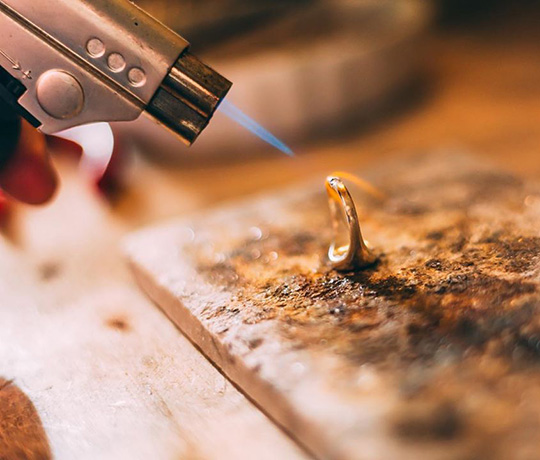 Tell us about the types of ring making classes you offer. What has it been like, being able to share and teach one of your passions?
I host the ultimate basic classes from zero to metal bender which involves silver fine wire work, soldering and filing to finishing. There's also the chunky ring workshops which allow for my clients to make a variety of styles. A special one I do is for couples to make their own wedding rings. It adds a real personal touch that's symbolic of such a beautiful commitment.
My classes are great for Hen Do's, birthdays or even to give as a gift to someone. You get to make your own rings, listen to music, drink some wine, it's really chill. We have a few fun new ones coming soon so keep an eye out!
What's next for The Fifth Lane?
To be honest nothing too fancy. My ultimate goal is to better the process and keep my students happy, and spread my skills.

Loved this interview with Thom from The Fifth Lane? You can book your own class right here.
Liking our design series? We also sat down with Tina from Clay By Tina about being a ceramicist.