From yoga on YouTube to HIIT style 10 minute workouts to workouts without any weights, here's our top 4 home fitness workouts for any level.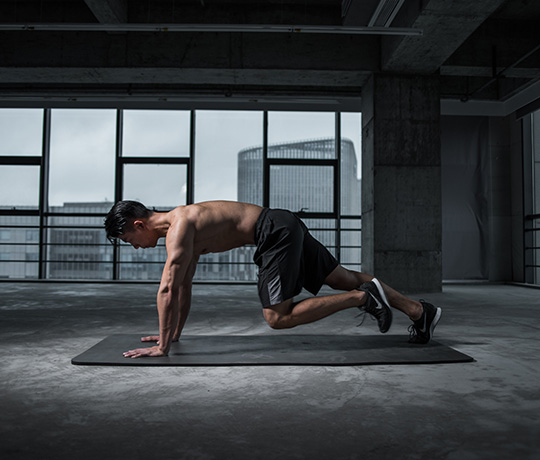 For most of us it's been weeks since we've been to the gym or gone to our dance classes or swam laps at the pool centre or had a spin class…. It almost feels like our motivation has disappeared with it. We get it, it's definitely a lot harder to push ourselves when we're feeling like sloths at home without much structure and no one yelling at you to move faster. Thing is though, exercise is perhaps the most important thing you should be doing right now for both your physical and mental wellbeing.
It'll make you feel like you're in a routine, it'll clear your cluttered thoughts and you'll just overall feel a whole lot better after completing it. It'll be like a daily achievement. Whilst going for walks and runs outside can be refreshing, for some of us it's just not a vibe or it's starting to get boring and you need to mix it up a little. Thankfully, a lot of our favourite exercises can be done at home and plenty of people are jumping on the bandwagon of offering live sessions and free videos.
Whilst it's not the same as being in an atmosphere full of people, with music pumping and air-con blaring to the beat of people's huffs and puffs, it's the best we can do in the situation we are in. Plus, think of the money you're saving! Now there's no more excuses… All you've got to do is lay out a yoga mat or stand up and get moving. Set some goals, sweat it out and we promise you'll feel great. It's the perfect way to break up your study routine!
To get you started we've found four of our favourite home fitness workouts that are FREE and will keep you fit for sure during our time in isolation.
Home Workout #1 – PE with Joe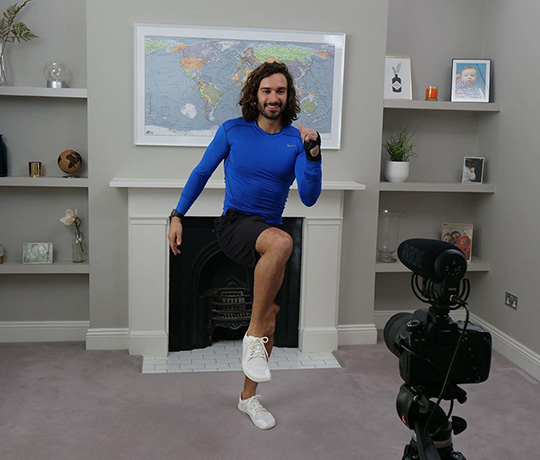 If you're after a good source of inspiration and daily motivation, subscribe to The Body Coach TV. He's a London based trainer who's been releasing daily live videos Monday – Friday at 9am, which would be 6pm EST. You can either join in live or do the videos later in your own time. You'll find yourself doing sprints on the spot, squats, mountain climbers, jumping jacks, planks…a whole range of exercises that don't require any weights but will leave you feeling sore the next day. It's hugely popular, with some of his videos attracting millions of viewers! We do have to say though, the shout outs might be annoying for some of you and there's no music in the background. This can be easily solved by playing music off your phone. He also has plenty of videos which focus on specific areas like the abs or glutes. For a variety of killer workouts be sure to give this a go, it's perfect if you need to move but you're not a serious gym goer.
Home Workout #2 – POPSUGAR Fitness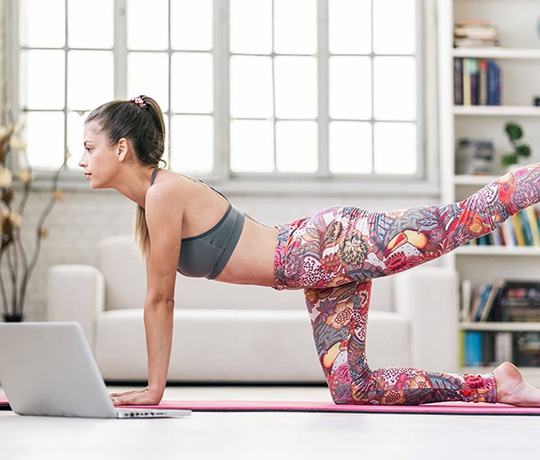 POPSUGAR Fitness is a Youtube channel that has a wonderful array of high-intensity and low-intensity workouts that cover exercises such as dance, pilates, yoga, cardio and HIIT. We're absolutely loving the sessions on offer here, particularly the 30-Minute STRONG by Zumba Cardio and Full-Body Toning Workout. For those of us that love to move to the beat of music in a routine with a mix of cardio, muscle-conditioning exercises and dance, this is the perfect video for you. Keeping with the dancing theme, another favourite is the 20-Minute Booty-Shake Workout. The title says it all. You'll be left fully exhausted after this highly-energised DanceFit routine. It's a fun twist to the traditional form of exercise you may be used to and it's a great little mix up to your schedule. They're so easy to follow. Time really does fly by with these 30 minute sessions and you'll be left burning afterwards (the good kind of course). With a different type of workout released everyday with different coaches, we promise you'll never get bored of this channel.
Home Workout #3 – Yoga with Adriene
It's all well and good to throw yourself into intense workouts, but it's also important to make time to help your body recover and strengthen your muscles. Yoga with Adriene has over 500 videos that explore all the yoga poses you could imagine. Some are for specific purposes like back pain, acid reflux or even emotions like vulnerability. The guided meditations focus on visualisations and mantras that'll help clear your mind and relieve any stress or anxiety you've been feeling. Meditation goes hand-in-hand with mental health and with isolation offering many obstacles in that arena, it would be wise to incorporate a few sessions into your routine. Adriene has become quite the internet sensation during isolation, jumping to over 7 million subscribers. Her main mantra is 'find what feels good' which means you don't need to follow her moves exactly and to do positions at a pace that suits your physical needs. You can choose between 10 minute to 1 hour sessions, so there's something for everyone that can be easily integrated into your daily routine!
Home Workout #4 – BODYCOMBAT INVINCIBLE
If you're a member of Fitness First, you would be familiar with Les Mills' programs. Are you a martial arts fanatic or someone who's interested in dabbling in with the sport? Look no further than BODYCOMBAT INVINCIBLE. A series of exercises inspired by martial arts and combat that'll get your heart pumping. It's a 28-day free challenge where you can practice from the confines of your own home for one hour. Think uppercuts, side-kicks, kick-boxing and jumps! It's up-beat, fast-paced and you feel like you're in a room full of people. The instructors are motiving, the location is cool and the music matches the routine. Being stuck inside all day can intensify any pre-existing frustrations that you may be having such as work or stress. Not being able to let that out how you usually would can be difficult. At least now with these combat sessions you'll have an avenue to release all that negative energy! It's also a very rewarding feeling once you've completed the challenge, but that doesn't mean you need to stop. If you really love this series, you can just repeat it!
Are there any other free home fitness workouts that you've been loving lately? Any that you'd consider continuing even after gyms re-open? Let us know here at The Switch!