From drag fashion runways to disco dance parties to comedy shows that'll leave you in stitches. Here's why you need to go to The Feast Festival Adelaide.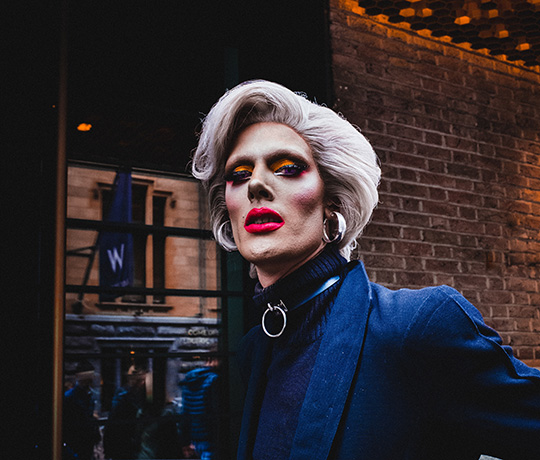 It's fabulous. It's creative. Flamboyant, extravagant and boy oh boy, is it colourful. It challenges the status quo in almost every way possible. Welcome to the magical wonderland of glitter galore and rainbow pride, the Feast Queer Arts and Cultural Festival in Adelaide. It is jam packed with local talent, thought-provoking discussions and unique acts that recognise the rich history that is queer arts and culture, as well as celebrate how far the LGBTQIA+ communities have come.
It's one of 11 major festivals in Adelaide and it's also the third biggest LGBTQIA+ festival in Australia. There are usually over 70 events across cabaret, drag, theatre, workshops and seminars, parties, literature, comedy, visual arts, music, film, sporting events, discussions and community based activities. It's an entire world of entertainment that fully embraces its communities, is open to basically anything and offers a haven for shared knowledge and experiences. In past years, they've even had headliner acts such as Danni Minogue and Eurovision winner Conchita Wurst. Think of it as one big party of people coming together to celebrate one thing, equality. If 2019's festival is anything to go by, you'll definitely be jotting this one down in your calendar.
2019's ambassadors included internet sensation and comedian Christian Hull, seven-time Women's National Basketball Champion Natalie Hurst and also a pair of same-sex attracted flamingos from the Royal Zoological Society of Scotland's Edinburgh Zoo who became famous in 2014 for adopting a flamingo egg that was abandoned. There was also a special event called 'Carnival' which showcased queer night entertainment, we're talking carnival attractions and roving entertainers here.
But now onto 2020's festival.
The Feast Festival Details: All You Need To Know
The Feast is held every year in Adelaide across 2 weeks in November – the 2020 Feast Festival is being held from 7-29 November. Locations of the events are scattered across the city of Adelaide and you can purchase tickets either online or over the phone. Students even receive free entry as long as they have a concession ID. You'll need this on you for proof of entitlement!
Highlights You Can't Miss!
The festival starts off with the annual Pride March. A wondrously spectacular celebration of thousands of individuals from the LGBTQIA+ communities as well as their allies, practically dancing through the streets in their most colourful get-ups. It's led by motorbikes, First Australians and a DJ playing queer anthems. The march then spreads into a party across various venues in the city centre of Adelaide, you'll be celebrating until the early hours. This Pride March started in 1973 and is still going strong, which exemplifies not only a rich history of perseverance but a confident resilience like no other.
Another favourite is the Picnic in the Park, a family-friendly event that finishes off the festival in Tarntanya Wama. Also known as Pinky Flat. Lay down a picnic blanket and enjoy the summer sun with your loved ones, there's heaps of local market and food stalls as well as community information stands around. Also, there's the all-important annual dog show amongst many other activities. It's the perfect time to chill out and reflect on the past couple weeks of festivities.
The Feast Festival began in 1997, providing an all-inclusive safe space for people to discover who they are, express themselves and embrace their identity. It deserves to be celebrated by all walks of life and provides an inspiring story on social justice. It plays a critical role in celebrating diversity, improving visibility, strengthening connections and building trust within the Australian community. Not only are you attending a festival, you're also showing your support for these communities. These acts, stories and individuals will strike a nerve with you, incite a call to action in some cases and leave you spell-bounded by how unlimited possibilities truly are. The power of inner acceptance is second to none. This festival is anything but forgettable.
Want to grab tickets to some of the incredible events? Click here to view the 2020 program.