Trying to eat more vegetables for health reasons? Don't like the impact of eating meat on the planet? Looking to up your weeknight dinner regime? Check out these 3 easy-peasy vegetarian recipes!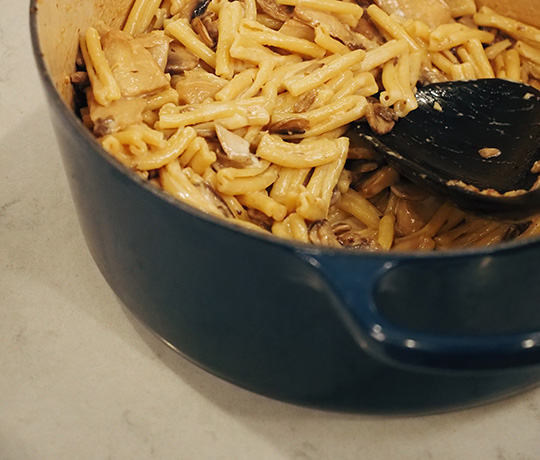 If you're like most people, you plan your meals based on which protein you feel like cooking. Fancy chicken tonight? Some beef? Then next is the style you would cook it in – stir fry, with a pasta…
For me, I realised that I very rarely answer that question with "vegetables". It's not that I particularly dislike vegetables, but chicken or pork just seems to roll off the tongue so much easier.
So this month, I've challenged myself to find 3 vegetarian recipes I'd love. Not even as a meat replacement – it is World Meat Free Week from 27th of September after all – but as a stand-alone dish I would love and add to my repertoire.
After testing a few and making my own tweaks, here are three of my new favourites that I know you will love.
Be sure to tag us on @switchliving to show off your creations when you give these a try!
Kung Pao Tofu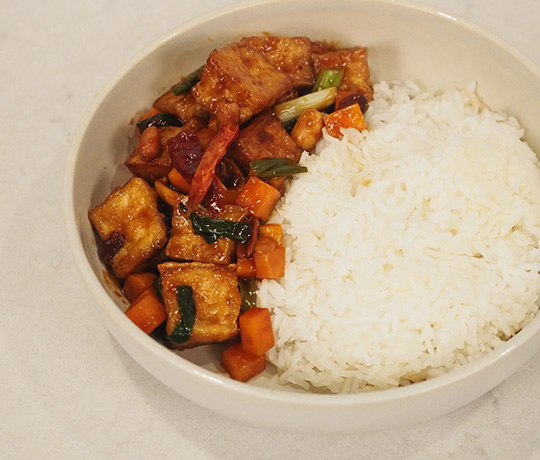 One of the most famous Chinese dishes is Kung Pao Chicken, but did you know that by making it with tofu, you'll add a whole 'nother crispy dimension to the dish? 
The trick with tofu is to make sure to drain it completely when taking it out of the packet. This will allow it to crisp up much better when you fry it in the pan. Simply drain the tofu when removing it from the packet, and then leave it on a plate for a further 10 minutes. Then pat dry the surface with a clean towel and you're good to go.
The chillis in this recipe also look really menacing, but trust us – sichuan peppercorns are a lot less "hot" than they look and instead add a beautiful depth to the flavour and gives your lips more of a numbing sensation.
Ingredients
1 packet of firm tofu
1 cup blanched shelled and skinless peanuts
2 medium carrots, chopped
1 tbsp minced ginger
3-5 dried sichuan peppers
3 cloves garlic, crushed
3 spring onions (mainly the white parts)
For the batter:
1/3 cup cornstarch
1/4 tsp garlic powder
1/4 tsp onion powder
1/8 tsp five-spice powder
1/4 tsp salt
1/4 cup water
For the marinade:
1 tbsp soy sauce
½ tsp dark soy sauce
2 tsp sugar
¼ tsp salt
1 1/2 tsp rice vinegar
½ tsp sesame oil
2 tsp cornstarch
2/3 cup warm water
Method:
Drain tofu from container and let it sit on a plate for 10 minutes.
Put 1 cup peanuts on a cool baking try into a cool oven and set at 180 degrees. Leave in for 7 minutes or until the peanuts are lightly roasted.
Meanwhile, make the batter by combining corn starch, garlic powder, onion powder, 5 spice, salt and water to form a slurry. Make the marinade too in another bowl by combing soy sauce, dark soy sauce, sugar, salt, rice vinegar, sesame oil, cornstarch and warm water.
Use a clean towel to pat dry the tofu and cut into cubes. Bring a pan of oil to high heat (until bubbles form around the tip of a pair of submerged chopsticks). Quickly but gently coat the tofu in the batter and fry on all sides.
In a new pan, stir-fry carrots, ginger, peppers and shallots for 3 minutes and add in marinade. Heat till sauce thickens and add in tofu and peanuts, tossing to coat well. Serve over steamed rice.
Cheesy Vegetable Lasagne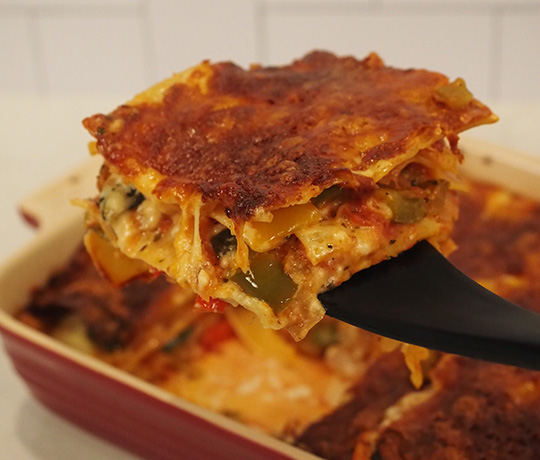 Now that more of us are working from home, having a delicious lunch in the fridge ready-to-go is such a pleasure.
Lasagnes are the best invention for meal prepping, and it's surprisingly easy to make. This veggie-filled recipe is so colourful, so creamy, and best of all – so cheap to make!
If you're worried that you'll be hungry after a vegetarian meal, don't worry, this will fill you up for a long while.
Ingredients
1 packet of Lasagne Sheets (fresh or dried)
2 carrots, diced
3 capsicum (any colour, but go for a mix)
2 celery stalks, diced
2 zucchinis, diced
3 tbsps tomato puree
1 can chopped tomatoes
2 brown onions, diced
1 tsp salt
¼ tsp pepper
1 tbsp dried basil
1 tbsp dried oregano
25g butter
⅓ cup all-purpose flour
1.5 cups milk
Salt & Pepper to taste
A bag of shredded tasty or mozzarella cheese
Method:
Preheat oven to 200 degrees celsius.
Heat 2 tbsp oil in a large pot and saute chopped capcicum, onions, celery and zucchini, stirring occasionally.
Meanwhile, make a white sauce by melting butter in a small saucepan, pouring in the milk and gradually adding in the flour while stirring. Add salt and pepper to taste.
Once the veggies have softened, add tomato puree, chopped tomatoes, salt, pepper, basil and oregano to the pot. Mix and cook down for another 5 minutes.
Now start to build your lasagne. Spread a layer of tomato puree on the bottom of a oven-proof dish, and add in a layer of lasagne noodles. Spoon in ⅓ of the white sauce and build a layer of veggies on top of the white sauce. Repeat the process 2 more times and top with a layer of lasagne noodles sprinkled generously with cheese. Bake this in the over for 30 minutes.
Once ready, remove the lasagna from the oven and let it cool for 10 to 15 minutes before serving – it's VERY hot!
Miso Mushroom Pasta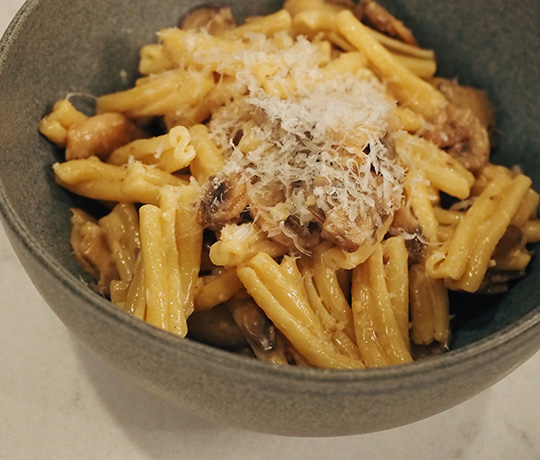 This recipe is so simple, but so delicious, it will be your new favourite as soon as you try it. The recipe uses brown mushrooms because they're always readily available, but feel free to use a mix of mushrooms – swisse brown, king oyster, shitake… let your creativity run wild!
With the miso paste, red miso is also the most common, but you can also find white miso and other combinations. Opt for a simple miso and apply the golden rule of cooking – taste as you go!
Ingredients
About 300g of your favourite dried pasta
A punnet of brown mushrooms
2 tbsp vegetable oil
2 tsp red miso paste
3 tbsp softened butter
5 garlic cloves
½ cup heavy cream
Parmesan to taste
Salt & pepper to taste
Method
Bring a large pot of water to boil and season generously with salt (until it's as salty as the sea). Cook the pasta as per packet instructions and drain.
Chop mushrooms into bite-sized chunks and whisk red miso paste and butter in a small bowl until smooth.
Saute mushrooms for 3-5 minutes in a medium pan and remove. Heat minced garlic with a tablespoon of oil. Once fragrant (about 30 seconds), bring back the mushrooms and add in the miso paste. Slowly pour in ½ cup of cream and stir through. Shave in parmesan to your taste and toss through with pasta once you're happy.
Serve, topping with more parmesan and enjoy!

Check out our list of easy Asian recipes you can whip-up in your dorm!