Wondering how to celebrate balmy nights in Spring? Craving Asian delicacies? Love having picnics on the grass watching cultural performances? Then you need to check out OzAsia Festival Adelaide.
The OzAsia Festival
Moon lantern parades? Outdoor music acts? Theatre performances by some of Asia's leading artists? Dumpling markets? Dessert bars? Fireworks? Say no more! OzAsia Festival is 'Australia's leading contemporary arts festival engaging with Asia'. Think of it as one big open market, a street party that will remind you of your favourite pockets in Asia. Every year it pushes the envelope, offering an outstanding line-up of explorative and insightful performances that are celebratory of Asian culture. For example, the revisionist historical performance called 'Light' by Thomas Henning and the dance act by Techno Circus Tokyo were two unique and popular acts back in 2019.
Since 2007, OzAsia Festival has provided a platform for artists from South-East Asia, Japan, Korea, China, India, Iran, Syria, Israel, Denmark, the United States, the United Kingdom and Australia. These acts provide a unique perspective across the board of creative arts in Asian theatre, music, visual arts, film, food, dance and/or literature. In fact, there's a new free literary program that provides a satellite event of the Jaipur Literature Festival which is renowned as being the best literary show on the planet. OzAsia's version offers a safe and commemorative space that provides an opportunity for literary creatives from both Australia and Asia to investigate and participate in new ideas, writings, discussions and debates.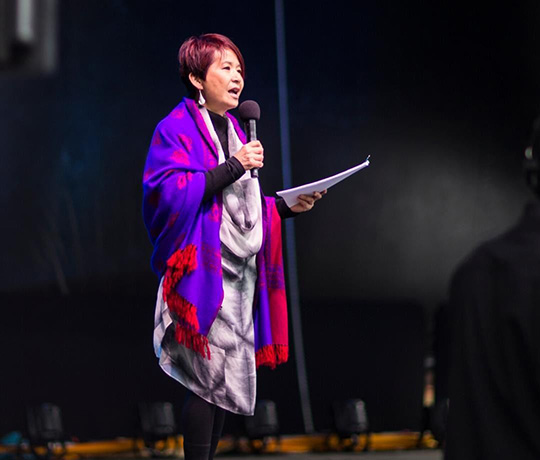 They were named winner of the Major Festival and Events Award at the South Australia Tourism Awards 2019. Annette Shun Wah has been announced as the new Artistic Director for 2020, so you can be assured there are plenty of exciting things coming up. Due to the realities of Covid-19, the festival has been postponed for 2020 but Annette will organise a series of online discussions, interviews and experiences that will tackle the significance of Australia's engagement with Asia and the arts. This will be held from October 22nd to November 8th 2020.
She says, "I'm looking forward to leading the next evolution of this very important festival, and I can't wait to program a fresh, surprising and deeply relevant OzAsia Festival 2021".
What Are The Details?
OzAsia Festival is held every year in Adelaide for three weeks during Spring. Usually from mid-October until the first week of November. It is situated in Elder Park in the City of Adelaide alongside the riverbanks of Karrawirra Parri which is also known as the River Torrens. The films are shown at Mercury Cinema in Morphett Street. You can either purchase a single-entry ticket for the festival or an unlimited pass for 3 weeks. There are concession discounts for full-time students, please remember to bring your concession ID with you for proof of entitlement!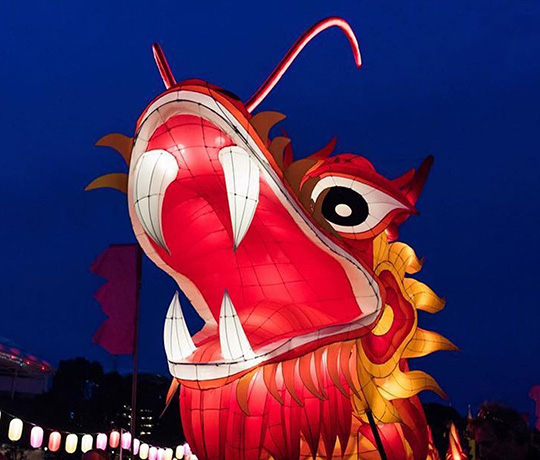 Highlights You Can't Miss!
The Moon lantern parade is a free outdoor event that also happens to be the biggest lantern parade in Australia. There are hundreds of hand-held lanterns with more than 50 giant lanterns and of course, the famous 40 metre Hong Kong Lantern Dragon! Pull out a picnic rug and watch the festivities whilst sipping on your favourite beverages with friends. Or weave your way through workshops and creative activities or even just follow the trail of vibrant lanterns before the parade.
If there's one thing you need to do at this festival, it's to eat your way through the deliciously yummy Asian cuisines of the Lucky Dumpling Market. Think flavoursome Thai noodles, authentic Chinese dumplings, tasty Korean BBQs, rich Indian curries…Oh and of course, desserts and drinks galore! There's colourful soft serve ice cream, sugary filled donuts, bubble teas and Japanese Sake, to name a few. Not only will your mouths be watering almost constantly, but your ears will be enjoying the sounds of local and international musicians throughout. It's the perfect atmosphere for a mid-week casual night catch up or a Friday date night.
Whether it's getting your groove on to DJ sessions or snacking your way through food stalls, there's something for everyone to enjoy. It's a transnational hub of people coming together celebrating and creating stronger cultural connections and new perspectives. This festival will stop you in your tracks as you watch and listen to what's happening around you. You will gain a greater understanding of the varying discrepancies within Asian culture, their experiences as well as their struggles. It'll enlighten and educate you in a way that forces you to assess your worldview and enlarge your compassion. We can almost guarantee you'll want to book your next flight to a country to Asia!
If you're looking for more festivals in Adelaide, check out the Adelaide Fringe Festival!