Adelaide
Top 5 Adventure Sports in Adelaide Hills
Words by: Kayla Slack
The All-You-Need-To-Know Guide on Adventure Sports
Adventure Sports.
At a little under 30-minute drive, you can escape the hustle and bustle of Adelaide's cityscapes and dive into the natural serenity of Adelaide Hills. It is here that you can unleash your inner adventure spirit and have a go at a range of thrill-seeking sports that'll get your heart your racing. You may be thinking, wait hang on? Isn't it just a peaceful idyllic region of orchards, national parks, little towns and wildlife? Yes, it offers a chilled-out oasis but also a space for an array of outdoor activities. Whether it's jumping out of a plane, climbing up a rock face or a challenging hike, we encourage you to get amongst it. Maybe you'll hate it or…you could bloody love it! And how handy would that be, having an outdoor passion and hobby only 30 minutes away from university? As we always say, have a go.
Here's our top 5 adventure sports you need to experience in the Adelaide Hills.
1. Rock climbing and Abseiling
Amidst the jagged cliffs, greenery and waterfalls of Morialta Conservation Park are a range of areas where you can rock climb and abseil. Being so close to the CBD, it's one of the most popular areas for both beginner and experienced climbers. If you're an experienced climber the climbing zones is situated off the Norton Summit Road between the First and Third Falls. However, if you're a beginner we highly recommend joining a tour that will provide you with a guide and all the necessary safety equipment like Rock Solid Adventure. They're one of the leading adventure companies in South Australia and have been running for more than 15 years, offering a 7-hour full day tour of both rock climbing and abseiling for $150 per person. We encourage you to try it at least once, the views down the Fourth Creek gully towards the city is unreal.
2. Mountain Biking
As you may expect from the name Adelaide Hills, there are plenty of rugged and rough trails that are ideal for mountain biking. It's cultivated a reputation as one of Australia's best biking trails often hosting a range of races across national and local competitions in biking, downhill, cross-country or endurance. You can take your pick from a range of areas such as the Mawson Trail, a popular mountain bike trail that stretches across 900km. It'll take you through the Adelaide Hills where you'll come across forests and historic towns like Birdwood before making your way through to the Barossa and Clare Valley wine regions. If you've got all the necessary equipment you can of course do this on your own or with friends, but if not, we highly recommend going with a tour. Escape Goat Adventures is a leading company, offering bike wine tours, day trails, multi-day trips, skills and training sessions or even E-bike tours, an electrical bike that aids with pedalling.
3. Hike to the Summit of Mount Lofty
At over 710m above sea level, the Mount Lofty summit reveals a beautifully serene view of Adelaide's city, Kangaroo Island and even the Yorke Peninsula on super clear days. These panoramic views are especially spectacular at sunset, or if you want to avoid the crowds, check it out at sunrise. There's plenty of walks you can choose from which range in difficulty, there's a discovery walk that's 40 minutes below the summit that is quite easy. A moderate hike to the summit is from Crafers to Mount Lofty Link Trail, it's 4.5km return and a great way to avoid the busy roads. Or if you're up for a challenge, we recommend the Waterfall Gully to Mount Lofty Hike which is 4.5km one way. It's got quite a few steep sections and you'll come across a variety of adventurers, from casual walkers to runners to people hiking with heavy packs for training.
4. Skydiving
If you're after the ultimate adrenaline rush, then you should jump out of a plane from 15,000 feet above the ground. With South Australia Skydiving you can enjoy the incredible views of the Murray River, Adelaide Hills, Lake Alexandrina and the South Coast as you fall from the sky, into the 300-acre airfield situated in the Langhorne Creek Wine region. Whether you're a first-time skydiver or a seasoned pro, SA Skydiving will cater to your specific needs and offer the highest level of safety. The nerves and lead up to the jump can be a bit scary, but we promise you that once you make that leap it goes so quickly and it's so much fun. It's $299 for an experience like no other, the perfect activity with a group of mates or as a birthday present.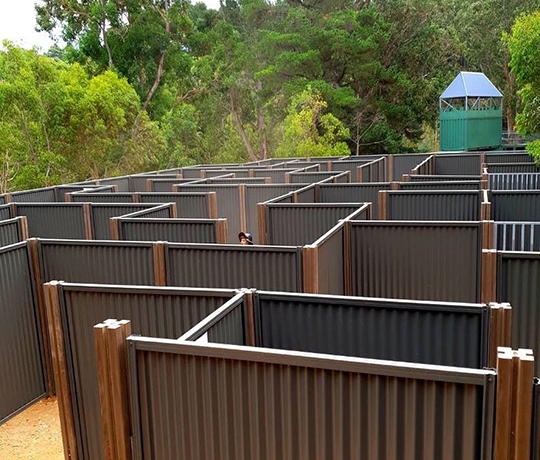 5. Woodhouse Activity Centre
Operated by Scouts Australia for the last 60 years and the winner of numerous tourism awards, Woodhouse Activity Centre is an experience-style accommodation that's perfect for the big kids at heart. Situated in Picadilly, you can stay in rustic chalets or 2-story heritage listed mansions or simply just camp. The activities are next level, there's the Challenge Hill which requires you to crawl, swing and an overall decent level of fitness to push through 30+ obstacles. Or you can whizz down 2 tube slides, play disco golf and try to land in the 9 holes or make your way through the Labyrinth, a giant split level maze! Fun fact, the Labyrinth is the only maze of this size in the world that has a fireman's pole, a slide and two flights of stairs attached to a 2.8m drop. These activities will physically and mentally challenge you, offering a unique experience and get away with friends for a weekend!
What are your favourite adventure sports in Adelaide? Let us know here at The Switch!