Perth
Top 5 Breweries in Perth You Need to Try
It's a well-known fact that Australians love their beer, it's our version of liquid gold. Not only are we pretty good at drinking it, we're also pretty good at making the stuff. And Perth is home to some of the best breweries.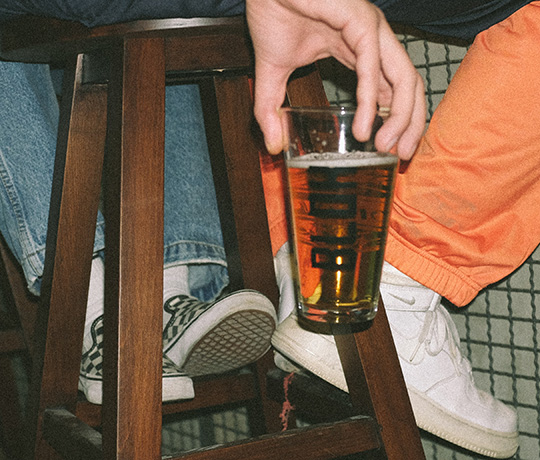 There's quite a scene here with new breweries popping up regularly, especially over the last couple of years. Increasingly, people are becoming more interested in not only the history and supporting local breweries but also in having the freshest beer in an atmosphere similar to a pub, just a bit classier and trendier.
Whether it's having a cheeky after work drinks, a Sunday session catch up with the family or the start of a bar crawl with mates on a Saturday, it caters to almost every social gathering purpose. We can also assure you it's a lively environment and a big part of Australian culture you want to be a part of.
Here's our top 5 breweries in Perth you need to try out.
#1 Little Creatures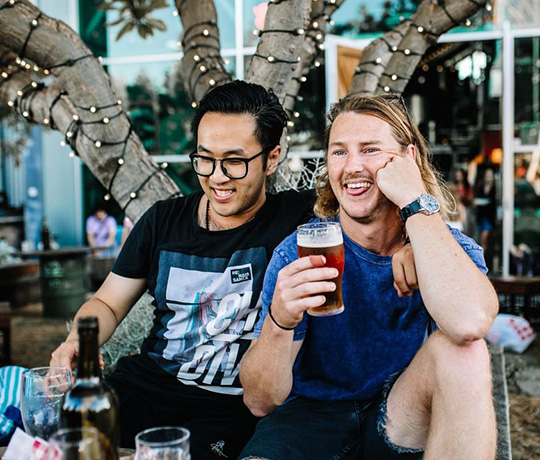 Location:
40 Mews Road, Freemantle
Open:
Sunday: 9am – 11pm
Monday – Friday: 10am – 1am
Once a Crocodile Park (you can still see some of the old infrastructure), Little Creatures Brewery in Fremantle is part of the label behind one of Australia's most popular pale ales.
This brewery has been knocking about since 2000, withstanding the test of time and competition of urban breweries as a household favourite and must-see venue. You'll be vibing off their laid-back atmosphere and beer range that also includes pilsners, IPAs and Elsie, a citrus beer named after their VW Kombi (to name a few). Their open-door policy adds to this carefree atmosphere, with an outdoor area looking across the water as well and a scrumptious food menu of oysters, wood-fired pizzas and lamb ribs.
Interested to learn more about the brewery and the processes behind it? We highly recommend the brewery tours, you learn about their raw ingredients like toasted malts, the stages of the process and how Little Creatures came to be. It's only $25 and it's on daily from 12pm, 1pm, 2pm, 3pm and a bonus 6pm on Fridays!
#2 Nowhereman Brewing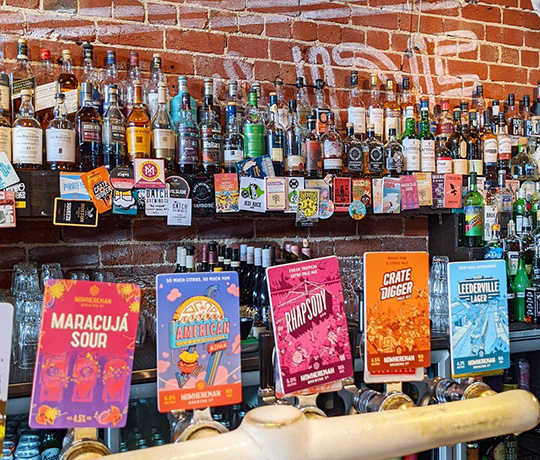 Location:
25 Harrogate Street, West Leederville
Open:
Sunday: 12pm – 9pm
Monday – Tuesday: Closed
Wednesday – Thursday: 4pm – 10pm
Friday – Saturday: 12pm – 12am
Pizza and beer? We struggle to think of a better combo. Nowhereman Brewing is home to some of the best craft beers and pizza in town, nestled in the up-and-coming area of Leederville. The renovated warehouse and industrial feel creates the laidback atmosphere Australian breweries are known for. There are always six beers brewed in house, with the Leederville Lager, Crate Digger America Pale Ale and Rhapsody XPA being their staples.
Regularly they'll not only share seasonal brews but also collaborations such as The Bartender Series which with local Perth bars and bartenders on creating beers that reflect that bar or person best. It's a local business that supports local, also having a huge array of wines, spirits and sodas for those of you that aren't too fond of beer. On top of all that, their food menu is ethically and locally sourced. With so many pros, there's really no reason why you shouldn't pay a visit to Nowhereman Brewing.
#3 The Camfield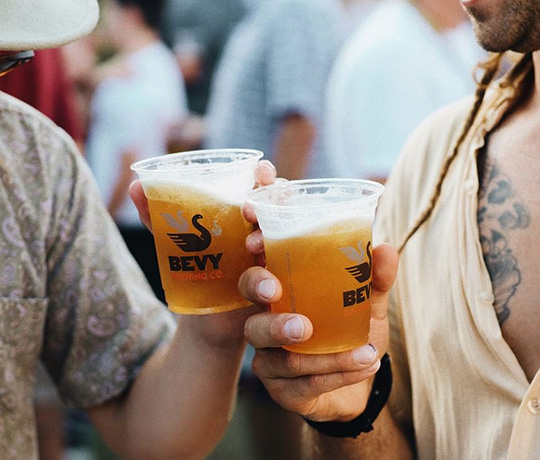 Location:
1 Roger Mackey's Drive, Burswood
Open:
Sunday – Saturday: 11am – Late
If you're only going to go to one brewery off this list, make it this one. The Camfield has 5 bars, 175 beers on tap, a micro-brewery on-site and a huge beer garden with a container bar, all within a couple minutes' walk of Optus Stadium and a 25 minute tram ride from The Switch Perth Central. You know what else? It's also the largest pub in Australia.
The food is next level, we're talking lobster brioche rolls, flame-grilled aged steaks and of course, classic delicacies like the chicken parmigiana. As a 2,500 pax venue you can expect a vivacious atmosphere with so many spaces to explore you'll almost get lost in here. As for the brewery, due to a partnership with Lion, you can try beers from the Bevy's Brewing Company range. This 12 hector-litre kit supports beers such as Bevy's First Lager, Bevy's Prize Ale as well as seasonal limited edition brews.
Whether it's pre-game drinks or a casual dinner, you'll realise that The Camfield is not just a pub and brewery, it's an experience you have to tick off whilst in Perth.
#4 Northbridge Brewing Co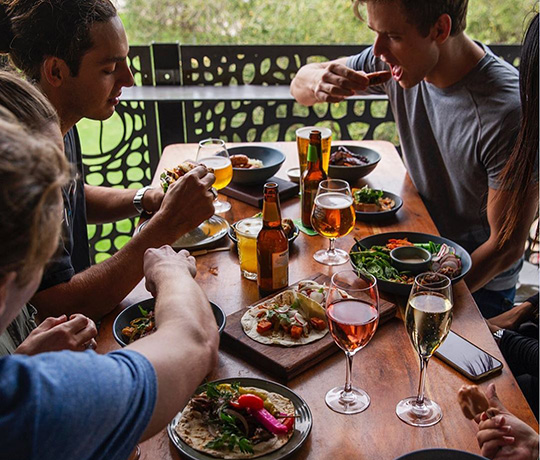 Location:
44 Lake Street, Northbridge
When:
Sunday – Tuesday: 8am – 10pm
Wednesday – Saturday: 8am – 12am
For quality beers in a chilled three-level environment, you need to pay Northbridge Brewing Co (or NBC as the locals like to call it) a visit when ticking off the best breweries in Perth.
They have a state of the art beer range under the label Beerland Brewing which made on site, such as their award-winning lager and kolsch beers. They also get experimental and release small batch seasonal beers each month, there's been 52 so far and you can expect creative beers like the 'snozzberry juice' which was a hoppy sour saison with berries.
The head brewer is Ken Arrowsmith, the man behind one of the most iconic beers in Western Australia – Emu Bitters. So you know you're in good hands here. We're huge fans of the industrial setting, it has wonderful historical features that were recycled and repurposed from other buildings around Perth. We're even bigger fans of the cheap delicious food deals, $5 large pizzas with any drink purchase all day every day? Count us in!
#5 Otherside Brewing Co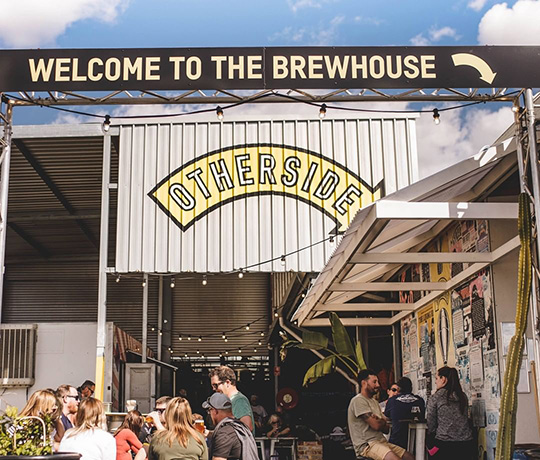 Location:
84 McCoy Street, Myaree
When:
Sunday: 12pm – 8pm
Monday – Wednesday: Closed
Thursday: 4pm – 8pm
Friday: 4pm – 9pm
Saturday: 12pm – 9pm
What started off as a one-off brew at a music festival, has now grown into business that runs a brewery and Brewhouse in Myaree and an on-site brew shed at Freo.social in Fremantle.
Otherside Brewing Co is one of the best breweries in Perth and was born out of a love for quality beer with a core range including a Festive Session Ale, Social Classic Lager and Anthem India Pale Ale. However, they also do limited editions such as four creative releases collaborating with local artists, single batch experiments and beers only available at their brewshed like the Komodo Dragonfruit and Ginger and Lemongrass Ale.
At the brewery itself, there's craft beers, live music, food trucks and games like giant jenga to keep you entertained. And if you really feel passionate about brewing beer, you can become an 'Otherside Beer Tycoon'. It's on the pricier side of things but for $250 you can contribute to the creation and naming of new brews, have access to special offers and exclusive invitations and your name will be immortalised and inscribed into one of the bricks!
There are so many more breweries in Perth and beyond in the rest of WA. If you're a fan of craft beer, they're totally worth the trip.