Spice Alley, tucked away in Sydney's Kensington St in Chippendale, is an asian foodie heaven. Modelled after the hawker markets throughout Asia, there aren't that many spots in Sydney that offers this variety of delicious dishes at such a great price. I come here whenever I have overseas visitors or just miss the taste of home. Honestly, every time I come, I discover a new favourite dish.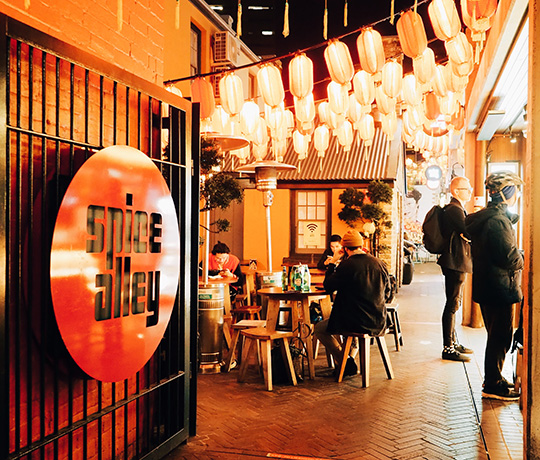 What to expect from Spice Alley
Open from 11am till late every night, Spice Alley is the perfect place for after-work drinks and a meal with workmates. Plus there are a number of excellent pubs and bars nearby (hello Handpicked Wines cellar), for a nightcap too so it's always an excellent choice. 
If it's your first time at spice alley, it's easy to be overwhelmed by choice. This place does everything from Vietnamese to Thai to Japanese and Chinese. But in all honesty, you can't go far wrong with anything you order from here. Just make sure to take a few friends and buy lots to share – tapas style!
Oh, we couldn't dare forget these amazing deals for the frugal amongst us too. Spice Alley do some great weekly deals for students and non-students alike:
10% off for all students. Simply show your student ID at the kiosk and start saving (valid until December 2021)
Buy any Spice Alley gift card and get $5 free (valid until April 17 2021)
To help get you started, here are a few of my favourite dishes at Spice Alley.
Pork Gyoza from Kyoto
My top tip for dining at Spice Alley is to get at least something from Kyoto. Because they are one of the few stalls with a liquor license at Spice Alley, ordering at least something from here entitles you to order beers too! The pork gyoza here are made fresh daily and if you're looking for something to go with beer, it's hard to find a better pairing. Seriously good.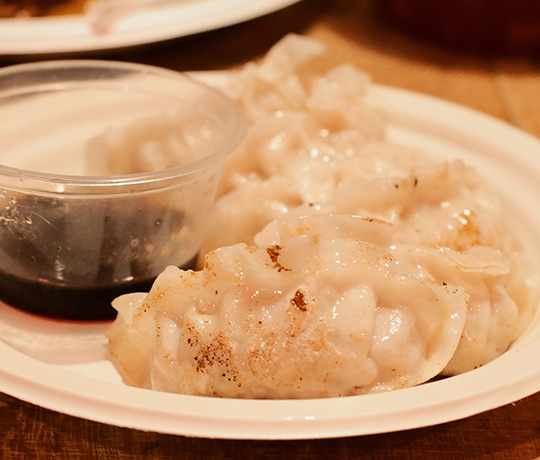 Nasu Dengaku (Burnt Miso Eggplant) from Kyoto
While you're here at Kyoto, you have to try on of these. The burnt miso paste is made in-house and adds a lovely sweet and salty combination to the perfectly cooked eggplant squares.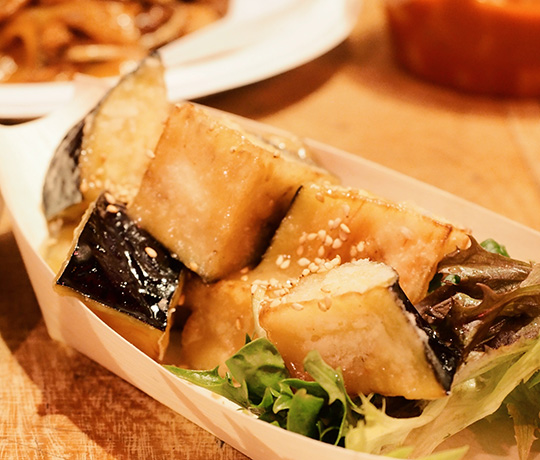 Spicy Wontons from Shanghai Dumpling Bar
There's no secret that I'm a sucker for dumplings. So anything from the Shanghai Dumpling Bar gets a big tick from me. But for something a little special, try these spicy wontons – it's not too spicy if you don't like a lot of heat, but the pepper sauce goes perfectly with the al dente, handmade wontons. Delicious.
Ddeok-bok-ki (Korean Rice Cakes) from KOA Kitchen
If you like a little bit of spice, don't miss out on these Korean Rice Cakes. The slightly chilly sauce goes perfectly with probably the most satisfyingly chewy rice cakes I've ever had in Sydney.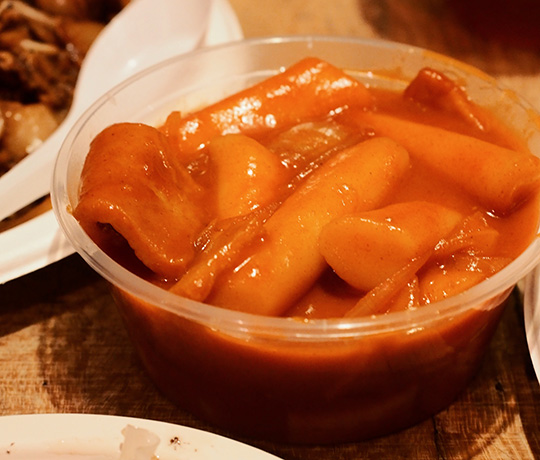 Pandan Chicken from Ginger & Spice
No matter how many times I come here, I never tire of these. Beautifully fried but still deliciously moist, this pandan chicken has a delicious dry curry coating and is wrapped in a pandan coating to give it a subtle, sweet flavour. They're at their best when it's piping hot, but don't worry – they're so delicious they won't have time to get cold before they're all snatched up!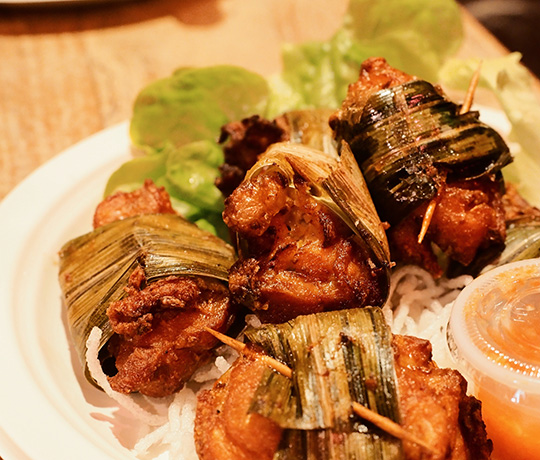 Pandan Roti Jala Kari Ayam (Pandan net crepe with boneless curry chicken) from Warong Bali
The boneless curry chicken itself is already excellent and tastes just like home-cooked Indonesian curry, but the pandan net crepe gives it a special twist. As always, the pandan flavouring is fragrant but subtle, and the lightly chewy texture of the crepe makes it the perfect vehicle to mop up the delicious curry sauce.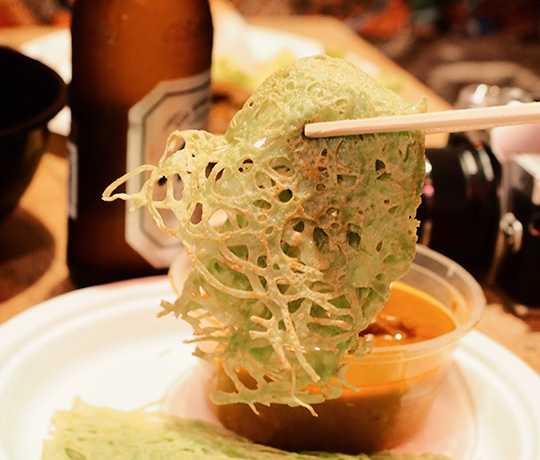 Roti Canai from Alex Lee Kitchen
Moving into the mains proper, the Roti Chanai at Alex Lee Kitchen is always excellent. The roti is made in house and always arrives fresh and piping hot – ready to soak up the delicious medley of curry on offer. If you're hungry, be sure to order an extra serve of the Roti on the side. Trust me, it's worth it!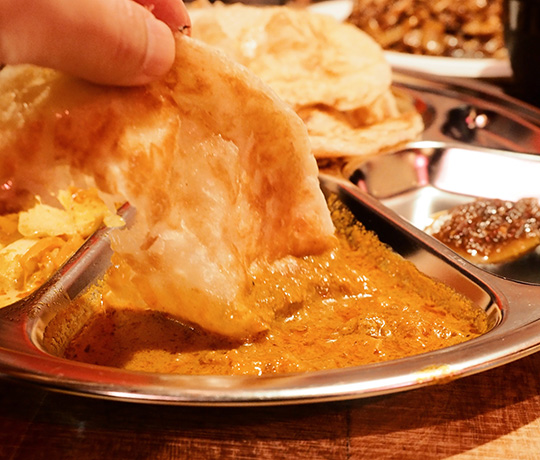 Beef Rendang with Rice from Warong Bali
This is a childhood favourite of mine and Warong Bali never disappoints. The beef is always beautifully tender and melts-in-your-mouth. The rendang curry itself has a mild kick to it, but isn't too spicy – alternate between one spoonful of the rendang and another with the perfectly cooked rice and you'll have devoured the dish in no time, ready for more delicious dishes!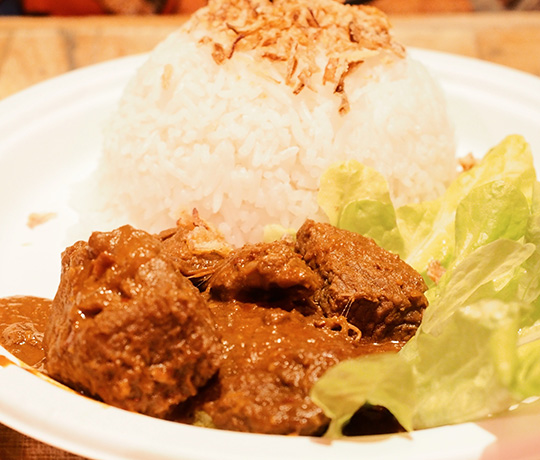 Singaporean Char Kway Teow from Old Jim Kee
Any Singaporean will tell you that a good Char Kway Teow is all about the heat of the wok and the precision of the chef's timing in tossing and combing the ingredients to give you the perfect charing on the dish. And Old Jim Kee nails it every time. The noodles are dotted with generous helpings of fish cake, chicken and Chinese sausage all coated in a dark sweet soy sauce. A guaranteed crowd favourite.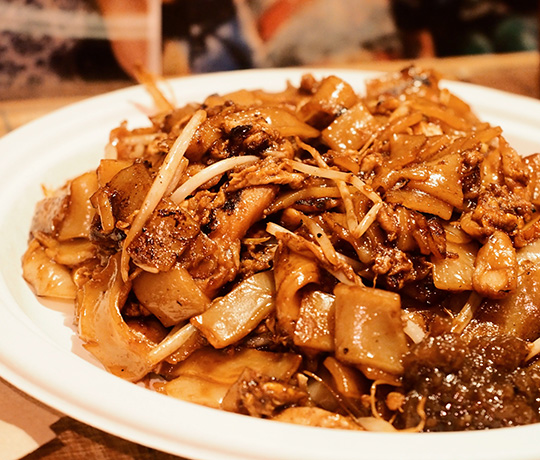 Jackfruit Sticky Rice from Warong Bali
I'm not always a fan of sweets, but I can never go past a good sticky rice dessert. The mango sticky rice here is always the crowd-pleaser, but I love the jackfruit version for something a little different and original. It's not as sweet as mango and really lets the sticky rice shine. Yum yum yum!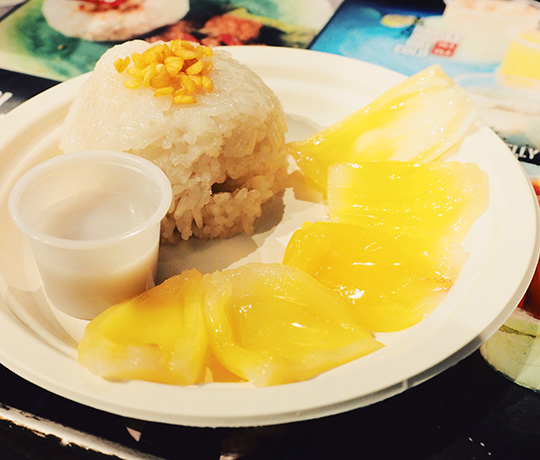 Lychee Moji from Warong Bali
Growing up, I've always loved the wonderful mix of textured in Indonesian dessert drinks. This Lychee Moji is no exception. Made with a mix of rose water jelly, frozen berries, crushed ice grass jelly ("it's cooling and good for you!" I can hear my grandmother say), it's not too sweet, but a wonderful blend of different cooling textures. A dish like this is perfect for a summer's evening or to cap off a delicious feast!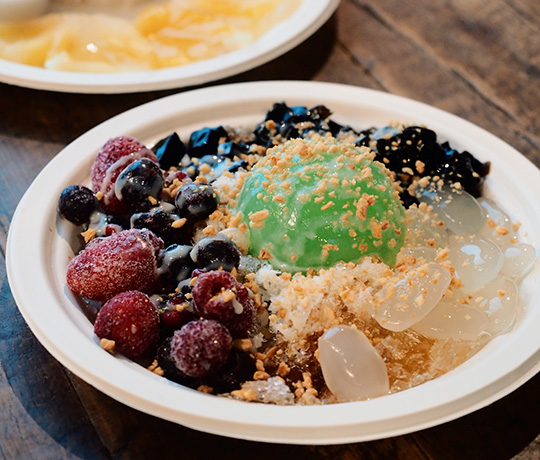 Spice Alley is open from 11am daily (kitchens close 9:30pm Sunday to Thursday, 10pm Friday & Saturday). You can even order takeaway by either ordering online or phone and picking up from Kensington Street.