Sydney
The Best Blue Mountains Itinerary If You're Travelling On A Budget
From beautiful lookout points to limestone caves to hikes in a tropical rainforest, here's a cheaper way to explore the Blue Mountains.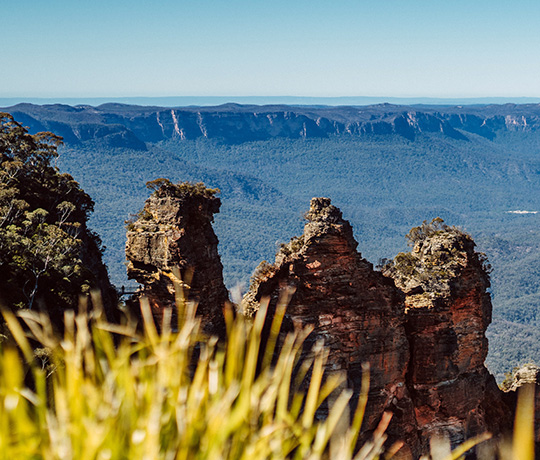 Whether it's for a day or a whole weekend away, the Blue Mountains is one of Sydney's most treasured escapes from the hustle and bustle of city life. There's a whole range of activities that'll cater to anyone, from cider cellar doors in Bilpin to relaxation retreats to hikes and everything-in-between. It's a natural wonder, and one of those places that you'll keep on coming back to and finding new things to experience.
We could go on and on, and write pages upon pages on things to do here but for today, we're going to focus on the free and cheap(er) things you can experience in the Blue Mountains for a day. Consider it a shoestring exemplar itinerary for those of you on a budget.
If you've got some flexibility on when you can head to the mountains, weekdays will always be the least busy and therefore the best days to go. If that's not possible, we recommend going on a Sunday to be the next best thing. Either grab public transport which will take around an hour or hire a car which will give you a lot more flexibility to pick and choose your activities for the day. Plus you can reach the hidden spots those without a car can't reach!
So, here are our favourite free things to do and see in the Blue Mountains.
#1 Visit the Three Sisters
First things first, you simply can't make a trip to the Blue Mountains without stopping by The Three Sisters. Whilst it's a major tourist attraction and can get quite busy at times, it's a spectacular assembly of rock formations that'll leave you gobsmacked.
According to the Aboriginal Dream Time, legend says the three sisters were turned to stone either by a witchdoctor who wanted to protect them after being captured but was then killed during the war, meaning the spell could never be reversed. Or by their witchdoctor father who was protecting them from a Bunyip and had turned himself into a Lyre bird to escape the Bunyip as well. In the process, he dropped his magic bone that would reverse their spells, and to this day it is believed he is still searching for this magic bone. Some even say if you listen closely, you can hear a Lyre Bird.
We highly recommend going on the 800m walk which will give you an even better view of the sisters and Jamison Valley. Whilst you're there, take a stroll down the main street of Katoomba and explore the array of cute cafes, hippie stores and vintage shops. We can guarantee you'll find some hidden treasures and glorious finds here.
#2 Hike the Grand Canyon Circuit
You cannot go to the Blue Mountains without going on a hike – big or small. One of our favourites is the Grand Canyon Walk which is a roughly 3-hour circuit that takes you down into one of the canyons (hence the name) of the Blue Mountains and through the diverse terrain of the Godwana Rainforest. This tropical rainforest of over 100 million years old is nothing short of simply incredible with its lush greenery, rivers and waterfalls. It's one of the most popular walks in the Blue Mountains but by going early in the morning you can avoid the crowds. Going on a Sunday is even better.
Start the walk from Neates Glen Car Park so that you can finish off with Evans Lookout at the end of the circuit. It's also much easier to go anti-clockwise so that you can avoid the steep steps at the end – you'll thank us later!
If you're the adventurous type, you can actually go canyoning here. You'll be abseiling down heights as high as 16metres and traversing through the canyon waters by foot for around 2 hours. It's quite the experience, and whilst it's on the expensive side of things at $149 with Eagle Rock Adventures, we highly recommend adding it to your bucket list.
#3 Stop at One of These Lookouts
The Blue Mountains is home to an outstanding collection of views and lookouts that'll honestly take your breath away. One of our favourites is the Pulpit Rock Lookout, which isn't that well-known and involves walking for 400m, partially down a series of stairs on a large rock face. It'll get your heart pumping, but there's safety rails and stairs cut deep into the cliff so you will be secure. It's also 100% worth it for the insane panoramic views!
Not too far from here is also the Govett's Leap Lookout, which is only a 500m walk from Blackheath Station. It offers vast views of the Blue Mountains landscape and is connected to a variety of trails you can explore from there.
Sublime Point Lookout offers a spectacular view and angle of the Jamison Valley and Three Sisters. You can catch a bus or drive from Leura Station that'll take you halfway to the lookout, about 1.5km out but it's well worth it. From there you can also check out Honeymoon Lookout for a picnic and view of Sublime Point Lookout itself as well as the King Tableland. It's a popular rock climbing area as well if you'd like to watch or give a go yourself!
For a series of lookouts in one hit, you should conquer the Wentworth Falls Track. After checking out the Jamison and Wentworth main lookouts, follow the short but steep track that'll take you 200 steps down the cliff to Fletcher's Lookout. You'll be able to witness the cascades and their 100 metre drop. If you walk further down you can the very top of the falls alongside Jamison Valley and where Jamison creek meets into a pool. From there you can either extend your walk into one of the famous trails like Weeping Rock Circuit or turn back, completing a 1.4km circuit.
#4 Check out the Caves!
There are plenty of caves in and around the Blue Mountains – most notably, the Jenolan Caves, Wombeyan Caves and the Red Hands Cave. Jenolan Caves is the most popular, and in some ways a bit of a tourist trap when it comes to crowds but there's a good reason for it. These limestone caves are 340 million years old. In total there's about 11 caves you can explore with Lucas Cave being the largest and most popular. You will have to pay to experience one of these caves but it's around $42 for an adult price (less for concessions!). If you come here, we also recommend completing the Blue Lake Loop which is a 2.6km round trip that takes you to one of the brightest blue lakes you'll ever see! Not only that, but you may be able to see platypus here if you look close enough.
Wombeyan Caves is the least busy, in fact you'll find more often than not you'll be exploring these caves without other people around. If you go in Summer, we recommend traversing through Mares Forest Creek Canyon where you'll climb over rocks and dip into crystal blue swimming holes. It takes around 2-3 hours to go through and back. You can also stay overnight at the campgrounds if you prefer to make a weekend out of it!
As for the Red Hands Cave, we highly recommend 8km loop trail which is a path that is believed have been used by the Darug people for thousands of years. It'll take you to a cave where you'll find Indigenous rock art of hand prints that were painted from between 500 to 1600 years ago. You'll be in awe of this 12-metre high sandstone cave and the vibrant earthy tones of these stencil drawings. Be sure to not touch or use flash photography on these ancient sites to show your respect. From here you can either make your way back or extend your look to the Blue Pool Walking track for a swim and picnic.
Happy adventuring!