Be prepared to take a zillion instagrammable shots at White Rabbit Gallery's Lumen exhibition in Sydney. Show-stopping, heartwarming, glowing and absolutely FREE.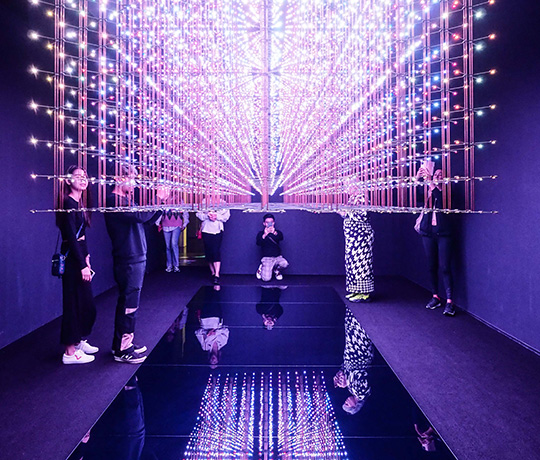 After a year stuck at home staring at the same four walls, I was a little sick of my basic "Le Chat Noir" poster I've had since our first apartment. So when I heard that the White Rabbit Gallery was opening back up with a new exhibit, I was eager to check it out.
Apparently, so was most of Sydney. In the last couple of weeks, every Sydneysider's Instagram or TikTok was blowing up with glittering selfies, dreamily staring up a galaxy of Christmas lights. Judging by the queue in front of me now (even on a balmy Wednesday afternoon), many more Sydneysiders are still eager to do the same.
The piece de regram is Miniature, by Taiwanese artists' collective LuxuryLogico. The shimmering installation is unquestionably stunning, and the room is rightfully littered with nano-influencers in workout gear jostling to get the "good light".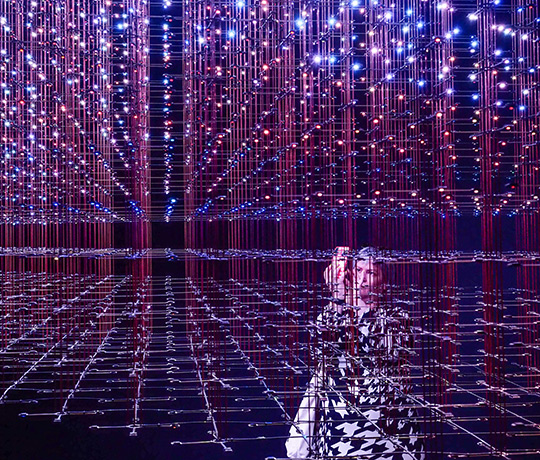 But what I loved most about the work is that the nano-influencers were unwittingly a part of the piece. Here's what the little white plaque by the curator had to say:
"With a flurry of movement and colour, Miniature transforms images from a video reel into an architectural light-scape… each LED is governed by a correlating pixel on a hidden monitor. The video controlling the work – snippets of reality TV; trashy soap operas; obnoxious ads – subverts the tranquility we see before us. LuxuryLogico tacitly warn against the passive consumption of media, reminding us, what can beautify the world, can also malign it."
Though the plaque didn't explicitly mention Social Media as a space for passive media consumption, I'm sure the irony wasn't lost on these influencers as they uploaded their snaps and added to the digital noise.
So I too decided to take my own selfie for a new profile pic, because – you know – art.
Once the obligatory money-shot is done, relax and take the time to really look around the other works in this exhibit, because there's much to enjoy.
Though many treat the gallery like it is The Happy Place and continue to drape themselves in every corner like a studio shoot (yes, it sometime gets a little annoying), the exhibit is filled with immersive and interactive pieces that your cameraphone just can't capture. Instead, you just need to experience it for yourself.
One of my favourites is Li Hui's Cage, an immersive dark room shot through with green lasers that play with your perception of space and freedom. Your mind knows the lasers aren't real, but you feel a sudden sense of being trapped as the light creates constantly shifting spaces all around you.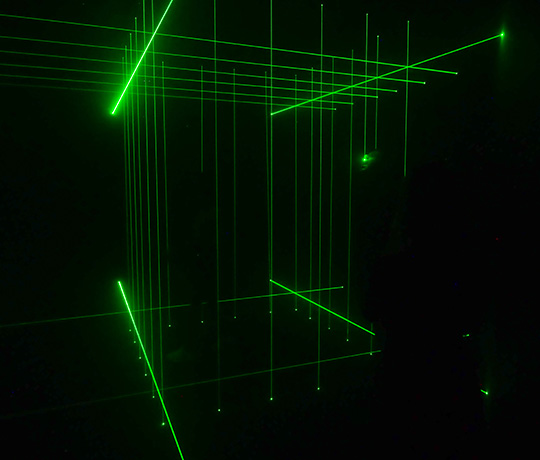 Another delight is Wei Wei's singing Tesla coils. The piece is "a 'Mood Machine' that aims to bridge the spiritual gap between humans and machines" – but honestly, it's just fun and amazing to watch. Bolts of lightening is shot onto the singing Tesla coil and controlled by a touchscreen that maps 8 different colours to 8 musical vignettes.
For those who missed out on Van Gough live or Monet and Friends (just me?), Lin Juin-Ting's Beyond the Frame is a distinctively Chinese, and zen, answer to the interactive video installation craze. The touchpads in front of each digital watercolour may look like a part of the piece, but don't be shy. Play around with the painted Guzheng to add your own touch to the ambiance, or lead the dropped petal on a meditative dance across the surface of the water for a moment of zen.
My favourite among all the many glittering and digitally-integrated pieces was the comparatively lo-fi Dust 2, by Cong Lingqi. What seems like a cloud of space debris is illuminated by a spotlight and casts a bewitching shadow of strange shapes patterns. It reminds me a little of Lindy Lee's Flung Bronze piece. The dust cloud is actually 210 tiny replicas of common tools and household items, curated or collected by Lingqi. Beautifully suspended in the space, it is as much about the illuminated, physical pieces as the etherial shadow it casts – an apparent comment on the nature of person's memory. I just couldn't help but get lost in the details of the miniatures.
After all the stairs and dancing with light at the exhibit, it's easy to work up an appetite. Though Ultimo has plenty of excellent food options, don't miss the opportunity to try the small but excellent dumpling selection in the gallery's restaurant. Take a seat by the floor-to-ceiling glass and take in the nostalgic collection of wooden bird cages that will instantly transport you to a 1920s Chinese tea house. Don't forget to complete the experience too by choosing from their selection of premium loose-leaf teas to go with your dumplings. Delicious.
There's so much to explore inside Lumen at the White Rabbit Gallery, and with the exhibit scheduled until the 1st of August, there's plenty of time to explore it. For free might I add. Maybe just give it some time before you go and let the Instagrammers finish taking their ironic selfies first.
White Rabbit Gallery
30 Balfour St, Chippendale NSW 2008
10am-5pm Weds-Sun
Free Entry