The Rocks was one of Australia's first settlement areas, being established in 1788. In fact, Sydney's oldest pub, Fortune of War, is still here – standing since 1828.
Historically, The Rocks has a reputation as a slum, known as the arriving convicts' side of town, often frequented by visiting sailors and prostitutes. It was also the site of Australia's first unofficial Chinatown, with many Chinese immigrants establishing underground opium dens and casinos after the goldrush around the 1890s. Allegedly.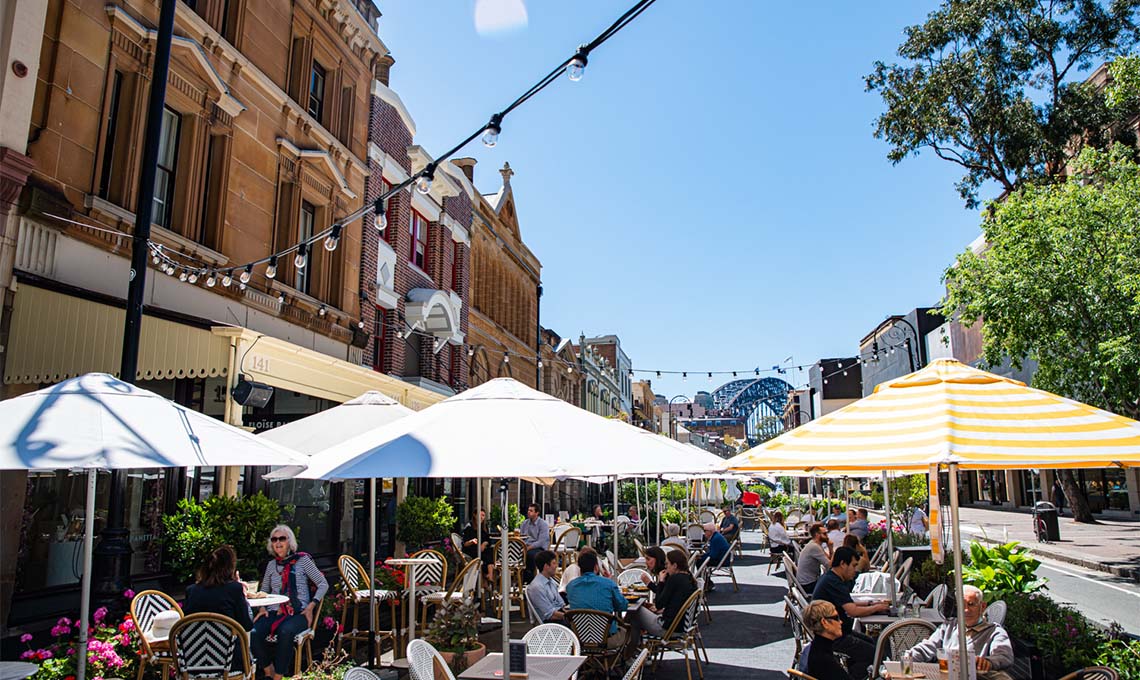 To many modern Sydneysiders, The Rocks is known as a tourist trap – physically and metaphorically containing cruise ship arrivals.
Well, thanks to Rona, they're gone from the harbour for a while yet.
But believe it or not, that's news to rejoice to, because it's forced The Rocks to up its game this summer to attract locals. And boy has it delivered!
4 new gin bars, distilleries and pop-up eateries like Butter and Korean Street Food darlings Chikin Ajumma has arrived, alongside a slew of rooftop bars and a redesign of George St to become an alfresco dining precinct, there are so many reasons to put The Rocks on your summer must-do list.
Here are 11 of our favourites:
Mrs Jones
The Orient has always been known as a bit of a Meet Market in The Rocks, especially in the naughties. No judgment, we've all been there!
Well, that still rings a little true, but the new Mrs Jones adds a touch of summer to it all. This rooftop terrace opens and closes its roof depending on the weather, so rain hail or shine, it offers good vibes, DJs and a pretty decent bar menu.
Philipp's Foote (aka Swillhouse)
The team behind Restaurant Huberts and Frankie's has taken over the Philipp's Foote site and turning it into a Euro Wine Bar… soon.
For this summer, it's kept its charming exteriors and most of the interiors and continues to run as an intimate watering hole until it closes for renovations. It's got a small but mighty wine list and beers on tap, and it makes up for it all in spades of charm and friendly barkeep that seem to genuinely care how your day went. This summer, it's also extended out into George Street for alfresco drinks right opposite the iconic MCA. Marvelous.
Frank Mac's
For something a little more intimate, this gin-lover's paradise is just the ticket. The interiors are packed with heritage charm, and every detail exquisitely adds to the old world apothecary feel.
Frank Mac's boasts "the largest botanicals collection in Sydney". While I don't doubt that, it was a little too packed to see for ourselves. Thankfully, it's something that can, and should be, tasted to be believed.
All the cocktails are gin-based, and there's a fun diagram in the menu that takes you through how to create your perfect martini. The results were spot on. The cheese platter is also a must, so grab some friends because there are worst places to while away an afternoon.
Chikin Ajumma
Those of you swept up in Squid Game mania would already know that an Ajumma is a fierce Korean aunty, but did you know that Chikin is street slang for Korean Fried Chicken?
Well, this summer pop-up certainly has hit the trend on the head, bringing the most instagrammable Korean street food to The Rocks. Aside from the aforementioned KFC in various flavours (snow cheese is our pick), there's cheesy Korean hot dogs crusted with crispy potato, and a selection of Korean Cheese Toasties and deep fried rice cakes that all have a cheese pull that'll take you to the top of any Instagram foodie's hotlist.
Butter x Impossible
Maybe because of Chikin Ajumma, Sydney's reigning king of stylishly fried chicken has taken a different tack at The Rocks and paired up with Impossible, the vegan burger patty legends.
Well, the result is every bit of a home run as their Ramen (which we're obsessed with). Not only does it "tastes like a real burger", it's delicious in its own right. Paired with their chili fries, that signature glass of bubbles and slick tunes by live DJs, its a far cry from what that corner of the alfresco food court used to offer. Sorry, Subway.
Fortune of War
Speaking of live music, you can't go past Sydney's oldest pub. Its heritage building has been standing since 1828, with the original bar and fixtures still intact. It offers plenty of turn-of-the-century charm, of course.
But the real winner of this local favourite is the live music line-up. Every night in December, Fortune, as the regulars call it, is putting on live music acts ranging from classic pub singers to new acoustic artists. Coupled with its newly revamped alfresco beer garden, it's perfect after work drinks and Sunday sessions.
The Push
Speaking of live music, this one is in a league of its own. The Push is an intimate piano bar with live musicians and artists singing throughout summer. Lovers of Sydney Institution Minsky's will know exactly what we're talking about.
Think showtunes, piano classics and cabaret acts in an intimate setting while sipping delicious cocktails and huddles around cosy tables. Pull up a stool.
Chateau Tanunda Cellar Door
If small, intimate experiences are your thing, book yourself in to a wine tasting in the new Chateau Tanunda Cellar Door immediately.
We can't travel to the Barossa at the moment, so Chateau Tanunda is bringing the cellar door to The Rocks. This beautifully created cellar door fits 18 guests and has a range of tasting experiences led by fine wine expert Justin Lambert.
One of the highlights of their tasting is the Old Wine Expression, showcasing 50, 100 and 150 year-old wines from some of the oldest vines in the Barossa. You can also learn about over 60 soil types in the barossa and how it lends its different characteristics to the wines produced.
It's a treat for wine lovers of all experience levels.
Sergeant Lok
The No. 4 Police Building has been on George St since 1882, and is one of the few remaining examples of the work of famed Australian architect James Barnett.
But look beneath the surface and you'll discover a modern Chinese restaurant that is unlike any other. Sergeant Lok takes inspiration from The Rocks' little known history as Australia's first unofficial Chinatown, and surrounds itself with the mystique of legends of underground casinos and secret opium dens. In fact the police at this very building were rumored to be paid off by the wealthy Chinese gangsters to look the other way.
What isn't a myth is Sergeant Lok's inventive Chinese menu and delicious cocktail list. Their new alfresco tea garden offers a yum cha-inspired afternoon tea set that is just divine, and pairs beautifully with their osmanthus tea.
Tayim
If modern twist to traditional cuisine piques your interest, Tayim is a must for you. A modern take on middle eastern cuisine, this place is best enjoyed with a group of friends in order to sample their exquisite menu designed to share. Think melt-off-the-bone lamb ribs and wagyu rump, fresh falafel with a dollop of hummus wrapped with fresh pita, zesty cod carpaccio and roasted cauliflower… this menu is a feast for the senses.
Perhaps its biggest secret is the Tayim a lush, green hidden courtyard. Enter via the Harbour Rocks hotel, with drinks and snacks ordered through Tayim, this hidden gem is visible to all who walk through the nurses' walk and is lured by its live music, but few ever find the entrance to. You're welcome.
Maybe Sammy
We wouldn't say we've saved the best till last, but if you're a reader of World's Best Bar, then it's their words not ours. Because Maybe Sammy has just been awarded Australasia's Best Bar at the World's 50 Bars 2021.
Step through the doors and you'll be immediately transported to the 1950s, or the set of Mad Men, whichever is a more vibrant memory for you. Think lush velvet interiors, warm golden lighting and a bar team glowing with Old Hollywood glamor.
Cocktails and oysters are a must here. If you've tried the Maybe Sammy range of bottled cocktails during lockdown, then I'm sorry to say they're a pale substitute for the theatrical creations you'll see here in person. Think martini glasses domed with a bubble of smoke and espresso-field creations that'll spoil you for any other espresso martini you'll order in Sydney to shame, so order at your own risk.