Badu Gili, an annual display of First Nations art, has been lighting up the eastern Bennelong sails of the Sydney Opera House since 2017. And celebrations have upped their game in 2021.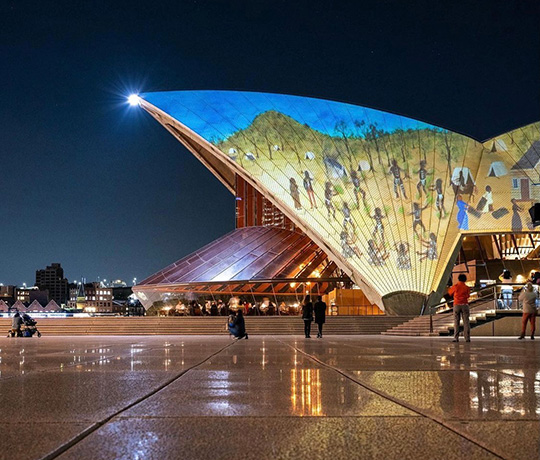 Badu Gili: Winter Nights
This year, Badu Gili features an all-female line-up of six Aboriginal artists showcasing the breadth and culture of Indigenous Art: Marlene Gilson, Kaylene Whiskey, Sally Mulda, Judith Inkamala, Marlene Rubuntja and the late Aunty Elaine Russell.
The collection is a collaboration with the Art Gallery of New South Wales for their 150th Anniversary celebration, and is curated by AGNSW's Aboriginal and Torres Strait Islander curator and Larrakia woman Coby Edgar.
"People don't often understand the breadth and depth of Indigenous art practices," Edgar says in an interview. "Four of the artists are from desert country and people would assume they would be doing dot paintings. The selected works challenge those perceptions of what is seen as Indigenous art in the mainstream."
The collection deals with the lived experience of being a black woman, but also shines a light on the "golden moments" of joy in between.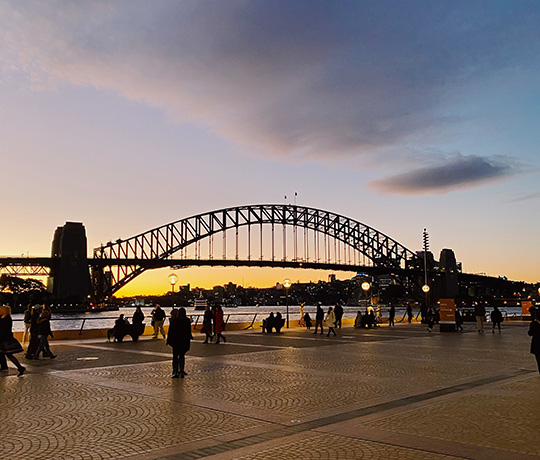 "Hurt is inevitable, living as a black person, but we need to amplify the black excellence. It is not a hopeless situation, it is complex and isn't going to stop needing dialogue and policy change… yet those amplified stories of trauma we see in the broader community is not how I know my friends and family."
"Indigenous people are fun, funny, and great to be around. I wanted to focus on the golden moments in between the trauma."
For the month of June, Badu Gili has taken it up a few notches with Badu Gili: Winter Nights. This special celebration in honour of Sydney Solstice transforms the Sydney Opera House's Monumental Steps into a festival of live music, art, poetry and food.
Over thirteen nights until the 20th of June, R&B, electro soul pop, classical music artists and experimental poets perform while iconic Badu Gili projections from 2017, 2018 and 2021 depict ancient and contemporary Aboriginal stories.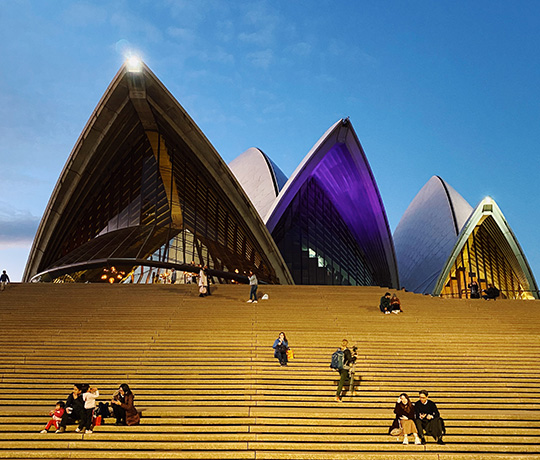 The diverse range of live performances include classical artist Eric Avery, a Ngiyampaa, Yuin, Bandjalang and Gumbangirr artist renowned for his exquisite voice, violin and dance; Srisha, a Tamil artist who uses her platform to discuss socio-political issues through her poetry, music and art curation; GLO, a Sydney-based multi-dimensional R&B recording and movement artist; and Australian-South Korean artist AnSo, who we recently sat down with here on Switch Living.
It wouldn't be a Sydney event without some food and wine too, and the pop-up bar at Badu Gili: Winter Nights is expertly curated by Nornie Bero, chef and owner of Indigenous Melbourne café Mabu Mabu. 
Meaning 'help yourself' in the Torres Strait, Mabu Mabu is famous for their use of native Australian ingredients. Expect a cheese and charcuterie box and wattleseed mini pavlovas served with strawberry gum cream. Plus an excellent mulled red wine with Australian spices to help keep you cosy. 
Badu Gili: Winter Nights is on until the 20th of June, and the full line-up can be found here. Performance starts at sunset which changes depending on the day, so visit the website to see the corresponding start times.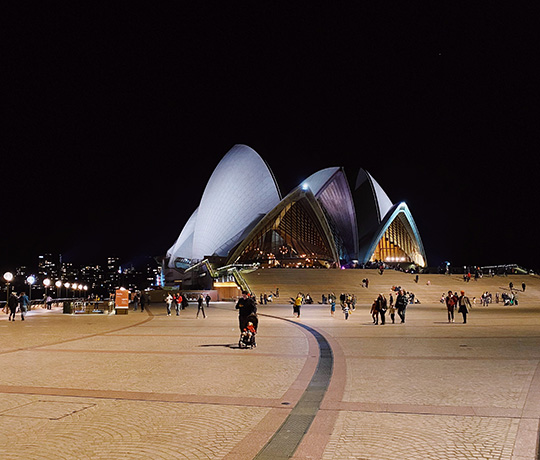 Badu Gili: Wonder Women is on display at the East Bennelong Sails until the end of the year. It's also a great excuse to enjoy a drink before and after at the iconic Opera Bar and enjoy a sample of dishes along the opera kitchen. If you haven't done it already, it should definitely be on your bucket list.
If visiting the Opera House is not possible for you at the moment (or you're interstate), the full six-minute display is also available to watch (or re-watch) online via Sydney Opera Houses' YouTube gallery.