Visit UNSW's Queer Art Exhibition 'Friendship as a Way of Life' at the UNSW Galleries in Paddington, Sydney. An art exhibition full of history, the LGBTQIA+ community and friendship.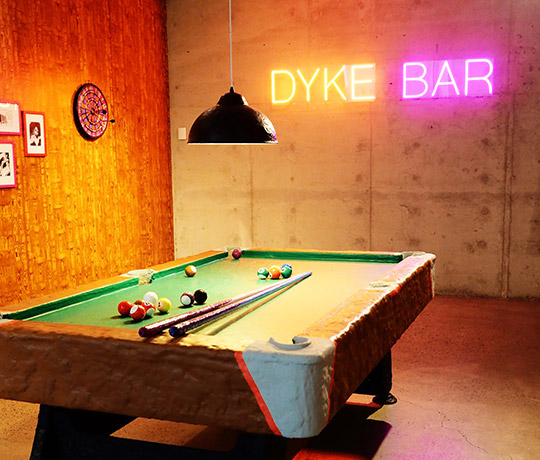 They say there are two types of families – the one you were born with, and the one you choose. As an only child, this was true for me. Moving overseas and starting life in a new country, this is even more so. Throw in being a queer person coming out away from home as a teenager, you can see why I hold my friends so dearly in my heart.
Australia is teeming with great art galleries – both small and large. This particular exhibit celebrates this kinship – especially through the lens of the LGBTQIA+ community. So much of queer art in my experience has been through American artists, especially around the subject of the AIDS epidemic. So it was really exciting to hear that the UNSW Galleries were doing an exhibit of queer Australian artists on the subject. I had to check it out.
The Friendship as a Way of Life exhibition features over 20 Australian artists alongside international works from Denmark, Colombia and USA, and runs till Saturday November 21. There is also an online component. New content and events are filmed or streamed on the gallery website or social media featuring talks and interviews with the artists and curators. Not to mention a 3D virtual reality tour.
Now, I'm the first to admit I'm no art history major, so this isn't a critical review so much as sharing a few of the pieces that really moved me. I'd highly recommend checking out the other works in the exhibit and yourself.
Friendship as a Way of Life – My Favourites from the Exhibition
Gavin Kirkness – The Australian AIDS memorial quilt, 1992
The AIDS Memorial Quilt project was conceived in 1985 in the US as a way of acknowledging the significant loss of life as a result of AIDS-related illnesses. Each quilt is created by the loved ones of someone who died in the epidemic. Growing up, I was familiar with the haunting image of the quilts woven together spanning football fields, town halls and other public spaces in the US. Never once have I thought about this project existing elsewhere. Turns out, the Australian AIDS Memorial Quilt also launched in 1985, with 35 panels. There are now more than 120 quilt blocks, commemorating approximately 2,700 Australians who have died.
Ella Sutherland – New prints, which pay tribute to Australia's lesbian erotic magazine Wicked Women.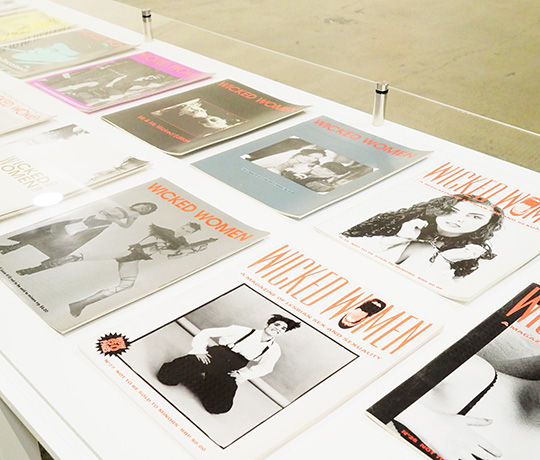 Sometimes, I find the information on the plaque more fascinating than the work itself. And this is one of those times. Wicked Women was a self-published magazine in the 90s Sydney, produced by lesbians for lesbians at a time that leather and kink was still very much taboo. The first editions were published by the authors under a pseudonym and sold to local bookshops by the authors themselves.
Nikos Pantazopoulos – How to Make a Monument 2013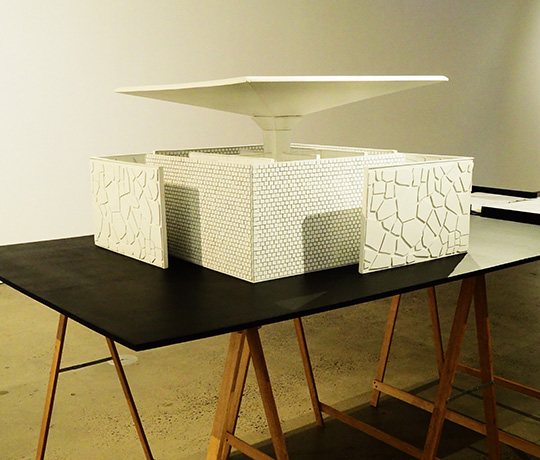 A mid-century modernist pavilion in Melbourne's Fitzroy Gardens was demolished without community consultation over concerns of 'loitering' and 'indecent activity'. All code for the fact taht it was a popular local beat for gay men. For the artist, its demolition symbolised the demise of beats and cruising area for men.
For me, it was fascinating because I'm lucky to be young enough to have grown up in an era where gay bars were decriminalised. So I never had to navigate beats or bathhouses to meet men. Which is why cruise culture has always been so foreign to me. This sculpture and story of the beat's demolition was a perfect symbol of this intersection between an older, necessary mode of connection to a more modern, hetro-normative way of meeting men. Oh, and the artist has provided a booklet of cut-out patterns that help you make a scaled version of this statue at home via paper. Fun!
ALOK – Friendship is Romance, 2020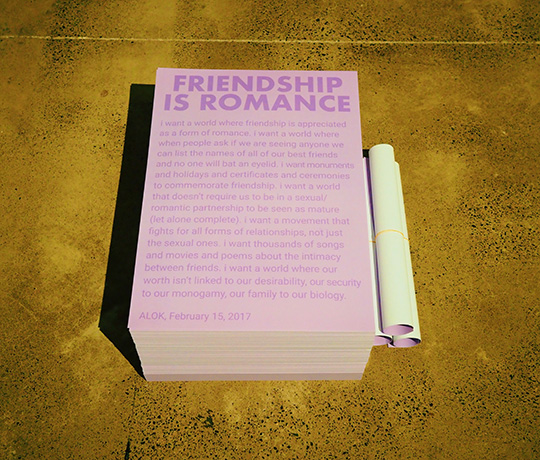 Speaking of take-home art, this one is fun. Alok publishes work through social media and online platforms as a form of activism to increase visibility of gender non-confirming public figures. Initially posted online in 2017, Friendship is romance is reproduced here as a stacked multiple that can be taken by audiences to allow the work to live on and remixed elsewhere. Don't be afriad to grab one – I did!
Camilo Godoy – 'Amigxs, No. 1 (Self-portrait with Brendan Mahoney, Carlos Martiel and Jorge Sánchez)' 2017.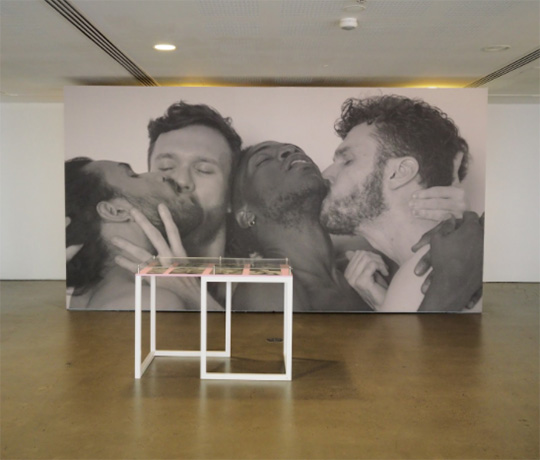 This arresting self-portrait is featured in the main foyer. And to me, perfectly encapsulates the theme and title of the show. The image is one in a series first exhibited in Brooklyn in a joint exhibit celebrating the 50th anniversary of Stonewall, but enlarged for this exhibition. The subjects are close friends of the artist (featured on the left) and expresses a love and closeness between these openly gay men beyond sexual gratification.
Macon Reed – 'Eulogy for the Dyke Bar', 2016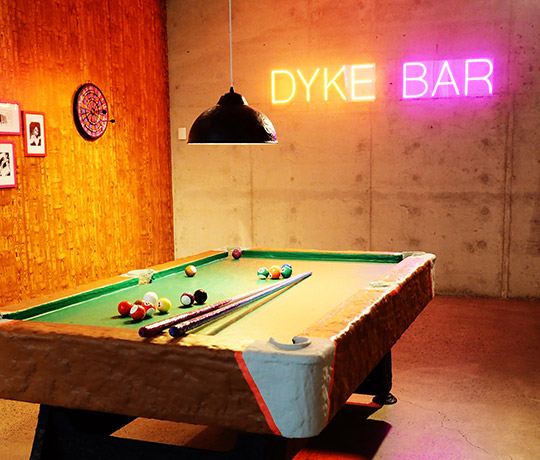 The dyke bar has become increasingly rare in queer culture. This instagram-worthy installation or full bar, pool table, jukebox, neo sign and (most impressively) hand-painted panelling featuring clippings of famous dyke bars and moments in queer female history is a great way to pose the question: why are these spaces closing? Where are the new safe spaces for all female and feminine-spectrum communities to go and share across generations?
Dani Marti – Notes for Bob 2012-16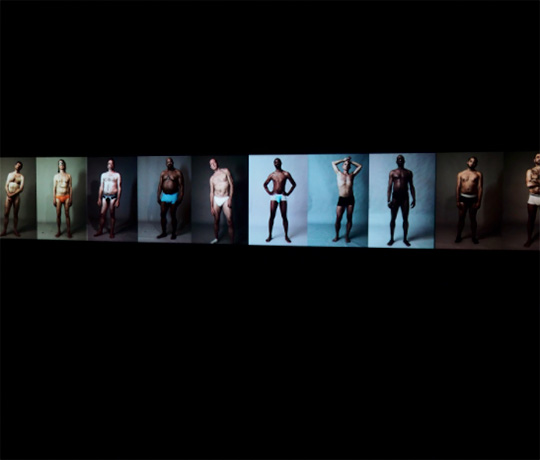 This installation – consisting of video, audio and digital stills – is fascinating. Direct from the plaque: "Notes for Bob" depicts an intimate exchange between Marti and Bob, a gay blind man from Brooklyn. He explains that "people are their voices" and his attractions to men centres on the individual pitch and tone of their voice. Bob guides Marti through the process of singing a particular note for him while he records it and masturbates. In exchange for allowing the artist to document their experience." I actually really love this concept of the voice being a source of identity and intimacy. Especially for a blind person as they perceive physical beauty very differently. Without this work, I would have never thought about this and explicit as the video may be, exploring ideas like this is exactly what art is about, isn't it?
Excited to get down and have a look for yourself? The Friendship as a Way of Life Exhibition is on at UNSW Galleries until 21st November 2020.
Where: UNSW GALLERIES, CNR OXFORD ST & GREENS RD, PADDINGTON NSW 2021
When: 8 MAY UNTIL 21 NOVEMBER
TUESDAY TO SATURDAY 10AM-5PM