Make the most of Sydney's top restaurants at home – here are our favourite restaurants and eateries offering dine at home dishes and meal kits during COVID-19.
Much like the rest of the world, COVID19 restrictions have changed the face of Sydney's restaurant and bar scene. But not even a pandemic can stifle Sydney's love of food nor dampen the spirit and ingenuity of restauranteurs. 
What resulted is a whole new experience of Dine-at-home boxes. According to a recent Nielsen study, between 62% to 86% of respondents said they're more likely to eat at home. Restaurants and small businesses have reimagined their menu to create their restaurant experience at home. So you can still enjoy some great food and support local businesses. 
We had the difficult job of reviewing these menus and here are some of our favourites that you need to try right now.
It's no secret that Shanghainese soupy dumplings are my favourite food in the world. Now you can have one of the world's most renowned makers of these delicious morsels anytime at home. Din Tai Fung are offering frozen dumplings that you can just steam at home and they're ready in about 15-20 minutes. Rejoice
To me, MsG's is always the place that brought alcoholic bubble tea into my life, but their food is always excellent. Now you can have the complete MsG's experience with this semi-prepared meal that you just have to reheat. It features all of the MsG classics, including Cheeseburger spring rolls, Tom yum fried rice, Roast brussels sprouts, Lamb shoulder ssam and a Chocolate fondant to boot.
If you followed the link above, you would have seen many more selections from Merivale At Home. But I had to call out my other favourite from the group especially – Mr Wong's. What can I say, it speaks to my cantonese heritage! This box needs a little more equipment from your kitchen, but it's well worth the effort. Think King prawn wontons in supreme broth, Special fried rice, Kung pao chicken, Steamed barramundi fillets with white soy, ginger and shallots, Gai lan with oyster sauce and garlic oil and again, that amazing chocolate fondant.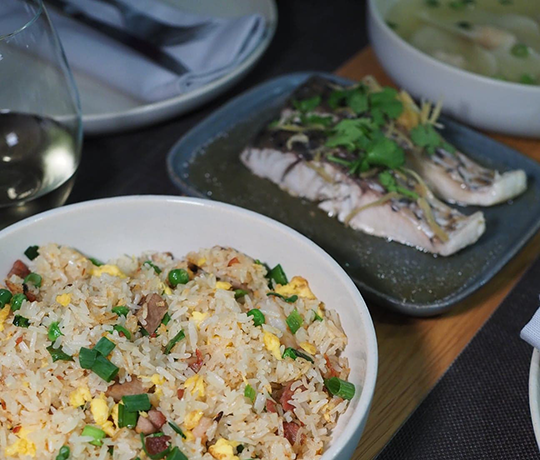 INDU, Mejico and Kid Kyoto sister restaurants in Sydney's CBD, and all three have come out with a take-home meal box, but Kid Kyoto has to be my favourite. Japanese Izakaya is a relaxed but inventive dining style, and this meal box is the perfect way to enjoy its deceptively simple flavours at home. This Sake Chicken box features Charred edamame with yukari salt, Takoyaki croquettes, tonkatsu sauce, Sake chicken, yuzu glaze, 'Chahan' Japanese fried rice, Grilled broccolini, red miso bagna cauda, Mixed leaf salad with mustard dressing and Chocolate mousse for two to finish.
For something completely different and excellent if you have a few friends over is Eatbox. This service delivers ready-to-cook Korean BBQ sets and offers free delivery across Sydney. It contains everything you need including a tasting menu of 5 of the following of your choice: Angus Beef Bulgogi, Wagyu Rib Fingers, Pork Boneless Riblet, Chicken Bulgogi, Chilli Chicken, Chilli Pork, Pork Belly, Marinated L.a. Beef Rib as well as a whole selection of vegetables and sides – the signature of a good Korean BBQ. Just pop down to your local bottle shop and get yourself some Soju to complete the experience!
If you're a wagyu-lover like me, this dine-in hot pot set is going to be your new favourite dish. Get everything you need for a Japanese-style wagyu shabu shabu (well, except the hot pot itself) including a kilo of wagyu beef slices fresh from the markets, a selection of enoki and shiitake mushroom, Napa cabbage, udon noodles, half dozen marinated eggs (which, are a standout) and – most importantly – Gyusha's signature shabu shabu sauce. Because they buy direct from the suppliers, don't forget to check out the rest of their online store and stock up on some beautiful quality wagyu.  
The Avenue Group is a family business that runs several excellent cafes, wine bars and restaurants around Sydney's CBD. They're especially great for catching up with workmates or for a quick drink after work. With lockdown, they created The A Box. Delivering everything from groceries to wine and cheese packs Sydney-wide and really makes you feel like you're supporting a local business. Their home meal trays are deliciously hearty – like the lasagne and pasta bakes – and will last you all week so it's also excellent value!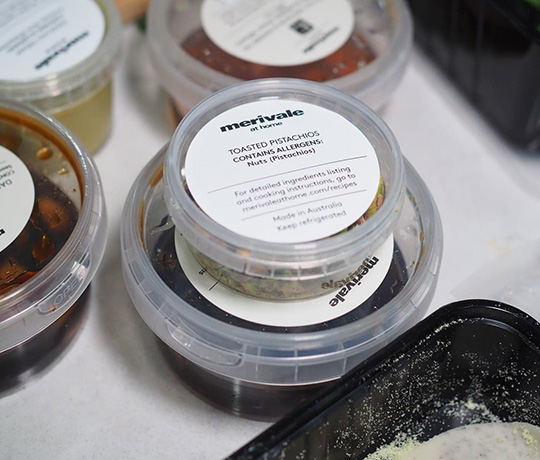 The newest outpost by the owners of Yakitori Yurippi – in my opinion Sydney's best yakitori restaurant – is offering their signature Karaage Chicken and frozen gyoza to enjoy at home. Sadly these won't last you the drive home because it's impossible to resist these amazing chicken delights, but it does require less equipment than the meals above.
If you're not into cooking at all, these next few are right up your alley. Starting off with always-excellent Cho Cho San. There's a reason this was the first place I went to when Sydney first eased restrictions. Their menu is now available to takeaway so if you haven't tried their XO crab rice, this is the best way to do it. Oh, and if you're looking for a real treat at great value, don't miss the CCS feast, which mimics their "Feed Me" menu where amazing, seasonal food keeps coming until you say "stop". 
For me, Sake is a bit of a "special occasion" restaurant. The food is incredible, the atmosphere is modern and romantic and the service is friendly and unhurried. So if you're having a special occasion at home – like I had my birthday and anniversary in lockdown – Sake's dine-at-home menu is a great way to still make your living room special. Everything on the menu is exquisite so you can't go wrong, but my top picks are the miso tooth fish, wagyu skewers and – for a really special occasion – spoil yourself with the chef's feast or the sake classic.
My taste always skews into Japanese and Chinese, but there's so much more to Sydney dining scene than asian food. One such example is Lucio's – the freshest Italian that always tastes like it's made with love. Now with their take home menu, they've tweaked the recipes so it travels a little better and the helpings are a little more generous so you can have that hearty, home-cooked Italian, well – at home! I don't care which one – just try any of their pasta on the menu and I guarantee you'll fall in love with Lucio's.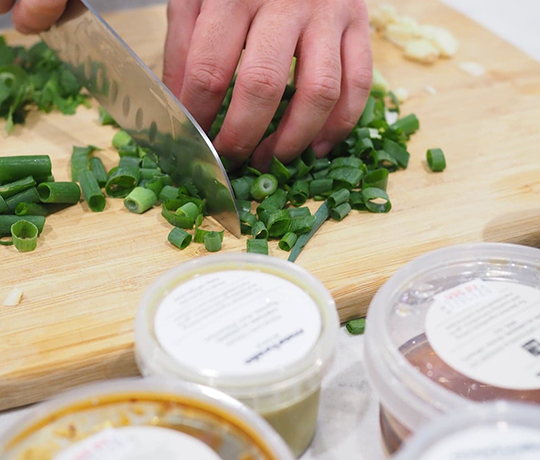 This Glebe staple has been my favourite date night venue since uni. So even their take-home menu brings back all the first-date feels. The terrine and baguette combo and the smoked black Angus brisket pot pie may both sound simple, but is a gift from the culinary gods. The menu is also very reasonable so it's great to treat yourself without breaking the bank.
Another uni days classic is Mary's. Home of Sydney's best southern fried chicken in my humble opinion, and I'm still to be proven wrong. They've recently teamed up with Deliveroo to bring their whole menu to your doorstep so goodbye waistline and hello buttermilk-brined whole chook with a side of mash n gravy. 
OK, so Mary's may be my number 1, but these guys are in at a very close second. The Big Easy is known for their fireball whiskey flavoured souther fried chicken and thanks to Menulog, they are flying into your homes. Piping hot. One bite of these guys and you'll be saying "Colonel who?"
Whatever you pick from the menus above, don't forget to pair it with a mixologist-approved handmade cocktail. Yup. Over quarantine, this Newtown institution has created a range of bottled cocktails available for pickup. Think the classic Negronis and Old Fashioned through to specialty mixed cocktails of the day. Complete with garnish and ice packs. 
If you've missed your bubble tea fix, now you can have your own bubble tea kit waiting in the fridge for whenever the craving hits. All the classic flavours like brown sugar and matcha (my favourite) are available, as well as some funky new flavours like lychee and mango. Get the DIY starter kit including everything you need from bubbles to flavouring – all you need is to add in milk. Or foe a summery upgrade – sparkling water, which is surprisingly good with the fruity blends like strawberry and mango.
Which of these dine at home meals have you tried?