An area guide to the home of Australia's first settlement, Sydney's oldest pub and the iconic harbour bridge climb…here's our ultimate student guide to The Rocks.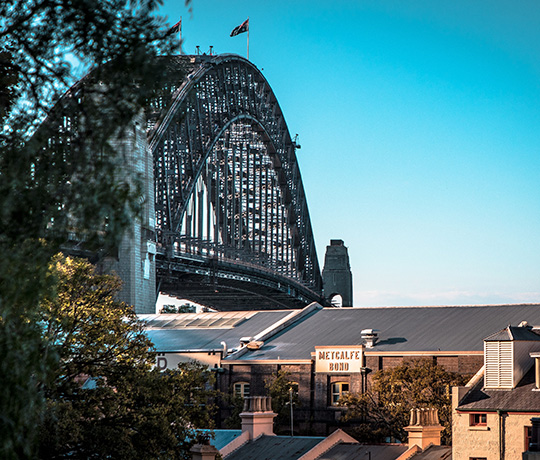 Perhaps one of Sydney's main tourist hotspots, The Rocks serves a fascinating mix of historical and modern vibes. Lined with cobblestone streets and colonial buildings, The Rocks represents the start of European settlement and was the first permanent establishment for housing. Now, it's filled to the brim with fine dining venues, fashion boutiques, rustic cafes and artisan markets on the weekend. Making it the perfect hang out sports for international students – especially when you have family visiting!
As the birthplace of Sydney, The Rocks has become a leading entertainment district that still breathes a village and communal atmosphere. Situated in the heart of Sydney, the iconic Harbour Bridge and Opera House are within walking distance and can be viewed spectacularly from a range of viewpoints. With so much to offer, you have to keep in mind that The Rocks does get quite busy especially during school holidays, special events and weekends. Some may say it's a bit of a tourist trap but it's worth the exploration. As students you have a bit more flexibility so we recommend checking it out during the week unless there's an event you want to experience such as the weekend markets!
Here's our student guide to The Rocks and what you must add to your bucket list!
#1 Climb Sydney Harbour Bridge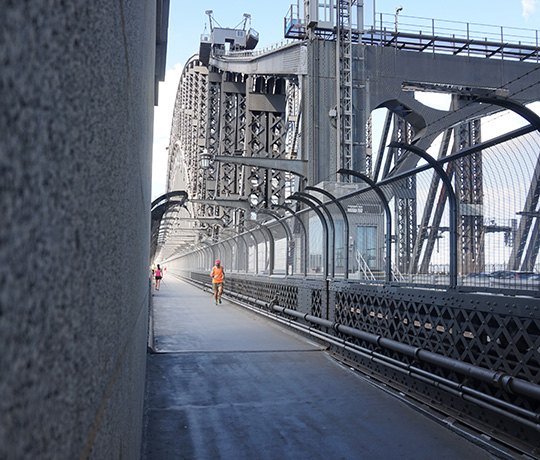 Ever wanted to scale to the top of one of Australia's greatest architectural wonders? Sydney Harbour Bridge Climb has got you covered on that, taking you to 134 metres above sea level for the best 360 degree panorama views you can get. There's two main packages you can select from, the Summit which takes 3.5 hours or the Summit Express that takes 2.5 hours. Both cost the same but the Summit Express only happens in the day or night which means, you won't see the sunrise or sunset. We recommend doing it at Twilight if you're feeling brave, it's $374 but you get the best of both worlds in viewing the harbour. It's also offered in a range of languages including Mandarin.
If climbing the bridge is too expensive or heights aren't your thing, you could walk across the bridge. It's gateway is from The Rocks which can be accessed from Cumberland Street, it's free and stretches for 1.6km. If you'd still like to check it out from a higher viewpoint but on a smaller scale, try the lesser known spot of Pylon Lookout at the BridgeClimb centre. It's 87 metres above sea level and offers fantastic views of our key landmarks, and students can snag this experience for just $12.50. Side note, just a 3 minute walk from the BridgeClimb centre is a sculpture called Still Life With Stone and Car. It's on a roundabout in Hickson Road and it depicts a red car with a meteor landing on it. From here you can do the Walsh Bay Sculpture Walk!
#2 Visit the Art Galleries in The Rocks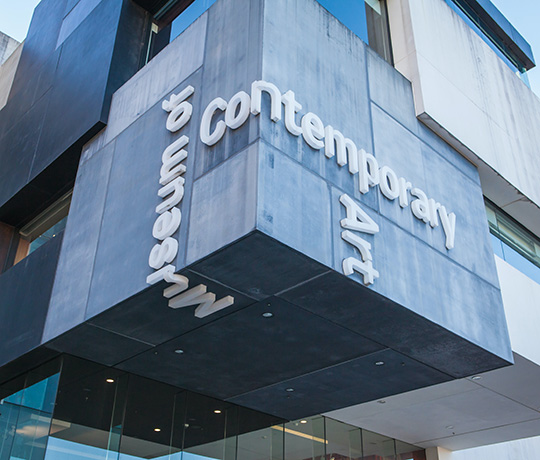 One of the top art galleries in Sydney, the Museum of Contemporary Art (MCA) offers a trailblazing collection of local and international art – including Lindy Lee's amazing exhibition on until February 2021. The art-deco building alone is quite the masterpiece itself, built in the 1930s for the Maritime Services Board. With regular exhibitions and events, the MCA has become quite the popular spot for young people and students to gather. We can almost guarantee you'll be paying a few visits here within a year. 
Another thing about the MCA is that it offers next level views of the harbour from its rooftop terrace. There's a cafe that sells affordable meals and drinks such as $9 Middle Eastern wraps with hummus and spiced roast cauliflower or $16 Poke Bowls with kimchi and eggs. An art installation is also up on the terrace that is regularly changed, making for a very Instagram worthy shot with the harbour in the background. Million dollar views and delicious food under $20 – what more could you ask for?
Another art gallery you should check out is the vibrant Pop on The Rocks. A gallery that's partially outdoors and indoors on 4 Atherden Street, Chiat Kwan Lau (a.k.a Ness) aims to brighten people's lives through pop art. We have to say, he certainly achieves that. Expect colourful representations of Vegemite, David Bowie and the dog versions of Marvel superheroes. You can purchase copies of his art at affordable prices, he also donates a percentage of his sales to charities such as Beyond Blue and WWF.
#3 Explore the History of The Rocks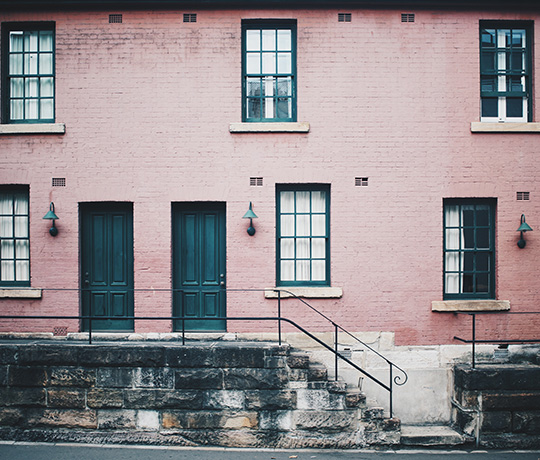 In our opinion, The Rocks is best explored by foot on the beautiful cobble streets. There are so many nooks and crannies rich in history to investigate. In fact, we even recommend getting lost and seeing what you find, there's plenty of secret paths and alleys calling your name. Check out Foundation Park, which shows the foundations of 8 houses where 4 – 10 people used to live in each room. To highlight how small these spaces were, an artist Peter D. Cole placed modern furniture in the spaces. That's why some people call this site Alice in Wonderland because the furniture looks so much bigger!
Another trail you should explore is the Nurses Walk, it begins at the Suez Canal where you'll find figure cutouts that look like silhouettes with historical facts about criminals. As you continue forth, the walk pays homage to the nurses who worked between 1788 and 1816 in terrible conditions with no pay. If you want more direction you can try a self-guided tour and download audio files for a small fee or do the 'I'm Free Tour' for 1 and a half hours starting at 6pm from Cadman's Cottage. You basically cover everything including the Observatory Hill, The First Hanging and Australia's largest bank robbery plus heaps more.
#4 Places to Eat and Drink in The Rocks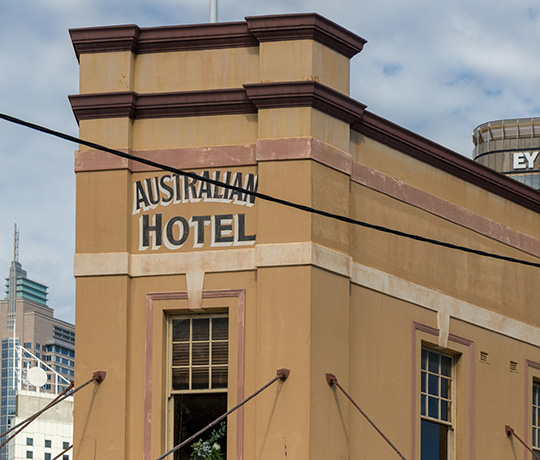 You can't go to the Rocks without dining at one of the famous historical pubs such as Lord Nelson or The Glenmore (the latter has outstanding rooftop views!). Certainly make a pit stop at Fortune of War, Sydney's oldest pub which has been around since 1828. If you're feeling brave, eat one of the iconic pizzas from The Australian Heritage hotel. With over 130 craft beers, you can choose between a pizza with emu and kangaroo or saltwater crocodile! Dave's Pub Walks allow you to visit multiple of these old establishments within one hit, learn about their history and have a couple drinks along the way.
It's fine dining galore over here. Take your pick from Quay to Sake' for Japanese to the incredible view on level 36 at Shangri-La Hotel. Whilst these places are great, it's probably not within most student budgets. Thankfully, there are still affordable options around. Try William Blue Restaurant for example, it's a training school for chefs so it offers a fine dining experience but at a much lower cost in comparison!
El Camino is a popular joint, it's a Tex Mex restaurant that offers frozen margaritas in a variety of flavours in glasses as big as your head! With free chips and daily specials like $2 tacos on Tuesdays and 10 cent wings on Wednesdays, we know this place will become a regular spot. Be sure to book in advance, it gets quite busy!
For all your brunch and lunch needs have a go at Fine Foods Store. They offer amazing sandwiches at no more than $12.50 and refreshing brunch cocktails for just $14!
On Fridays, The Rocks holds a food market in the streets of Argyle and Playfair from 9am to 3pm with local produce. On weekends the markets come to life from 10am to 5pm with fine foods, fashion, florists, homewares and art… to name a few. The laneways are filled with these stands along with live music. A true representation of Sydney's richness in arts and culture!