So when it comes to dessert, Sydney has it's fair share of Asian-inspired trends. But none so popular right now than Tokyo Lamington who recently opened up in Newtown.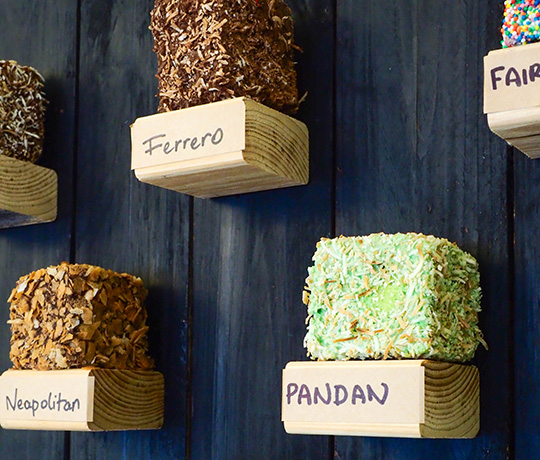 I'm not a picky eater. Tripe, giblets, hearts and tails – I'll eat 'em all. But Lamingtons? That's a "hell no" for me.
It could be the desiccated coconut creating a surprise cinnamon challenge in your mouth. It could be the drier-than-sahara sponge cake, sucking out whatever remaining moisture from your soul (hell-ooo? ever heard of buttercream!?). Or, it could be the fact that my introduction to the Aussie classic was from a tray at boarding school with a sticker reading: "these items are past its prime, but ok to consume". We'll never know for sure.
What I do know is that as soon as I heard about Tokyo Lamington's new addition, I knew I had to come.
That's right: TL (as the locals call it) just announced a range of Onigiris – my favourite Japanese savoury rice balls. All I have to do is ignore those devil-bricks.
As soon as I stepped into TL in the heart of Newtown, the vibe was genuine and welcoming. This is disarming not just because everyone is jittery from a new case of Rona being discovered after months of mercy, but because you'd expect a Sydney cafe with this much buzz to act like…well, a Sydney cafe.
Not here. The barista is quick with a smile, and the waiter zooming around serving the coffee and chat turns out to be co-owner Eddie – previously from Black Star Pastry (if you know, you know).
The space is small, but it feels airy and bright in here. Among the beautifully minimalist wooden fit-out and Japanese prints, the main feature is a striking black wall with individual shelves showcasing today's amazing creations. And those pesky lamingtons.
Dazzled by the options, I decide to grab a cup of Single O and take a seat to consider my choices. There are so many inventive onigiris to choose from. Bacon & (Japanese) Egg, Tuna & Ha-Wasabi, Eggplant & Miso… the list goes on.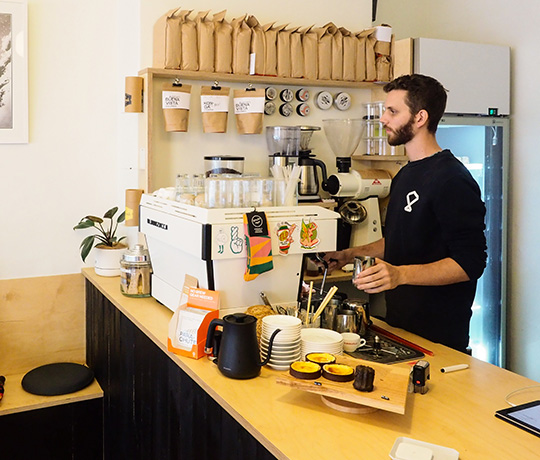 As soon as it arrives, I knew I made the right choice. The onigiri is fresh – the rice is warm to the touch – and one bite into the mushroom kombu releases an aroma that takes me right back to the streets of Tokyo. It's the closest thing to travel I've enjoyed in quite a while.
"Isn't it delicious?," a cheerful customer says, seeing the joy on my face. "Good kombu is so hard to get at the moment because of the pandemic." Good food always puts me in a good mood, and this kombu really is the s**t. So, swept up by it all, I started chatting to Amanda*.
Amanda is a local who first befriended co-owners Eddie and Min at TL's Haymarket pop-up 6 months ago. Like many regulars, she struck up a friendship with the easy-going team and has been a loyal regular ever since. As she enjoys her Star Wars lamington (#MayTheFourth), she shares the origin story of TL like it's her own.
See, Tokyo Lamington was never supposed to be in Newtown. Eddie and Min created N2 Brunch Club, a bona fide smash-avo-and-soy-latte Sydney cafe in Tokyo's trendy nihonbashi district. Though the cafe was a hit, the real star turned out to be lamingtons (WHY!?). The plan was to expand the range and take it across Japan and Singapore, but the pandemic hit and the team decided to come back home. Sad for the world, a boon for Sydneysiders. After 6 months in a pop-up in Haymarket, Eddie found himself full-circle here in the newly-vacated Black Star Pastry shop where he cut his teeth.
"Would you like to try some?" Amanda extends a fresh fork and proudly gestures to her Star Wars lamington.
I froze. I wasn't expecting to be force-fed a jet black lamington until I crossed over to The Bad Place. But Amanda's generosity and easy demeanour is so hard to say "no" to.
I grabbed the fork and arranged my face into my best attempt at "neutral". As I sliced into the lamington, I was sure the fork would be greeted with resistance. But instead, it was like butter. The delicate coconut parted to reveal a beautifully tender sponge cake soaked in a black vanilla cream that oozed with raspberry jam. One bite, and I was hooked.
"You thought that was desiccated coconut, didn't you?" chirped Eddie, watching me from across the store. "I hate desiccated coconut. That there is toasted coconut. You just tasted a charcoal version of our best-selling "OG" lamington."
This bite changed my life.
I look up, a new man, and see the feature wall as if for the first time. Fairy Bread Lamington with popcorn buttercream. Pandan+Coconut Custard Lamington. Yuzu Meringue with yuzu juice sourced from Yamaguchi prefecture. Oh. My. Yum.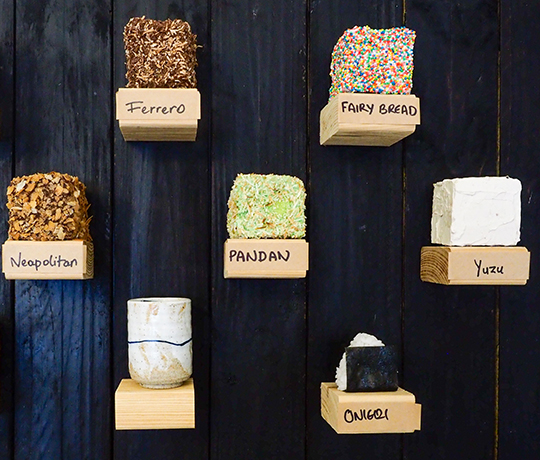 I order a selection of four to go in their inventive, individually-packed takeaway boxes that protected their parcels like origami, and immediately made plans to come back with a crew. Although I was made very aware that the flavours at Tokyo Lamington change literally daily, so make sure you keep an eye on their Instagram for updates so you're not disappointed.
After all, I have a lifetime of lost lamingtons to make up for.
And boy have I found the place to do it in.
*The name in this article was changed not to protect the innocent, but rather I am genuinely terrible with names. I'm sorry Amanda, you were so friendly, you deserve better. I owe you a Star Wars Lamington.