We sat down with Xstatic Sunsets founder, Jasper Vallance on why he runs sober events, the effect of not taking alcohol or drugs on mental health and how you can score tickets to the best sober rave in Sydney!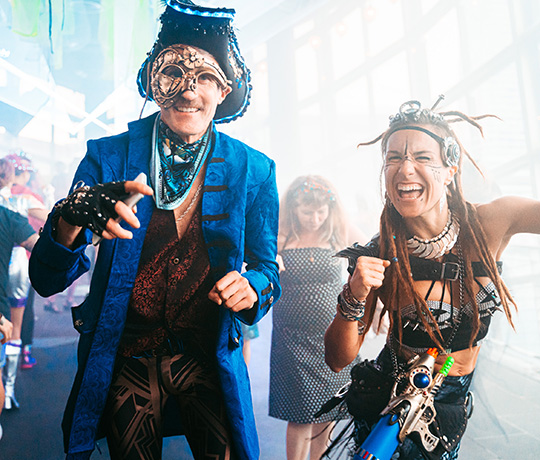 Firstly, can you explain what Xstatic Sunsets is?
XS (Xstatic Sunsets) is the ultimate party and festival experience to dress up, dance, connect and play without the need for drugs and alcohol. Quite simply, we provide epic parties without the consequences! We intentionally go all out with the theme to inspire dressing up and to create an all senses experience where people can let go naturally. We embrace people in their natural state in a judgement-free environment. Our parties start early so you get to enjoy the golden glow of sunset and finish in time for a good night's sleep. Because what's better than getting up in the morning hangover-free and going on a fresh morning run and making the most of the day ahead?
Put simply, we are an NFP (Not For Profit) on a mental health mission to inspire a more healthy party culture by reminding people how much fun you can have without booze and drugs! We aim to make this 'sober' experience as fun and EPIC as possible. Sober is not boring!
"The natural high is very achievable once you overcome your inhibitions and let the music move you."

Jasper Vallance, Founder of Xstatic Sunsets
Where did the idea of creating sober events originally stem from?
I fell into party organising in a bigger way when I discovered Burning Man. I went on an adventure to check out Burning Seed in 2012 which quite literally changed by life! A vision for a sunset party came to life as I came back the following year with friends. Sunset Island, as we called it, became the biggest destination to dance and brought 1000's together every sunset to connect.  
Xstatic Sunsets was inspired by this experience, both in terms of the Burning Man principles for self-expression and inclusion and also how magical a sunset party is. But I also realised the 'getting wasted' party culture in Australia is not serving anyone and mental health was (and still is) a big problem. Further to going through depression myself and discovering the natural dance high as a way to connect with myself, the vision for Xstatic Sunsets came to life and I knew I was the man to make sober 'EPIC'! 
Our Shark Island launch event proved how amazing a drug and alcohol-free event can be. Now, our vision is to expand across Australia and run sober parties at schools and Universities to open young (and old) people's minds and help people find the balance that's right for them to optimise their mental health.
How did you convert your dreams into reality?
It all started with a vision. My first thought was; where is the best sunset location in Sydney to do a launch party? I was also wanting to go out with a bang and do something really special to test out how a drug and alcohol-free dance party would go down.
As most Sydneysiders know, there's no better venue than Shark Island right in the middle of Sydney Harbour. But our first hurdle came quickly – after initial contact with the National Parks I was told that parties had been banned on the island. After a long application process, I managed to get them over the line based on being substance-free and to support our bigger mission; mental health.
After weeks of bad weather and rain, it seemed the universe was on our side as the sun shone and Shark Island delivered the most magical day. The energy across the island was amazing with the colourful costumes, dancing and nature! The sunset was so beautiful and the dance floor literally went off like I've never seen before. We proved how amazing a drug and alcohol-free event can be and people of all ages absolutely loved it, even raving about how they still felt the natural high days later.
I knew that becoming an NFP would enable us to create a self-fulfilling business model where all the money we make goes back into growing the team and delivering more epic parties. As you might expect, 'sober' parties are a hard sell due to stigma and judgement. But our parties speak for themselves and finally the snowball is starting to roll and we have our biggest festival coming up! It seems that as time goes on, many people are drinking less or choosing to go sober – which is awesome to see!
'Sober raving' is a fairly new concept – why do you think it's gaining traction so quickly?
Because it's actually awesome! You just need a great atmosphere, a fun crowd and great music. When people try it they have such a great time – and without the consequences it just makes sense!
We've found that once someone attends Xstatic Sunsets, they share their experience with their friends. So it's really growing organically through word of mouth as people aren't likely to consider it otherwise. You need your mate to twist your arm and say 'come on – give it a go!'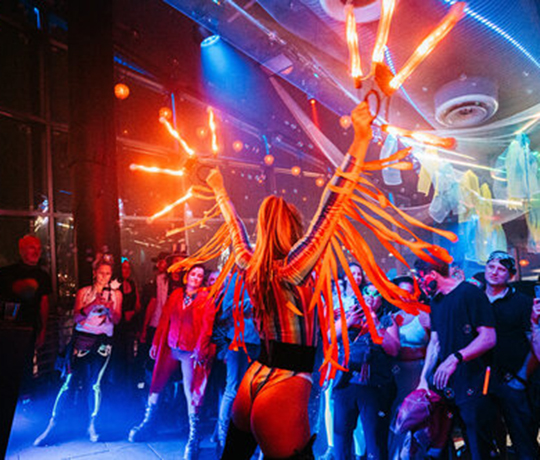 What is your stance on the issue of drug and alcohol use in Australia (especially at festivals) and how it's currently being tackled?
I have been to many festivals over the years and over consumed myself, so I have seen it and experienced it first hand. It's a reflection of a culture which is long-standing in Australia. The general consensus is that it's cool to get smashed! But the sad part about overconsumption is that it's often a reflection of the mental health challenges or trauma people are struggling with. It can be a great escape from struggles in your life, but the consequences are hugely negative on your mental health. This becomes a slippery slope to dependency and addiction.
The authorities' approach to clamp down on festivals with sniffer dogs and higher police costs, in my opinion, does not achieve anything. It has caused many festivals to close down, but these events are exactly what society needs as a place to let loose, connect and dance.
The issue is the overconsumption culture and the extent of the mental health problem. We are trying to address both of these issues by helping people make smarter choices for themselves in how they choose to consume.
You mention a 'natural high' a lot. Can you explain what this is and how can we have just as good a time without alcohol at a festival or rave?
It's actually a scientific thing. When you move and dance to great music and enjoy the group flow effect of an upbeat dance floor, it releases all the happy chemicals naturally. These include endorphins, dopamine, serotonin and oxytocin.
We pride ourselves on creating next-level dance floors that literally go off. And I can confidently tell you that I have achieved a high at all my parties! It's something that builds gradually as you dance and let go – and what's great is that there's no nasty drop or comedown!
We know that other concepts such as No Lights No Lycra have been amazing for inclusion and mental health. How does Xstatic Sunsets support mental health?
Our parties lead by example. We create a safe space for anyone to party and the joy and genuine connection people experience really lifts their vibration in life. Many of our attendees say they feel great for days later. A far cry from that nasty hangover of mid-week come down.
We also partner with charities that support mental health and inclusion to attract their audiences and enable them to activate their offerings at our events. We also give 5% of the profits we make from each event to a mental health charity.
Who can attend the Xstatic Sunsets events?
Our events are intentionally inclusive and judgement-free spaces for anyone to party. And being drug and alcohol-free space it creates a safe space for everyone – including kids! We attract a broad age group of fun-loving people who love to dance. And when everyone is in costume it's really quite special. All boundaries are broken down. 
How has the pandemic and the events of 2020 affected the events?
Coronavirus almost killed us.  We needed to continue our momentum but without being able to run events, it was hard. Everyday I was asking myself 'how do we survive'? There was a lot falling on me. After endless hours of hard work, two years and 3 big events I still had not even paid myself. It simply was not sustainable.  
But I just couldn't give up. I had to dig deep and think creatively.  As we had all been down the rabbit hole with Covid – I thought that's it.  We need an epic post pandemic festival to look forward to and just loved the vision for an Alice in Wonderland themed party.
The crowdfunding campaign was a success. It turned out to be a great way to re-engage the community and drive awareness. We smashed our 50k target to get the event off the ground! We've been fortunate that the City of Sydney has also got behind us with a grant to activate Xstatic Wonderland Festival in Sydney's Belmore Park. 
What's your next event coming up?
Xstatic Wonderland Festival will be held on the 9th of October in Belmore Park in the Sydney CBD. We are going for a Guinness World Record for the World's Largest Mad Hatters Tea Party! Or as the officials put it 'the largest gathering of people dressed up in Alice in Wonderland characters.'
The festival is focused around a huge co-created Mad Hatters Tea Party where friends and families create their own tea party settings. Think tablecloths, tea settings and amazing decor. It's really going to be quite MAD!
What's in store for the future? Are you planning to take this to Australia – or even worldwide?
We are aiming to fundraise through our next event so we can employ a team and ensure Xstatic Sunsets becomes a sustainable offering to expand around Australia. With a focus on sponsorship, we are looking for brands that want to align with our mission. 
We would also like to run programs with schools and Universities where our concept can be co-created with students to inspire our youth.