Want to get your foot in the door of the industry of your dreams? Here's our guide for students on how to get the most out of their career expos.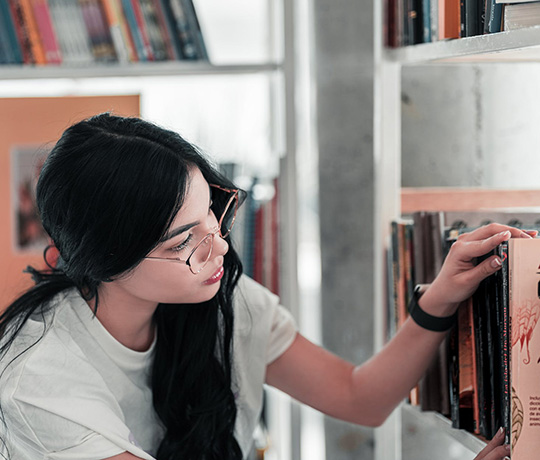 You've been slogging away at your degree for a while now and you're starting to wonder if this is really for you. The late-night dinner dates with your textbook, the 9am lectures with your caffeine of choice, the group assignments with people that aren't really your vibe… Is this what it's going to be like when you're working in the field? Most likely not (although you are definitely going to have to work with people you don't like. But we'll save that one for another post). There's a huge difference between studying your degree and working in your industry of choice in the real world.
That's why it's super important to make the most of what your university has to offer to your advantage, especially when it comes to making steps in your career that bring you closer to your long-term goals. Career expos are a perfect example of large scale events that are organised by universities that encourage students to gain insight into their chosen industry, practice interpersonal skills through networking and improve your chances of employment after you graduate. Whether that be through scoring an internship from a company you impressed within 10 minutes of speaking to or hearing what it's really like to work in some of the fields you're considering – career expos are a wonderful thing that can either reassure or determine whether this is the industry for you.
So, what is a Career Expo?
In short, it's an event that allows for students to meet with numerous employers and business representatives face-to-face within an industry, say engineering or business. Every single university in Australia runs Career Expo's a few times a year for all different course subjects, some are general but most are targeted towards a particular industry like maths and engineering, business, law or science. You can log into the careers hub on your university website and check careers emails. There, you'll be able to stay up to date with all the who, what, when and how of career expos.
At the career expos there's usually hundreds of small booths where one or two people from a company will act as representatives. This gives people like you the chance to ask all the questions and honestly, to sell yourself and skills. Think of it like speed dating but for jobs and professional experience. And believe us, we all know how intimidating a first date can be so of course, an event like this can sound a little bit scary. But don't you worry, we've got it all covered for you with some tips on how to use career expos to your advantage and score your dream post grad job or summer internship.
The Importance of Networking at Career Expo's
Career Fairs are a fantastic opportunity to harness your communication skills and establish industry connections and contacts. A lot of the time these companies will have hiring managers at their booths so there's a chance you may be asked to come to their offices for a proper, more formal interview and even score a job out of it! Not only that, it's a great way to meet other students who are job hunting in similar fields and add them to your contact or LinkedIn network. Who knows, maybe later down the track they could be a potential client, colleague or help you out with getting a job.
It's important to remember that attending a Career Fair isn't a formal interview. Whilst you should certainly dress the part and come prepared, this is about exploring different employers and getting to know their company, as well as for you to discover who you want to work for too.
We highly recommend that you go by yourself, arrive early and have a list of employers you want to check out. It's okay to come with a friend but you should both split and speak with the companies you're interested in, otherwise it's a waste of time and companies may not take you as seriously if you constantly need a support person with you. Arriving early is critical to avoid crowds and queuing up to speak with an employer. It also gives you a chance to gather your surroundings and plan an order of who to see depending on where they're situated in the venue.
Doing your research first and making a list of the companies you want to visit is a great way to make sure you don't miss out and make the most of your experience. It also proves to the employer how interested you are about them if you already have an understanding of their mission and achievements, so be sure to ask specific questions!
It's also important to be concise in these interactions, show enthusiasm and tell them what interests you about them. Ask questions about their work culture, training initiatives and suggestions on how you could be a prospective employee, like ways on how to upskill and what makes a good candidate. You could even ask what their pet peeves are about interviews and what to avoid!
Always follow up after a careers fair. We know it's daunting, but give it a go and you never know where it might lead. Remind them of who you are, even just sending an email thanking them for their time could do you wonders. We recommend trying to find employees you felt you really connected with on LinkedIn. It's also a great way for them to see your resume!
The Importance of Strong Interpersonal Skills
If you don't score a job straight off the bat, don't beat yourself up about it. That's a pretty common experience and it's important to remember that career expos can still be used to your advantage. Even just learning and practicing how to present yourself and communicate with people in high-level positions is a great skill to have. Take the advice they give you and turn it into action. For example, if they've given you ideas on what they look for on a resume, pick up those extra-curricular activities or have a look at volunteering options. You're in control of the conversation, you can get so much out of it if you put yourself out there.
We recommend that students continue to attend these expos as often as they can. Good communication and levelled confidence are life skills that will carry you far in the industry so long as you keep practicing. The best way to introduce yourself to an employer is through an 'elevator pitch', a quick 60 second speech that really sells yourself and details company research. Always maintain eye contact (without overdoing it of course), present polite mannerisms and remember to smile! The trick is to come across natural and relaxed. After your chat, it's worth leaving your new contact with hard copies of your resume just in case they would like to contact you post career fair.
Can Everyone Benefit from Career Expos? What about International Students?
The beauty about these expos is that every single student can benefit from them. Being bilingual is such a valued skill in the workforce, there will be plenty of employers with international clients that would be looking for students from overseas. It's also a great way for those of you studying abroad to improve on your English and gain connections in your chosen industries. There are even career expos that are just for international students like The Student Academic & Career Success annual Global Careers Week at UNSW in Sydney. It includes heaps of presentations and seminars on international opportunities and how to be employed in another country. There's so much support available. All you've got to do is contact your university's career centre and they'll be able to give a list of expos, seminars and workshops specifically tailored to you and your interests.
Examples of Career Expos and Fairs
Career expos may change from time to time as per year but the general gist of it stays the same. Here are some cool career expos to keep an eye out for at some of the major universities across Australia.
Sydney University
Investment Banking and Consultancy Careers Fair (February)
Engineering and Information Technologies Careers Fair (March)
Start Up Careers Fair (August)
Adelaide University
Careers Expo (March) – Day 1 focuses on STEM (science, technology, engineering & Maths) subjects whereas Day 2 focuses on Business, Health, Humanities, Arts and Teaching
Grow Your Career Week (August)
University of Western Australia
Careers Fair (March and August)
University of Melbourne
Business and Consulting Fair (March)
STEM Fair (March)
University of Queensland
UQ Careers Fair (March)
Start Up Mixer and Start Up Laneway (March)

Thinking of heading to a career expo at your university? Remember to do your research and put yourself out there. You never know where it might take you.