Easy Asian recipes anyone on a student budget can follow to make amazing and quick comfort meals using your dorm kitchen.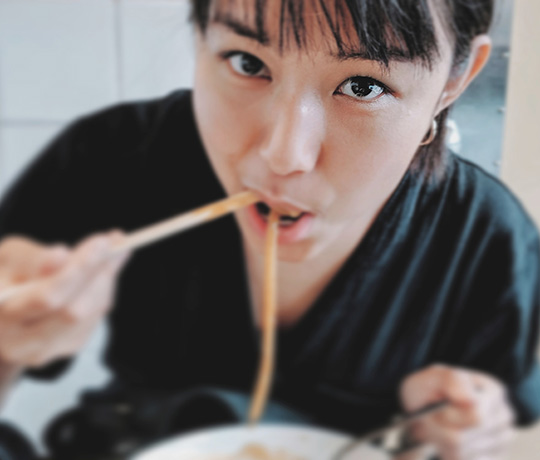 Thanks to apps like Easi and Uber Eats, you can go weeks if not months in Australia without cooking yourself. Not to mention get a great job working around your schedule. But where's the fun in that?
Parents are always quick to say that cooking is a lot healthier for you than eating takeaway every night. And they would be right. But not only is cooking your own food good for your physical health, it's an important part of mental health too. Cooking has been shown to help with a variety of conditions from depression, anxiety to ADHD and addiction.
Less extreme, cooking also boosts your mood, relieves stress, and reduces negative or unpleasant thoughts. Best of all, it's a great way to meet new people and delicious way to share your creativity!
If this is your first time away from home, don't worry. We've got you covered with these easy, classic recipes that are not only simple to make, they won't break the bank and you can easily prepare enough for leftovers for lunch the next day.
Let's dive in!
Mi Goreng – Upgraded!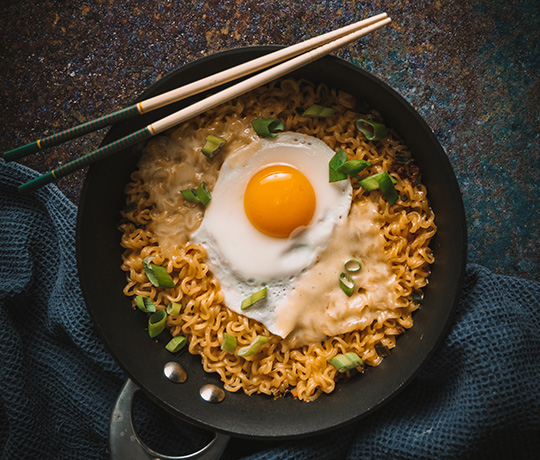 Instant noodles are a uni classic, but that doesn't mean you just have to stick with a cup noodle. Upgrade the classic Mi Goreng with this simple twist:
Ingredients:
1 egg
1 packet Mi Goreng
1 chicken thigh fillet
100g dry shiitake
1 clove garlic, finely diced
knob of ginger about the size of a garlic clove, grated
50ml Shaoxing
1 bunch green onions
Soy sauce, to taste
Method:
Soak the dry mushrooms in 500ml water. Chop the green onions – the white part roughly, the green part finely – and add the white part to the water along with the Shaozing wine, a splash of soy sauce and the seasoning from the Mi Goreng. Boil for 3 minutes.
While the stock is boiling, dice the chicken thigh and put it in the stock once it's done. Turn off the heat and wait till the stock has cooled to room temperature.
Remove the chicken thighs and strain the mushrooms, keeping the stock and discarding the rest.
Bring the stock back to boil and cook the Mi Goreng.
In another pan, sautés the ginger and garlic. Add the sliced mushrooms and chicken thighs and sauté till done.
Strain the noodles, reserving the stock.
Pop the noodles in the mushrooms and chicken mixture and get ready to serve!
For bonus points, add a fried egg on top before serving. Pro tip: this is excellent as a hangover cure too!
Spicy Nasi Goreng
While we're thinking Malaysian, you can't go past a fried rice. These days, a pack of microwave rice is a uni-must; they're easy to store and so convenient to have on hand, and they come out perfect every time. But as much as I can eat white rice for the rest of my life (it's true), add a little extra kick with this quick and easy Nasi Goreng recipe* 2 tbsp vegetable oil
Ingredients:
1 small onion, finely sliced
2 garlic cloves, crushed
1 carrot, grated
½ small Chinese cabbage, shredded
A packet of microwaveable rice
1 tbsp fish sauce
1 tbsp soy sauce
An egg
Hot sriracha chilli sauce, to serve
Method:
Microwave the rice according to packet instructions.
In the meantime, heat the oil in a wok on high heat and stir fry the garlic for 1 min to infuse. Remove the garlic.
Add in the onions and cook for 3-4 mins until softened. Toss in the carrot and cabbage and cook for a minute.
Pour in the fish sauce, soy sauce and some salt and pepper.
Add in the rice and mix everything thoroughly to coat the rice.
Make a well in the centre of the rice. Crack the egg in and fry until the white is nearly set.
Serve in a large bowl and drizzle with Sriracha.
Asian Noodle Salad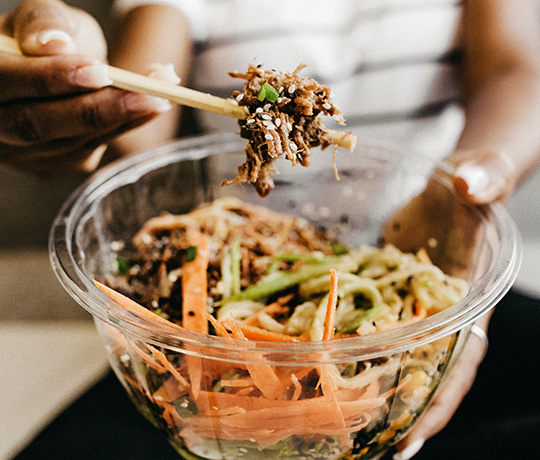 Believe me, I can have noodles and rice for every meal and never get bored, but sometimes you need something fresh and light. This Asian Noodle Salad is perfect as a side if you're cooking for a few friends, but it's also perfect if you want a lighter option for dinner. Be careful though, this isn't a dish that keeps well over night so don't try to save it for lunch the next day.
Ingredients
1 wombok (shredded)
6 shallots (sliced)
1 cup slivered almonds (toasted)
100 g Chang's Fried Noodles
DRESSING
1/4 cup white vinegar
1/4 cup sugar
1 tbs soy sauce
2 tbs sesame oil
1/2 cup olive oil
Method:
Combine the dressing in a small saucepan and heat until the sugar has dissolved. Set aside to cool
In a large salad bowl, combine the cabbage, almonds and shallots. Toss through with the cooled dressing until well-combined.
Just before serving, crumble the fried noodles and stir through, saving an extra handful on the top for decoration.
Japanese Curry
While you're in the asian supermarket, grab a packet of Japanese curry too. My favourite are the S&B Golden Curry brand – they're the golden standard and available in a range from mild to let's face it – still mild, but it's always delicious.
Just chop a large brown onion, 2 large carrot and a packet of Chicken thighs into rough chunks. Cook the chicken in a large saucepan until brown and cooked through, throw in the carrots and onions and saute about 5 minutes until soft. Then break in one individual serving of the curry and stir through till heated and well-mixed.
Serve it with some (microwaveable) rice and you'll have plenty left over for lunches!
Smoked Salmon Poke Bowl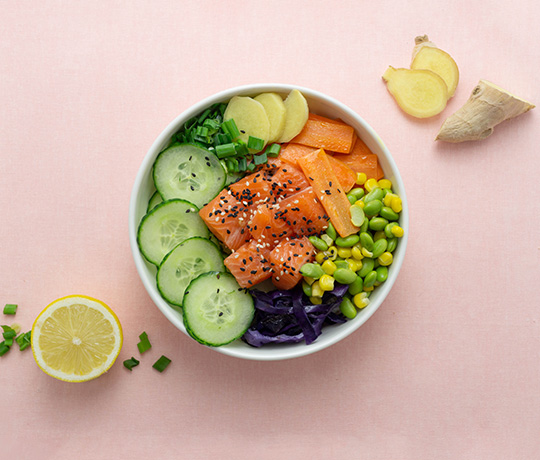 Another light, no-cook option is this easy poke bowl. It's perfect for a packed lunch too or to make a few to keep in the fridge so that you can just grab and go during the week. There are lots of substitutions for the smoke salmon in this depending on your personal taste, budget and local availability – if you can get sashimi-grade salmon or tuna, go for it!
INGREDIENTS
1 cup cooked rice, cooled
½ cucumber, peeled and chopped
1 large carrot, cut into thin strips
1 avocado, cubed
½ cup smoked salmon
Black sesame seeds
FOR SAUCE
1/3 cup mayonnaise
1 tablespoon sriracha sauce
1 teaspoon honey
Method:
Mix the sauce in a small bowl and stir thoroughly.
1/4 fill your bowl with the cooled rice and assemble the ingredients evenly on top of the rice.
Drizzle with the sauce and enjoy!
Boiled Dumplings
This is a total cheat, but probably my best tip for cooking in the dorm. Get some frozen dumplings for the local Chinese supermarket. Every asian grocery with a freezer will stock these and often on special if you buy packets of three, typically costing around $5 a bag with 30 or so frozen in a pack.
All you have to do here is boil some water in a pot large enough for the dumplings to "dance" in. A good rule of thumb is to have enough water to cover at least 5cm above the top of the dumplings. Always wait till the water boils before putting in the dumplings and be sure to occasionally stir them gently as they cook to avoid them sticking together. The dumplings are ready when they float to the surface, but the best way to test it is to cut it open to make sure it's not pink on the inside, and taste one yourself! Ah, the tastes of home!