Future Trends
Industry Insight: The Ins and Outs of Sex Technology In Japan
From robots to long-distance vibrators to partner holograms, welcome to the weird and wonderful world of sex technology in Japan.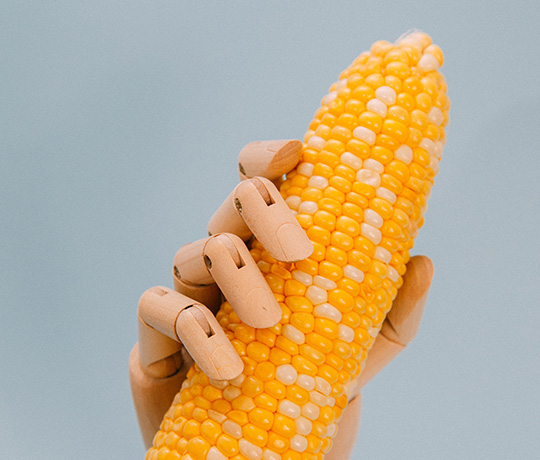 What's the first thing that crosses your mind when you hear the topic 'sex tech in Japan'? Are you thinking of futuristic sex robots? Sex toys in brothels? Or virtual reality and hentai? Whilst some of this is true to an extent, these damaging stereotypes and generalisations are derived from an engrained and socially conditioned view that fixates on Japanese women being submissive and that the whole population has some sort of secret fascination with kinky sex. To set the record straight, sex technology is so much more than the actual act of sex.
"Often, when people think of sextech, they just think sex, but sexuality really encompasses everything from orgasms and pleasure and relationships to education, health, crimes, assault reporting, medicine and gender identity",

said Bryony Cole, one of the leading experts in sex tech who has her own podcast called Future of Sex.
So, as you can see it goes much deeper than that. It's meant to improve the current human experience and fill in any missing gaps. For example, the use of teledildonics which is a type of sex toy that can allow for one partner to control its settings and vibrations despite being on the other side of the world – something many couples might benefit from at the moment. Why would anyone want such a thing? Well, think about long-distance relationships and the issues some couples may experience by not having access to touch. This type of sex technology can help improve their relationship and its chances of surviving.
Though we're still tackling the taboo of having healthy, open conversations about sex, one thing's for sure – there's an absolute need for it in the technology industry. It's worth a whopping 30 billion and it's growing at a 30% increase each year. You know what else? The entire sexual wellness industry is predicted to be worth 122 billion by 2024.
What does the sex industry look like in Japan?
In the context of Japan, the rate of singles is increasing which can be somewhat attributed to long work hours that can be up to 80 hours a week, high cost of living and accessible adult services with no strings attached such as oral sex bars. Considering their lifestyle, this may seem like the only option for some. By 2035, there's predictions that half the Japanese population will be single. It's got one of the lowest birth rates in the world, there's less interest in marriage and there seems to be a lot less sex happening. They're calling it sekkusu shinai shokogun (celibacy syndrome).
Despite wide held assumptions that Japan is not a sexually active country, it's actually quite forward-thinking in its approach to sex technology. There's now even vending machines that sell some of Tenga's most popular single-use sex toy products for men. Tenga is the leading Japanese sex toy company specifically for males and advocates the importance of self-care. It's released the biggest self-pleasure report in 2019 comparing 10,000 male and female experiences across 9 countries. The results focus mostly on the US but it provides an interesting insight into Japan's frequency, with 48% saying self-pleasure was performed at least once a week.
It's not just about men though. Women can shop around with their partners for rooms at the notoriously eccentric love hotels, flicking through the photos of specific rooms in automated systems and pushing the button of the one they like best where lights will appear giving directions. There's cosplay, rotating beds, bdsm equipment or the rooms will have certain themes like Hello Kitty or Godzilla. Not only that, there's also underground vibrator bars that women can visit. Like the Vibe Bar Wild One in Shibuya, Tokyo. With such a heavy focus on pleasure for men, this is one of the few places in Japan that offers safe space for women. They receive professional advice on which sex tech they should choose out of the 350 on offer, can have a couple of alcoholic drinks and socialise. All whilst knowing they're safe.
But what is Japan seeking most when it comes to sex technology?
It's fair to say that Japan has embraced the world of robots and virtual reality more so than the West. For some, it is much more compatible with their lifestyle and work demands in a way that is able to fill any void left by loneliness. In 2015, a census revealed that 1 in 4 Japanese men and one in seven women were unmarried. Which is the lowest it has been since World War 2. More than 60% were not in a relationship. Whilst many are choosing the freedom of a career, the desire to belong and feel emotionally connected are still prevalent. They're basic human needs after all.
Increasingly, younger generations are seeking out alternatives for companionship and virtual reality is a popular solution to combat loneliness, such as Gatebox. Picture this, a cylinder contraception that holds the hologram of an anime character called Azuma Hikari who is programmed like Alexa or Google Home to turn off your lights, but will also send you personal messages throughout the day. Consider her a virtual girlfriend. Her artificial intelligence means she will check on how you're feeling, send you messages and even share experiences with you like drinking tea and watching a movie. In basic terms, she provides that emotional intimacy that most humans crave – to feel wanted, loved and cared about.
Another example is the artificial intelligence app called RealDollX, where you can have a fully customisable girlfriend for just $30 a year. Users can choose their avatar and edit their preferences in body shape, hair, skin…basically men can create their dream girlfriend. Not only that, you can choose a range of personality traits such as sensual, jealous and/or talkative. You can flirt with her, converse with her and you're allowed to date other girlfriends in the app. And if you love your avatar so much, you can turn her into an actual robot that will set you back around $8,000. RealDoll is one of the leading providers of sex robots driven by artificial intelligence. She can blink, speak, move and can even react to touch.
The rise of Kodokushi
In Japan, there's a rising trend known as Kodokushi which is when someone dies alone and remains undiscovered for a long time. It's predicted there's at least 30,000 deaths like this a year but companies that clean these apartments when Kodokushi occurs believe it happens much more frequently. There's also an increase in hikikomori which is intentional withdrawal and isolation from interacting with society. The opportunities that can rise from intersections between sex and technology are significant. And whilst it may be strange to some, it can offer connection in ways that were previously unattainable. There's more to sex technology than meets the eye. It can be your Tinder account, your sexual harassment safety app, your self-pleasure tool or your companion.
There's so much more to learn about sex technology in Japan and the future of its technology and we can't wait to see where this innovative technology goes. But whilst we're on the subject, it's also important to consider both the imperative need for consent when it comes to sex, and also the ethics when it comes to technology.