All our favourite artists receiving international acclaim, competitive awards and prestigious exhibitions for their amazing work on the Asian-Australian cultural identity.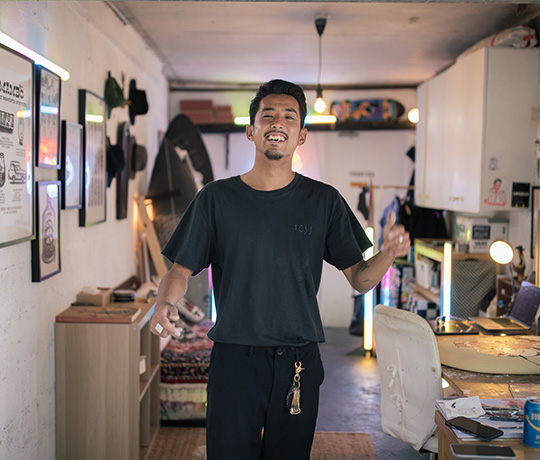 The commission, presentation and practise of contemporary art is something that significantly shapes our world and cultural landscape. From artistic mediums like photography to abstract painting, performance to sculpture, artists can use their creativity to start a dialogue or conversation piece. And to confront their audiences with a message or story.
In Australia, we have a rich artistic history, with a plethora of different museums and exhibitions (here's a couple of secret galleries in Adelaide) celebrating both traditional and contemporary art. And in a melting pot society like Australia where our citizens come from all around the world, many Australian artists also have Asian heritage. Sometimes their work is informed and rooted in celebration, depiction or education of their culture. And as we head into the future, many of these artists are young. Plus they come with fresh, revolutionary ideas. Here are some of our favourite young Asian-Australian artists, from the well-known to the up-and-coming.
#1 Kentaro Yoshida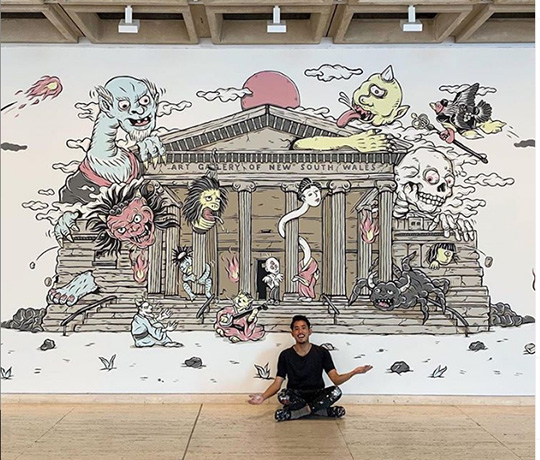 Kentaro Yoshida is one our favourite Asian-Australian artists making waves at the moment! He was born in Japan, and grew up in a rural fishing village before making Australia his home when he was just 18. An accomplished artist and illustrator working on both traditional and digital canvases, his unique style has been hand-painted, made into stickers, plastered as a mural across enormous public spaces. You name it, he's done it all. He's worked with the likes of Fanta, Levi's, Converse, BMW, Blink-182 and has appeared in numerous esteemed exhibitions – his most recent at the At Gallery of NSW. Check out a selection of his works here.
His quirky style, while influenced to an extent by our Australian beach culture, is also notably informed by his Japanese upbringing. He credits manga as a big influence, as well as stories of yōkai, supernatural characters and old Japanese legends. Fun fact – Yoshida studied Visual Communication at UTS upon moving to Australia, and apparently couldn't speak English at all when he arrived! Now, he's a full-blown native and still resides in the Northern Beaches of Sydney where he surfs every day.
#2 Apple Xiu Yi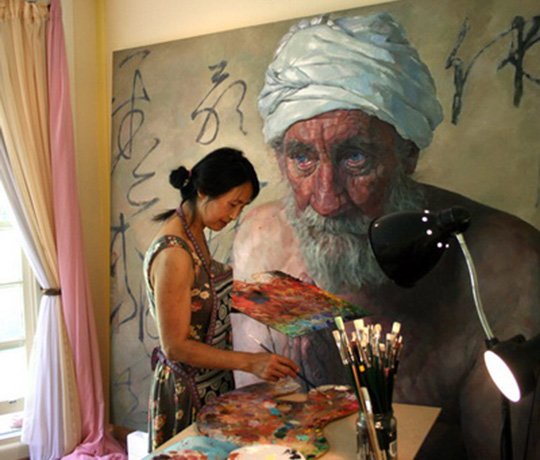 Apple Xiu Yin was born to a family of artists in China, and decided to be an artist herself. So she moved to Australia to study art at TAFE NSW and UNSW. She has a very unique technique and style, using a large breadth of colours in her palette to enrich the details in her artistic depictions.
Apple specialises in oil painting, printmaking, ceramic painting, photography and even animation. Although she is most famed for her portraits, winning high esteem from her peers and is a reputable portrait artist within Australian art circles. She is a dual Archibald Prize Finalist. One of the highest honours in Australian art, let alone achieved twice. She spends her free time running exhibitions, workshops and presentations.
#3 Rani Pramesti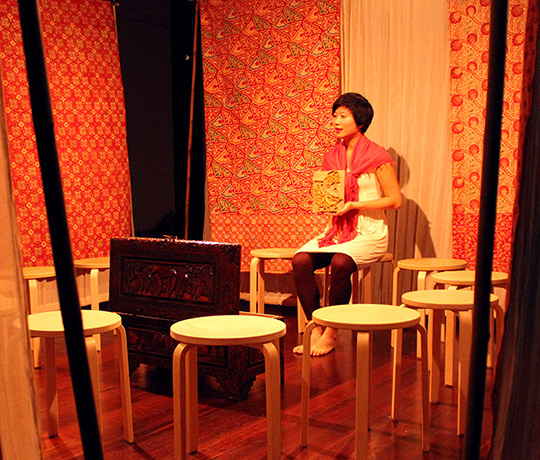 Rani Pramesti is Chinese, Javanese and Indonesian, and splits her time between Melbourne, Jakarta and San Francisco. Her work is multidisciplinary and really pushes the boundaries of medium, expanding across performance art, curated conversations and installations. She leads artistic teams under the banner 'Rani P collaborations' to focus on storytelling, technology and cultural exchange.
Initially studying social work, she graduated from the Victorian College of the Arts and is passionate about collaborating with underrepresented communities in the arts. She has dedicated herself to numerous incredible initiatives with Diversity Arts Australia, City of Maribyrnong's Phoenix Youth Hub and Australia Council for the Arts' Capacity Building program, among many others. Her work investigates themes of migration, discrimination and difference. Plus she has been featured in a number of incredible reputable exhibitions and festivals including Carriageworks and Sydney Fringe Festival.
#4 Jason Phu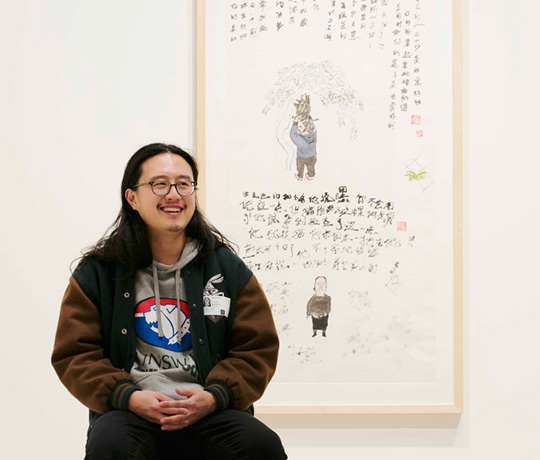 Jason Phu is one of many Asian-Australian artists killing the scene. He is a Sydney born-and-raised artist who was a finalist to both the Archibald and Sulman prizes by the time he was 25. An Aussie with Chinese and Vietnamese heritage, his home life was immersed in Chinese values and culture, and he grew up speaking Mandarin. Though outside the house, his life was very traditionally Australian. It's this unique perspective and "dislocation" that has informed much of his work, which focuses on the mixed cultural identity of Australians as well as humour and history.
Phu graduated from the Fine Arts undergraduate program at UNSW where he studied printmaking and historical Chinese calligraphy, and has gone on to appear in exhibitions locally as well as all over the world. Taiwan, Thailand, Chicago, you name it! Blending painting, drawing and sculpture, and sometimes performance and video, he has become highly prolific – appearing in about 15 shows a year – continuing to craft incredible pieces centred around identity politics, culture, history and the human condition.
#5 Victoria Garcia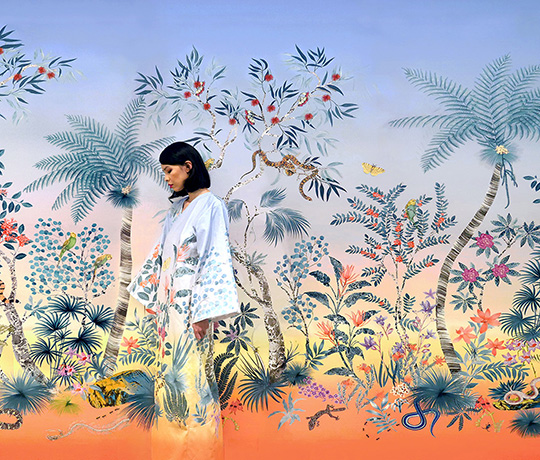 Victoria Garcia is a Filipino-Australian artist and textile designer. Her work has expanded across drawing, design and interactive installations and large-scale public artworks, resulting in immersive, patterned environments exploring her Filipino-Australian cultural identity, colonialism and the natural landscape. Her small-town Sydney upbringing has informed much of her work, from her connection to the Australian bushland, as well as her unique perspective as a first-generation immigrant, and interest in the diverse indigenous groups in her family's native Philippines as well as her own native Australia that have suffered at the hands of colonisation, identifying with their feeling of "belonging everywhere and nowhere." She has worked with brands like Warner Brothers, Microsoft and Sass and Bide, appeared in numerous exhibitions and received prestigious grants and awards. On top of her regular art practise, she's also an illustrator for Marvel Studios!
#6 Chris Yee
Chris Yee is a Chinese-Australian artist, illustrator, and designer whose works are deeply driven by storytelling. Specialising in traditional 'pen and paper' methodologies, Yee studied at the College of Fine Arts in Sydney and describes his main influences as 90s post-apocalyptic manga, comic books, rap and punk aesthetics. His imagery weaves together narratives from the humorous to the monstrous, and he says his stories and characters have been largely influenced by his social upbringing and Asian-Australian identity. He injects his art with rich industrial and cultural history, portraying contemporary takes on both Chinese and Australian traditional stories. He has worked with VIVID Festival Sydney, Sony, Samsung, Vans, Red Bull and Gelato Messina.
#7 Eugenia Lim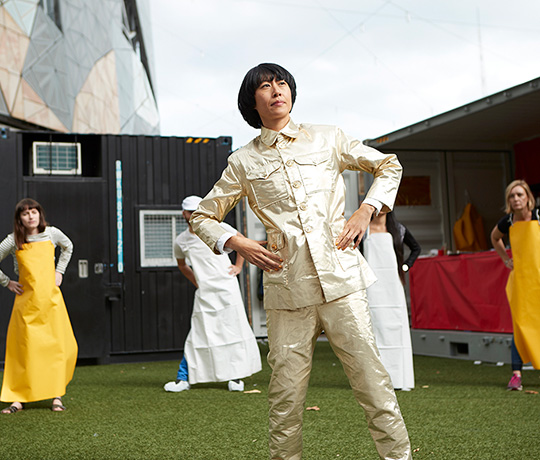 Eugenia Lim is an Aussie artist of Chinese-Singaporean heritage who creates work in various practises including video, performance and installation. Her portrayals, she usually transforms herself into invented characters who travel across time and culture, truth and fantasy, to investigate how cultural identities and stereotypes intersect and exist in our globalised world. She's explored the identities of Chinese migrants during the Australian gold rush; factory workers under Chairman Mao; the cannibal Issei Sagawa, Miranda from Picnic at Hanging Rock and many, many more. She's deeply inspired by place and performance, by sites and objects both contemporary and timeless, and most of all, nationalism, stereotypes and cultural personas. Her work has been exhibited, performed and screened all across the world to critical acclaim and through which she has received a number of grants and residencies. We can't wait to see what she does next!

Look out for these Asian-Australian artists as they hold exhibitions, paint murals and grow their presence across Australia.
Interested to hear more about Australian artists and designers? Why not check out our interview with ceramicist Clay By Tina.