A list of our favourite art galleries in Adelaide that are a local's secret, so you can experience the experimental art scene like a local!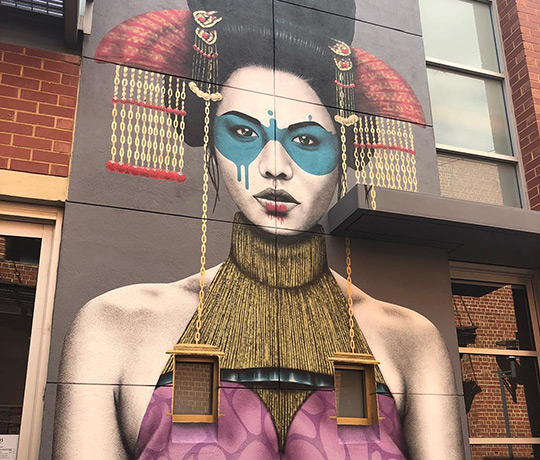 Adelaide's art scene is bustling with life and growing by the day. With a huge focus on fostering independent, experimental and underground artists. You may already know about the Art Gallery of South Australia and the Samstag Museum, so we decided to dig in and investigate the best of Adelaide's more hidden, more cutting edge and independent cultural scene so that you can gallery hop like a local.
The lovechild of the individually brilliant Contemporary Art Centre of South Australia and the Australian Experimental Art Foundation, this was the merger to fulfil the needs of art lovers everywhere. Exhibiting contemporary art exhibitions by local, national and international artists, ACE Open always hosts all kinds of programmes and initiatives like talks, events and workshops. Encouraging artists to experiment and innovate in their work, this gallery aims to forge the future of the art world with the transformative and experiential, hosting exhibitions and productions across multitudes of disciplines. You can find ACE Open in the Lion Arts Centre at North Terrace on the west end of the city.
This little gallery with its groovy geometric and pink trim is even cooler on the inside. This art hub is complete with a large gallery space, 14 professional artist studios, a fully equipped community workshop space, a fabrication workshop area and a multidisciplinary event space/laneway for performances and musical events. The gallery is unique and principled in that it does not receive or apply for operational funding, wanting to maintain artistic independence and integrity without having to worry about meeting the guidelines of funders, who may come from state government departments. This makes Fontanelle truly artist-run and home to many of the country's best emerging artists, curators and writers. Past exhibition titles include 'Love & Feminism,' ' Everything Is Stolen,' 'Vote Toulouse,' 'Life Is Sexy,' and more.
GAGPROJECTS is all about challenging art disciplines, exploring different mediums and revelling in the conceptual. Representing 26 artists, they focus on promoting the best local and national talent and extend invitations to only select international creators. They have a variety of social and educational projects outside the art field as well as owning a project space in Berlin called Phasmid Studios. GAGPROJECTS maintains prestige and respect across different art institutions and seeks thematically exciting and revolutionary pieces. They had a virtual group exhibition called 'Lockdown,' during COVID-19. And have had past showings entitled, 'Ballenesque,' 'Meditation Sex Music,' 'High Society,' 'Sydney Contemporary,' as well as displaying the major works of selected accomplished artists.
The Mill was founded in 2013 as a cross-artform gallery space by a dancer and a visual artist, which should give you some insight into the awesome, genre-defying exhibitions they have here. Recognised as a hub of South Australian creative innovation, The Mill offers masterclasses, workshops and residencies for both emerging and established artists, with about 30 in-house artists both local and international and an in-house photographic facility known at The Analogue Library. Their focus is strongly around the artist's development and process. And their status as a professional launching pad and facilitators of multidisciplinary talent is well-established. They've had dance classes, productions, writers-in-residence and a revolving door of exhibitions. Check them out!
Southwest Contemporary has that Instagrammable neon sign and a sleek interior. It's a small, minimalist exhibition space with only five projects per year, and is dedicated to exhibiting artists whose work isn't getting recognition elsewhere. The practise is edgy, experimental, and curated by two seasoned artists who wanted a gallery space with the freedom and liberty to display the art and artists they wanted to show. It's an intimate space with only a few pieces presented, but they are the kind that encourages deep reflection and experience.
FELTspace is another artist-run initiative gallery, and is a key spot for the art lovers of Adelaide. Focused on presenting experimental, alternative and diverse exhibitions and programs, FELTSpace is somewhat egalitarian in its leadership, usually run by 5-10 co-directors that have their own practise and share responsibility. Their only mission? To represent diverse viewpoints, emerging artists and experimental practice. Integral in South Australia for developing, exhibiting and discussing emerging artists, FELTspace has a writers' program to publish the written works of curators and artists to encourage discourse about their exhibitions. They also have a FELT Art Auction that encourages a lot of attention and several branded projects including FELTdark, and after-hours video exhibition, or FELTnatural, a takeover of Adelaide's parklands. Plus, they're always hosting cool arty events, like street parties with interactive art and open-air karaoke. If art's your thing, FELTspace is the community you want to join.

Adelaide has a rich and expansive art scene that should not be overlooked. As the cheaper sibling of Melbourne and Sydney, Adelaide's lower prices lends itself to up-and-coming creators who find the South Australian capital more artist-friendly. Meaning there's always something new to explore! With all the artist collectives, initiatives and small gallery spaces constantly popping up, as well as the Fringe Festival, Adelaide is a great place to be for every art lover. Give these more underground, secret galleries a look on your next gallery crawl… and maybe see if you can find an awesome hidden art space of your own!