We spent the weekend exploring inBLOOM, an exhibition of exotic and native flowers in Sydney's Royal Botanic Garden's The Calyx.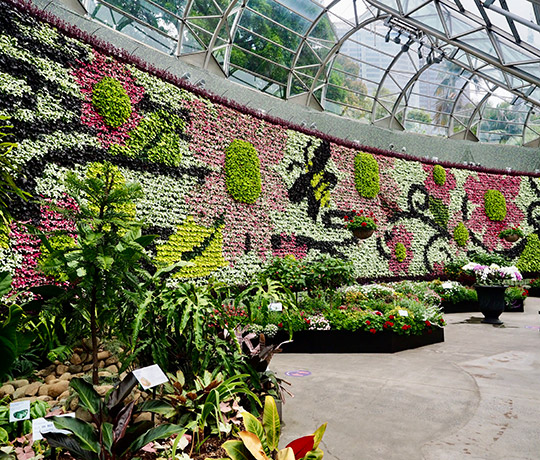 The Royal Botanic gardens is one of my favourite spots in Sydney to spend an afternoon. And not only because it has free WiFi. It's a beautiful part of Sydney nestled right by the harbour and moments from the CBD.
I've spent many visits in Sydney exploring its rich, diverse ecosystem of bamboo forests, manicured gardens and fern gullies, but this my first time to the beautiful Calyx. This stunning building is home to one of the southern hemisphere's largest vertical gardens and it's currently on show with the beautiful inBLOOM Exhibit.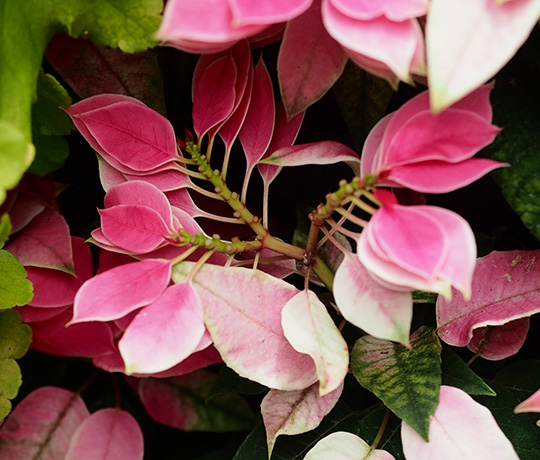 When can I visit inBLOOM?
The inBLOOM exhibit is curated by the horticultural team at the Royal Botanic Garden Sydney, and is running daily from 10am-4pm until winter 2021. 
The display features over 20,000 incredible plant species spanning acrossing the colour spectrum and truly is an immersive experience.
Entry is by donation, and as soon as the glass door of the entrance opens, you are hit with a breathtaking array of colours. The vertical flower wall stretches over 50m in length and 5m in height and contains over 18,000 individual plant pots arranged in a beautiful, living mosaic.
Once your eye adjusts in this beautiful greenhouse, you'll also notice stunning and rare plants dotted around the display too. As photographers, we were most drawn to the variety of orchids on display. From the asian Moth Orchid to the Brazilian Dare Devil Orchid – so named because they often grow precariously on exposed cliff-sides.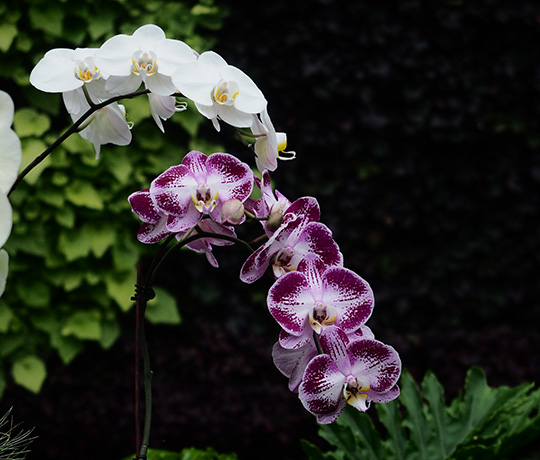 The exhibit also features a small river and waterfall in the rainforest garden bed. It's subtly flowing water added a soothing natural atmosphere that hit us as soon as we walked in and gently carried us along as we meandered around the exhibit.
Because I'm a not-so-closet nerd, I loved the many plaques and information boards along the way that gave a little history and little-known facts about a section of the species on display. For example, did you know that different pollinators (like bees and flies) all have different favourite colours?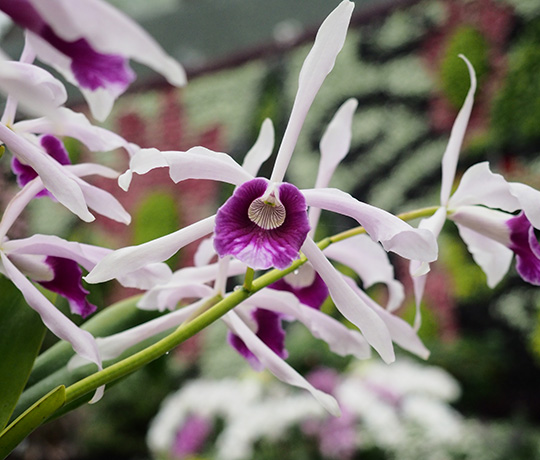 That's why the plant kingdom come up with so many different variations of the same flower in order to attract a variety of pollinators to help them reproduce. In particular, plants evolved white flowers in order to better attract nocturnal pollinators because white reflects more light and is easier to see at night. 
Alternatively, discover inBLOOM virtually from your couch
Because of COVID restrictions, social distancing and visitor limitation applies, but there is plenty of room here at the Calyx to accommodate. You can also visit a virtual tour of the exhibit which is worth checking out, but it doesn't compare to the multi-sensory joy of wandering around the space (let alone the Instagram-Pic opportunities).
I'd definitely recommend spending an afternoon with your camera and check out the inBLOOM exhibit before it closes. While you're here, don't forget to check out the rest of the Royal Botanical Gardens too. Visit the "whats on" section of website to check out the seasonal must-see flowers as chosen by the garden's curators and volunteers.