We all know the saying; have a break, have a Kit Kat. Now you can create your very own personalised Kit Kat, right here in Sydney at the Kit Kat Chocolatory.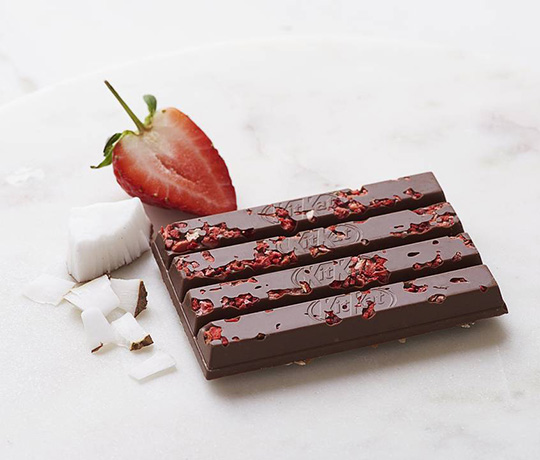 First it was Coke, then it was Toblerone… now the latest personalisation craze to hit Sydney is Kit Kat. And the craze is real. With the opening of the Sydney boutique commanding at least 3 hour wait times just to enter the store, we clearly love a personalised gift.
But is it worth it?
Definitely! We queued up for 3 hours to give you the first look into this gorgeous store and teach you the one trick that will save you the 3 hour wait time and still get the whole experience.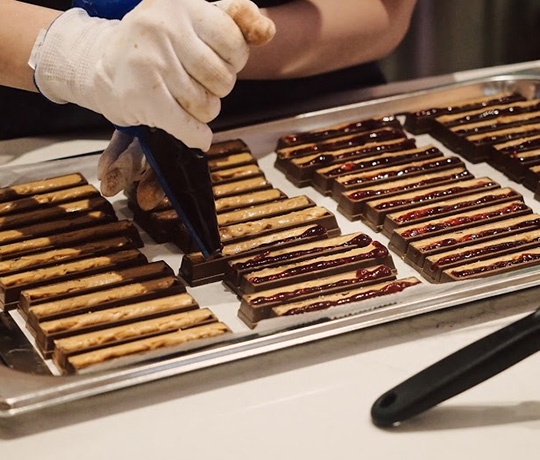 The Kit Kat Chocolatory Boutique, Sydney CBD
The store itself is beautifully designed and right in the heart of Sydney's CBD shopping district – Mid City in the Pitt St Mall. In the store, there is a Starbucks-collab cafe and a "sushi-train" style carousel offering the latest boutique Kit Kat creations (the Coconut Pandan was excellent!). And of course, there is a space where chocolatiers make your bespoke Kit Kat flavours that you design using the touch-screen menu, picking from hundreds of flavour combinations. There are also a huge selection of the most popular Kit Kat flavours that you can purchase in gorgeous pre-packed boxes. From Matcha to strawberry, all the way to Sake and Peanut Butter and Jelly. You can also head on over to the pick-and-mix section where you can choose your own within a box, which is great for those of you that can't decide on just one flavour!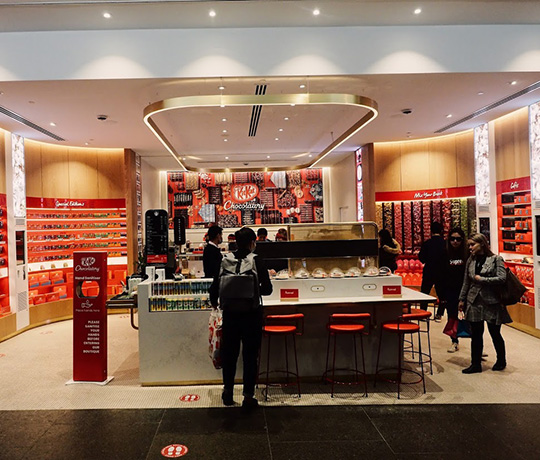 The Kit Kat Experience
Because of its popularity and Kit Kat trying to adhere to social distancing measures, there is a limit to the number of people in store at a time. So they've created a digital queue system where you can sign in and wait to be called via text. The wait time is around 3 hours, though we waited for 3.5h on Sunday and still weren't called.
Hot tip! You can actually register online first in the comfort of your home and then aim to be around the store in about 3 hours. If you're planning a visit, they also have a nice little chart that tells you when the best time to visit is based on the queue data. Very clever. When it's your turn to join the short queue, you will be sent a text message to your registered number. So as long as you have the text asking you to join the queue, you're good to go.
Do note, there were some people who tried to join the queue without registering first digitally or hadn't received the text message. They were asked to leave the queue, so don't head in store until you're ready!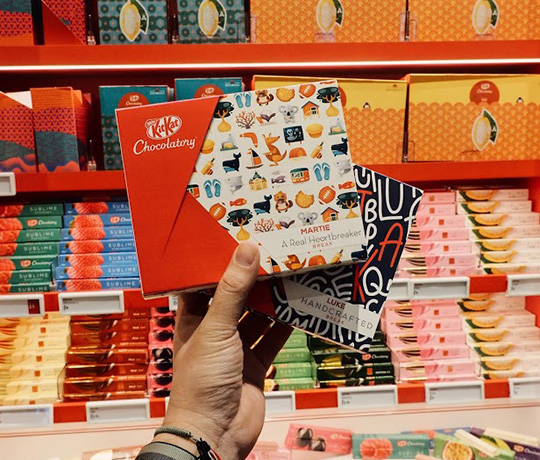 Create Your Kit Kat Break
The main attraction of the store is the opportunity to create your own bespoke Kit Kat. And it's a lot of fun. You get to design every last detail from the name on the box to its print to the message to the chocolate itself. You can choose from a variety of toppings and sprinkles. I went with Roasted Hazelnuts, Salted Caramel and Crispearls whilst Luke made one with Caramel Fudge, Rice Crisps and Chocolate Fudge. The easy-to-use touchscreen kiosk at the store guides you through every step of the design. And at $15 each, it's actually a lot more affordable than I thought it was going to be!
If you don't want to queue or can't make it down to the shop, you can still create your break and have it shipped to an address of your choice. It's an excellent gift idea for a loved one or yourself! As for the pickup service, it's easy. If you want to get it all done in one day, your custom order is generally ready in about two hours. You'll get a text when it's ready for pick up. Grab them in-store, or it could also be ready in the little lockers they have at the front of the store to collect at any time. Cute!

The deets:
Mid City
Ground Floor
197 Pitt Street
Sydney NSW 2000
Remember to book your space online or be prepared to wait 3 hours for your space. Why not visit The Happy Place in Broadway whilst you're waiting?