So, you're moving into a share house, flat or co-living space – here's a few helpful tips on everything you need to know before moving into shared accommodation. Good and bad!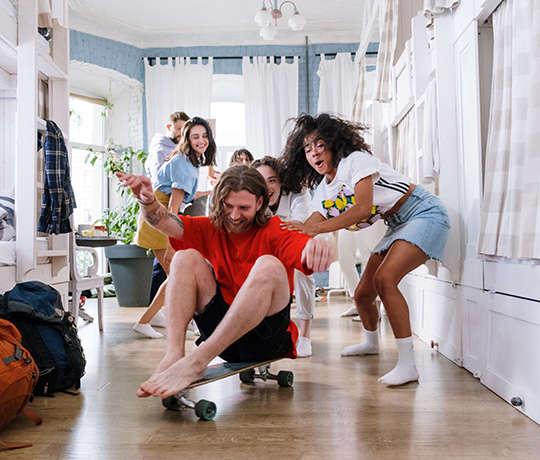 Shared Accommodation: The Basics
Moving into shared accommodation is super exciting! If this is the first time moving out of home, congratulations! If this move is following a desire for change or moving onto bigger and better things, it's going to be a fun ride! Shared accommodation is really thriving at the moment, but you may be asking, what actually is it? Let's break it down for you: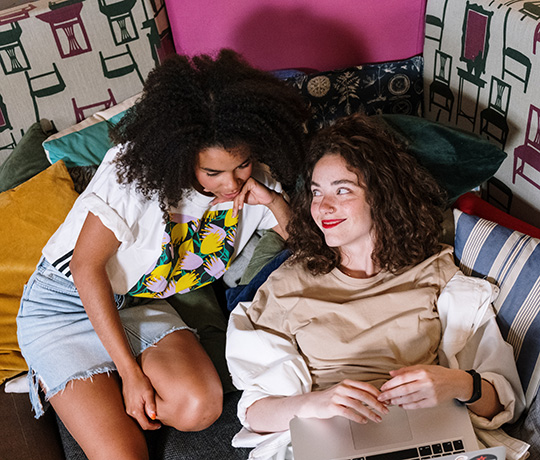 What You Need to Know Before Moving into Shared Accommodation
When you're applying for accommodation, it's worth looking into these next steps before you move in so you're completely ready and know what to expect before you move into your shared accommodation.
#1 Choose the Right Room For You
With shared accommodation, there's usually a few different options when it comes to living arrangement. You can have your own private studio or you can share an apartment of different bedroom numbers from two all the way to six – both with an ensuite bathroom or shared bathrooms. All options have their pros and cons and it's up to you to decide what you think you'd prefer. Sharing a room is great for socialisation and comfort, especially if you're feeling a little homesick. Plus, it's usually the more affordable option if your budget is on the lower end of the scale. However, it's hard to have complete alone time when you're sharing.
Why not explore the different room offerings in Sydney, Adelaide and Perth at The Switch to see which one is right for you?
#2 Keep an Open Mind
Shared accommodation can be challenging at times. It really is a unique – but exciting – experience living with total strangers. However, it can be one of the most rewarding experiences of your younger years. It will teach you an array of life lessons as well as learning to cooperate, compromise, communicate in addition to basic life and adulting lessons from cooking to budgeting. Remember to keep an open and positive mindset going into a co-living environment and embrace the weird and wonderful experiences you have.
#3 The Art of Sharing
Now, if you've never lived out of home, or lived in a shared living environment, you'll have to come to terms with sharing your stuff pretty quickly.
It's different to living with your family – boundaries need to be put in place to ensure you and your housemates are comfortable with sharing supplies. We'd suggest that when you move in you talk with your roomies and see what the vibe is. Do you all put money in for groceries weekly or will you cook individually with separate shelves in the fridge? Is everyone happy to share communal products like washing detergent and coffee? These questions are important to ask so everyone's on the same page from the get-go!
#4 Be Mindful of Your Flatmates
No one wants to come home to a messy space! Especially if you have to clean up after someone else. Shared housing is all about diligence and remembering to keep your roomies in mind.
Clean up after yourself in the kitchen and bathroom. Work out a cleaning roster of common areas and laundry days (if cleaning isn't included in your apartment). All these little things make a huge difference and work to keep your place tidy, as well as prevent any unwanted disputes.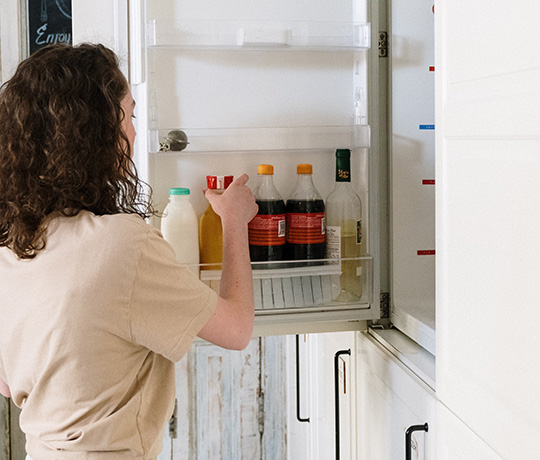 #5 Conflicts Are Normal
Now you know that it's important to set boundaries with your roommate and agree on a plan, it's equally as important to remember that conflicts can arise naturally when you're living in close quarters with another person. Remember healthy discussions are encouraged and compromising is key! Conflict resolution is all about communication and don't worry – it'll get easier.
#6 Furnished or Unfurnished?
The good thing about co-living apartments is that they are usually fully or partly furnished – at The Switch, you'll find each room and apartment is fully furnished and ready to move in. This will save you a whole lot of time and money. Work out whether your apartment or house is furnished and what furniture it includes. Once you've moved in, consider decorating your space to make it feel more like you. Adding some plants and some funky coloured cushions can never go wrong! Kmart, Target and IKEA will be your best friends, no doubt.
#7 Seek Out Support
If you're ever struggling or needing some support, remember to always speak up if there is something wrong or you simply need to talk. At The Switch there are always people available for you to talk to and get support or advice from. Similarly, if you're having issues in other forms of co-living accommodation, make sure to get in contact with your landlord so they can assist you with whatever you need. You can also use mindfulness apps for mental health support or even reach out to your university.
Are You Ready to Move?
You might think this is a lot to take in, but don't worry, all of these steps will definitely help you settle into your shared accommodation and make the transition all that much smoother.
The Co-Living or Shared Accommodation lifestyle is a game-changer for students and young professionals. It offers a range of benefits, especially financial and social, and creates a great environment for you to live, work and play in. The opportunities to network and collaborate is super enticing, as well as the chance to make new friends that are like-minded and in the same boat! So get around this little guide on everything you need to know before moving into shared accommodation and make the most of your time in your new co-living experience.