Want to get a tattoo but not sure on what design or artist to use? Check out these five Asian-Australian Tattoo Artists for inspiration!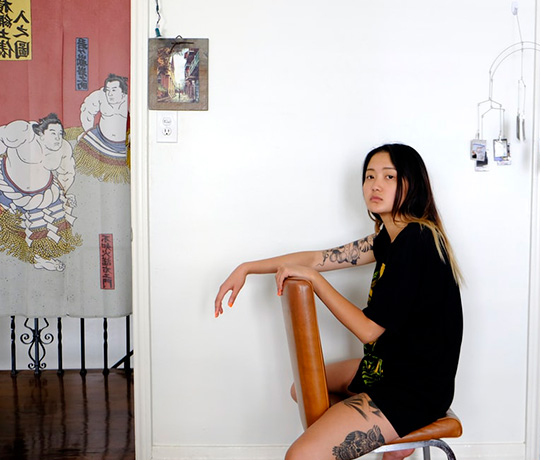 One of the things you'll notice most about Australia is that the majority of the population seem to be inked up in one way or another. If you're considering getting a tattoo and it's either your first or you've only got a couple which are mostly unseen, we recommend considering it for at least a couple of months. When it comes to choosing designs, have a look through apps like Pinterest and Instagram for inspiration, but never to copy.
There's a myriad of tattoo styles and designs out there, some of the greatest fall under Asian influences. From the traditional bamboo tattoos of Thailand to Bornean ornamental hand poke tattoos to the Tebori Irezumi tattooing of Japan, a vast variety of Asian tattoo techniques are offered or fused with other techniques like dot work or fine line. One of the most popular is hand poke tattooing or 'stick and poke' as some may like to call it. Using just an ink and needle, it's supposed to be less painful and invasive than a tattoo gun which allows for it to heal faster. However, it requires a lot of precision and takes much longer.
We're also certainly not short of tattoo designs influenced by Asia. There's plenty of artists who incorporate motifs like dragons, koi fish, geishas and fans. Some have a more modern twist, focusing on anime, watercolour or 'new school' pop cultural influences. From bold colours to old-school vibes, here's our favourite Asian-Australian Tattoo artists making waves.
…for traditional Japanese style tattoos and Tebori Irezumi tattooing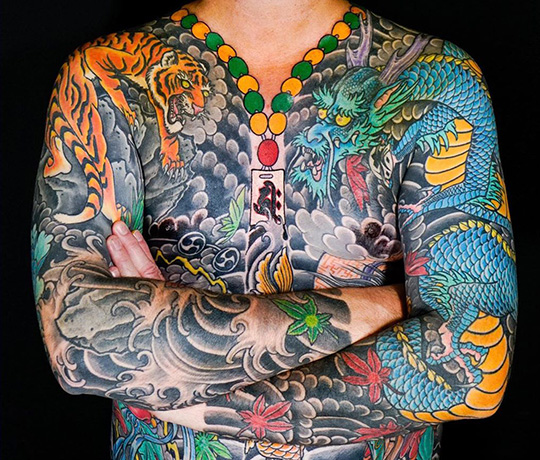 Kian Forreal's Tattoo Parlour Authentink in Surry Hills, Sydney is one of the best places to go to for hand-carved traditional Japanese Tattooing. He is fully accredited as an Irezumi artist, having learnt the art of Tebori (Japanese traditional hand poke) in Japan from a master. His traditional Japanese name is 'Horisumi' and he's got more than 20 years experience. All the art is influenced by ukiyo-e woodblock prints from the 17th and 18th century. So think rich colours, tigers, flowers and seasonal weather. For inspiration on a timeless historical canvas for your back and tattoo experience like no other, this is the place to go.
…for tattoos influenced by Anime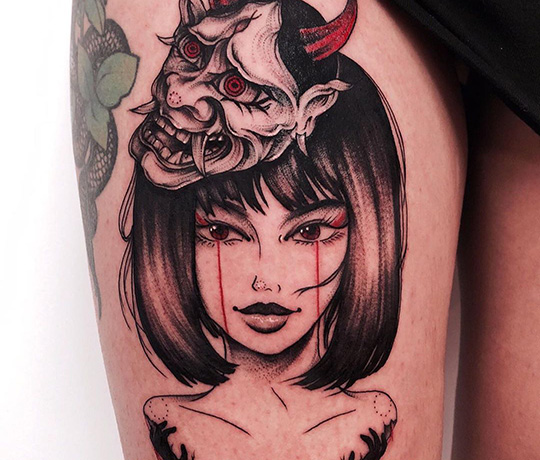 If you love dragons, devilish girls, Princess Mononoke, Totoro and all things haunted, then Luna Chrissy is the tattoo artist for you. With a distinct, signature style of wispy shading using red and black ink, she loves tattooing designs specifically for a client's body type through the concepts' movement and features. She's also got a unique style of tattoos herself with both arms being exactly symmetrical in design. There's lots of inspiration to find here. We're talking blades galore, red spider lilies, eerie hannya masks and spiders crawling out of the mouth of Tomi. If anime's your jam and you love your horror manga, Luna Chrissy is your girl.
…for watercolour tattoos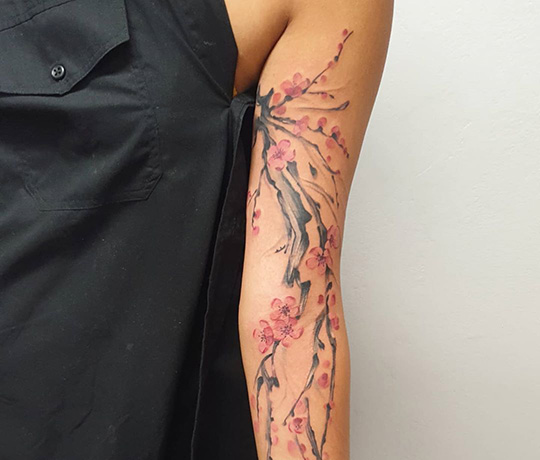 If you're after a more colourful, whimsical and softer approach in design when it comes to tattooing, then you should check out watercolour tattoos. It's a new approach that replicates the brushstrokes and explores concepts that are usually abstract. Jemka is one of the best Asian Tattoo artists in the Australian business. You'll find cherry blossoms, phoenixes, skulls and botanicals. She's also an expert artist for mastectomy. Whilst many emulate a sense of dreaminess, she's influenced by dark art and surrealism artists like Salvador Dali, James Gleeson and Michael Hussar. Her designs will take you on a visual journey of nature, arts and culture. For vibrant colours or bold black brushstrokes, have a scroll through her Instagram feed.
…for traditional Asian designs with a Neo twist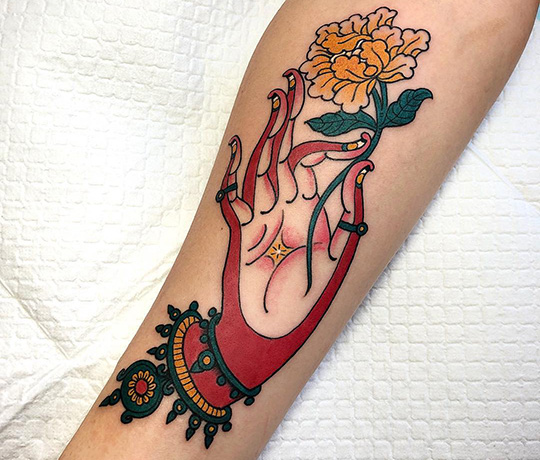 If you love the traditional bold lines, vibrant colours and symbolism you often find in traditional Asian designs but you're after a more modern twist that fuses with an old school tattoo style, you need to have a look at Habby Yuan's designs. Think peonies, ornamental daggers, vases, lion masks, Buddha hands…All in a colour palette reminiscent of Asia. Originally from Tibet, Habby's been making her mark as an Asian tattoo artist in Australia since 2016. She'll tattoo in any style but is more focused on watercolours, oriental and black and grey art. For incredible detailed designs that are contemporary, be sure to check her out.
…for contemporary tattoos
If you're on the hunt for designs that are more contemporary, westernised and quirky with a bit of angst, we recommend Troijarra Ebio's work (better known as Sad Youth Club). She started out as a Zine artist, noting surrealism and line work as key features in her work. Since 2019 she has been tattooing and you'll find everything from cute milk cartons making faces to baby devils to a pterodactyl skeleton head with wings and a hat smoking a cigar. She still pays homage to Asian influences such as Hannya masks, script and kawaii style tattoos. She's definitely one to look out for if you're after edgy designs!

After looking through tattoo designs, you've got to be truly set on it and unchangeable about it for quite a few months. When that happens, that's the green light to go full steam ahead. Do you have any favourite Asian-Australian-inspired tattoo artists we need to hear about? Let us know!

While we are on the topic of Asian Tattoos and culture, you should read this blog on the difference between cultural appropriation and cultural appreciation here.
Read about 8 Asian-Australian Influencers You Need To Follow here.