Asian Artists.
Melbourne is pretty much referred to as Australia's art capital. This city is full of vibrant art and culture, very unique to Melbourne. The city's arts scene definitely draws budding artists, but also inspires renowned artists, as the city has so much to offer. We want to make you aware of some of the Asian Australian artists based in Melbourne for you to check out.
Jessi Wong is a talented artist currently working and living in Melbourne. Her artwork is incredibly unique, as she is a printmaker and installation artist and works with paper. In particular, her landscape and sky and earth scrolls are bespoke, created on delicate rice paper. Her abstract art draws on inspiration from the land, earth, and sky. Jessi will have her art displayed at the upcoming The Other Art Fair in Melbourne from the 26th – 29th of May – it would be great to check out if you're in the city.
Jessi has had numerous exhibitions across Australia, and around the world, namely in China and Bulgaria. Check out what she is working on and her events by following her Instagram here.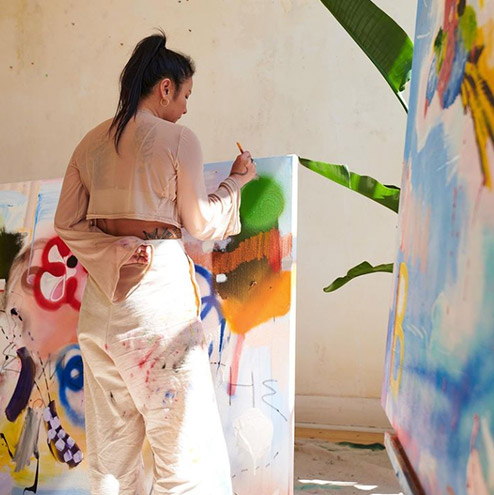 Marisa Mu is a unique artist from Melbourne who has since created Tits & Co, a social media platform that recognises female & gender non-conforming artists from multi-disciplinary practices. Besides this, she is a practicing artist, designer, and maker and has even established her own leather goods studio. Marisa has had several exhibitions since 2017, and just this year has had an exhibition in New York.
Marisa's purpose with her artwork is to spark happiness and positive change within people. She has said that painting has become a form of therapy for her and through her artwork, she would like to celebrate cultural diversity, womanhood, and naked candidness. She too will have her artwork displayed at The Other Art Fair in Melbourne. To keep up to date with Marisa and her art you can follow her on Instagram here.
Amy Kim is another Melbourne-based artist that creates contemporary artwork. She moved to Melbourne from Seoul, South Korea, to learn and develop fine art. Amy has also worked across a wide variety of creative industries such as theatre design, art directing, interior decoration, graphic design, and teaching. She also has her own studio in Keilor East, Melbourne.
Amy has had a number of exhibitions over the past few years, but feel free to make an appointment and visit her studio to view her art or check out her Instagram here.
Hsin Lin is another talented Melbourne-based artist whose artwork mainly features contemporary floral paintings. She is an award-winning artist and has an upcoming solo exhibition from 15tth August to the 22nd of September in Melbourne, showcasing her 'Bloom like flowers' exhibition.
Her artwork is colourful, and vibrant and is worth having a look at if you enjoy contemporary floral art pieces to bring some warmth into your life! Check out Hsin Lin's social media to keep updated with her latest pieces.
These artists are only the tip of the iceberg when it comes to incredibly talented Asian artists who are based in Melbourne. Whether well established, or still emerging, Melbourne is no doubt the perfect city for artists to thrive. When you're in the city next, why not research if there are any local exhibitions on and see some fabulous local artwork for yourself.