The best of the upcoming Melbourne Writers Festival 2020 program and finding ways to celebrate literature when MWF will spend this year online.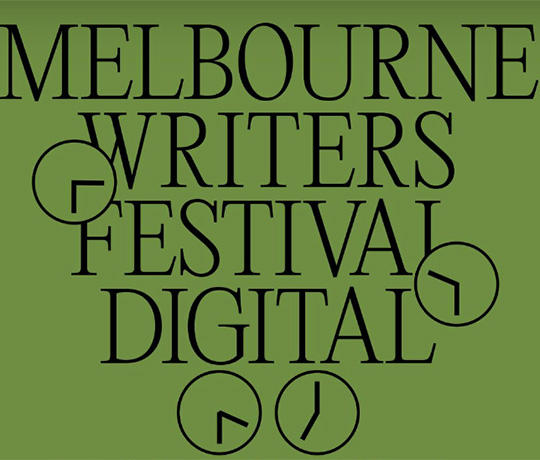 The Melbourne Writers Festival is an annual ten-day celebration of writers both local and international. Melbourne, was named the first and only City of Literature in Australia (and the second in the world) in order to honour the vibrancy of the literacy culture in the country. The festival brings together readers and writers, sometimes from all over the world, to listen to their idols speak and network with one another,
The festival usually is made up of a program of several hundred speakers who run a panel or workshop based around their specialty, such as crime writing and thrillers. These are great opportunities for readers to connect and bond with their favourite author and ask them any burning questions about what really happened at the end of that final cliffhanger, and for any emerging writers to learn more about their craft from the masters. Past featured guests at the Melbourne Writers Festival have included literary powerhouses like Margaret Atwood, David Levithan, Dave Eggers, Lionel Shriver, Zadie Smith and Rainbow Rowell, just to name a few. While some of the Aussie giants to lead the charge have included Helen Garner, Andy Griffiths, Germaine Greer, Hannah Kent, Tim Winton and Melina Marchetta.
The 2020 Lineup
With the festival approaching this 2020 and the effects of Coronavirus not having entirely let up, this means the Melbourne Writers Festival will be migrating online. You'll still get to see all your favourite authors, but just through the screen. The program and lineup is just as exciting as it's always been. This year's festival theme is focused on Attention – to what do we give our attention, and why? How do we unpack crises and other major events and how does this refocus how we connect to one another and our environment – and the books we consume? Here are some of the highlights from the upcoming program that you have to look out for.
Kevin Kwan
Saturday 8 Aug 8pm-9pm
The superstar behind the wildly successful 'Crazy Rich Asians,' Kevin Kwan is a Singaporean author who has been named on a list of Hollywood's Most Powerful Authors, made Time magazine's list of top 100 most influential people and inducted into The Asian Hall of Fame. He's blessing our screens to talk about his brand new book, 'Sex and Vanity,' a story of love and Asian-American identity.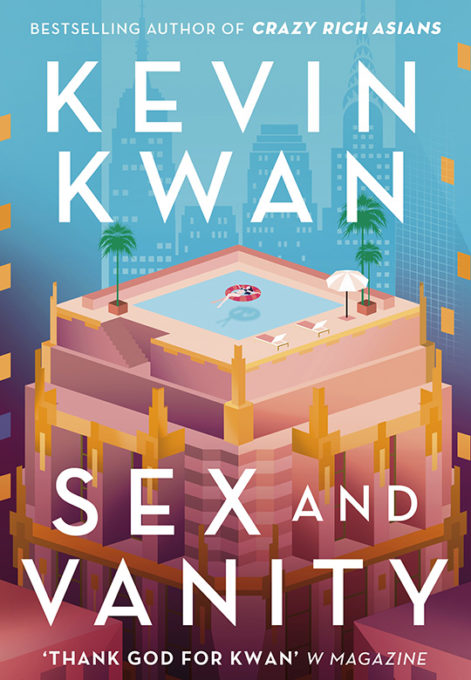 Jing-Jing Lee
Sunday 9 Aug 4pm-5pm
Lee, an accomplished poet who went to Oxford, is scheduled to speak about her debut historical novel that was long listed for the 2020 Women's Prize for Fiction, 'How We Disappeared.' Her powerful new novel highlights the dark history and trauma of Singaporean 'comfort women' during World War II. And she is scheduled to discuss the writing process along with forgotten chapters of war and culture.
Anne Enright
Sunday 9 Aug 6pm-7pm
It wouldn't be surprising if Anne Enwright's name sounds familiar to you. A highly celebrated, critically acclaimed Irish author, she has a bibliography of award-winning novels covering themes such as family, love, identity and motherhood. She also won the 2007 Man Booker Prize for her novel 'The Gathering.' You know, as you do. She's gracing the Melbourne Writers Festival to discuss her illustrious career and craft but also her brand new novel, 'Actress,' a story about fame, survival and the tragedy of celebrity.
Malcolm Turnbull
Monday 10 Aug 6pm-7pm
Whelp, the name seems familiar? Can't seem to place it? Kidding. Our former Prime Minister's political memoir, 'A Bigger Picture,' has been described as having more plot twists than a thriller, spanning his rise, tenure and downfall. Sitting down to discuss his career and the state of the Australian democracy, this session is supported by the Melbourne School of Government at the University of Melbourne.
George Friedman
Tuesday 11 Aug 6pm-7pm
American geopolitical forecaster, strategist and New York Times bestselling author George Friedman is back with a novel predicting how the 2020s will bring about the upheaval and reshaping of the United States. Covering the history and cycles through which the country has developed, Friedman's analysis is fascinating, meticulously-researched and incredibly timely. As well as being incredibly entertaining. Sit down with Friedman for his take on the future of the American empire and his new book, 'The Storm Before the Calm: America's Discord, the Coming Crisis of the 2020s, and the Triumph Beyond.'
Julia Gillard
Tuesday 11 Aug 8pm-9pm
Getting to hear Julia Gillard speak for an hour as a break from replaying her unforgettable 2012 misogyny speech to Tony Abbot on a loop? Sign us up. Having recently co-published a book on the impact of gender on the treatment of leaders with economist and international development expert Dr. Ngozi Okonjo-Iweala. This engaging, troubling analysis featuring Jacinda Ardern, Hillary Clinton, Ellen Johnson Sirleaf, Theresa May, Michelle Bachelet, Joyce Banda, Erna Solberg, Christine Lagarde and more has been received to critical acclaim. And now Gillard, in partnership with the Wheeler Centre, is sitting down to discuss the book along with broader issues of equality and gender bias. Absolutely unmissable.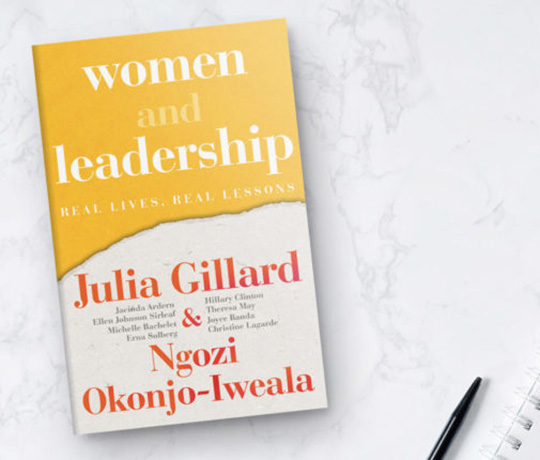 Kate Grenville
Thursday 13 Aug 1pm-2pm
Kate Grenville is an Australian literary symbol who has published fifteen books that have all reached icon status in Aussie fiction canon. She won the Orange Prize for 'The Idea of Perfection,' and in 2006 she won the Commonwealth Writers' Prize for 'The Secret River,' which was also shortlisted for the Man Booker Prize. Her new novel 'A Room Made of Leaves,' a fictitious memoir of Elizabeth Macarthur reveals the dark underbelly of the polite historical world and is Grenville's first novel in almost a decade. This broad-ranging discussion of Grenville's bibliography and her new novel is in partnership with Guardian Australia.
Casey McQuiston
Saturday 15 Aug 10am-11am
Casey McQuiston is a young author who singlehandedly wrote one of the biggest LGBTIQA+ young adult novels of 2019, queer romcom 'Red, White and Royal Blue.' Following Alex, the fictionalized First Son who finds himself in a fight with Henry, an English prince, and is forced to befriend him for PR reasons, developing romantic feelings for him along the way. Totally recommend reading it in conjunction with George Friedman's new book. Kidding. Kind of. The US author is sitting down to talk about why we need escapist literature, and her enormous viral success.
Mikki Kendall
Saturday 15 Aug 12pm-1pm
Mikki Kendall is a celebrated author, activist and cultural critic whose new book 'Hood Feminism: Notes from the Women That a Movement Forgot,' is a necessary exploration of the feminist movement and it's sidelining of women of colour. This is a deeply engaging essay collection that should be a requirement for anyone interested in activism and intersectionality. Especially in the current day and age which calls for solidarity even when it is neither pretty nor pleasant. In this session, Mikki Kendall discusses where mainstream feminism falls short in its consideration of how race, class and sexual orientation intersects with gender, and offers practical advice on how to enact change.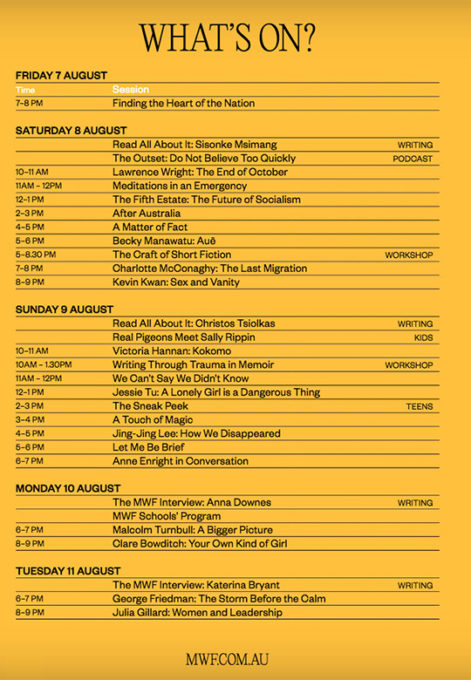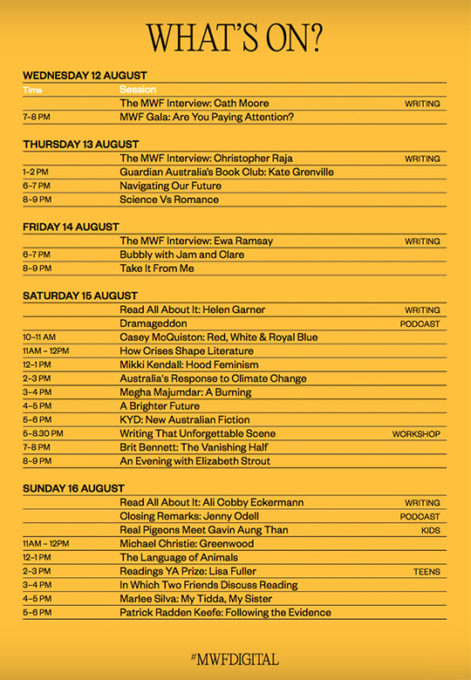 But how is the festival even going to work this year? Usually conducted across a variety of venues with plenty of opportunity for networking and maybe even ambushing the author (kidding! Kidding!) You can choose from free, $5, $10, $20 or $50 tickets. All which permit you entry to different sessions and viewings, with information on access becoming available upon purchase. Tickets can be booked via the MWF website.