Melbourne is known for its laneways, which showcase the best of local and international graffiti artists. Here's some of the best street art to be found in Melbourne CBD.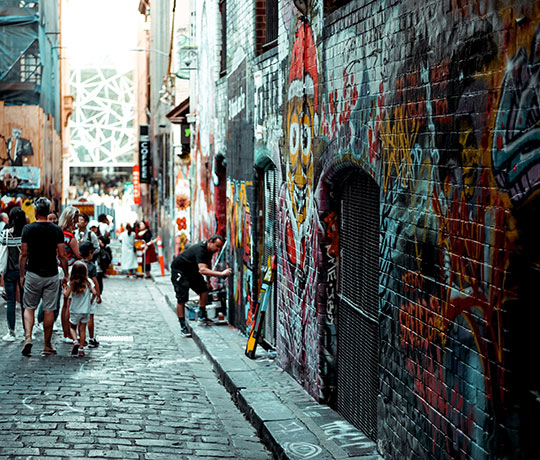 If Melbourne is known for its coffee, it's also known for its art – and there's nothing better than free art. Every day, Melbournians get to walk in and around some of the best, biggest free art galleries the world has to. Street art is ingrained into the lifeblood of Australia's most creative city. And you'll be hard-pressed to find a wall or corner that hasn't been turned into a canvas of some sort. Several laneways however have been taken over and purposed specifically for the arts, acting as enormous canvases for some of the best local and international talent. It's hard to know which graffiti hotspots are worth the visit when there's so many (hint: they're all worth the visit). So we decided to help out and pick our graffiti laneways for your appreciation. And to jazz up the backdrop for your next Instagram.
Melbourne's transport system is also one of the best in Australia. So check out our guide to hopping on and off the tram and maybe you'll be able to visit all of these laneways in a day!
Laneway #1 Hosier Lane
The most popular and renowned spot for great street art in Melbourne. Hosier Lane opposite Federation Square is an overflow of colour at the centre of the city's graffiti art scene. It's a great place to begin due to its mainstream status, as long as you don't mind dodging tourists and photo sessions. Or squeezing through narrow laneways to appreciate the sites. Just about every millimetre of wall has been decorated, and the art is always changing and being repainted. Hot tip: some of the best pieces down this laneway will be the smaller ones that are often ignored in favour of the large-scale murals.
Laneway #2 Fitzroy (yeah, all of Fitzroy)
Fitzroy is a suburb perfect for art lovers and graffiti connoisseurs. Murals can be found on the sides of cafes, on the concrete, the garages of nearby houses. Fitzroy is full of corners and hidden spots, nooks and crannies where there's sure to be a few small surprise murals for those who decide to go looking. The entire suburb is pretty much a free public gallery. Definitely check out Johnston Street for the Keith Haring mural.
Laneway #3 AC/DC Lane
Named after a world-famous Australian rock band, AC/DC Lane's street art depicts all kinds of musicians. It was even a longtime home to internationally-renowned live music venue Cherry Bar. Long live Cherry Bar!
The last of the Banksy rats, which used to appear all over the Melbourne CBD, can be found scattered between murals here in AC/DC and are some of the last remaining in the city from the iconic graffiti artist. If music and the rock and roll aesthetic is your thing, don't miss out on snapping a pic here.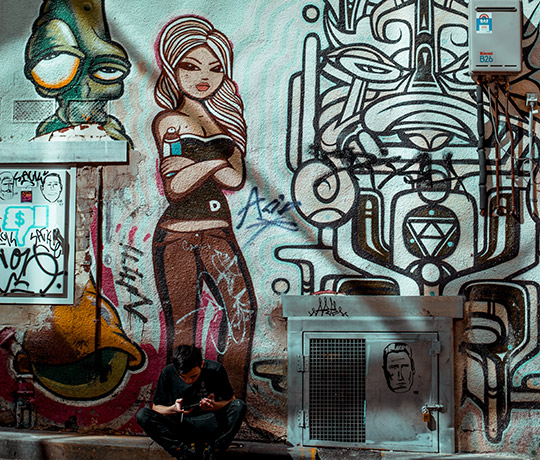 Laneway #4 Duckboard Place
Curving around AC/DC Lane, Duckboard Place has some seriously impressive murals as well as nearby real estate, with some of the top fine dining establishments situated right in the laneway. Lee Ho Fook is classy new-style Chinese, and Tonka Bar & Restaurant us some of the best modern Indian in town. Stroll through Duckboard and admire the awesome pieces before you grab a bite to eat.
Laneway #5 Union Lane
Take a break from your shopping at Bourke Street Mall and pop your head into Union Lane! Local artists have decorated the space with familiar shapes and typography, but it's the fantasy character pieces that really stand out, as well as the occasional political artwork that encourages reflection and provocation.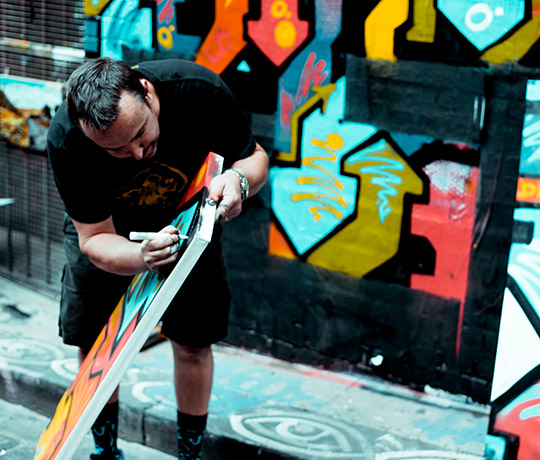 Laneway #6 Centre Place
Centre Place is not just street art – in this little laneway, you can also find buskers, cafes, bars, shops, and a bustling, grunge-y atmosphere. Get the true Melbourne experience by purchasing a (superior) coffee, taking a seat on a milk crate and hopping between stores. The stencil art is phenomenal so keep your eyes peeled.
Laneway #7 Section 8/Tattersalls Lane
Tattersalls Lane is yet another super-cool Melbourne laneway decked out in magnificent street art, but it has an edge – Section 8. Section 8 is a hip, outdoor bar serving up imported beers and house made cocktails out of a shipping container and blasting cool house music. It's literally a bar in the middle of a graffiti laneway, and we can't think of anything more Melbourne than that.