Students studying near at Melbourne University campuses near Carlton have no shortage of things to do, surrounded by shops, restaurants and pubs.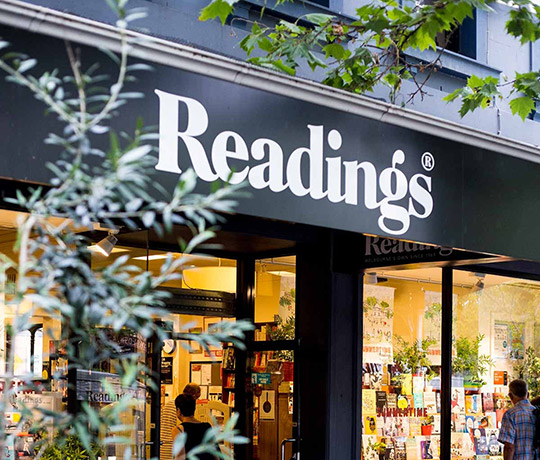 Attending a Melbourne university comes with a whole lot of benefits. Easy transport, amazing quality of living, the best coffee in Australia. And, if you're a student near the CBD, spectacular campus grounds. From the historic, gothic turrets of the University of Melbourne to the cutting edge, Blade Runner 2049-esque architecture of RMIT, the two big Carlton grounds have plenty to offer within their own premises.
But what's so great about being a student in this location is the way the surrounding Melbourne suburbs blend seamlessly into campus grounds. The University of Melbourne and RMIT both spill out into the suburb of Carlton, intertwining the nearby pubs, shops and cafes with the foundations of the local student lifestyle, culture and experience. We're going to give you the local student's guide to Carlton and the best, technically off-campus spots for university students to enjoy before, during and after class. Just a five-minute walk away from the lecture hall.
Shopping in Melbourne
Yep, there's nothing to take away your post-exam blues quite like retail therapy. You'd be shocked by how many popular chains and boutiques you can cram in the cute little roads and cobblestones along Lygon Street. You'll find all your familiar favourites situated right in Carlton – Cotton On, Esprit, Mecca Maxima, Mimco, Peter Alexander… you step out of your last class and bam, it's like there's a shopping mall right on your doorstep.
If you're looking for something a little more unique to Carlton, though, you should check out the Eastern Market. A unique fashion store tucked away in an old chapel selling rare collections from all over the world – specifically Europe and Japan – from niche designers like If Six Was Nine, Carol Christian Poell and Paul Harnden.
Carlton is also home to the first outpost of Readings Book Store. An independent retailer of books, music and film where you can waste away hours browsing their titles and skimming the first chapters of funky psychology books and tarot-reading how-tos.
Food Spots in Melbourne
Carlton is actually known as the 'Little Italy,' of Melbourne. Populated by Italian migrants in the wake of WWII, the streets are now host to a number of delectable, family-owned pasta, pizza and prosciutto joints. A student favourite is Tiamo's, a 40-year-old institution serving up coffee and brunch by day and romantic, Lady-and-the-Tramp spaghetti bolognese vibes by night. A little more upscale is Scopri Italian Food and Wine. And DOC is a mega-popular pizzeria that will convert you from Dominos for life.
If you're living in Melbourne, chances are you've already been converted to consider brunch an essential meal. Vertue Coffee Roasters, tucked away behind a gas station, is some of the best brunch you can grab in all of Melbourne. The coffee is phenomenal, so good they even put it in the café's name, but the food is mouth-wateringly excellent. Once you've gotten past the fact some of it is almost too pretty to eat (flowers on the plate!), you can choose between Red Velvet Blueberry Hotcakes, Tiramisu Waffles, Mac and Cheese Croquettes, a Pulled Pork Burger, Buttermilk Fried Chicken…Stomach rumbling yet?
If you're up for something a little sweeter, Carlton has an outpost of Brunetti. Another Italian staple serving up pizza but is famed for their huge variety of sweets. From gelato to mini cakes, profiteroles and cannolis, you'll want to take inside, indulge in the old-school candy-shop style of the mosaic-tiled floors and try to taste everything. We advise coming with a bunch of pals after a late-night study session and ordering a bunch of miniature cakes to share between you.
Most popular with the students, however, is gelato store Pidapipo Gelateria. Typically visited right after a meal at the neighbouring Tiamo's. With flavours like Blood Orange Sorbet, Coffee & Chocolate Brownie, Apple Crumble and Fior Di Latte, this artisanal Italian gelato is creamy, intense quintessentially Italian – made with Italian materials, and sourced from the best producers of milk, nuts, fruit, honey and chocolate. Peep the cakes too – you may have to compare Brunetti and Pidapipo's to decide on a winner.
If Frozen Yoghurt is more your speed, you're bound to run into someone from your classes at the incredibly popular Yo-Chi, just opposite burger chain Grill'd. Yo-Chi is a super-fun, pay-by-weight frozen yoghurt shop that's a hit with students for their student discounts, unlimited taste samples and absolutely delicious flavours and toppings. Honeycomb flavoured frozen yoghurt, and you can add hot caramel sauce and brownie pieces? Um, yes. Definitely the best frozen yoghurt we've ever had.
Activities to do in Melbourne
One of life's most simple pleasures is going to the cinema. When you're a student, life gets pretty hectic, pretty fast, and you don't always have the funds to go to a HOYTS and pay the $20 ticket at the right showtime. Enter, Cinema Nova. Right on Lygon Street, this small arthouse cinema shows blockbusters as well as more artistic, indie films that don't get a lot of mainstream viewings. Plus sometimes even limited releases. It's $16 for students and $7 on a Monday. $7! That's crazy. Cinema Nova also even holds watch parties and movie-themed events. Including trivia, dance parties, filmmaker highlight months, monthly advanced screenings and even has the Nova Film Club for cinephiles everywhere.
If you're feeling like something a little more upbeat after sitting at a desk all day, Carlton Gardens is a picnic and barbecue area that's listed as a World Heritage site full of wildlife and cultural centres. Go for a leisurely stroll, and enjoy the views of the Royal Exhibition Building (where you may end up having to take an exam at some point in your university career – ugh), the French fountains, adorable flowerbeds, tree-lined pathways, plantings in honour of the Dalai Lama, tennis courts and assemblage of Moreton Bay Fig trees where the local Aboriginal people traditionally mingled.
Did you know the University of Melbourne has its own art museum? You do now!
The Ian Potter is right there on the stroll out of Melbourne Uni onto Lygon Street. Unmissable with its glorious exterior of marble statues fighting their way out of the wall. The museum has hosted over 515 exhibitions during its 46-year history, making a huge contribution to the art world not only of the University, but the city of Melbourne and the state of Victoria.
The museum's displayed works range from antique to contemporary art, international and Australian Indigenous, all uniquely tied to the University's endeavours, research and connections. Visiting the museum is not just an exercise in appreciating art – due to its affiliation with the university, the art all carries great cultural significance and weight, prompting thought, reflection and discussion. You always leave the Ian Potter really feeling like you've learned something. Whether through a sculpture collection on women's bodily autonomy or a photography and video scape on Southeast Asian diaspora.
Best Bars in Melbourne
It's not atypical for groups of students to crawl out of the library with their study group and go grab a beer right next to campus.
Sure, there's an on-campus bar in the student Union – The Ida Bar. But between its early closing time, limited menu and the fact it's still kind of on-campus grounds, students prefer to put a little bit of distance between themselves and their after-class activities.
Carlton is home to many small, casual pubs with student-friendly specials and decent pub grub for the local university kids to knock back after-hours. Between the regularly-scheduled pub crawls hosted by university societies to theatre troupes and student politicians hosting their meetings over happy hour pints, it's good to have some knowledge of the uni pubs even if drinking isn't your thing. These places are fun places to hang out and meet people, even if you just order a soda.
The most popular spot for these little evening jaunts is far and away The Shaw Davey Slum. Affectionately dubbed 'The Shaw,' or 'Slums,' by the students, this two-storey pub with its tropical wallpaper and open-plan layout serves up delicious cocktail jugs, fantastic pub grub (long live the $5 pizzas), and crazy-cheap beer specials. $2 pots? That's wild. The customer base is almost exclusively students and is always bustling with groups of people whose faces you're guaranteed to recognise from class. Hosting trivia nights, sports match showings and opening up their dance floor on the weekends, The Shaw Davey Slum can cater to every student and is a key part of the Carlton campus university experience.
But for when the crowds at The Shaw Davey are a little too packed, or the line to get in on a Wednesday night (aka student night) is snaking around the corner, there are plenty of other notable nearby pubs to go meet up with your friends from class. The Prince Alfred Hotel on the opposite side of campus might just be overtaking The Shaw Davey Slum in popularity, thanks to their student discounts and cool rooftop area. With an indoor dance floor and mix of young professionals and students, Prince Alfred's is much more of an institution and feels a little more mature than the student-centric Shaw Davey. Plus, their bottomless Sunday brunch is heavenly.
Meanwhile, there's The Clyde. Just two minutes away is another popular hangout attracting similar clientele to The Shaw Davey when it's not hosting functions. The Queensberry Hotel, about a fifteen-minute walk from Lygon Street or, alternatively, a five-minute tram ride, is another beer-and-pub-grub spot beloved by students for their low prices but also abundance of activities, including pool competitions, open mic nights and trivia nights.
There's obviously no shortage of great things to do around Carlton, where RMIT and the University of Melbourne are situated. These popular student spots can be arranged to make for a spectacular after-class itinerary. Knock off, pop your laptop in your backpack and head for some cake with friends from Brunetti in the Carlton Gardens, before maybe catching a new indie movie and Cinema Nova. Then you all can get the best pasta in town from Tiamo's, get a scoop of gelato from Pidapipo's and share some beers at a discount from The Shaw Davey Slum. Carlton is inexorably tied to its two universities, which means your student life expands into the rich, vibrant cultural life of the outside suburbs. Go out! Explore! Have fun!