Perth is winning the breakfast and brunch game, and you can find some of the best eggs, pancakes, waffles and coffees right in the CBD. Here are our favourite Perth brunch spots!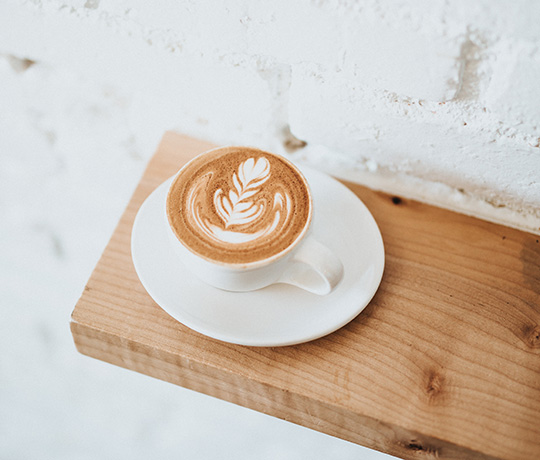 Ah, brunch. A necessary food group and every Aussie's favourite meal of the day. The make-or-break of any city is the quality of its brunch spots, and that's just science. Luckily, Perth has the breakfast game on lock, with all kinds of cafes and offerings in and around the city that aren't just your run-of-the-mill smashed avo. Focusing on the city centre – because that's where all the Perth hubbub is, and you shouldn't have to travel far to have your morning cravings satisfied – here are our top picks for breakfast in Perth CBD.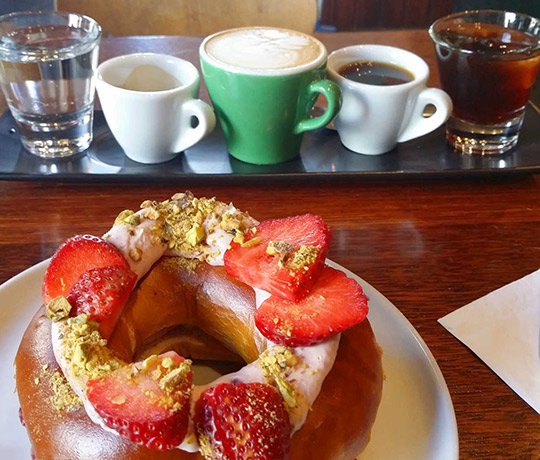 90 King Street
La Veen is inside a heritage building and that's not even the coolest thing about it. One of the more refined options of this list, offering an all-day menu of breakfast options, burgers and sweets. La Veen definitely has some more boujee options like squid-ink spaghetti and truffle risotto – you know a place is fancy when it's got truffles. Everyone knows Australians are super, super picky about their coffee, and La Veen excels in this department, offering all sorts of coffee from espresso to filter, cold brew to matcha and using all kinds of wild equipment and techniques.
Cnr St Georges Terrace & Barrack Street
Right near the courts and in the restored State Buildings, Petition Kitchen is headed by renowned chef Sean Bentley and offers a familiar breakfast menu because hey, if it ain't broke, don't fix it! There's takeaway options like muesli, pastries, smoothies and sandwiches, as well as some fancier picks like slow-cooked octopus with kimchi or coconut ceviche if you're more in the mood for some fine-dining. It's a super elegant space with exposed brickwork, so it's no wonder it's so popular with all the nearby legal workers.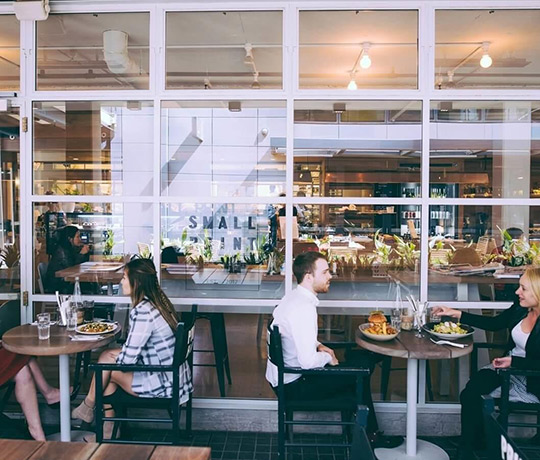 125 St Georges Terrace
Small Print has a different menu for each mealtime to introduce that variety and food diversity. They have your typical bircher muesli, eggs on toast and waffles for breakfast, but by the time lunch rolls around from 11.30am-3pm there's brisket burgers and prawns on artisan sourdough bread. Yum. Another must for coffee lovers, Small Print prides themselves on their history in the Perth micro-roast scene and gives high priority to the quality of their pour-overs, espressos, batch brews and so on. Small Print is just one of the food venues in Print Hall, so for different times of the day you can pop in to 'Main Bar,' for a drink, 'Gazette,' for the Italian restaurant or 'The Apple Daily' for South-East Asian dining.
4/70 Aberdeen St
Who said the vegan and vegetarian options had no flavour? You might be a meat-eater, but you may consider making the switch after trying some of the delectable dishes at Flora and Fauna. The café is tiny with hole-in-the-wall vibes, so be sure not to miss it – they serve some of the most Instagrammable meals we've ever seen, so pretty you almost don't want to ruin it by eating it, but you won't be able to help yourself. Edible flower-topped banana bread served with peanut butter, tropical waffles, and pumpkin spice chia pudding are just a few of the items you can order, and the portion sizes give you enough bang for your buck. This is definitely a favourite of ours, so bring your camera and your vegan, vegetarian and paleo brunch pals.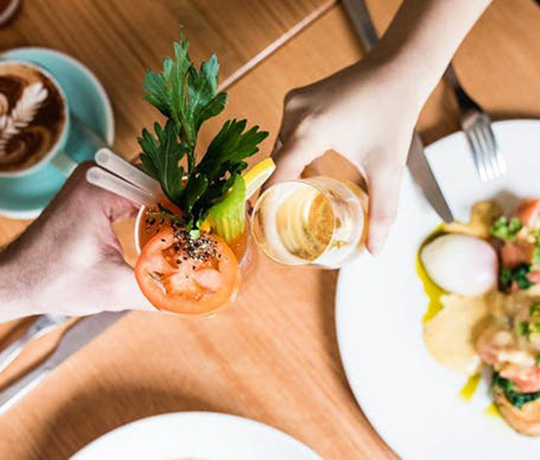 9b/938 Hay St
Tiisch's hanging vines and windowsill herb gardens are super aesthetic, and their bottomless brunch options is just, ugh *chef's kiss*. The selection of meals at Tiisch leans more towards the savory – think bacon and sausages, but still vego-friendly! And even if you're not flocking here for the free-flowing bevs over boozy breakfast, Tiisch is still a great spot to kick off your day with their awesome, uncomplicated brunch fare. Keep an eye out for the matcha pancakes – they're scrumptious.
16 Gordon St
Perfect for the first meal of the day and the last, Gordon Street Garage cafe offers house-roasted coffee and the likes of salted caramel pancakes in the morning as well as wine-and-dine vibes by night. It's a surprisingly large, two-storied space, decorated with upholstered bus seats, distressed floors and fun wall scribbles – definitely an eclectic spot, and very industrial-chic. They've got the best eggs benedict in town, and have nailed handling the throngs of people that come in to indulge. Definitely a great place to kick off your daily tasks, especially if you can nab a spot in the backyard garden.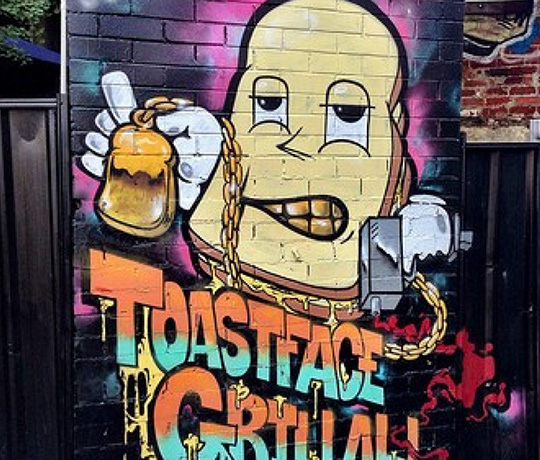 143 Barrack St
Think you can make a sandwich this good? Doubt it. Located in an uber-hip laneway that just adds to its cool, quirky character, Toastface Grillah specialises in gourmet grilled cheese sandwiches you'll try to replicate at home but never quite master. With 3 cheese sandwiches and out-there combos like Pear Grillz (blue cheese, sweet pear and lime chutney), this is a quick-stop, cheap option that tastes just as good as any fine-dining fancy breakfast banquet, and we guarantee you'll be back to Toastface for another incredible cheesy invention.
Looking for more recommendations? Check out the best Sunday sessions spots in Perth Here.