Sustainability
5 Sustainable Stationary Brands You Need On Your Desk Right Now
Trying to make your desk a little more eco-friendly? Here are 5 sustainable stationary brands you need to switch to.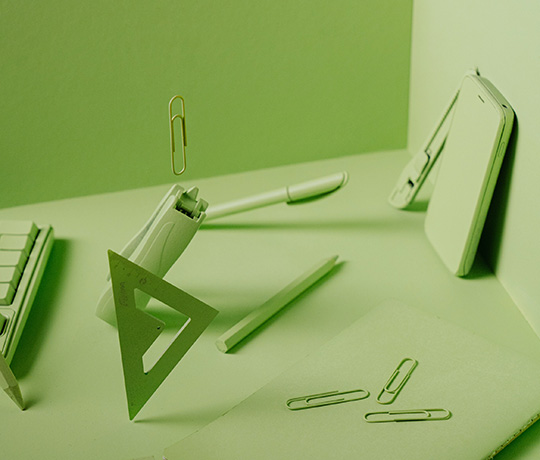 There are so many ways we are switching our habits and becoming more aware of how every action affects our planet. Whether it be swapping to an ethical bank, choosing not to invest in fast fashion, riding a bike instead of drive or offsetting our travel, it's small changes that make a big difference when it comes to treading a little lighter on our planet. But have you thought about sustainable stationary?
We didn't think so.
Not only is stationary an important part of our everyday lives if we're working, studying, journaling, writing our next novel or even the shopping list, it keeps us organised, ensures we hit targets, helps us pass exams and write notes to our loved ones. If you're soppy enough, that is.
So if you're looking to make the simple switch to sustainable stationary, you've come to the right place. We've found 5 brands with the most eco-friendly, aesthetically pleasing and above all, useful, stationary to accessorise your desk with. 
#1 Karst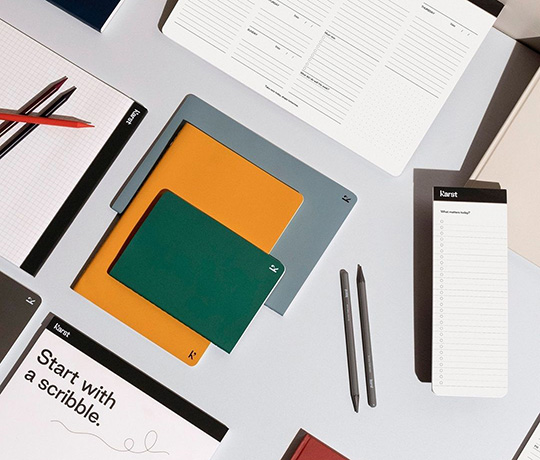 If you don't know of Karst already, you're seriously missing out. And here's why…
Karst was built by Kevin Garcia, who at the inception of the Karst idea, had recently quit his medical science degree (not always recommend) and made the leap to become an entrepreneur. He came across stone paper on his travels and discovered the technology, which, at the time, was primarily used for food packaging purposes (due to its waterproof feature). Rather than walk away from a good idea, Kevin thought he'd develop a way for paper to be become a whole lot more sustainable.
Karst stone paper is 100% tree-free. Impressive, right? So.. what is it made from? The paper is made from mixing calcium carbonate powder (repurposed concentration waste) with a non-toxic resin. After heat and pressure are applied, the material is eventually thin enough to be used as paper and voila, the planet is a whole lot better off with high quality, natural paper.
The B Corp Certified brand sells everything from notebooks to journals to planners with paper that has a 67% smaller carbon footprint plus they plant a tree with every purchase. Does it get much better?
#2 Notely
If you're into beautiful aesthetics, Notely's artist curated notebooks, journals, cards and bags are the perfect way to start your sustainable stationary collection.
Made in Brisbane, these eco-friendly notebooks are printed on FSC-certified paper made from 100% post consumer waste. This means that only recycled office paper is up cycled to create a new notebook, journal or card, making this eco ethos is just as beautiful as their designs! And not only are you moving over to the sustainable side, you're also supporting local artists through the Artist Collections, so it's totally a win win.
The team also partner with Rainforest Rescue, a charity who have been protecting Australian rainforests since 1999, just another way that this team is doing their bit for the planet.
#3 Eco Pen Club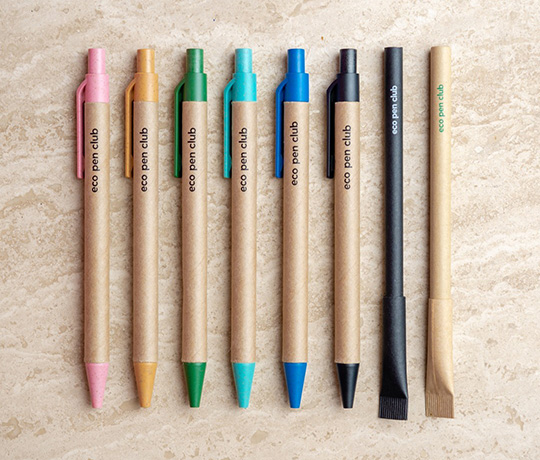 Wait… pens can be sustainable? Damn right they can.
Around 1.6 billion (yep, you read that right) pens are used and thrown away each and every year. Just think about the number you lose, the ones that leak, the ones you lend to work colleagues or classmates and the ones you *accidentally* break whilst taking them apart during your Zoom meetings.
Eco Pen Club focuses on reducing plastic and operationally achieving zero waste. From the spring through to the ink and the casing, eco pens are made to reduce the amount of landfill our stationary contributes towards. Each product is 100% recyclable and made as sustainably as possible using 50% or 85% less plastic than traditional pens with a soy-based non-toxic ink.
#4 Earth Greetings
This solar powered, carbon neutral stationary supplier sells a beautiful range of stationary basics made with 100% recycled paper and natural, compostable materials. Their range includes diaries, calendars, journals and even compostable washi tape for the stationary obsessed (you know who you are!).
Earth Greetings is another stationary supplier that loves to collaborate with local artists and is heavily inspired by Australian native flora and fauna. They donate over 10% of profits to wildlife organisations, so you're doing your bit for the trees and the animals that call them home, too.
#5 Remarkable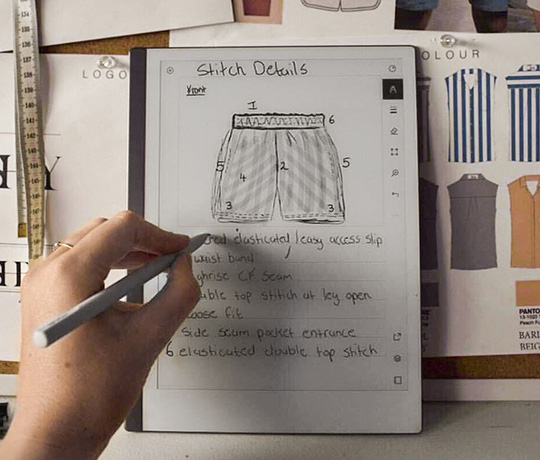 Okay, we're taking technicalities on this one. Remarkable isn't necessarily your typical notebook, planner, pen or paper – it's better.
Imagine all of your notes, to do lists, sketches or musings on one tablet with a display that some might compare to a Kindle. It looks and feels like paper, but you can use it again and again and again and again and aga… you get the picture.
Remarkable is an investment, but it's a worthwhile investment to save millions of sheets of paper whilst being able to convert handwritten notes to text and save and edit documents. All without having to lug your notebooks around with you.