So you want to start a business but not sure how? These are our must-have books on start ups that every wannabe entrepreneur needs to read.
To launch a startup and run it successfully you need to be keeping up with your daily doses of inspiration, and books are a great source for that. Starting your own business can be challenging, so it's important that you educate and prepare yourself for not only what can go wrong, but also what to do when things go right.
There's no better way than to be guided by those who have made it. You'll also soon quickly realise that there is no secret recipe to success, that there are a multitude of ways to get there and everyone's definition of success can vary. You just have to find your own path and what works for you. By engaging in different types of start-up books you can give yourself an all-rounder education on what you should and shouldn't do. That's what makes creating a start-up so exciting.
These are our 10 all time favourite books on start ups.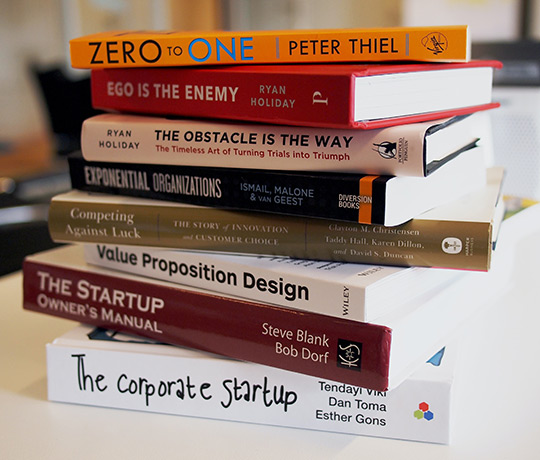 #1 Zero to One by Peter Thiel and Blake Masters
This is written by one of the co-founders of PayPal and one of the first investors for Facebook, so clearly he's going to have some pearls of wisdom to share. It's an insightful exploration into the importance of taking risks, being daring with ideas and thinking outside the box. He explains why he believes some starts up succeed and others fail. He also discusses how most companies repeat the same idea and just offer a newer version of something that already exists, which isn't bringing any new value to the world. But by making something completely unique, your innovation could change society and take it to the next level. It's been recommended by Mark Zuckerberg and Elon Musk, so if you're interested in creating a start up in technology then this is the book for you.
#2 Intercom on Starting Up by Dres Traynor, Eoghan McCabe & Paul Adams
The founders of Intercom, a renowned customer messaging platform, tackle what they deem to be the 9 critical questions a start-up must be able to answer to succeed. From deciding on what your product should be and why it should be built based on first-hand experience to how much you should charge and how to even get your first 100 customers, it offers a realistic and practical approach on how to create a business that isn't tainted by glorified clichés of multi-billion dollar businesses. If you want a how-to guide that can give you all the answers, then give this book a read.
#3 Escape From Cubicle Nation: From Corporate Prisoner to Thriving Entrepreneur by Pamela Slim
Does the idea of slaving away at the daily grind of 9–5 not appeal to you? Even in your current studies, are you feeling as though you've chosen the wrong degree and that you need to make a huge shift to something else? For those that want to make their side hustle their main hustle, this is the perfect book for you. It's a combination of Pamela Slim's best tips and advice on how to choose a business, find mentors, sort out branding and keep on top of finances, amongst many others. What sets this book apart is her exploration and focus on the emotional struggles that you will face when making such a drastic career change. For lessons on practical methods and how to take that leap over fear and doubt, check out this book.
#4 Startupland: How Three Guys Risked Everything to Turn an Idea Into a Global Business by Mikkel Svane
From the perspective of one of the co-founders of Zendesk, this book explores all the trials and tribulations that come with the sacrifices one has to make when starting a business. He argues that there's no real formula to success because the world moves too fast for any of these to last and people are just too creative, constantly improving, innovating and updating. From his experiences, he offers insightful views on raising funds, hiring the right team and how to handle growth. A key point he says in the book is if you 'optimise profitability, you sacrifice growth. And for a startup, it's all about growth'. It's an easy, provocative and at times hilarious read of what it means to start with nothing and turn an idea into something meaningful.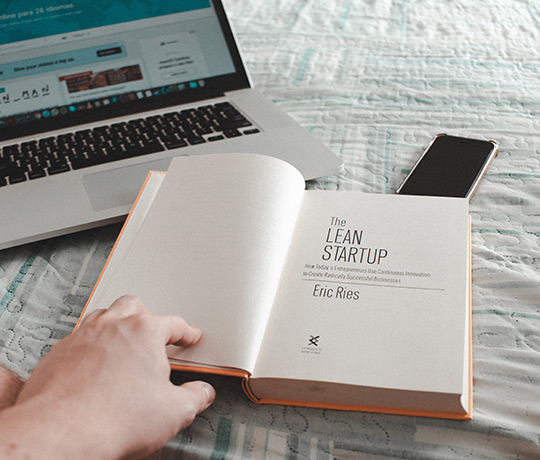 #5 The Lean Startup: How Today's Entrepreneurs use Continuous Innovation to Create Radically Successful Businesses by Eric Ries
Providing an innovative approach on how to build a startup and launch a product with minimal costs, this is one of the most popular books out there with a huge following. Eric Ries recommends the processes of lean manufacturing and scientific experimentation amongst others, to shorten the cycles of product development and learn what customers actually want. It helps entrepreneurs to determine whether to 'pivot or persevere' when it comes to feedback on a product. Due to the uncertainty of start-ups, he argues that it's critical entrepreneurs test and experiment with as many types of hypotheses as they can as early as possible so that they can truly learn and understand what would be right or wrong for the business. If you want to absorb more tips from Eric, you should read this book.
#6 Creativity, Inc.: Overcoming the Unseen Forces That Stand in the Way of True Inspiration by Ed Catmull
Whether it's big or small, there's a part of everyone that loves Pixar. It's not only about how to successfully cultivate a creative culture, but also the importance of nurturing it and how to successfully lead a team to achieve that. He reveals interesting points such as 'the cost of preventing errors is often far greater than the cost of fixing them' and this idea of keeping communication lines open regardless of rank, that anyone should be able to offer ideas. There's even some pretty cool stories of interactions with Steve Jobs, one of the co-founders of Pixar and how some of its most famous films came about like Toy Story. For a story on how to maintain creativity and how to use failure to your advantage, read this book.
#7 Hooked: How to Build Habit-Forming Products by Nir Eyal
What is it about a product that makes it succeed or fail? What are the habits that make us engage with certain products over others? Nir Eyal explores the hook of technology and what the emotions are that drive us to use a product – for example, people may use social media out of habit due to feelings such as loneliness, boredom or curiosity. Through the Hook Model, a simple four-step process, he explains how to understand and utilise these human behaviours and apply it to a product in a way that keeps the customers engaged and coming back for more. This is a must-read for those of you that want to launch a product that people can't put down.
These books on start ups barely scratch the surface on the hundreds and thousands of start-up books out there, let us know some of your favourites!