Digital Nomads. Freelancers. Entrepreneurs. Students. Remote workers.
Whatever you may do and whichever category you might fall under, where you work is important to ensure you use your time most effectively and produce the best work possible.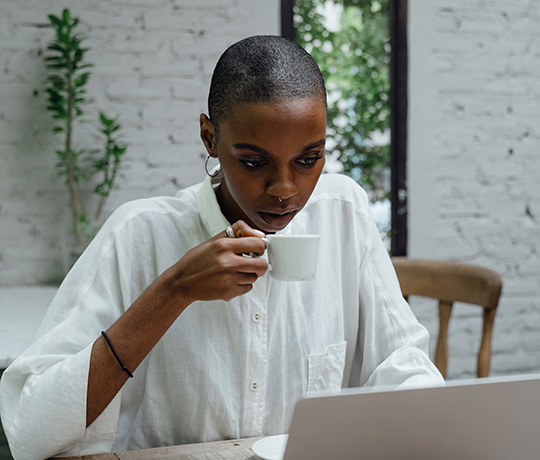 Some environments are just better suited to some people than others. For example, you might love the buzz of a coffee shop, or prefer the silence of a library where you can put your favourite playlist on your headphones. But there's a new player to the game: coworking spaces.
In an era where so many more young professionals are working remotely, let's take a look at the differences between working in a coworking space and a coffee shop, and the advantages and disadvantages of each one.
Let's start with working in coffee shops
Having made their name for the ultimate 'cool' place to work, hold meetings and take phone calls, coffee shops and cafes are a great place if you're a people person who loves a little background noise whilst you work. Not to mention 10000% times better if you're a total coffee snob and have a favourite local hangout.
Whilst most cafes in 2021 now have free wifi to offer, many still don't, meaning you might have to jump onto your mobile hotspot. Not only that, when scouting for a work space, it's often difficult to find a seat where you can charge your devices, so your visit may be limited time-wise.
But the golden rule? Let's just say consideration is in order. Whatever you do, don't go taking up a table during the lunch rush, just to be sipping on your coffee for an entire hour. Or do. But don't come running when you end up on the end of an angry glare from staff members.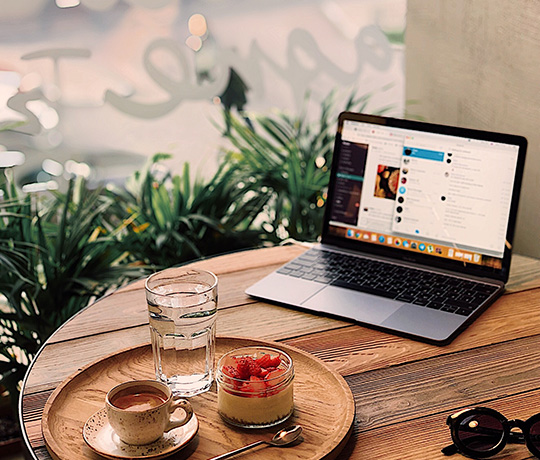 The pros of remote working in a coffee shop:
Access to your favourite food and more importantly fresh coffee – which means unlimited caffeine to help you through your tasks.
The bustling background noise is actually proven to make you more productive.
Coffee shops are extremely accessible almost anywhere in the world.
You're able to move from cafe to cafe giving you a change of scenery whenever you please.
Coffee shops make for a great place to meet colleagues and clients in a relaxed environment.
The cons of working remotely in a coffee shop:
Whilst coffee shops often have wifi, the speed may not be built for several workers. Depending on what you need to do i.e. stream a conference or work on a group project, the wifi might not be strong enough for you.
You'll need to watch your spending! If you're spending an extended period of time working in a cafe, you'll need to purchase food and drinks. This could get a little on the expensive side if you're not careful.
You're limited to the opening hours of the coffee shop you're working in. Many coffee shops close early in the afternoon, so working in a cafe is more likely to work for you if you're a morning person.
Think a coworking space might help you to be more productive?
Well, then you would be far from alone. Coworking spaces are popping up all over the place in cities across the globe. And for once, Australia isn't behind the trend!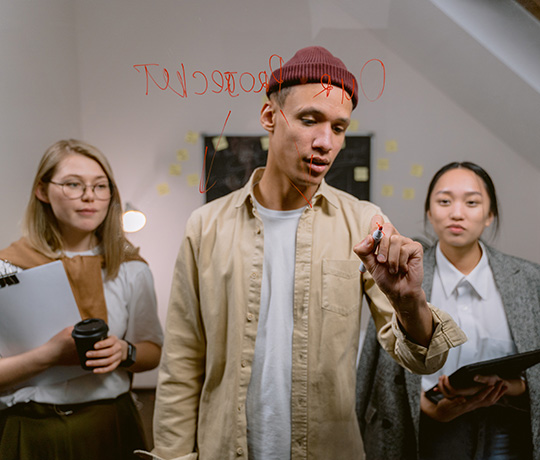 What is a coworking space?
If you've never heard of one, a co-working space is a communal office paid for through a membership. Members can 'hot desk' or even rent small spaces within the building for their team.
Co-working spaces are great for freelancers, those who work remotely, digital nomads and small start-up teams who don't want to invest in expensive offices. Why? Because open plan coworking settings allow for networking between like-minded young professionals and entrepreneurs, as well as a purpose built space to facilitate innovative and successful business.
So what are the pros of co-working spaces?
Top on our list is the fact you are able to network and make connections with other young professionals. Who knows, you might just become business partners, or form collaborations.
Further to making connections, there are often networking events, talks, fitness classes and social nights organised so you can get to know those around you, as well as build on your professional career.
You stay motivated – being around other hard working people often makes you work hard yourself. There's no time for procrastination here…
Coworking spaces are extremely casual. If you're someone who hates putting on a suit to go to work, the good news is most people here will be in their own comfy clothes. All day every day.
Coworking spaces are often open 24/7, meaning if you can head in both if you're an early riser or a night owl. The perfect flexibility when leading a busy life.
Many coworking spaces come with meeting rooms you can book. Meaning that unlike coffee shops, you can do business in a quiet, private space.
Need we say the obvious? Coworking spaces are literally built for you to work there. So the wifi will be excellent, there will be printers available and the general space is much more conducive to productivity.
Flexibility is key when it comes to coworking. You can often pay for a week or a month if you just want to pay your membership as you go. A great choice for digital nomads and small start ups who might outgrow the space quickly.
Food and drink. Need we say more? You'll have access to kitchen facilities, and often co-working spaces provide a great drinks fridge and sometimes snacks that are included in your membership.
Last but not least, lots of coworking spaces have more than one location. This means that with your membership, you can work productively in any city you visit.
Are there any cons to co-working spaces?
Whilst you might often feel like you're in Silicon Valley in Google's head office, it's hard not to notice the amount of distractions around. With many a chill out and social space, you might often get caught up chatting to the people around you instead of knuckling down to get work done.
Although the cost is not often huge, you do have to pay for a co-working space. If your budget is tight, you may want to look at using a free service like a library, or even your local park.
Let's face it. We're all different when it comes to our preferences around work, study and getting sh*t done. Coworking isn't for everyone, but it's a great place to start. Especially if you've been on the working from home train for so long.