A rundown of the Adelaide Fringe Festival 2020 program of magical, wondrous events and performances, and our take on the best shows of the year.
As the Adelaide Fringe Festival revelled in its 60th year, the mythical legacy of the open-access cultural festival reigned supreme as it took over the city of Adelaide this past summer. The second-largest annual arts festival in the world, Adelaide Fringe took place this year between 14 February to 15 of March, and we're here to give you the down-low on all of Fringe 2020's magic, wonderment, and untamed artistic expression.
Fringe? What, Like My Hair?
You may have already heard of the Fringe – most major Australian cities have their own Fringe Festivals (Perth included), with Fringe referring to a counterculture of alternative arts and performances not typically consumed in traditional culture or exhibited in mainstream festivals. Fringe showcases the out-there, the fearless, the cutting edge of the creative ecosystem, and Adelaide's Festival has become one of the most talked-about cultural events in the world.
Unveiling a range of contemporary works in various art forms, the festival includes cabaret, comedy, circus, dance, film, theatre, music, visual art, digital and interactive design, and all the other means of experimental expression that don't necessarily fit in those categories. An open-access festival, this means that Adelaide Fringe doesn't have a curator to handpick any of the works on show. Any artist who wants to be a part of Fringe, can. Including you, if you're so artistically inclined!This kind of freedom has attracted Australian and international artists far and wide to present and perform at one of Australia's most iconic creative events. Adelaide Fringe is second only to Edinburgh Fringe is its size, reach and exposure – in 2019, it exhibited 7000 creators, 1326 events across 517 venues… and was attended by a whopping 3.3 million people. With the sheer takeover of the line-up shows, music, food, and wine events, the entire month period has become known throughout the country as 'Mad March.' Imagine having a festival so iconic, people name an entire month for it.
The Sprawl – Where does the Fringe take place?
For 31 days, Fringe absolutely engulfs Adelaide, taking over cafes, hostels, galleries, food courts, laneways, bathrooms, and gardens, all of which can exist as pop-up performance spaces.
The three main venue hubs of the festival are:
'The Garden of Unearthly Delights' in Rundle Park/Kudlitpina
'Gluttony' in Rymill Park/Mullawirraburka
'The Royal Croquet Club' at the University of Adelaide
Other familiar Adelaide establishments home to the shenanigans of Fringe include:
The Holden Street Theatres (a converted church precinct turned venue in Hindmarsh)
Tandanya National Aboriginal Cultural Institute
Bakehouse Theatre (a performing arts space in Adelaide's CBD)
The Rhino Room (a local comedy club)
The National Wine Centre (a convention centre with a wine bar and restaurant).
The Gov (a popular live music venue)
Small venues like these make up about half of total ticket sales and contribute to the festival's overall aura of independent, alternative, guerrilla art.
Fringe transforms Adelaide into an absolute wonderland, a month-long party for every age, gender, race or ability, and rejoices the kind of art that showcases what makes us different.
The 'In Crowd' – Become an Adelaide Fringe Member
While Fringe has many free events, you can elevate your experience by becoming a member of Adelaide Fringe from just $25. You can become a part of the Fringe community, join in on parties, secret events, discounts and free screenings all year round, even when the festival is over. To find out about different types of memberships, head over to the Adelaide Fringe website to learn more.
The Honey Pot
One of the many special staples of Adelaide Fringe is The Honey Pot, the festival's International Arts Marketplace. Over 250 industry representatives from all over the world attend Adelaide Fringe to scope out the spectacular display of talent for bookings, further development and production. This is an incredible networking platform for up-and-coming and established creators to connect, explore and develop their work towards future and professional opportunities. The Honey Pot's program of panels, discussions, information sessions, and peer engagement provides an invaluable artistic landscape for the creatives and talent involved in Adelaide Fringe. Growing numbers of shows and exhibitions have gone on to different stages of programming and development nationally and internationally as a direct result of The Honey Pot.
The Best of the Best Fringe Shows
With so many performances, events and highlights, all the sheer talent and imagination, 2020's Adelaide Fringe had an absolutely stacked lineup of creatives. We spent a weekend exploring acts, attending shows, devouring incredible street eats and getting in on the action. So here's a run-down of our favourite exhibitions. Who we think are the ones-to-watch, and who we're desperate to see back at next year's Fringe.
A disco cabaret sparkly extravaganza, Velvet Rewired sold out at the Sydney Opera House and Edinburgh Fringe. A spectacular performance led by the Australian Queen of Pop, Marcia Hines. The soundtrack and vocals have us boogying even still, and the gobsmacking acrobats, aerialists and circus performers are on another level.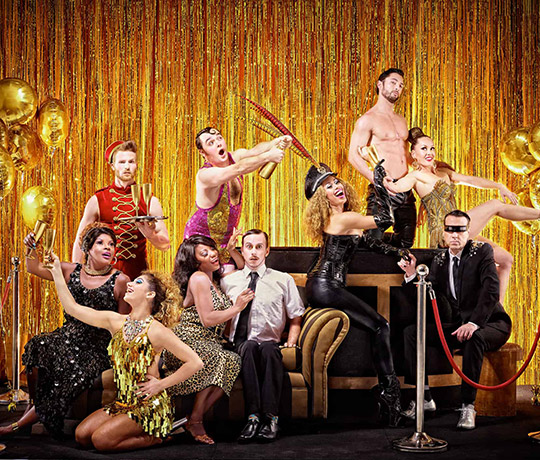 An intimate, solo stage performance, this production looks at mental illness through the eyes of a depressed mother's seven-year-old child. The play celebrates life's small joys, from ice creams to rollercoasters to laughing so hard milk comes out your nose – and the lengths we go to for those we love. If it doesn't make you cry, we don't know what will.
An annual Fringe event based around vulnerability and homelessness, this exhibition gives a platform to artists who have, or are, experiencing homelessness to use their voice. The 2020 theme gave a spotlight to the healing power of music in the form of a soundtrack written and performed in concert by homeless artists.
Winner of The West Australian Critic's Choice Award and described as "the most unique, theatrical and mesmerising experience on offer at Fringe this year," this performance of physical theatre, circus, mime, comedy, and acrobatic skills by Remi Martin is as funny as he is jaw-dropping and phenomenally impressive. Following a man's journey from childhood and adulthood and then into space and beyond, L.I.A.R. was a Fringe standout you must try to see wherever and however you can.
Described as "the karaoke to end all karaoke," this is an interactive, group event to enjoy with your family and friends. Running every day of the festival, it's amazing to see attendees let loose at a mass karaoke session and sing their favourite hits. The microphones also have built-in autotune, so even if you sound like a drowning cat when you sing, you can still live out your pop star dreams.
This troupe of nine incredibly talented male performers are fresh off their world tour in this feel-good performance of all the rock ballads and pop hits you know and love. Avicii, Adele, Sia, Queen, you name it. High energy, full of energy and described like the "best pub gig ever," you'll spend the whole show with a smile plastered on your face and singing along to every word.
A visual storytelling experience, this light installation runs every night of the festival and explores dreaming, creation and Kaurna country. YABARRA is an interactive narrative adorned with light effects, illuminations and props to tell the story of history and survival about the Williams family, and the larger Indigenous community who were wrongfully removed from their traditional land.
An experimental combination of gaming, VR and film, Electric Dreams is a thrilling interactive experience casting you in a suspenseful slow-burn. Equipped with a VR headset, the show plays out in real-time and promises a wildly different experience for each audience member. You will look in on the lives of eight Brooklyn-based apartment tenants where truths about the murder than entangles them are slowly revealed. A breakthrough in narrative and storytelling, there's a choose-your-own-adventure quality to the experience that is mind-boggling to experience.
The Next Adelaide Fringe Festival Can't Roll Around Fast Enough
That's our wrap-up of Adelaide Fringe Festival 2020!
What were your favourite events? Are you devastated you missed it? Are you already pumped next year's celebrations? We sure are.
Catch you in Adelaide at Fringe 2021!