Escape Adelaide CBD for a weekend or day trip by venturing into South Australia's wine regions, and enjoy wine tours, hikes and award-winning food.
Whether it's because you're visiting for a weekend or because Adelaide is your new hometown, you can't go to South Australia and not visit at least one of the state's 18 fantastic wine regions, each with their own speciality grape. Officially the wine capital of Australia and one of the nine Great Wine Capitals of the World, the South Australian grape is enjoyed by even the most discerning connoisseurs. But if wine isn't your thing then there's still plenty to enjoy: each region has its own unique history that runs much deeper than just the grapes they grow.
So where to go for a day trip or a weekend away? Well it's a tough one, but we've chosen our favourite five out of South Australia's wine regions…
Barossa Valley, 1hour 14 mins drive from Adelaide CBD
Sip on:
World-famous Cabernets and Shiraz, or Chardonnay for the white wine lovers.
A day in Barossa Valley:
A day in the Barossa will barely scratch the surface. Even if you're not a wine buff, you'll be mesmerised by the food in the region – a must-do before you head home is visiting Maggie Beer's Farm Shop in Nuriootpa. The Barossa is also home to many landmarks including the Seppeltsfield Mausoleum, the Whispering Wall and the Angaston Heritage Walk.
Set amongst the stone cottages and Lutheran churches throughout the region, a nod to the nineteenth century waves of German settlers that came to the area, you will find over 80 cellar doors in the world-famous Barossa Valley – many of which have plantations that are over 160 years old! The Barossa is best known for Cabernet and Shiraz due to its Mediterranean climate, so red wine lovers will be in wine-heaven.
Not content with producing opulent wines, enjoy sumptuous food and five-star accommodation in the Barossa (although cheaper accommodation is an option!) – you can truly make your weekend in Barossa something quite exquisite.
McLaren Vale: 40 mins drive from Adelaide CBD
Sip on:
Shiraz and Grenache are local heroes, but Sangiovese and Tempranillo if you're in the mood for a something a little more tropical.
A day in McLaren Vale:
Paddling on the Onkaparinga River is a great way to work up an appetite before you indulge in some of South Australia's finest food. And where to eat? Well, if you visit McLaren Vale's d'Arenberg winery then you'll get your art fix as well as your food fix: it's home to The Cube, an avant-garde five-story structure and restaurant inspired by the Rubik's Cube.
Home to some of South Australia's oldest grapevines and famous for championing more sustainable winegrowing, McLaren Vale is also one of the most accessible wine regions from Adelaide CBD – though it's gorgeous coastal vistas will make you feel a million miles away from any city. Relax and unwind sipping on a Shiraz, or a Grenache or Cabernet if the peppery notes to Shiraz aren't to your taste. Thanks to its warm climate, Mediterranean varieties are popular in this region too: Fiano, Vermentino, Sangiovese and our favourite Tempranillo will take you away from Australia and have you transported to a Tuscan field on a late summer's evening…bellissimo.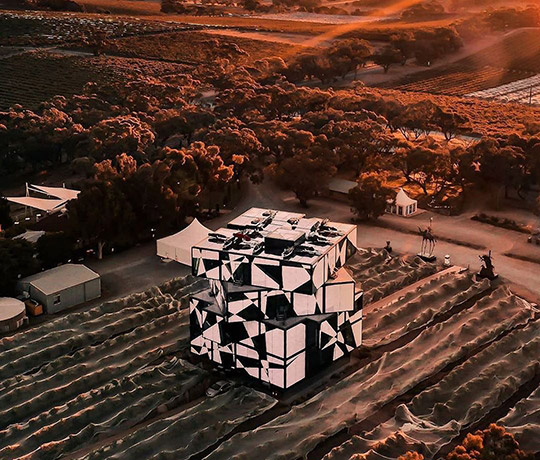 Clare Valley, 1 hour 51 mins drive from Adelaide CBD
Sip on:
Riesling, but all their white wine options are delicious.
A day in Clare Valley:
After enjoying a Riesling at one of the many beautiful wineries in the area, get lost in bygone times as you explore the historic mining town of Burra before heading to beautiful Martindale Hall, one of Australia's most magnificent country estates- redolent of Downton Abbey.
Known as being the home of Australia Riesling, the 2 hour (thereabouts) to drive from Adelaide CBD to Clare Valley is a scenic one, which will get you just in the mood for your charming weekend away. In fact, why not stop along the way at Lake Bumbunga, South Australia's famously PINK (yes, pink) lake- to take a snap.
Once you're there, there's something very intimate about this secluded little spot of South Australia – between cellar doors, why not enjoy a gourmet lunch at one of the country pubs and make the most of your weekend at a quaint little bed and breakfast?
The Riesling and Rattler Trail is a cycle path that meanders through 25kms of countryside, stopping at different wineries en route, all the while being conscious of how many tastings you've had- so you'll never be stuck unable to get back.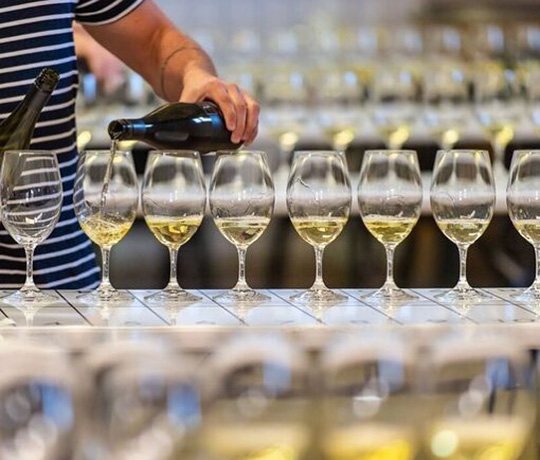 Coonawarra, 4 hours drive from Adelaide CBD
Sip on:
Cabernet Sauvignon defines the wineries, but there are many red varietals on offer.
A day in Coonawarra:
… probably isn't enough. Make the most of the distance you've travelled by doing the Coonawarra Wineries Walking Trail, then head over to Robe- the beach just an hour from Coonawarra and widely regarded as Australia's hidden gem.
Worth the four drive from Adelaide CBD, the limestone Coast's Coonawarra region is famous for its premium red wines- so much so that it's affectionately dubbed as 'Australia's other red centre'. It's all thanks to Scottish settler John Riddoch who realised the region's fertile soil way back in 1890, that we can now enjoy Coonawarra Cabernet Sauvignon and Shiraz.
Aside from the reds on offer, Coonawarra is also known for selling some of the best local produce available, all of which you'll be able to pick up at the wineries. Try local honey, pickled walnut, freshly caught lobster and succulent wagyu beef.
For a little education in wine-making in between the tasting, head to Katnook Estate where you can learn all about Coonawarra's famous soil profile in their terra rossa pit and learn why it's so important to flavour the wines.
Coonawarra Wineries Walking Trail is an easy way to walk through some of the local vineyards and walk off some of that wine and cheese you might have been feasting on. Enjoy the views as you wander through six of the most popular wineries in the area: the route itself is 5kms but allow yourself about 20 minutes at each winery.
Adelaide Hills, 40 mins drive from Adelaide CBD
Sip on:
Pinot Noir and Shiraz for red fans, Riesling and Chardonnay for those who prefer white.
A day in Adelaide Hills:
Enjoy the friendly wildlife in the abundance of greenery and parkland in Adelaide Hills, before mingling with the friendly local humans in the quaint heritage villages. And don't go home with an empty stomach: Adelaide Hills has a chef-hatted restaurant and incredible menus on offer all around.
You'll encounter the history of Adelaide Hills as soon as you get to the villages of Aldgate, Stirling, Hahndorf and Crafers.
Mount Lofty Ranges Vineyard is a chef-hatted restaurant as well as a cellar door, so you may as well combine a wine-tasting with a really tasty dinner. Enjoy a wine whilst eating entirely local produce – out on the magnificent deck in the summer months, or by the open fire in the winter. Bliss!
If you're staying for the weekend, lose yourself in the beautiful Mount Lofty Botanic Gardens, pick your own fruit (we feasted on the strawberries) at some of the local farms – Beerenberg, for example, a stroll around the heritage-listed properties you'll encounter in the antiquated villages surrounding the area.
As we've said, you can certainly enjoy each of these South Australian hotspots without having a drop of alcohol and the experience will be fantastic. However, please note that the drink driving limit in Australia is 0.05 units of alcohol- that's the equivalent of one standard drink. These areas are all best reached by car, so if you do want to indulge in a drink or two, then please make sure you either have a designated driver as part of your party, or that you've booked overnight accommodation. Discovering amazing new places in different countries makes life worth living: don't throw yours away by drinking and driving.