Thinking about living in Adelaide, Australia's foodie capital? We've listed the best suburbs in the state, from Glenelg to North Adelaide and beyond.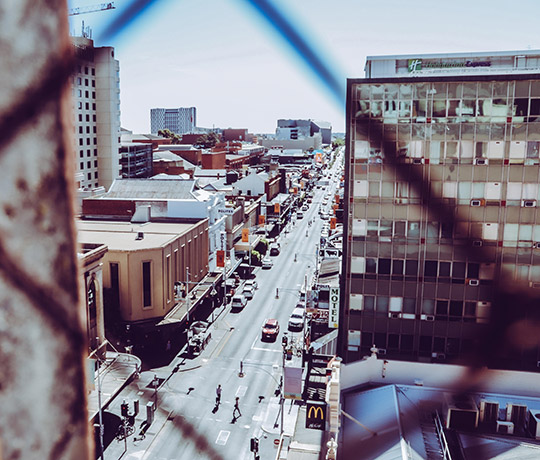 It's not hard to see why Adelaideans (yes, that's what we call residents of Adelaide) are so content: the state enjoys Mediterranean summers, mild winters- and the mellow, beachy vibe of the coastal towns are offset by the bustling entertainment the city offers: shopping galore, a buzzing nightlife scene and famously, the proud title-owners of 'Australia's foodie capital'. Restaurants such as Orana and Africola are fun spots to try when you're in the city, whilst a short drive away gets you to world-famous Barossa Valley, one of the country's most famous wine-producing regions set amongst stunning rolling hills.
With so many different suburbs in Adelaide to explore, there's no way you'll find yourself getting bored. And one of the city's best traits is its incredibly efficient public transport system: thanks to the tram, you're never much further than half an hour to an hour away from…well…anywhere! From fabulous festivals to cool cafes to peaceful parks, we give you the lowdown on where to go and what to do in our favourite Adelaidean suburbs.
Firstly, where to live: Adelaide CBD
Settling right in the middle of the CBD? Sounds a bit busy, right? And surely living so centrally is expensive…? Well, that's not true at all with Adelaide! The CBD is that perfect combination of cosmopolitan buzz without feeling too busy. Let's look at our favourite reasons to live in this beautiful hub of activity:
Safety: Adelaide is famously safe, so whether you're taking a solo stroll in the early morning or coming back late with friends after an evening out, you don't need to worry about security. Plus, living centrally means there's always someone close by – so you'll never feel alone.
Cleanliness: that's the other thing about Adelaide – it's also famously clean…and green! There are loads of gorgeous green spaces for you to enjoy that will remain unlittered – the city was voted second cleanest in the WORLD in 2016, a reputation it certainly has upheld.
Getting to all the greatest beaches…easily: Adelaide is known for being the 'thirty-minute city'- that is, nothing is really more than a thirty minute drive away. Which is handy for a city that is home to some of Australia's best beaches. And because it's a city that's not quite as busy as Sydney or Melbourne, the beaches are much quieter. They're also super accessible thanks to Adelaide's fantastic public transport system that we've already mentioned. In fact, the tram system is *so* good, you won't really ever have an excuse for missing lectures either…sorry about that.
Your campus is close by: that leads us to our next point. Frankly you probably won't need to get the tram to campus given how closely you'll be located. Which means you can hit the snooze button on your alarm clock for another five minutes…and another five…and maybe another five.
Cost of Living: Australia is known for being expensive, there is no getting around it. But Adelaide is renowned for being one of the cheaper capital cities. Given the close proximity of everything, you won't be forking out for toll roads or expensive cabs to get around – and the general cost of living is low enough that you'll be able to splurge on those amazing restaurants we spoke of, every once in a while.
The Festival Scene: OK, festivals may not be your thing but it's hard not to find something to love at the Adelaide Fringe . In March every year, entertainers and artists gather in the CBD to perform a whole host of weird, wonderful, wacky and downright hilarious sketches for you. And if you're living in the city then- well – you might not even need to go any further than your front door to see it.


And the view isn't half bad either 😉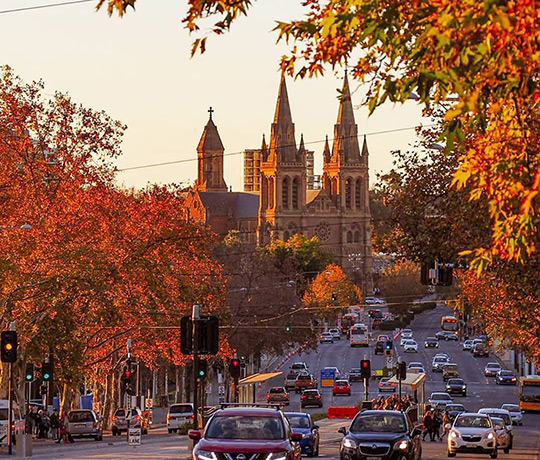 Where to go
It'll be hard to tear yourself away from the CBD at weekends given the vast amount there is to see and do, but as we've already said, everything in Adelaide is SUPER close so you'd be silly not to head out and explore the other suburbs you have on your doorstep. So, where's where, and what's good for what?
Barossa
How can we possibly talk about Adelaide without talking about the glorious Barossa Valley? Arguably Australia's most famous wine region, you'll marvel at the rolling hills the wineries and restaurants the Barossa is set amongst. Stop at the variety of cellar doors around to sample all the local wines – the shiraz grape is Barossa's speciality. Aside from the wine, Barossa has really beautiful architecture for you to marvel at – a nod to Adelaide's colourful history. Adelaide has some other great wine regions too – go ahead and explore them all!
Glenelg
The oldest European settlement in South Australia, it's not hard to see why historical Glenelg is one of Adelaide's most popular suburbs to explore. Jetty Road is the hub of the suburb, with plenty of shops and activities to keep you entertained. Close to that is Harbour Town which is the home of Adelaide's outlet shopping. Once you've shopped until you've dropped, plonk yourself down at one of Glenelg's beach front bars, restaurants or cafes and watch the world go by- there's no better spot for some people watching!
However, it's not all shopping and socialising and soaking up the buzz: if you're looking for something a little slower paced, try the Coastal Trail walk by foot or by bike, which takes you along the South Esplanade, past historical mansions and with views of the water. The Bay Discovery Centre is another chilled way to pass the day, celebrating the history of South Australia.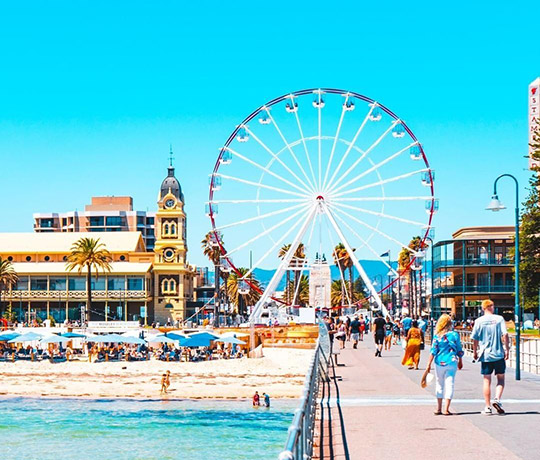 Glenelg North
Not far down the road is Glenelg North. Glenelg Beach extends into Glenelg North Beach (no surprises there) and Jetty Road is easily accessible from the northern town. The town is famous for having a replica of the HMS Buffalo, the ship that brought settlers to state- and as a nod to Adelaide's foodie culture, the replica is fitted out as a restaurant – so after a day on the beach, try the famous Glenelg North Eatery.
Henley Beach
Another coastal suburb, this spot is just under 25 minutes' drive from the CBD- 45 minutes if you're using public transport. The main draw to the area is the gorgeous stretch of seaside, which has a bustling food scene including some of Adelaide's best-known seafood restaurants and fish and chip shops.
Henley Beach marries vibrant beachy busy-ness and totally chilled vibes: after strolling through the boutique shops enjoy an Adelaide sunset at one of Henley Beach's ice cream parlours whilst watching the paddle boarders and surfers lap up the last of the day's surf.
Mawson Lakes
For a quieter day away from any hustle and bustle, take yourself off to Mawson Lakes – 30 minutes by bus or tram from the city centre (and University of Adelaide's main campus). Mawson Lakes has a few beautiful serene walks you can do to get some fresh air, and is home to Watershed Café , one of Adelaide's most loved- and maybe most instagrammed – cafes. Go and visit the suburb to see if it suits you – and find a reason to get a spot on the decking at Watershed and enjoy a coffee.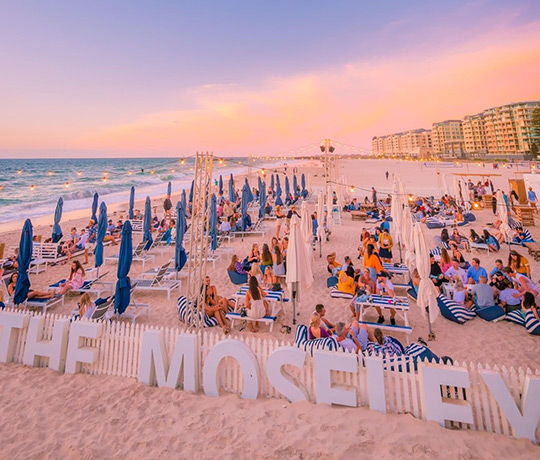 North Adelaide
As the name would suggest, this affluent suburb is just north of the city, 10 minutes away by car and 20 minutes by bus or tram. North Adelaide is distinguished by Its heritage pubs (there's over ten in the area!), high end boutiques and fine eateries. St Peter's Cathedral, Adelaide Zoo and Adelaide Oval are all housed in North Adelaide too, so if you've got friends or family visiting for a weekend this area is a must.
North Brighton
A stone's throw away from the beach, this quiet little town is great if you're the kind who likes to escape the hustle and bustle for a more relaxed weekend. But in true Adelaide style, even then it's only a 30-minute drive away or 50 minutes from the city by public transport – amazing how you can feel so far away when you're really so close!
Northgate
40 minutes away from the city centre, Northgate is pretty up and coming. Because it's so fresh, there's lots of up and coming events held in Northgate – festivals, outdoor cinema and a super-social café vibe will keep you entertained in this edgier area.
Rostrevor
50 minutes away from the CBD you can find Rostrevor, the perfect place to set up camp for the weekend if you wanted to indulge in a little wine tasting. It's just 10 minutes away from the famous Penfolds Magill Estate Restaurant and Cellar Door, the birthplace of South Australia's wine-making. We'd suggest to enjoy the restaurant and cellar door, and find yourself an Airbnb in the area for the weekend if you don't want to organise a taxi home.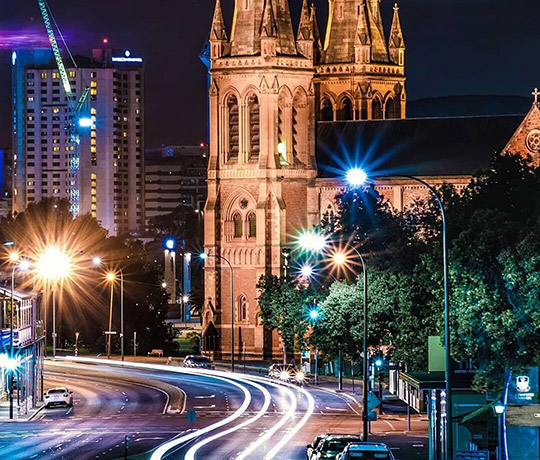 Semaphore
Another coastal find! A little further away from the city (55 minutes by public transport, half an hour by car), this town is lined with antique stores, Victorian buildings, quirk cafes and heritage pubs. Staying in Semaphore is like taking a proper mini-break away from the hustle and bustle – even if you're only gone for a day.
Westbourne Park
Adelaide is known for being one of Australia's more historical states, and there's nowhere like Westbourne Park to get that touch of historical magic. If Adelaide's pleasant temperatures mean you want to be in the great outdoors rather than in Westbourne Park's museums, then there are some gorgeous trails and walks that offer you fantastic views of Adelaide.