Whether it's food or antiques, fashion or crafts, there's something for everyone when it comes to markets in SA. Here are our top 10 markets in Adelaide.
There's not much better than having a day at the markets, eating your way through food vendors, weaving through stalls of hidden treasures or flicking through clothing racks. It's a wholesome way to spend your weekend as opposed to the usual student life tradition of nursing a hangover in bed munging on the greasiest possible meal.
When it comes to Adelaide's market scene you can expect a unique experience that isn't overpriced or 'boujee', it's communal, unique and every down-to-earth. The atmosphere is lively, colourful and at times chaotic. No matter how many times you go to the same market it'll be a different experience each time, but we can guarantee you it'll always be enjoyable. So, here's our top 10 picks for outstanding markets you need to experience in Adelaide.
#1 Adelaide Central Markets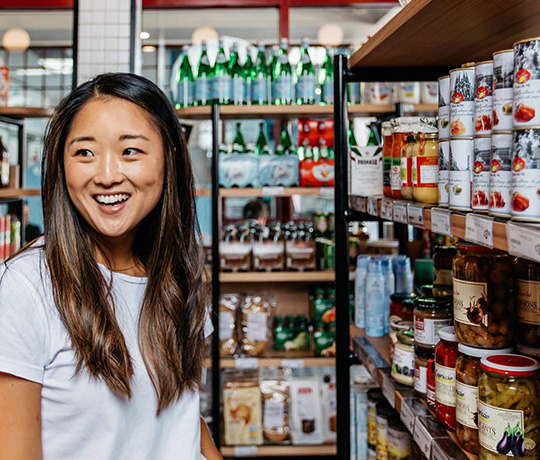 Location: 44 – 60 Gougar Street which is right amongst it in the City of Adelaide
When: Tuesday: 7am – 5.30pm
Wednesday – Thursday: 9am – 5.30pm
Friday: 7am – 7pm
Saturday: 7am – 3pm
Out of all the markets on offer in Adelaide, Central Market is by far the oldest and most famous. We're talking over 150 years and more than 9 million visitors per year. So, in other words, you really need to check it out. Its fresh produce and cafes galore, showcasing every aspect of multiculturalism in cuisine that Adelaide has to offer. We highly recommend getting lost in these aisles and experiencing these markets on a Friday night, the drinks are always flowing!  
#2 Barossa Farmers Markets
Location: 740 Stockwell Road, Angaston
When: Every Saturday from 7:30am – 11:30am
If you're after the freshest produce available in Adelaide and you're keen to support our local farmers, then you need to pay the Barossa Farmers' Markets a visit. You'll be getting your food straight from the source, so you can be well assured you're getting your hands on some of the most organic, free-range or pesticide-free options out there. It's quite a range and it's also kind on the wallet. You can fill up your bags with enough fruit, cheese, bread and vegetables to your hearts' content!
#3 Brighton Sunday Markets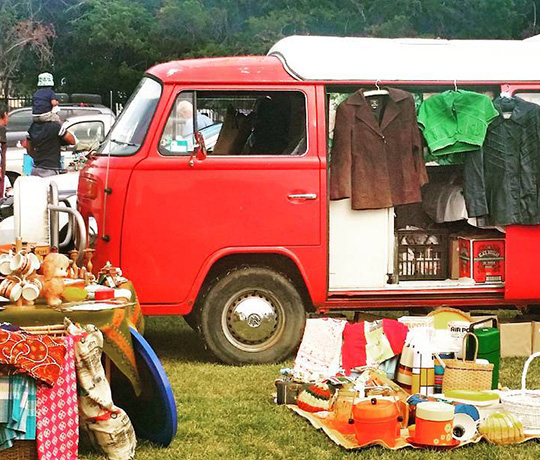 Location: 305 Brighton Road, North Brighton
When: 2nd and 4th Sunday of each month
If you're on the hunt for an absolute bargain, look no further than Brighton Sunday Markets. These school grounds are temporarily converted into a huge yard sale where people sell used or handmade items such as clothing, antiques, food, little knick knacks…Basically anything! And to make it even cooler, most of these sellers have turned their cars into stalls. It's one of the biggest 'trash and treasure' markets in Adelaide so we can almost guarantee that whatever you find here, you won't find anywhere else.
#4 Gilles at the Grounds
Location: Adelaide Showgrounds, The Old Brick Dairy, South Boulevard, Wayville.
When: 10am to 4pm every second Sunday (subject to change, so please check their website for market days!)
Situated next to Adelaide's Farmer's Markets is Gilles at the Grounds, an industrial indoor complex that contains fashion, vintage and bohemian vibes. If sustainability and ethical fashion is at the forefront of your mind when it comes to shopping, then this is the perfect place for you. There's lots of pre-loved goodies with over 114 stalls to explore. It's got the hipster tick of approval and there's plenty of food options to go by, it's the perfect way to spend a Saturday with friends.
#5 Plant 4 Bowden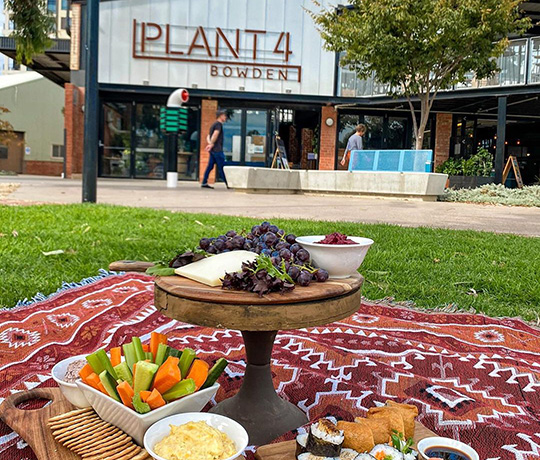 Location: 5 Third Street, Bowden
When: Every day from 7am with varying finish times
If you're wondering what industrial chic looks like, then have a stroll through Plant 4 Bowden, a space that'll make you feel like you're at a festival. Surrounded by lavish greenery and amazing places to eat (think vegan donuts, authentic pizzerias and homemade dumplings), it's the perfect catch-up venue. As you can probably already tell by the name, sustainability is a key message of Plant 4 Bowden, it even has a 5 Green Star rating for all its operations!
#6 Market Shed on Holland
Location: 1 Holland Street
When: Every Sunday 9am – 3pm
Now if you're after an organic market that sells fresh wholesome produce that caters to dietary requirements such as gluten-free and vegan products, then you need to check out Market Shed on Holland. The breakfast options are out of this world, there's live music and it's got a great atmosphere – you'll be leaving this market with guilt-free goodies and a nourished soul. You can even ride a stationary exercise bike out the front that'll blend up your own smoothie!
#7 Fisherman's Wharf Market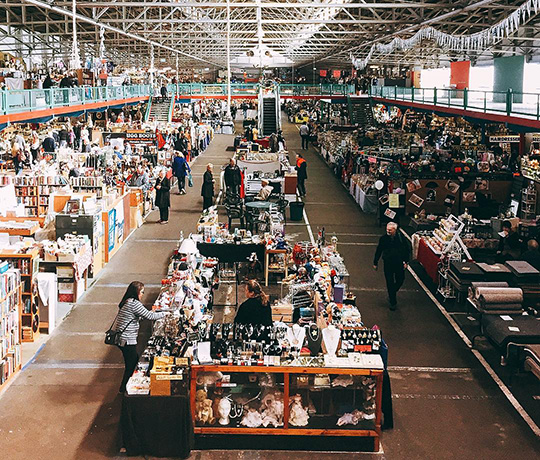 Location: Black Diamond Square in Port Adelaide
When: Every Sunday from 9am – 5pm
Nestled in the historic district of Port Adelaide near the lighthouse, this characteristic two story complex is an antique haven filled to the brim with collectables, homewares, books and vintage treasures. It's been running for more than 20 years, it's home to over 120 stalls and you can even watch dolphins leaping in the river. It's a great place to rummage for bargains and you can make a day out of it, there's plenty of museums, galleries and historical buildings nearby to explore.
#8 Stirling Market
Location: Druid Avenue, Stirling
When: Last Sunday of the Month 10am – 4pm
A short trip to the pleasantly serene town of Stirling in the Adelaide Hills on the last Sunday of each month will enlighten you to an outdoors marketplace amongst lush greenery and trees. These pop-up stalls sell everything from crafts to plants to ceramics to delicious treats and everything-in-between. From September to April there's also live music and entertainers performing in the side streets and laneways of Stirling. It's very picturesque, the ambience is nothing short of magical and there's something for everyone!
#9 Round She Goes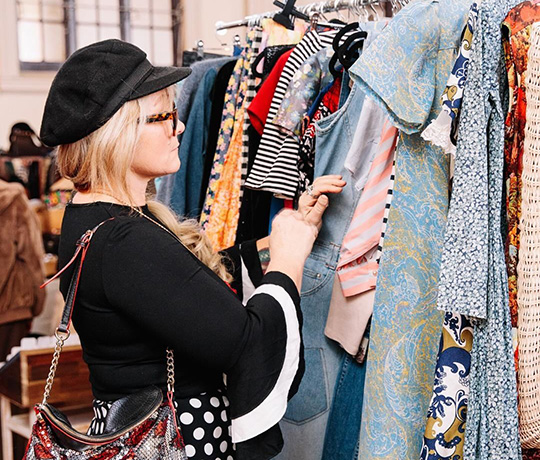 Location: Goodwood Community Centre, 32 – 34 Rosa Street
When: Occurs 3 times a year so check the website for dates!
This one's for all you savvy ladies who love a bargain and want to support slow fashion principles. Round She Goes, (we like to also call it a thrifter's heaven) is an all-fashion marketplace that sells preloved and vintage clothing. It's only $2 for entry, and boy does it open the floodgates to a world of 50 stalls full of retro goodies and unique pieces. It's been running for more than 10 years and is one of the biggest fashion markets in Adelaide.
#10 Campbelltown Moonlight Markets
Location: Thorndon Park at Hamilton Terrace, Paradise
When: The first Friday of November, December, February and March from 6pm – 10pm
If you're not planning on attending the Campbelltown Moonlight Markets, you're really missing out. These outdoor night markets have vendors selling cuisine from around the world, art, fashion, accessories and homewares. There's also roving entertainers and lots of wine to try, we highly recommend coming right before sunset so you can watch the sun go down over the scenic reservoir. For a lovely night out with friends during the balmy summer evenings, you need to jot this one down in your calendar.


What are your favourite markets in Adelaide? We'd love to hear about it so shoot us a message!