Check out Melbourne's newest sustainability initiative, Melbourne Skyfarm. Built in the Seafarer's Precinct and looking over the Yarra River, the urban farm is changing the city landscape.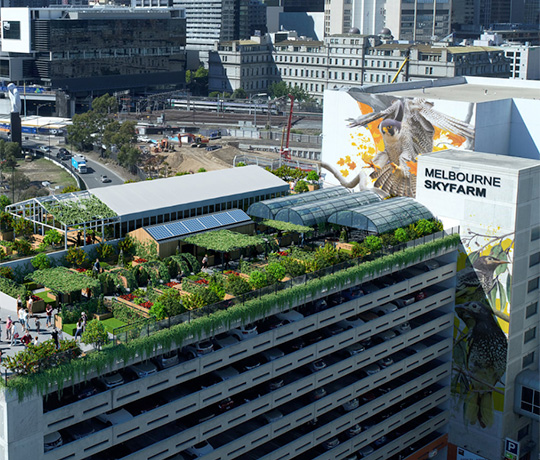 Melbourne; always the first to produce something innovative, awesome and future-proof.
The Melbourne Skyfarm is a genius collaboration between three Melbourne based sustainability companies to transform a 2000 square metre rooftop carpark into an urban farm in the heart of the city. The skyfarm can be found in the emerging Seafarer's precinct in Docklands and has epic water views of the Yarra River and the Melbourne Convention Exhibition Centre. Perfect for those close to the Southbank precinct, tram routes and cycling trails.
This urban oasis is set to open soon with some epic reasons to visit. Once completed and open to the public, the Melbourne Skyfarm will hold tours of the working farm. Both locals and tourists alike will be able to visit the Orchard, sample the rooftop honey, have a drink on the deck and even dine at the sustainable cafe on site.. More on that later.
The rooftop farm itself
Designed and manufactured by urban farming company Biofilta, the innovative, water efficient farm will be home to plants that grow over 5 tonnes of fresh produce per year. A large portion of which will be donated to Melbourne food charities, as well as used in the Melbourne Skyfarm cafe kitchen.
The farm will also house it's own orchard and working bee hives to produce fresh, Melbournian honey.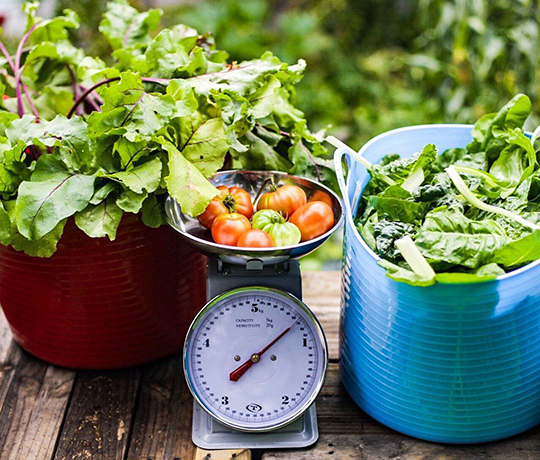 The sustainable cafe
The 90 seat licensed cafe and terrace will aim to champion the best food practices which include sustainable and regenerative farming, ethical food production, low-waste and using native ingredients when and where possible.
Not only that, recipes and produce will support and reflect that on local food and wine fom the Greater Melbourne and Victorian regions.
Hold your event at the Melbourne Skyfarm
There will be a number of spaces on the rooftop that patrons can book for their events, be it birthdays, business events, exhibitions, meetings or conferences. With city and water views in a green setting, what more could you wish for in an event space?
Environmental education for students
Melbourne Skyfarm will act as the future of high-tech classrooms to educate students from primary to tertiary level and even businesses, leaders and the local community about finding sustainable solutions.
Students will learn about sustainable design solutions such as renewable energy, urban greening, carbon neutral transport, zero waste living, urban farming and urban biodiversity.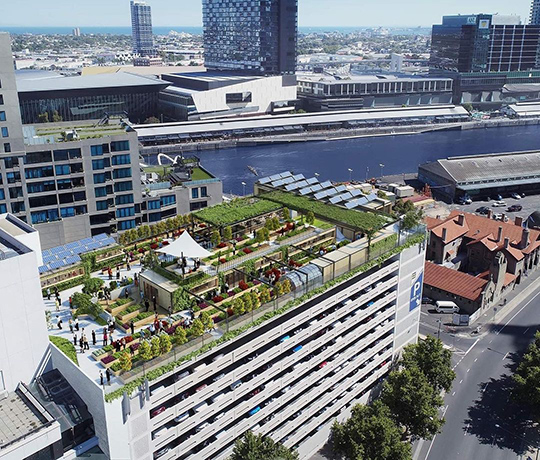 "Melbourne Skyfarm represents a fundamental shift in what it means to do business in this day and age. It is a bold and exciting step towards a future where nature in cities is the norm.
The teams that built Melbourne Skyfarm
Odonata
Odonata is an organisation committed to building a world that benefits nature, people and the economy. After launching only a few years ago in 2017, Odonata has founded over 30 regeneration projects and assisted in ensuring investments into nature.
Biofilta
Biofilta is one of Australia's leading innovators in self-watering, urban farming systems, having set up countless urban farms around the country using their Melbourne made products. They have also collaborated in the design and construction of innovative stormwater harvesting systems across the country which help drought-proof cities and improve water quality.
The Sustainable Landscape Company
TSLC is a landscaping company which has grown and planted over 35 millions indigenous plants since 1998. Their projects have helped to build urban biodiversity, improve water quality and provide sustainable landscaping solutions.
Melbourne Skyfarm is set to open its doors soon.