Snorkel in one of the seven wonders of the world, climb mountains, swim with sharks and marvel at Uluru – all on your great Australian bucket list.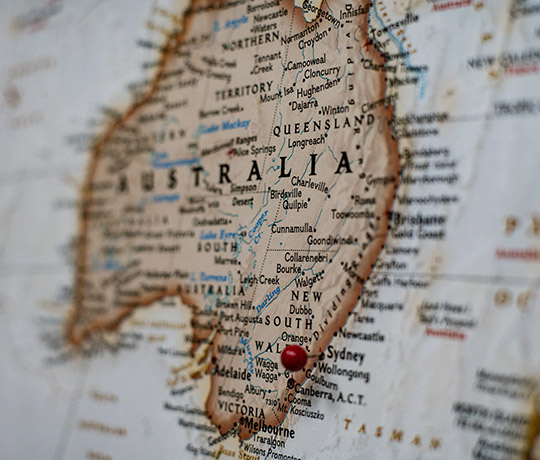 Whether you're planning on staying in Australia long-term or just for the duration of your student visa, there are some experiences Down Under that are truly once-in-a-lifetime opportunities. From the bottom of Tasmania right to the tip of the Northern Territory, we've picked our must-do student Australian bucket list.
New South Wales
Walk from brekkie to lunch via the Bondi to Coogee Walk
Two of Australia's most famous beaches are just 6kms apart, separated by smaller but equally as lovely smaller beaches Tamarama, Bronte, Clovelly and Gordon's Bay. Within a stone's throw away from Sydney's CBD and very accessible by bus, either start with a breakfast in Bondi and end with a lunch at the famous Coogee Pavilion- or swap and finish your walk with a well-deserved meal at Bondi's famous Icebergs, sat at that iconic spot overlooking the beach and rockpool.
Sip champagne at the Opera Bar
OK so you can climb Sydney's famous Harbour Bridge…or you could sit and look at the sun set over it as you sip on a glass of something bubbly at the Sydney Opera Bar. Behind you is the world-famous Opera House – why not check out what shows are on whilst you're there?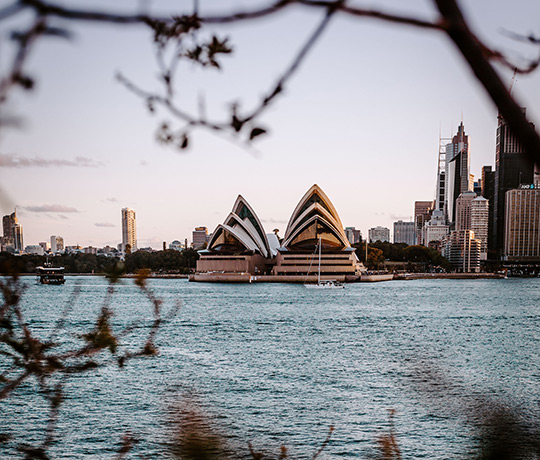 Ramble through the Blue Mountains
Amazingly, this dense forest does have a real blue colour palette! The national park is said to emanate a blue cloud because of the dense eucalyptus trees packed tightly on each mountainside. There are plenty of hiking tracks to do in a day, but we'd recommend enjoying a weekend here and wake up amongst kangaroos and wallabies in this nature-packed part of NSW, just an hour outside of Sydney.
Dip your toes in the whitest sand on earth
Just three hours from Sydney, you can find supposedly the whitest sand on earth. Whether you head down during the busy summer months or quieter winter, Jarvis Bay feels like a total escape from city life. You'll feel relaxed the moment you've dipped your toes in the creamy sands.
Totally chill out in Byron Bay
What's not to love about Byron Bay? Aside from being home to Chris Hemsworth, you're likely to find people wandering this hippy town with a smile on their face and no shoes on their feet. Surfers love the beaches; foodies love the beachside cafes and Instagram fans love the shot they'll get of sunrise over the famous Byron Bay Lighthouse. There's a charm to Byron that you won't find anywhere else in the world- whether you're there for 2 days or 2 weeks, people will comment afterwards that you've caught the much-envied "Byron Glow".
Victoria
Be at one with nature in Grampians National Park
Three hours north-west of Melbourne is the stunning Grampians National Park, rich in aboriginal history, native flora and fauna and the scent of gum from the gumtrees wafting through the air. An escape that really helps you reconnect with nature, lots of little towns are dotted around the Grampians – stay in one of these overnight to extend your tranquil weekend away.
Drive down the Great Ocean Road
You'll cover 243kms of wonderful Victorian coastline in this route towards South Australia. There are some obvious tourist hotspots on the way down – the Twelve Apostles, Apollo Bay and the Otways rainforest. There's also plenty of cool surf beaches and coastal towns to break up the journey. This is certainly no ordinary road trip.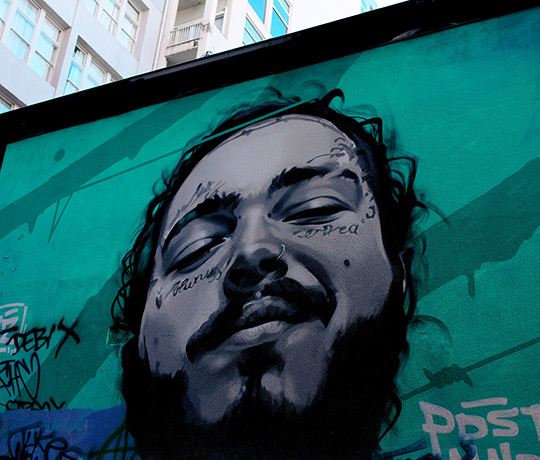 Transport yourself back to the time of the Gold Rush
Whilst everyone has heard of Melbourne, less have heard of Ballarat, one of Victoria's largest cities with an amazing history. It was one of the major sites of Australia's gold rush in the 1850s and walking through the town can take you back to that bygone era. You can go on a mine tour, a gold extracting demonstration and replicas of nineteenth century pubs, bars and shops in Sovereign Hill.
Get a photo down graffiti street
No trip to Melbourne is complete without a trip down one of the trendy graffiti-covered laneways. Marvel at the Melbournian creativity as you mosey down Hosier Lane, Caledonian Lane, AC/DC Lane and DeGraves Street – and afterwards, go through your favourite snaps of the street art as you enjoy a famous Melbourne coffee.
Tasmania
Discover a hidden paradise at Wineglass Bay
A hidden slice of paradise accessible only by foot within Freycinet National Park, Wineglass Bay (named as such because of its curved shape) was voted one of the top ten beaches in the world. You can stay at the lookout at the top which is spectacular in itself; or, be careful as you take the relatively steep climb down all the way to the bay.
Marvel at the colours dancing together at Bay of Fires
Postcard-perfect Bay of Fires in the north-eastern coast of Tasmania was named in 1773 by Captain Furneaux who watched Aboriginal peoples creating fires on the beach. Famous for shimmering turquoise waters surrounded by clear sand and orange lichen-covered granite boulders that create a cluster of colours that'll blow your mind, we love this beauty spot.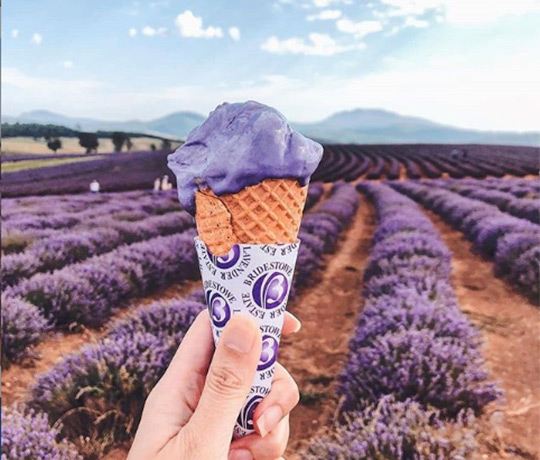 Get your art fix at MONA
MONA – Museum of New and Old Art in Hobart, Tassie's capital city, is an amazing fusion of traditional art, incredible indigenous art and mind-blowing exhibitions and installations that considered some of the world's provocative contemporary art. Whatever your taste, MONA will have a piece that moves you – and the journey there via boat is a pretty special one too.
Climb up Cradle Mountain
The windy journey up to the top of Cradle Mountain is a pretty scary one – but the incredible panoramic views of Tasmania at the other end make it all worthwhile. If you're not a big climber or don't fancy battling the fierce winds, then Marion's Lookout within the National Park will give you an impressive view of the mountain.
South Australia
Sample the world's best wine in the Barossa Valley
Whilst some of the places on this list may be a little less travelled, it's hard to find someone who hasn't heard of the beautiful Barossa Valley. This world-famous wine-region exports some of the most internationally-recognised best Shiraz, Grenache and Cabernet wines; but if wine isn't your thing, soak up the atmosphere of the chocolate-box towns in the surrounding areas – all steeped in European history.
Pick yourself an Opal in Coober Pedy
This unassuming little mining town right in the centre of South Australia and 9 hours north of Adelaide, has managed to carve a name out for itself as being the Opal Capital of the World. The 4,000 inhabitants of this town live a subterranean lifestyle, mostly living underground due to the incredible high temperatures Coober Pedy sees in the summer. When you're here, why not try your hand at 'noodling' – the art of digging for your own sparkly souvenir. Oh, and it's not just famous for opals: because of its moon-like surface, the town is a popular place for sci-fi movies to be filmed.
Hang out with the local wildlife on Kangaroo Island
Just off the coast of South Australia is Kangaroo Island, which you can get to via a very short flight from Adelaide or via ferry if you'd like to go by car. A third of the island is protected by nature reserves and is therefore a safe habitat for the vast amounts of wildlife living on the island, including sea lions, koalas, kangaroos, and even a gorgeous penguin colony. If you're staying, then you can sample local wines on the island at night too.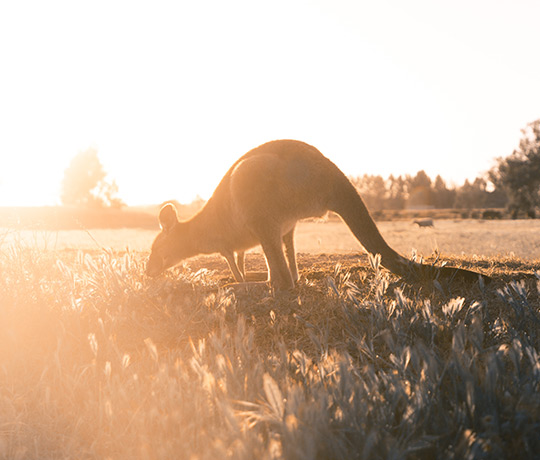 Hike the Flinders Ranges
Flinders Ranges isn't too far from Adelaide, so you can enjoy an 'Outback' experience close to a city. Flinders Ranges are amazingly 540 MILLION years old – so their rugged terrain and mountainous landscape is truly a sight to behold. We'd recommend enjoying a night there, with campsites set up and hikes to get stuck into.
Go Shark Diving with nature's most misunderstood animal
Yeah, we know sharks don't have the best reputation. But these beautiful fishes are actually very misunderstood and seeing them in their natural habitat is a real privilege. So if you've got the nerve to get up close and personal with Jaws, then cage diving in South Australia is how to do it safely; Port Lincoln, 4 hours east of Adelaide, is the most well-known spot. You'll leave possibly feeling a little braver and definitely with a newfound appreciation for these gentle creatures.
Western Australia
Go from surf to sip at Margaret River
There's so much to do in Margaret River, three hours from Perth city centre, it feels like a week-long holiday even if you only make it there for a weekend. Head down to one of the famous surf beaches for an early morning surf lesson; followed by brekkie at one of the centre's delicious eateries, and then prepare yourself for a day of wine-tasting in at some of the most beautiful wineries in Australia. If you've still got steam in your tank, watch the sunset over the beach as you sip on one of your new wine purchases. All in a day's work.
Get a selfie with a Quokka
You can get to Rottnest in no time at all, as there are ferries going from early in the morning until late at night from Perth. We're happy just doing a day trip, but there are accommodation options if you wanted to stay longer. Rent yourself a bike as you travel around this peaceful island, enjoy the stunning secluded beaches and find a little mate to get a selfie with- yes that's the right, the world's 'happiest animals' – the Quokka – are native to this island.
Walk through the Pinnacles
It's hard to do Western Australia without mention of The Pinnacles, some crazy rock formations a 2.5 hour drive away from Perth. The amazing thing about these strange formations is that no one is sure how they got there. Take a walk through them- and stop at the viewpoints to enjoy views not just of The Pinnacles, but of the desert and sea too.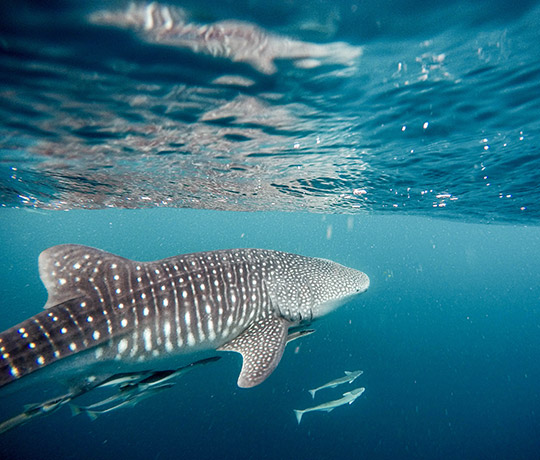 Snorkel at Ningaloo Reef
15 hours north of Perth you'll find a reef to rival the Great Barrier Reef of the East. This Western option can be reached by swimming from the shore. The translucency of the water makes it so easy to spot beautiful corals and fish and turtles- Coral Bay or Turquoise Bay are probably your best options for sealife-spotting, but wherever you go in this incredible area, you will not be disappointed.
Watch Sunset over the Indian Ocean
Take a 4WD to find yourself a secluded spot on Cable Beach and just take a moment to appreciate what's in front of you: it's virtually impossible to get a 'bad' sunset at this special spot, 15 hours north of the Ningaloo Reef – almost the top of WA.
Enjoy Lake Argyle from your infinity pool
What's amazing about Lake Argyle, which is right on the very border of the Northern Territory, is that it really does look like the ocean, despite being inland. At Lake Argyle Campsite, you can enjoy the views of the lake from the incredible infinity pool: you'll feel like you're at a five-star resort rather than a budget-friendly camping stop.
Northern Territory
Get lost in Litchfield National Park
Ok, we don't want you to ACTUALLY get lost. But if you venture down the 4WD tracks in Litchfield National Park, you will reach the Lost City- sandstone rocks that look like the remains of a long-lost city: they are thought to be about 500 million years old, so certainly worth the visit.
Watch out for crocodiles in Kakadu National Park
240kms east of Darwin, Kakadu National Park is home to wetlands, rivers and sandstone formations…as well as over 2,000 different plant species, native flora, fauna and…saltwater crocodiles, arguably the scariest reptiles on earth. Whilst avoiding the crocs, enjoy the Aboriginal rock paintings still on display at sites such as Nourlangie, Nanguluwur and Ubirr. There is no such thing as too much time spent at this incredible national park, but if you don't have time on your hands, then consider either a two-day or five-day tour.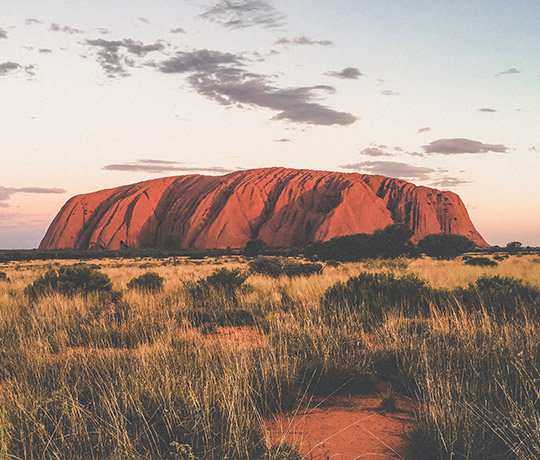 Enjoy a sparkly swim in Bitter Springs
It's hard to name the colour of the water at Bitter Springs in Mataranka: the aquamarine swimming hole glistens all day long. Slip in and let it gently drift you downstream…a perfect way to immerse yourself in nature…literally
Understanding Uluru: Australia's most significant Indigenous icon
Many people feel quite overwhelmed when they visit amazing Uluru. The amount of cultural and spiritual significance attached to this indigenous landmark makes it much more than just a 'big rock'. To protect it and as a mark of respect to the indigenous community, there is no climbing up it. Instead, there are plenty of walking and cycling routes around it that still allow you to take in this astonishing formation.
Queensland
Go from Rainforest to Reef at Daintree Rainforest
Daintree National Park, three hours north of Cairns in Far North Queensland (known locally as FNQ), is the world's oldest rainforest. Accessible by flying into Cairns and then driving up. There are many, many spectacular spots to stop by if you're doing this as part of a tour group, but heritage-listed Mossman Gorge and Cape Tribulation, where rainforest meets reef, are really two wonders. At Cape Tribulation, you can zipline, bush-walk and bird-watch if you're looking for an adrenaline boost.
Snorkel in the Great Barrier Reef
Sadly, climate change and human impact is slowly killing the largest living organism on earth: the 2,300km-long eco-system is made up of thousands of reefs and hundreds of islands- all formed out of hard and soft coral. Listed as a World Heritage-listed site in 1981, a menagerie of incredible creatures including turtles, sharks, dolphins, fish of every colour call this Wonder of the World "home". There are many different ways of exploring it, and many operators are trying to become as sustainable as possible to preserve this Reef. Try a scenic flight above it, skydiving down to it, sailing through it or even scuba diving or snorkelling amongst it: just please be mindful of respecting it.
Sail Around the Whitsundays
The Whitsunday Islands are one of the most popular destinations for tourists and locals alike. Famous for their pure white sand and crystal-clear waters, most famous of all is Whitehaven Beach, a 9kms stretch of white sand that will take your breath away (and look great on the 'gram). You can do a day trip from tourist town Airlie Beach or something a little longer to get to know the place.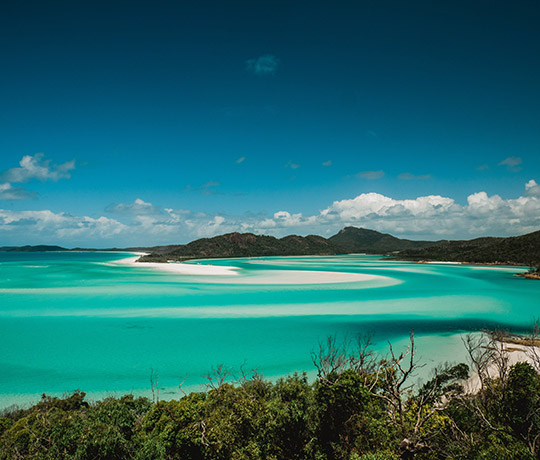 Go 4WDing on Fraser Island
There is something so Australian about driving across the beach in a Four-Wheel Drive. Another World Heritage-listed site, Fraser Island is our favourite place on the East Coast to live out that dream. On a day trip, you can drive down Seventy-Five Mile Beach to see the technicolour sand cliffs and the SS Maheno shipwreck. If you wanted to spend a little longer on the island, camping tours are available which include swimming in Lake McKenzie and enjoying the spectacular views from Indian Head lookout.
Feel beach-chic in Noosa
Get away from it all with a weekend in Noosa, the chic little resort town half an hour away from Sunshine Coast airport. As if the thought of being somewhere called 'Sunshine Coast' isn't enough to tempt you, the beautiful beach is the main draw but once you've had enough of sand between your toes and the warm QLD waters, peacefully wander up the main boulevard and enjoy the upmarket coastal shops and cafes that line the main street. Aaaaaaand relax.
We'd love to hear your suggestions and hear about your experiences exploring Australia and ticking off your own student Australian bucket list. What was your favourite place?