From soupy dumplings to yum cha to pork belly ramen, here's my top 11 Asian comfort foods and where to get them in Sydney.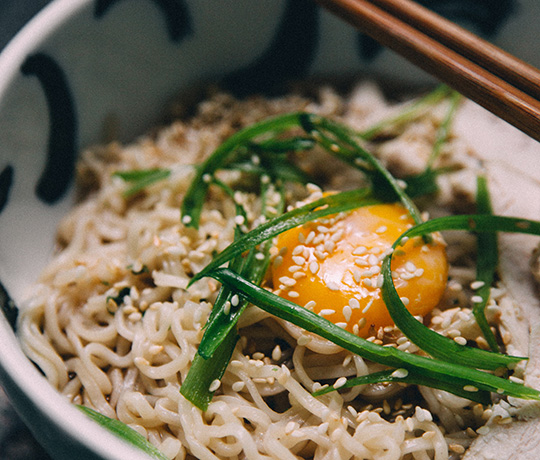 If you're anything like me, you would consider yourself a world-class foodie. I love trying out new dishes and scouring the city for the best hole-in-the-wall cafes and restaurants. But there's just something about your classic favourites, you know the ones! The meals and snacks that remind you of places you've been and experiences you've had. It's this weird and wonderful connection we have to food that can bring us back amazing memories. And for me that's food that reminds me of home. So I'm going to do you guys a favour and reveal my top comfort foods and where you can find them here in Sydney (and some hot tips!)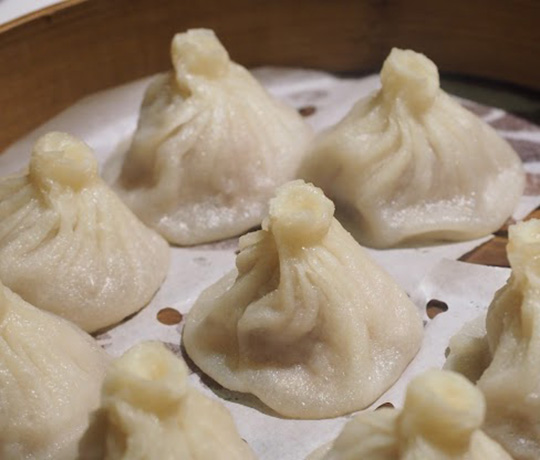 #1 Soupy Dumplings – Din Tai Fung (various)
There are few things I crave more than these tiny morsels of happiness on a cold day. Din Tai Fung is definitely the world's most recognisable chain for this Shanghainese classic. Rumour has it that every dumpling chef that works at Din Tai Fung was trained in the same school back in the original DTF kitchen. And, every soupy dumpling they produce has exactly the same thickness and pork mixture.
I don't know about that. But I can definitely tell you every bite of a Din Tai Fung soupy dumpling is guaranteed to put a smile on anybody's face. They come usually in a dozen and I know it's designed to share, but I can easily have a dozen to myself. If you're feeling fancy, try the crab version which is popular during mud crab season, but for me, I'm very content with the classic pork.
Hot tip, you can buy these frozen at Asian supermarkets quite cheaply too. You just need a steamer to prepare. So it's perfect to have in your freezer to curb the cravings until you make it out to Din Tai Fung again!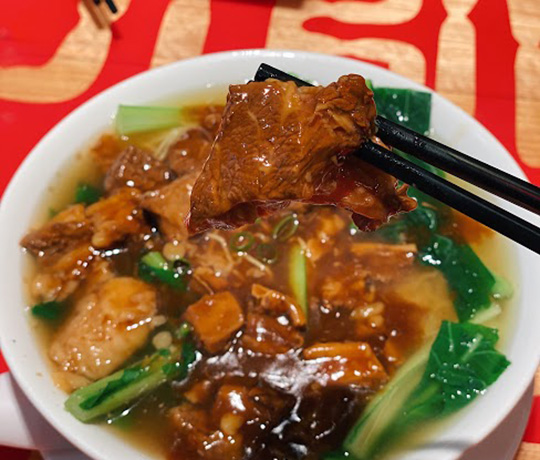 #2 Beef Brisket Noodles – Hong Kong Cafe, Chinatown
One bite of cantonese-style beef brisket instantly makes me feel like I'm back in my childhood, having lunch with my family at the "cha chan tieng" in Hong Kong. The rich braised beef brisket just melts in your mouth with a delicious soy flavour, pairing beautifully with the al-dente egg noodles. The most authentic versions come with slow-cooked beef tendon too which my aunties always say is good for your skin. It's so tender and rich in flavour I don't need any other excuse to finish everything in seconds flat!
#3 Pineapple Bun- QW HuaXing Bakery, Ashfield
OK, yes, you can get these guys at the standard 85º or even Bread-Top. But if you really want a taste of home, Ashfield is the only place to get this in. Another canto-classic, this fluffy, semi-sweet bun with a gorgeous pineapple-like crust (hence the name) is the perfect afternoon snack.
#4 Rice cakes – New Shanghai, Westfield Sydney
Ever since I was a kid I've been in love with Shanghainese food, and rice cakes are on the top of my list. Back in the day, it was so special people only had this at Chinese new year. But because it's such a hit, people these days have it year-round. It's the perfect winter comfort-food because it's starchy and warming, but I love it because the rice cakes themselves are gloriously chewy and just absorb all the delicious flavours of whatever you cook it in. XO sauce is a popular choice, but I like the classic pork and Shepherd's purse.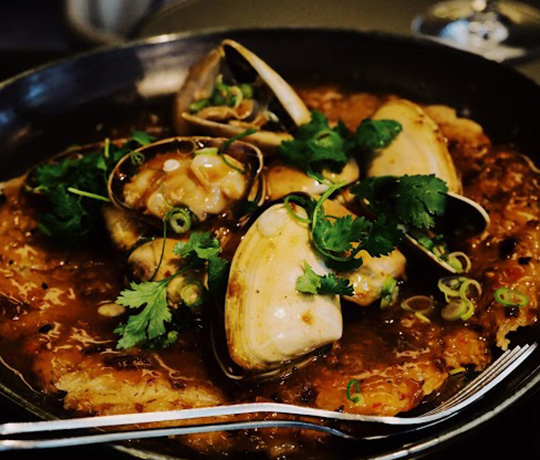 #5 XO pips – Golden Century, Darling Square
Ok, so this pick is a little boujee, but what can I say, I like what I like! This dish is a special occasion dish. I always request this for family dinner when we go out for my birthday. But few places in the world have as fresh and as LARGE Pi Pis as Australia, so it's definitely worth having it here. Golden Century is the undisputed king of this dish, so much so they have opened up a second restaurant in Darling Square with this dish as its namesake. If your family is visiting from overseas, this dish is a must to wow and welcome them!
#6 Yum Cha – Palace Chinese City
Growing up, Sunday Yum Cha was an institution. My family would always meet every Sunday to catch up on the week no matter how busy we were. There are lots of good options for yum cha around Sydney, but Palace is probably my favourite. And most authentic in my opinion. The beauty of yum cha is that there are so many dishes everyone can order their favourite things, and you often don't have to wait long. As soon as you sit down, you're often swamped by eager dim-sim ladies with their trolleys. My staples at yum cha are always Siu Mai, Chicken Feet, and a variety of Chong Fun. Anything steamed for me is a win!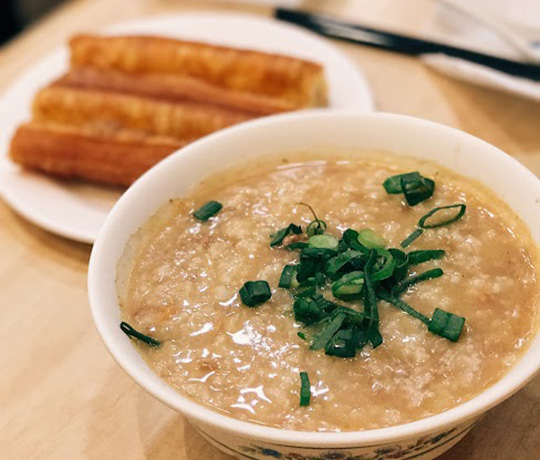 #7 Salty Beef Congee – Mother Chu's Taiwanese, Chinatown
Like many Chinese kids, whenever I'm sick I would just be fed white congee and told to stay in bed. So all through my childhood and even adolescence, I would hate congee, because it reminded me of being sick. As I got older though, I rediscovered the joys of a hot bowl of congee on a cold night or when I'm not feeling particularly hungry but I know I'd be starving if I didn't have a light dinner. Grandma always said that congee was invented when China had a shortage of rice, and I can see why!
Learning to make it myself, one half cup of rice makes so many bowls of congee and it's such a great base of any ingredient – the variety of congee is endless. My favourite still is the classic thousand-year-egg and lean pork, sprinkled with lots of pork floss and white pepper. There are more and more places now that do great congee, but for me I still love Mother Chu's in Chinatown for authentic, thick congees that are piping hot and beautifully cooked.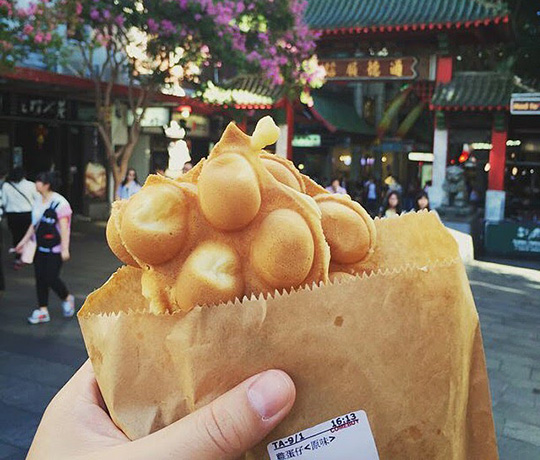 #8 Eggettes -Da Jian Chen, Burwood Chinatown
Hong Kong is home to SUCH great street food – but the one that reins supreme after all these years are still eggettes. Recently, this street food became a trend in Sydney, so today there are so many options. Normally on this list, I opt for classics over new versions. But Sydney Eggetts have taken on a life of its own, and I am LOVING it! All of the combinations at Da Jian Chen is a home-run in my opinion, but for me the matcha flavoured egrets with the ice cream toppings are hands down my favourite.
#9 Hainanese Chicken- Killarney Kopitiam, Central
Hainanese Chicken was always my dad's favourite dish, so I always have a soft spot for it. But it wasn't until a family trip to Singapore when I was left alone to explore the food markets did I fall in love with the dish myself. Succulent and juicy boneless chicken breast laid on top of a bed of chicken-stock-cooked rice… what's not to love? There are quite a few amazing Malaysian restaurants in Sydney. But my favourite for convenience and flavour is Killarney Kopitiam in Central. Obviously Hainanese Chicken is one of their signature dishes, but their Char Kwei Tiew and Kaya Toasts are also not to be missed. Trust me.
#10 Ramen – Ramen O-san, Haymarket
Anyone who knows me knows my love for Ramen knows no bounds, and Sydney certain spoils us for choice! There are so many incredible Ramen chefs in town it deserves it's own article (in fact, stay tuned!) One of the best in town is in fact a local's secret. Ramen O-san is tucked away in Dixon House Food Court, but it's well worth the visit. Their pork belly is house-roasted and rendered to perfection. Of course my favourite is the pork belly ramen. But if you're craving a different soup base, you can always still order the pork belly on the side, which I highly recommend you do!
#11 Bubble Tea – Gong Cha (various locations)
Bubble tea is big business in Sydney. You'll find from walking around any of the Asian suburbs like Chinatown, Ultimo, Randwick, Ashfield, Chatswood… every street corner will have at least 2 or 3 different bubble tea options, so you'll be spoilt for choice. The latest craze to hit Sydney is Milk Flower, a mango-and-coconut-milk drink which is just heavenly.
But if you're looking for a classic brown sugar pearl milk tea, you can't go wrong at Gong Cha. With over 30 locations all around Sydney and fully-customisable sugar and ice levels to make you the perfect cuppa afternoon/anytime pick-me-up. Oh, and they've partnered with Uber and EASI to deliver all around Sydney too. So you'll always be near a bubble tea when the craving hits!