Asian food trends have hit Australia and Sydney is one of the best places to discover them all. We over what trends are hot right now and where to try them all.
You've heard of the "it" bag or the "it" girl, but Sydneysiders love an "it" food. Few things bring us more joy than hunting down great hole-in-the-wall spots or street food stalls that specialise in one thing only, and we're not afraid to drive and line up to get a taste (and a 'gram) of it.
Part of the joy of following food trends is in the discovery – chatting to friends about it and grabbing a few mates to try the latest matcha offering. But to help get you started, here a few of the hottest Asian food trends we love in Sydney lately:
Bubble Tea from Gong Cha, ShareTea or Bubble NiNi
It feels like a no-brainer to start an asian food trend list with bubble tea, but the trend gripped Sydney in the noughties and it's still as popular as ever. Right now, Brown Sugar is having a bit of a moment, but classic flavours of Taro and Matcha are still reigning supreme. Thanks to bubble tea paving the way, there's been a whole world of drinks opening up in Sydney. Read on!
Pearl + Ice Cream from King Tea
Before we move away from pearls (or boba if you're American), you've got to try it as a topping on ice cream. The chewiness of pearls give this swirl of earl grey ice cream a delicious texture that is a match made in heaven. Being an ice cream, it also doesn't fill you up as much as a drink so you can have more. Bonus!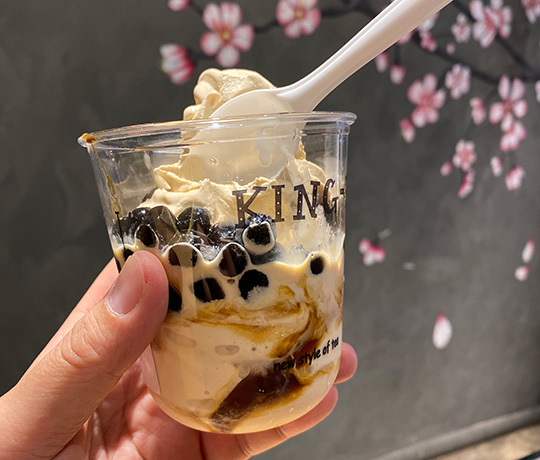 Rice Yoghurt from Yomie's Rice and Yogurt
OK, I don't get the obsession, but the obsession is real. Rice. With Yoghurt. Yup. The drink that started it all is Yomie's Purple Rice Yogurt drink. It's served cold and it's surprisingly refreshing on a hot evening. The yoghurt itself isn't very thick – it's more of a milk with just a slight sourness to it that makes it that much more refreshing, so definitely worth giving it a try and see for yourself. The flavour of the month at the moment is salted egg yolk, which has a lovely savoury-sweet flavour that makes it as interesting as it is refreshing.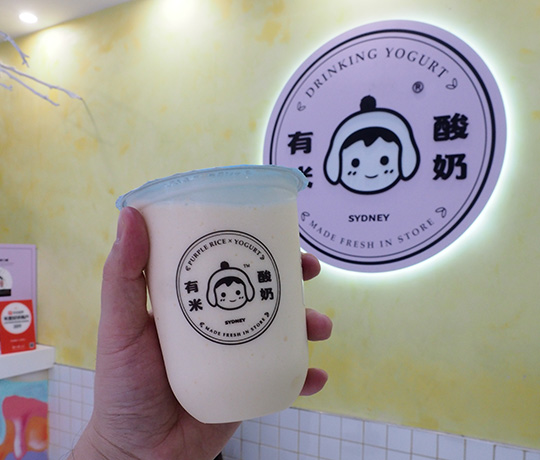 Thai Mango Coconut Drink from Milk Flower
Final drink on the list is my current favourite of all these Asian food trends. This heavenly creation is a fresh mango drink that is sweet and silky, and made with fresh mango sourced from around the world to guarantee its quality and freshness, year-round. Honestly, this just tastes like happiness to me.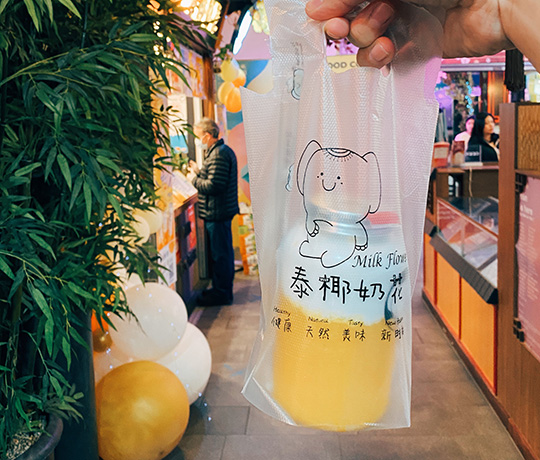 Malatang/Hot Pot from Yang Guo Fu Ma La Tang
Walk around Sydney Chinatown or any of the satellite chinatown suburbs and you'll notice the new popular kid on the block. It feels like a new Malatang spot pops up on a new street corner every week. And it's easy to see why. Just grab a bowl and fill it with your favourite ingredients from literally a WALL of potential ingredients. Fish, fresh vegetables, lamb, beef, tofu… the world is (sometimes literally) your oyster. Choose your soup and spice level, and you've got your own special creation of yum. The food is charged by weight as well, so it can be really good value. Just beware, if you can't take spicy, this dish originated from Sichuan, so opt for the completely non-spicy version. Even their helpful guide of 1/5 chilli can be too much! This one a favourite that reminds me of the spoils of home.
BBQ Meat Skewers from Hoy Pinoy
There are two kinds of separate but related trends here. For me, Hoy Pinoy was definitely the one that set it all off. Over the last couple of years, these guys were packing out the Night Noodle Markets and other street food festivals – attracting dozens of people just with a thick plume of savoury-sweet BBQ grilling smells. Hoy Pinoy's BBQ marinade is a long-held family secret, and all ingredients are imported from the Philippines.
Over the last year though, skewers have had another entrant – Chinese Lamb Skewers. This northern Chinese street food staple uses a blend of dry rub spices and hot charcoal to deliver the best, char-grilled flavour. The lamb is often a fattier cut too, which is beautifully rendered by the charcoal, giving that buttery, melt-in-your-mouth texture that blends perfectly with the meat and spices. These stalls are often in street food markets (like Burwood Chinatown) and often come in a convenient takeaway cup too, so I always start my dinner plans here so you have a cup full of delicious skewers while you wait in line for other things later.
Korean Corn Dogs from Mr Hot Dog
I love me a corn dog (or a Dagwood dog, as they call them here) – especially at carnivals. There's zero nutritional value or even real meat in them depending on where you buy it, but that's never the point. Cut to the new Mr Hot Dog – a Korean-style corn dog where you get to choose the filling (traditional hot dog, or half cheese half hotdog – my pick), watch it be dipped in batter and fried in front of you and then, the piece de resistance, dusted with sugar which melts and forms a wonderful crunchy crust.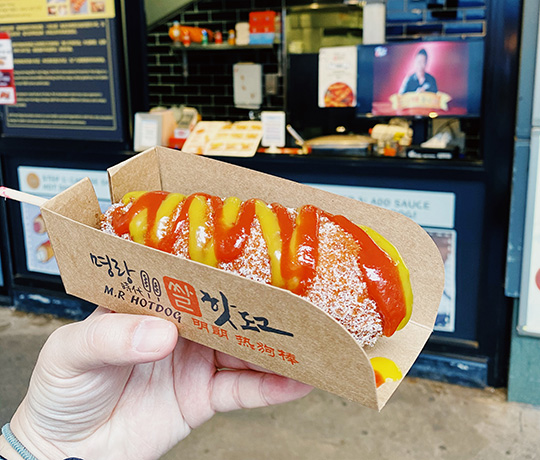 Mi Goreng Toastie from Dutch Smuggler
Speaking of fusion, Mi Goreng is every uni student's best friend, as is the midnight cheese toastie. Combine the two, and you have a carb-filled gift from the gods that is perfect for any time of the day. The toastie's beautiful crunch is perfectly balanced by the chewy mi goreng noodles that also pack that all important salt-punch that Mi Goreng is famous for. Grab yourself a coffee and you have the perfect hangover cure or anytime snack.
Sushi Burgers from Gojima
Sydney loves a good fusion dish, but this particular Asian food trend stands out from the crowd. Juicy, tender beef patties, layered with beautiful melty cheddar, tomatoes and lettuce, sandwiched between…two pan-fried rice patties and wrapped in seaweed? On paper this should never work, but one look at Gojima's instagram feed and you'll see this is a visual feast. Just wait till you try it yourself. Home. Run.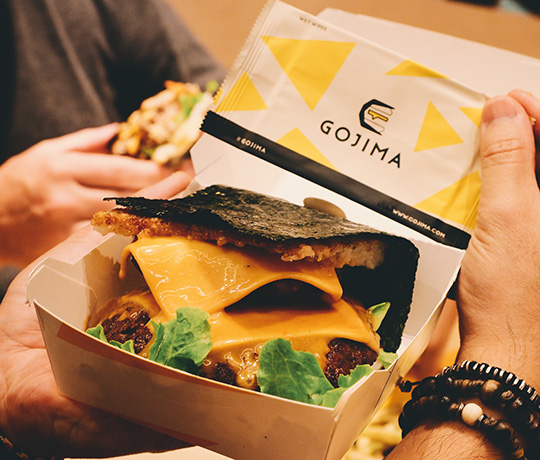 Snow Cheese Korean Fried Chicken from Incredible Chicken
This dish has been a hit in Korea for years, but it has recently made waves in Sydney and is popping up everywhere. One bite and it's easy to see why though. Juicy fried chicken with an aptly named incredible crunch, these pieces of chicken are no KFC popcorn chicken – they're proper boneless bites of delicious chicken thighs. The magic is in the snow cheese powder, though. This fine mist of cheese and sugar transforms the chicken into a moorish blend of savoury and sweet that will have you finish the whole plate to yourself. Well, maybe that's just me, but it's justified – let me tell you.
Matcha….everything from Matcha Ya
Matcha as a flavour has been one of the favourite Asian food trends for generations, but somehow the last few years, it's back with a vengeance in Sydney. Matcha lattes, matcha mochi, matcha bubble tea… and it's all culminated in the opening of Matcha-Ya in Darling Square. This place is a matcha-lover's heaven. All the usual suspects mentioned above are here, but they've kicked it up a few notches with matcha ramen and matcha pasta too – both are more delicious than you might think and well worth a try.
Strawberry Watermelon Cake from Black Star Pastry
I'm not much of a sweet tooth, but Black Star Pastry really knocks this one out of the park. No, this isn't watermelon flavoured cake – this unique dessert is made of almond dacquoise, rose-scented cream and a perfectly-cut slice of watermelon layered on top of each other, topped with fresh strawberries, pistachios and dried rose petals. Yes, it's really as delicious and fresh as it sounds, and more beautiful than I could describe it – there's a reason it's the world's most instagrammed cake!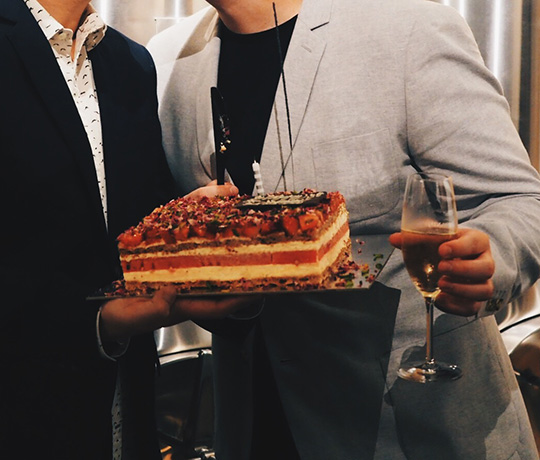 Jiggly Cheesecake from Uncle Tetsu
This one is now a Sydney institution and available around the globe, but the lines are still there. Even during lockdown! These jiggly cheesecakes are made fresh on the spot. They're are gorgeously light and cheesy, and come in a perfect size for 3-4 people. Or one. I'm not here to judge.
Soufflé Pancakes from 'Gram Cafe
While we're on instagrammable desserts, this one is currently Sydney's darling. Well, it's right there in the name of the cafe! These fluffy soufflé pancakes are lighter-than-air and soft as a sponge. Their appeal is that they're made only at 11, 3 and 6 o'clock and limited to 20 orders at a time only. Not per person – in total. That's a formula for instant popularity if I've ever heard one. My take? Head over to Harijuku Gyoza instead to order their soufflé pancakes. You avoid the cue and diva time demands and their gyozas are always on point. Especially the cheeseburger gyoza.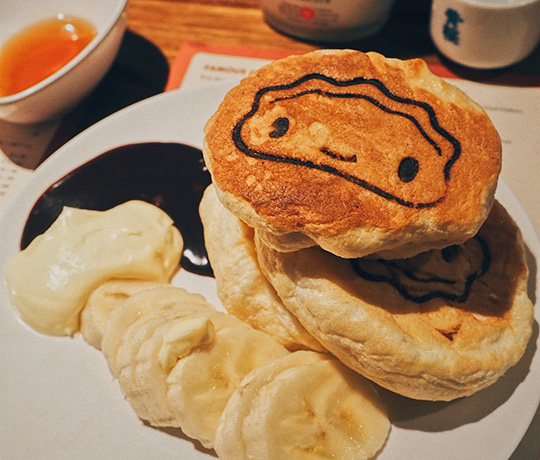 Parfu
Owned by the same genius who brought us Hokkaido Cheesecake is this cream-filled Japanese pastry. There are a few stalls around Sydney that sell both at the same spot so you're in for a treat. The pastry of parfu is just flakey heaven and when you take a bite with the fresh cream in the middle, get ready to have your tastebuds blown.
Hokkaido Cheesecake
If you're looking for a smaller bite, these guys are perfect to take along to parties or for an afternoon snack. These triple-baked cheese tarts are cheesy and lightly sweet but never rich, and the crumbly butter pastry on the bottom is just amazing. They're always rolling out new seasonal flavours too it's always fun to try a few alongside the classic.
What are your favourite Asian food trends?!