Here are the financial, health and lifestyle benefits and advantages of switching to a co-living space from traditional renting for students, digital nomads and young professionals.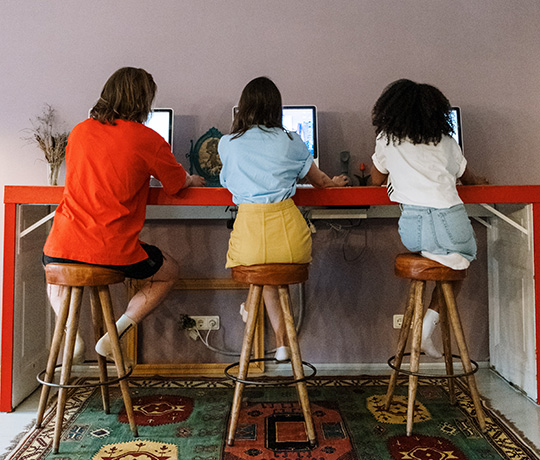 Table of contents
Communal living isn't exactly a new concept. It's one that dates back the middle ages where families lived in large camps, depending on each other for food, education and childcare.
Fast forward a few years from hippie communes in the sixties and we're coming full circle from wanting to live in our own houses and apartments, to sharing our lives in purpose built communal living spaces.
If the ongoing COVID-19 pandemic has taught us anything, it's that many people – especially single people, young professionals and stay-at-home parents – are increasingly spending long stretches of time at home, alone. With the endless and unpredictable lockdowns and lack of travel, home has blended with work and become one of the most important things to a lot of young people across the world
To stop yourself from going insane in your own four walls, it's important to indulge in community. Head out for a morning yoga class. Meet up with a friend for coffee. Work alongside like-minded young professionals and freelancers.
But what if you could do all of this in your own building and community?
Is it communal living, cohousing or coliving?
Being such a new concept, there are several names for the coliving trend. Depending on where you live in the world, or which company you're looking into, both the label and the building's facilities might change.
There are communal living communities in the US for example, that provide accommodation for seniors, purpose built locations in Europe that provide for students and young professionals and others that are built for young families.
The definition of coliving, however, is always the same; a group of people living together and sharing communal spaces, whilst having access to their own private space.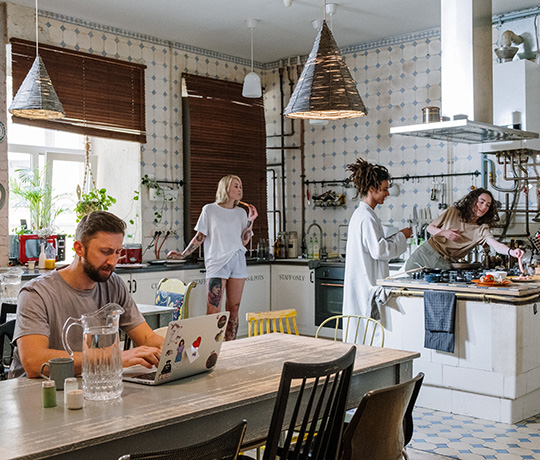 Co-living at The Switch
The Switch provides a community for students and young professionals alike to experience a busy lifestyle in the heart of Australian cities without the stress of sorting out bills, setting up wifi and buying furniture. Rooms at The Switch are ready to move into so you can start living from the moment you kick your shoes off.
Live in a building where you can experience community when you want it, yet indulge in utter privacy when you need it. With studio options with an ensuite bathroom and kitchenette, you choose the lifestyle you want to live.
When life calls for community, co-living properties provide a diverse range of experiences and areas to socialise, network and learn. At The Switch for example, you can work alongside young professionals in co-working spaces, nurture competition in the gaming area and catch up for a cup of the good stuff in pop up cafes and retail spaces.
Does co-living suit my lifestyle?
If you're someone who thrives in a community with others, has just moved to a new city, or you're looking for a more cost effective and flexible way to live in your favourite city, then co-living is likely to be a great option for you.
Co-living allows for flexibility
The key advantage for co-living residents is flexibility. Want to stay for a week? Not a problem. Love it and want to make the place yours for a year? Even better.
Co-living is great for young professionals who are always travelling for work, digital nomads who lead less planned lives and don't want to sign a 12 month contract and freelancers who like to move around to try new cities.
If you love the idea of leading a completely flexible life when it comes to renting, and you're sick of having to sign twelve month contracts, the flexibility of co-living is a revolutionary.
Co-living is stress free
Okay, you might experience some stress. But trust us, it's a hell of a lot less than the stress you experience when moving your furniture to your new flat, spending hours on the phone to electricity providers and having to take time off work so your internet can be connected.
When you move into a co-living space, everything is good to go from the first day. So no more worrying about wifi, electricity or even furniture. Your modern, fully furnished room is ready from the get go.
Stress? What stress?
Co-living is often a great financial choice
Communal living is great for financially savvy young Australians wanting more value for their money when it comes to renting. With the price of renting in big Australian cities like Sydney and Melbourne going through the roof (especially for single renters), it's hard to ignore the stacks of money leaving your bank account every month. And that's before you start looking at your electricity bills, wifi and groceries.
Co-living usually works in a way that residents pay one monthly bill that includes your bills, wifi, gym access, events, co-working spaces and even maintenance, leaving you with zero worries when it comes to sorting out your bills every month. Not to mention calling strata every week following up on that broken AC or mould issue.
Hate sorting out your bills and paperwork? Co-living is perfect for you.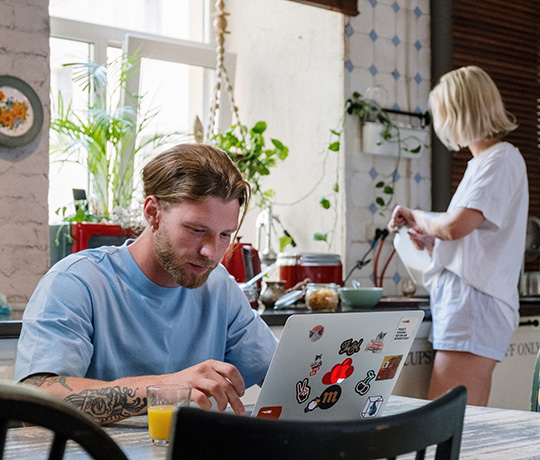 Co-living is great for social butterflies
Whether you crave community, or you've just moved to a brand new city where you don't know anyone, co-living is the perfect place to start.
Create your community and get involved with events, work alongside like minded people in co-working spaces and cook with new friends anywhere, anytime.
Location, location, location
Do you work in the city, love the buzz of the environment? Co-living spaces are more often that not located in some of the best locations right next to public transport, just a short ride from the airport and in walking distance to some of Australia's best cafe's, restaurants, bars and markets.
If you're looking for value in the city centre, co-living is a great place to look.
Freedom from financial liability of roommates
Sick of chasing up your roommates for their share of the internet, electricity or grocery bill? Well now you don't have to.
When coliving, you're only liable for yourself, which means no relationship breakdown and no fitting the bill for your unreliable flatmate.