Life
Make These Instant Bubble Tea and Boba Cocktails at Home With One Simple DIY Kit
The bubble tea craze has long taken hold in Australia (amongst some other amazing asian food trends), but thanks to various lockdowns and restrictions stopping us from queueing for the latest boba stands, a new wave of instant boba pack deliveries have popped up. With the threat of sudden lockdowns ever-present, we're taking no chances and decided to try them for ourselves.
Drooling already? Head straight to the recipe.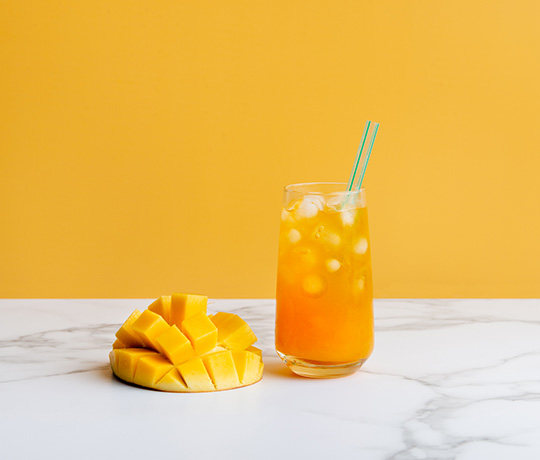 What is the difference between Instant Boba vs Cook-at-Home bubble tea?
After seeing them pop up all over our socials, we reached out to 123 Bubble Tea, the original Sydney-based company that brought their original patented invention to Australia. Founder and native New Zealander, Ken Ng is a serial entrepreneur who founded the company in 2019 – just before the pandemic – and has been delivering instant boba kits to Aussie fans since.
"As an avid bubble tea lover, I actually started the company because I got cravings for my favourite drink at weird hours when the shops were always closed", said Ken. "So, I decided to make my own."
At the time he released the products, boba was not a new concept in Australia, and tapioca pearls were available to purchase at asian supermarkets nationwide.
"The difference, and that's still the case today, is that these other at-home boba kits you actually have to cook the pearls over the stove" explains Ken. "They take at least 20 minutes and they don't tell you that it's actually quite tricky – the tapioca pearls can either be too hard or too soggy if you don't know what you're doing. Plus, you often have to cook a large batch because it takes so long… all for one drink."
So Ken decided to take matters into his own. He visited Taiwan, the home of boba, and worked with suppliers to create a method of cooking that just requires one minute in the microwave. Mind. Blown.
After many failed experiments, the result is a genius little pouch that steams the boba to perfection. An invention he quickly patented and launched as an Australian-first.
Getting creative with Boba at home
One of my favourite quotes from Charlie and the Chocolate Factory is from the wide-eyed hero himself: "Candy doesn't have to have a point. That's why it's candy." and that's always been my personal philosophy to Bubble Tea.
Walking up to any bubble tea stand is always overwhelming to first-timers. Even seasoned slurpers get overwhelmed, if I'm honest. Do you want pearls? Cheese foam? Herbal jelly? And was that a black tea? Fruit tea? Or the galaxy fizz? How 'bout ice? More? Less? Normal? Sugar? Less Sugar?
You get the picture.
Don't let that intimidate you and certainly don't let the person behind you stress you out. All these choices are part of the fun of ordering Bubble Tea. Mix, match, play. It's bubble tea. It doesn't have to have a point.
So does that experience get lost when you make your own at home? Far from it. In fact, it's just the beginning.
"Because we have our own suppliers, we're always playing around with new flavours and combinations. We have mango pearls, matcha, strawberry, lychee… and unlike popping pearls, these are actually naturally flavoured tapioca pearls so they're still chewy." explains Ken. "Because they're frozen in a pack, all the flavour syrup is also included so it's easy to make – just add milk. Or, for the fruit pearls like Strawberry, sparkling mineral water is really refreshing and perfect for summer."
"Or, you can add Vodka."
Bubble Tea for Grown-Ups: Boba Cocktails
At that, Ken dropped a game-changer. Because traditional bubble tea stalls don't have liquor licences, bubble tea in my mind has always been milky tea drinks.
But of course, when it's delivered at home to us "responsible adults", the game is blown wide open. The flavoured pearls form an excellent base for all sorts of amazing cocktails – all you have to do is pick your favourite spirit.
"We're working on a new line of make-at-home cocktail sets that are great for parties" beams Ken. "We're also looking at monthly cocktail-of-the-month subscriptions where all pick your base spirit, like Gin, and we send you a new cocktail mixer every month that goes with it."
So though the sky's the limit, I did the hard (and noble) work of testing some of Ken's favourite recipes. You'll find these listed below. Spoiler alert, they are amazing.
At-Home Boba Cocktail Taste Test
To get the full experience, I ordered a selection of instant boba flavours to try. The packs are delivered frozen in these custom freezer packs featuring a cartoon logo of Mochi, Ken's adorable family Shih Tzu.
I ordered a mix of original brown sugar pearls, mango, strawberry and a limited-edition lychee. The pack also came with biodegradable eco-straws and a reusable cup in the shape of a light bulb, which is now my favourite thing ever. So making these cocktails is a win win – delicious and sustainable bubble tea. You can even make the switch and take your reusable cup to your favourite bubble tea outlet!
Following the packet instructions, I started with the brown sugar pearls. I put the bag in the microwave for 1 minute and within 45 seconds, the bag was full and I can see the ingredients boiling away. I guess that means I have a pretty strong microwave, so I decided to take it out before it exploded. Like most people, I hate cleaning the microwave and I was getting flashbacks of a school camp "veggie bomb" incident that I'll never forget.
Though the pack has "cut here" lines along the whole length, a pro tip is to cut just the corner off, creating a little funnel to help pour the boba into narrow containers like the provided light-bulb cup. It was practically molten in just 45 seconds, so be very careful, and allow it to cool slightly before pouring it over ice or else it just melts the ice.
Being of Chinese heritage, I'm slightly lactose intolerant, so I always go with black tea options at the bubble tea shop. Making these at home means I can use oat or soy milk instead and it means I can actually enjoy the brown sugar milk tea again without the blessed after-effects. Tick one for at-home bubble tea!
Taste test
Then all that was left was a final stir of all the ingredients and it was time for the taste test. My first sip I was hit with several of the bubbles right away and it was just like you'd get in the shops. In fact, better. The pearls were slightly chewier than the traditional and I quite like that. In a typical Chinese complement, it's also not too sickly sweet which is quite nice. I guess if it was you can just add more milk at home.
All in all, it is a 10/10 on the original brown sugar pearl tea for me. I love the convenience, and the fact that it can be made lactose-free is a godsend for me. These can also sit in the freezer for quite a while taking up not a lot of space, so I like having them just ready to go without having to pay massive delivery fees on Uber Eats just to get your night-time Bubble Tea fix (something I'm definitely guilty of more than once during lockdown).
Cocktail Trialing
Next to try are the cocktails. The flavoured pearls are exactly to the same to make and I love that they're not popping pearls, but actually naturally flavoured tapioca pearls. After all, the chewiness is the point of boba, isn't it? The popping pearls just don't cut it.
I tried the Strawberry Sunrise first and boy is it refreshing. The strawberry pearls are definitely sweeter, which took some of the kick away from the tequila, but the hint of mint was lovely. Most of all I finally got to use that bunch of mint I've been growing during iso. Humblebrag, no big deal.
My favourite though is the Mango Boba Spritz. I love anything with Prosecco in it, but the fizz mixed with the sweet chew mango pearls is just heaven. The extra shot of vodka also gave this drink a nice little kick and it's definitely my summer drink of choice now. Poolside. Floppy hat. Vibez.
Having tried the cocktail recipes, I can't wait for the next catch-up with friends at home to do a create-your-own boba cocktail party. With so many flavours to mix and match, it's a fun job to try all the combinations and invent pointless new cocktails of our own. That is, after all, the whole point.
Strawberry Sunrise
Ingredients
1x Strawberry Boba Pearls
30ml Tequila
250ml Soda Water
1 bunch torn mint leaves, with extra for garnish
Method
Heat strawberry tapioca pearls as per packet instructions ~1 minute for a conventional microwave.
Allow pearls to cool slightly and pour over a tall glass filled with ice.
Pour in a shot of tequila and stir to cool. and top with Proscecco to serve.
Mango Boba Spritz
Ingredients
1x Mango Boba Pearls
30ml Vodka
250ml Prosecco
Method
Heat Mango tapioca pearls as per packet instructions ~1 minute for a conventional microwave.
Allow pearls to cool slightly and pour over a tall glass filled with ice.
Pour in a shot of Vodka and top with Prosecco to serve.