We sat down with communications superstar Martie Hong to talk about being an Asian man in the LGBTQIA+ community, moving from Hong Kong to Australia, and his tips for life beyond university.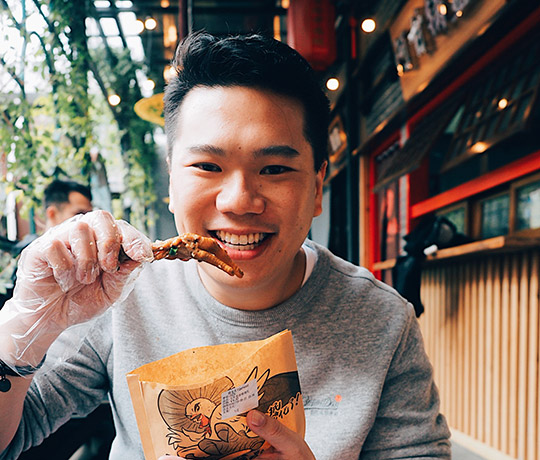 Tell us about your background and growing up in Australia?
I was born here in Australia, but my parents and family are all from Hong Kong. That's where I lived until I was eleven, when I came back to Australia alone to attend boarding school. It's not an uncommon story. The fashion back then, and still is, to send your kid away to get a good education. That was always the plan for me. Ever since I could remember, I was told I would be sent off, so I had to learn English at an international school on top of Chinese, Math and Piano at home. What wasn't in the plan was that I'd fall in love with Australia (totally the best place to study), come out to my family, and have the guts to turn away from the family business and try to make it on my own!
What do you do for a living? Is it the same thing as what you studied at University?
I work in a communications agency where I lead the social and digital team. I basically get to use Facebook and TikTok for a living. There's no way that ten years ago when I was at university that this was ever a subject or course you could study. Social media moves so fast that as soon as you've had the time to design a curriculum around it, the world has moved on to something different and all that information you gathered has become obsolete. I doubt there will ever be a course on it. But that speed and change is also part of why I love my job so much.
That said, I'm incredibly lucky that my studies have prepared me almost freakishly well for what I do. I have a Bachelor of Arts from Sydney University (go Lions!) with a double major in Psychology and Media Communications (journalism, marketing, PR, digital, radio all in one). Then, I studied Musical Theatre at NIDA, which is arguably one of the best institutions in the world to learn about storytelling. With my three studies combined, I've managed to find the one job that perfectly uses all my interests and skills in one career.
Did you always know what you wanted to do career wise, and was this influenced at all by your family?
Absolutely not. Facebook had only just come out by the time I graduated – no-one would dream of earning a living off it. Least of all, my family. Dad's a lawyer and mum's a career-woman. So when they heard that I wasn't going to be a lawyer, doctor or study business, you can imagine they flipped!
But you've got to remember that it's your life. You probably would have seen a fridge magnet at some point that says, "If you don't build your dream, someone else will hire you to help build theirs". And that's true of any career. Find your passion and build your own way – not the one your parents build for you.
Trust yourself, follow your heart and keep an open mind – life will find a way.
Where did you live whilst at University?
My friends and I rented a place together off-campus. University is the time to spread your wings, throw some parties and learn to live by yourself. Especially when you're living with friends, it's a lot more fun. But there are loads of options when it comes to accommodation, both on and off campus.
What was your favourite thing about University?
Life at university was about getting to try on different versions of myself. I advise you join a club – join six! I was playing volleyball, starred in musicals, I tried archery for a semester. Make friends from different social circles. I hung out equally with my beer-loving science mates as I did my coffee-loving media friends. I joined Queerspace and organised events for out-of-town queer students to share coming out stories and connect with each other. I learnt to ski… it doesn't matter if some things aren't for you after a while (I had to stop archery after accidentally killing an unassuming pigeon on the oval… Apparently, it's not a crime despite the amount of blood and commotion).
We know you lived in London for a period of time. What advice would you give to somebody who has just moved to a new city?
It's a brave thing to be in a new city by yourself. My advice is to embrace being a little lonely. There are going to times – especially when you've just arrived – when you don't know anyone, or have no plans on a Saturday night when other people are busy being fabulous. Don't worry – embrace that, and do something you love! Go to the movies, pick up a hobby (I joined a jazz choir), try a new activity (I did rollerblading). First of all, you can do all these things without the baggage of what your friends or family will think – no-one in this brand new city knows who you are – and best of all, you'll start to make friends who you immediately already have something in common with! (Pro tip: rollerbladers turned out to be very chatty). You'll fit right in in no time.
You identify as gay – how do you find living as a gay man of Asian ethnicity in Australia, and Sydney in particular? Do you come across any negativity?
To be frank, it's not easy. As a gay Asian man, you're always fighting two different battles: on the Asian front, homosexuality is still highly taboo, especially for the older generation (one of my uncles recently introduced my partner of 8 years as "my friend" to his business associate). If you're lucky, you'll have a few family members who remember your happiness is all that matters, and having a few allies like that reminds you that the world is changing.
On the other front, you're fighting the westerner's view that all gay Asian men are submissive oriental flowers, and you can be viewed as a stereotype, not a person. The number of guys who used to come on to me and call me "hot for an Asian" is disgusting.
Furthermore, there is still a lot of covert (and if you're on Grindr, OVERT) racism that likes to mask itself as "preference". "No femmes, no fats and no Asians" used to make me cry as a young man still learning to love himself. Now I've learnt that people who say that on their profiles are best avoided since that's just the tip of the iceberg of their bigotry, but that doesn't make it any less hurtful and harmful for the self-image of gay Asian men – especially the younger guys who aren't secure in themselves yet and can really take it to heart.
That said, being true to yourself and openly sharing your love with the world is always worth the fight. And people can surprise you! I introduced my boyfriend to my family over a big family dinner, and though they were out of their depth (though not entirely shocked – growing up, there had always been clues) my cousins, uncles and aunties all welcomed him with open arms and immediately began to overfeed him. And if you're Chinese, you'll know that's love.
You see, though we love to save face and ignore what we don't understand, love always shines through. Like I said, trust yourself, follow your heart and keep an open mind – life will find a way.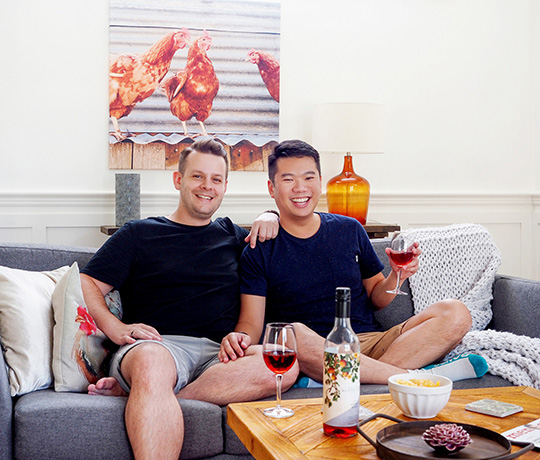 Society is becoming more and more accepting of the LGBTQIA+ community which is amazing! Are you part of any groups or societies that you can recommend to get involved with the community? Or do you know of any?
It's true that we achieved marriage equality in Australia, which is fantastic, but you've got to remember that this didn't happen until 2017. Before that, Marriage Equality was struck down a total of 22 times in Federal Parliament from 2004. We were the 25th country to legalise same-sex marraige (even the Catholic-majority Ireland got there before us), and in NSW alone, 42.2% voted "no" to legalising same sex marriage. And those people still live here. They haven't moved away, and I doubt they've changed their minds in just two years.
So, we still have a way to go before the queer community can claw itself out of the label of "marginalised". We barely speak about trans, intersex or gender-diverse people and their stories.
That's why advocacy groups like the Gay and Lesbian Rights Lobby (GLRL), ACON or ReachOut Australia are still so important to the community.
But if the activist route isn't for you, you don't have to lobby for our rights or march in a parade to make a difference. Just being yourself and being seen is powerful. Community groups are all about making a connection with people like you. So, again, find an interest or hobby, and there'll be a gay group that does it, I promise. Love singing? Join the Sydney Gay & Lesbian Choir (they're excellent). Love rugby? Join the Sydney Convicts. Love Dungeons and Dragons? Check out Dungeons and Drag Queens. Honestly, the list is endless. Here's a good place to start.
What hobbies do you enjoy?
If you haven't gathered by now, I'm a bit of an extracurricular queen. I'm a singer (check out Soulfood a cappella, the multi-award winning vocal group I'm a part of. No big deal), I love dancing, I'm not a foodie but I love food (foodies in my mind only like free-range organic parsley foam, whereas I would happily devour a bucket of KFC). I enjoy a bit of photography (…but that might be because my partner is a photographer and I'm just trying to keep myself busy when he's photographing our brunch), and I love to travel to new places and meet new people & explore new cultures. I used to create content for a travel brand and that was the best gig of my life so far.
We know you love eating out and taking to Instagram to document drool-worthy meals. What are your favourite places to eat in Sydney?
Oh, god, there's too many! It honestly depends on my mood and who I'm with. When I'm with family and crave some expertly-cooked Chinese with the freshest seafood, it has to be King Dynasty in Chatswood. For Yum-Cha, Greenwood Seafood Restaurant in North Sydney is the best. Not just because of the food but because you can pre-book a table, which is unheard of for Yum Cha. Speaking of great dim sums, there's Queen Chow's in Manly (they are magicians with anything scallop) but we recently discovered a bottomless dumplings and drinks place in Northbridge called Canton Kitchen (ex-Queen Chow chef) and it is top-notch for great value. Speaking of dumplings, if you 're after some Shanghainese Soupy Dumpling goodness, New Shanghai (Westfield Sydney) is definitely my pick. Yes, there's Din Tai Fung, but this one is less commercialised.
If you're looking for off-the-beaten-path Chinese, head to Burwood Chinatown. That place is hole-in-the-wall after hole-in-the-wall of great little shops that specialise in one amazing dish each. That could be spiced lamb skewers, pork crackling, roti, or even chicken feet. But man, there's a specialty food from every corner of China, you're bound to find something to remind you of home.
And that was just the Chinese spots that came to mind! Let's do a rapid-fire of the other faves: Japanese (BBQ: Nishiki in Lane Cove, Noodles: tied between Jugemu & Shimbashi in Castlereagh, Ryo's Noodles in Bondi Junction), Korean (BBQ: 678 Sydney in Eastwood, Sit-down is Danjee in the city) Vietnamese (Madame Nhu in Darlinghurst, but special mention to Pho Tau Bay in Cabramatta), Malaysian (PappaRich Broadway or Killiney Kopitiam, Chippendale… their Hainanese kitchen… MUWAH!).
There's so many… I didn't even get to the Modern Australian or Fusion options like Sakè Sydney and Sokyo…. You'll just need to follow my stories for all my other recommendations!
Sydney is bursting with vibrant events, music and foodie markets. What is your favourite event in Sydney to attend and why?
Gay, straight or potato, I think everyone should experience Sydney Mardi Gras at least once in their life. Get yourself a milk crate, a water bottle filled with gin and tonic, and stand on the front row kind of experience. Dress up. Bring a group of mates. There's nothing like it. The street comes to life, everyone is super friendly, and the whole city just rolls out the pink carpet and glitter for you. It's electric, it's shocking, and you need to be in the middle of it to really experience it.
Who are your biggest influencers/role models in life? It can be anyone!
I don't really subscribe to people as role models. People cite Steve Jobs or Beyonce or suchlike. But even they're not really like the image they project, all the time, 100% of the time. I do get excited and influenced by ideas and principles a lot though. Right now, I'm obsessed with Brene Brown and Simon Sinek's ideas. Maybe it's because I'm getting to an age and position in life where I'm really conscious of what it means to be leading people and doing work that I truly love. So, I'm reading a lot about bringing your whole heart to work and daring leadership (thanks Brene) and the idea that it's better to build a vision together than being successful alone (thanks Simon!). I'm going to Simon Sinek's talk about business being an Infinite Game vs a finite one but that's probably a whole other TedTalk.