Our 24 hour guide to Adelaide when you've only got one day to spare – these are the must-visit sites of any itinerary when visiting the capital of South Australia.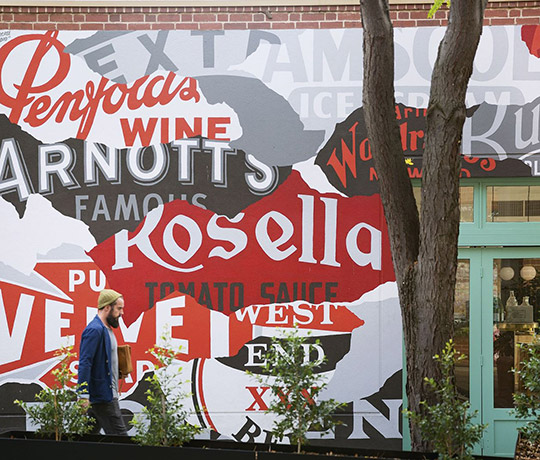 Whether you're passing through on a road trip, are showing visiting family around or just wanted to spend a weekend, you've now found yourself in South Australia's capital with 24 hours to spare. Little do you know how many hidden gems there are waiting for you in Adelaide, from gorgeous vineyards, hip new bars, festivals and, of course, the food and wine. Here are our picks for the best Adelaide has to offer, and what you should look into if you're only passing through for 24 hours.
Climb Adelaide Oval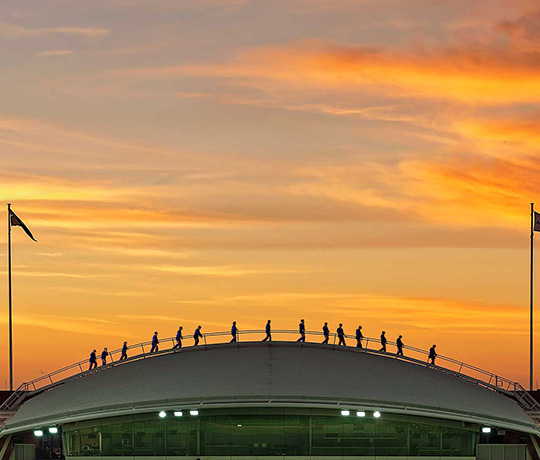 Adelaide's answer to the Sydney Harbour Bridge Walk, this iconic roofline offers a spectacular panoramic view of the city and should not be missed.
Old Adelaide Gaol
One of the oldest gaols (an old-timey jail) in the country where criminals used to be imprisoned during old convict days, the Old Adelaide Gaol boasts rich history but is also the most haunted building in all of South Australia. Bring back a convict poltergeist as a souvenir!
Taste the Best Wine You'll Ever Have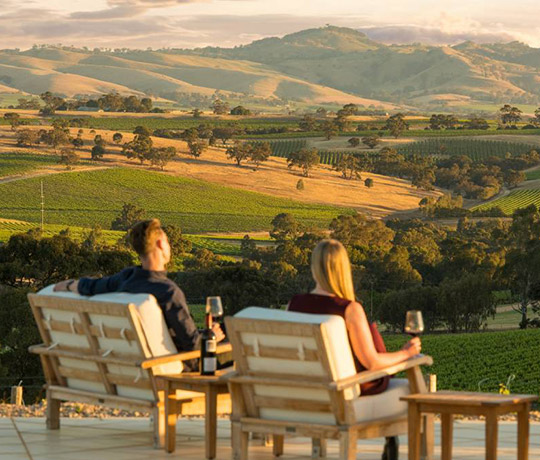 There's a reason all the most delectable ones come from South Australia! Book a winery tour or design one yourself – the Barossa Valley, McLaren Vale and Adelaide Hills all boast sprawling vineyards less than an hour's drive from the city. Get your pals and sample all the blends on offer and tour the beautiful estates.
Maslin Beach
There are so many amazing beaches and swim spots in Adelaide, but Maslin Beach has something the others don't… it's Australia's first ever nude beach! Get out, get free, and you won't even have to worry about tan lines.
Swim With Dolphins!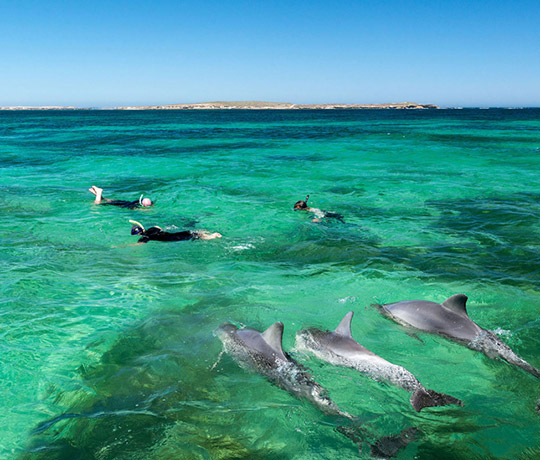 If nudists aren't really your thing, the stunning Glenelg Beach is inhabited by pods of dolphins. You can take a boat tour into Holdfast Bay and swim and play with them, or just watch if you want to keep your distance. Either way, it's a magical experience. If sharks are more your speed, you can get real up close and personal with Adventure Bay Charters.
Get Your Culture Dose at North Terrace
North Terrace is home to a number of South Australian cultural institutions that you can pop in and out of at your leisure, as they're all only a few footsteps apart! Our highlights include the South Australian Museum, State Library of South Australia, Parliament House and the Art Gallery of South Australia. Amazing how much history and knowledge you can fit in one lot. It's especially convenient that it's right next to the University of Adelaide!
BBQ Buoy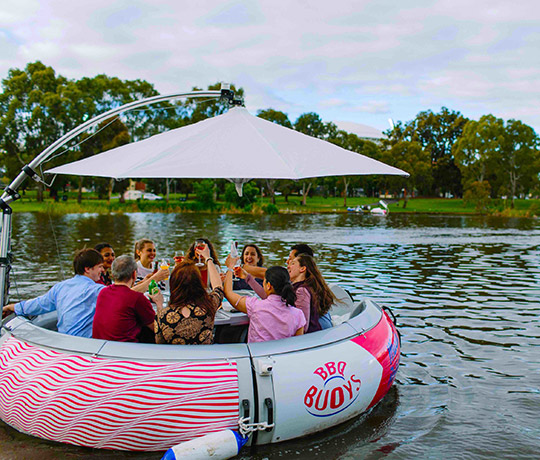 Boozing and barbecuing… on water? Yep, that's right! A BBQ Buoy is a floating donut that seats 10 people around a table of mouth-watering beverages and a barbecue grill to keep your stomach full as you float along the Adelaide Riverbank. We bet you've never done anything like that before! (Check out some other unique things to do in Adelaide here)
Walking Food Tour
There are so many incredible food institutions in Adelaide, there just aren't enough meals in 24 hours to try them all, nor are we going to try to pick our favourites, because, hello, impossible. You need to spend a good month in Adelaide if just for the food. Luckily, Feast On Food understands the struggle. Offering a walking food tour so you can experience as many of the smells and flavours of Adelaide as you can in a small time frame. You'll be taken across the Adelaide CBD and get to indulge in a number of delicacies from different iconic Adelaide kitchens, while being shown some quirky sights and art along the way.
The HandleBar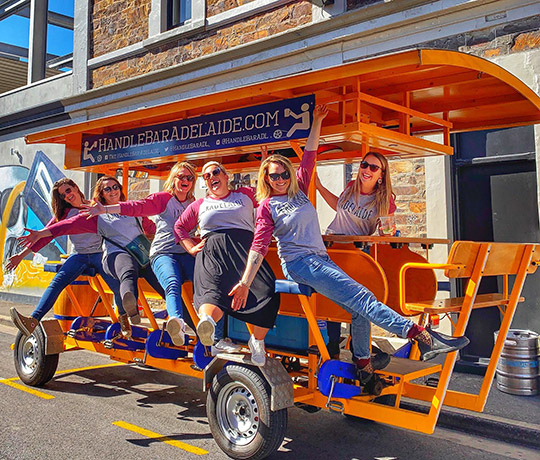 If you're in the mood for another tour, the HandleBar is a pedal pub. With 16 seats, perfect for groups of friends, this 2 hour pedal tour around the Adelaide CBD lets you take in the sights while sipping on beers, bubbly, wine or soft drink. Definitely unique.
Go Fruit Picking
Fill your basket with fresh figs at Glen Ewin Estate. Or go strawberry picking in Beerenberg, or collect cherries at Stella Creek. They're all located just a half hour out of Adelaide, and the quality of the fresh fruit and selection of cheese and wine served up beside your spoils are unlike anywhere else in the country.
Adelaide Gondola
Just because it's not Italy doesn't mean it isn't truly spectacular. In true Venetian style, the Adelaide Gondola operates seven days a week, day and night, allowing you to wind down and relax as you cruise along the gorgeous River Torrens. Thank us later.
There's countless incredible experiences to have in Adelaide, and these are just our picks that keep you close to the city if you can only stay for the day. DIY an itinerary and see how much you can squeeze in 24 hours!
You can kick off the day early at Glenelg Beach for a swim with the dolphins. Then dry off and head to North Terrace for a trawl of the museums, then get brunch on a walking food tour, and if you're not full, then head off to the wineries and stick around for some fruit picking in Adelaide Hills. And then head back towards the city to watch the sun go down from Adelaide Oval and have dinner along the river on a BBQ Buoy. Finally, cap your Adelaide trip with a ride on the gondola. Seems like a lot… maybe you'll just have to bite the bullet and stay for longer.