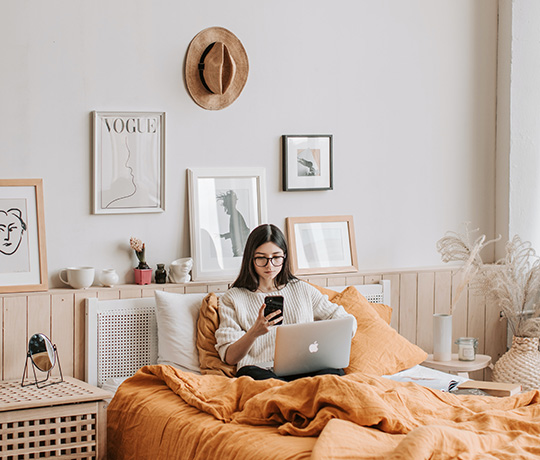 Follow these tips on decorating you're fully furnished accommodation to make it a little more you. Easy ways to inject a little personality into your space.
Ah, fully furnished accommodation. Wherever you have chosen to call home, it's a relief to move into a room or apartment that has everything you need the day you move in. That means no moving vans, no trips to IKEA and definitely no frustrating time spent building flatpack furniture or attempting to play Tetris with your own.
Instead, you have all the furniture you need; a desk to work at, a bed to sleep on, a wardrobe to fill and a kitchen to cook in. Bliss.
But as sleek and functional as furnished accommodation often is, it can sometimes seem a little… empty. Even after you've unpacked everything.
Follow our tips on making your fully furnished accommodation a little more homely and how to show off your own style and personality. All whilst remaining tightly in the realm of your rental contract.
What's included in fully furnished accommodation?
Most fully furnished places you'll find yourself living are in university accommodation, but more recently in co-living options for young professionals and graduates. Not only does it make moving in heaps easier, the flexible lease options make moving around – whether due to work or travel – a whole lot easier.
The lucky thing with accommodation purpose built for the younger generation is that the decor is often pretty slick. More often than not you'll find bare white walls, neutral coloured furniture and a simple layout. Which makes your job even easier when it comes to spritzing up your rental.
While we can't speak for everyone, here at The Switch we provide the following in our fully-furnished rooms:
Bed and side table
Desk with a chair
Couch (shared apartments)
Dining tables and chairs (shared apartments)
Kitchen appliances
Blinds
Wardrobe
Extra storage
8 ways to make your fully-furnished accommodation more homely
#1 Put up your favourite artwork
Whether you're a gallery goer or simply love a good movie poster or map of the world, putting up some sort of artwork is an affordable way to show off your personality.
If you're into the styling aspect of decorating your room, try to maintain a theme with your artwork. Sites such as Desenio have hundreds of prints to choose from. Or if you're looking for something a little more unique, Etsy is a creative's dream when it comes to finding artwork and supporting local artists at the same time!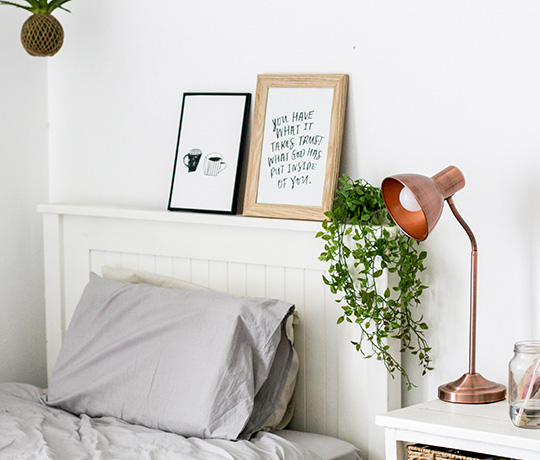 #2 Create a cosy atmosphere with your linen
The easiest way to create a homely feel in your fully-furnished bedroom is with your bed linen. Choose your favourite sheet set then accessorise with cushions and throws to create the ultimate cosy corner.
It's worth splashing out a little when it comes to bed linen. After all, not only is it important to get a good night's sleep for your mental and physical health, but it's also where you'll spend a lot of your time.
#3 Become a plant parent
Indoor plants are all the rage, and there's no denying their benefit. Not only do they brighten up your room and make your place feel much more homely, having some calming greenery around (especially in a city location) can also have some interesting health benefits! Plants absorb carbon dioxide and release energy, increasing the amount of oxygen in the air and therefore helping you breathe easier. If plants aren't exactly your friends – or you're not ready for that kind of responsibility – why not go for a fake plant instead?
Choose some easy to look after indoor plants from the local garden centre, match it with a nice plant pot (that matches your colour scheme of course) et voila!
#4 Use the rule of 3
As you'll remember from our Kmart Hacks blog post, the rule of three is the most important rule you'll learn when it comes to decorating your home.
When it comes to knick knacks you've brought from home, desk organisers, speakers or photo frames, try to group them together in threes in a triangle shape with the tallest item at the back.
Now there's definitely some sort of science to this, but really it just works. And almost never fails.
#5 Bring your favourite mug
There's nothing like a steaming mug of coffee, tea, hot chocolate – or whatever your drink of choice – in your favourite mug. Nothing is quite so comforting or homely.
So don't hesitate to pack that old stained mug, because there's no doubt it'll make your new home feel a little more like yours.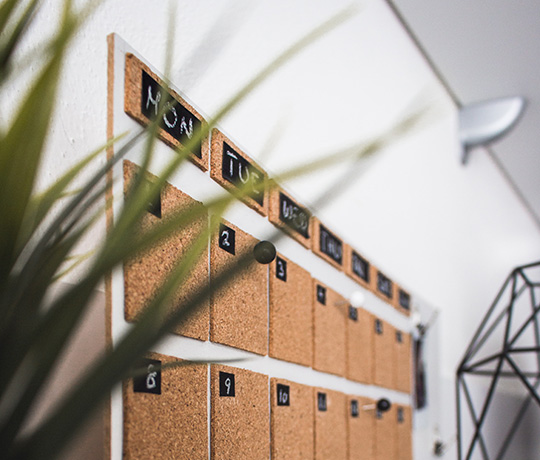 #6 Get organised
Not only can having a tidy, organised space keep your stress levels low, it also makes your room feel homely. Ensure you add a few storage pieces that match your style – think desk organisers, trinkets, or baskets to put your shoes in. Although you'll likely have lots of storage anyway, it's the little touches that'll light up your space.
It's also a good idea to hang up a small whiteboard or pin up board to write all your events and plans on, and keep tickets and invites pinned up. Not only will this keep your schedule organised, it'll look great at the same time!
#7 Get the senses flowing with a candle or diffuser
Make sure to tackle all of the senses when it comes to decorating your space, be it a university dorm, shared apartment or co-living space.
A candle or diffuser that reminds you of home is the perfect way to personalise your space to feel like yours. And not only do they smell incredible and create a cosy feel, they also double up as decoration in an otherwise empty furnished room.
Candles, diffusers and oil burners can also make you feel calm and de-stressed, especially when paired with some mindfulness exercises.
Just make sure if you're adding candles or oil burners to your space, that your landlord or accommodation provider allows you to use these.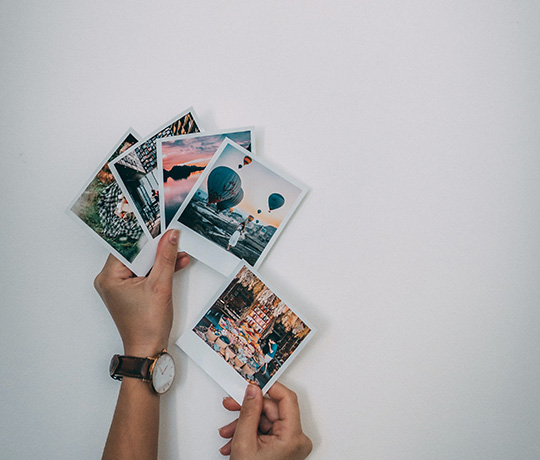 #8 Pin up some photos
It goes without saying that one of the first things to do when moving into fully furnished accommodation is to pin up your favourite photos and memories with family and friends. Be it polaroids, camera or just photos from your phone camera, they'll add a touch of warmth to your space.
Put them in a frame that matches your colour scheme, or organise them scrapbook style on your pin-board. However you choose to display them, photos are a sure way to make your room radiate your personality and make you smile every day.